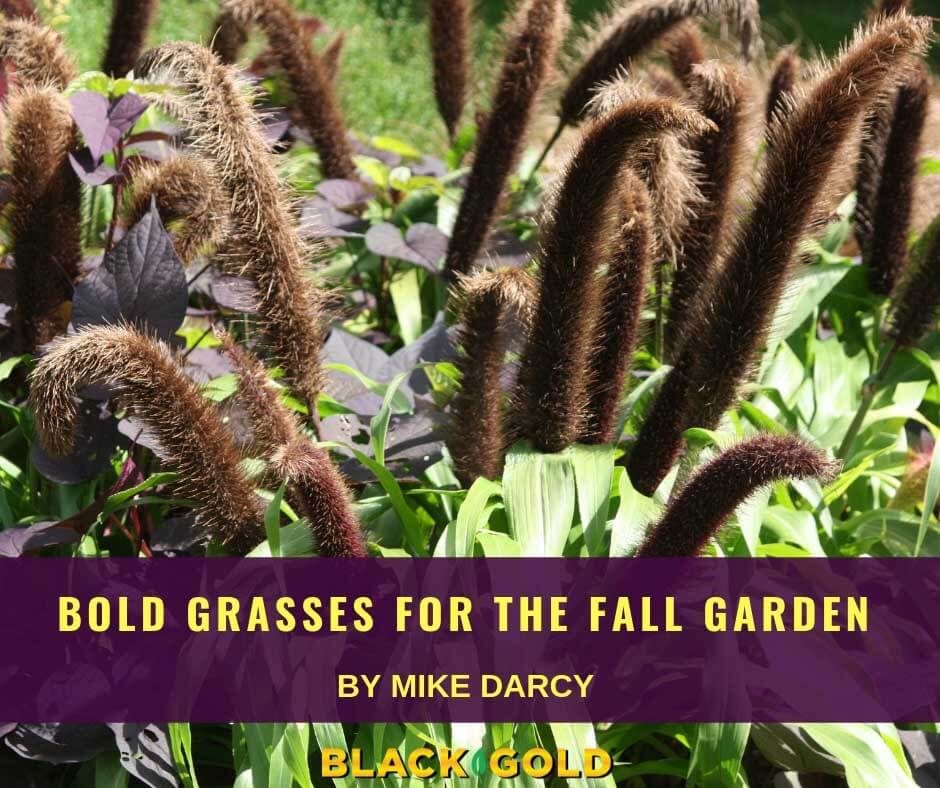 With many summer-flowering annuals beginning to fade, autumn is the season when many ornamental grasses take center stage. I do not want to dismiss those ornamental grasses that look quite good in the garden during the summer, and some that look good all year round, but by careful selection, a gardener can pick certain grasses that are at their prime in the fall season. In my neighborhood, I see ornamental grasses being used much more frequently than in years past. Nowadays, there is such a large assortment available that I will highlight favorites that have consistently performed well in my Pacific Northwest garden.
Keep in mind that most grasses, these included, grow best in full sun and require well-drained soil with average to good fertility. Hardiness varies among the perennial species. Adding a little Canadian sphagnum peat moss at planting time is always welcome.
Ornamental Millet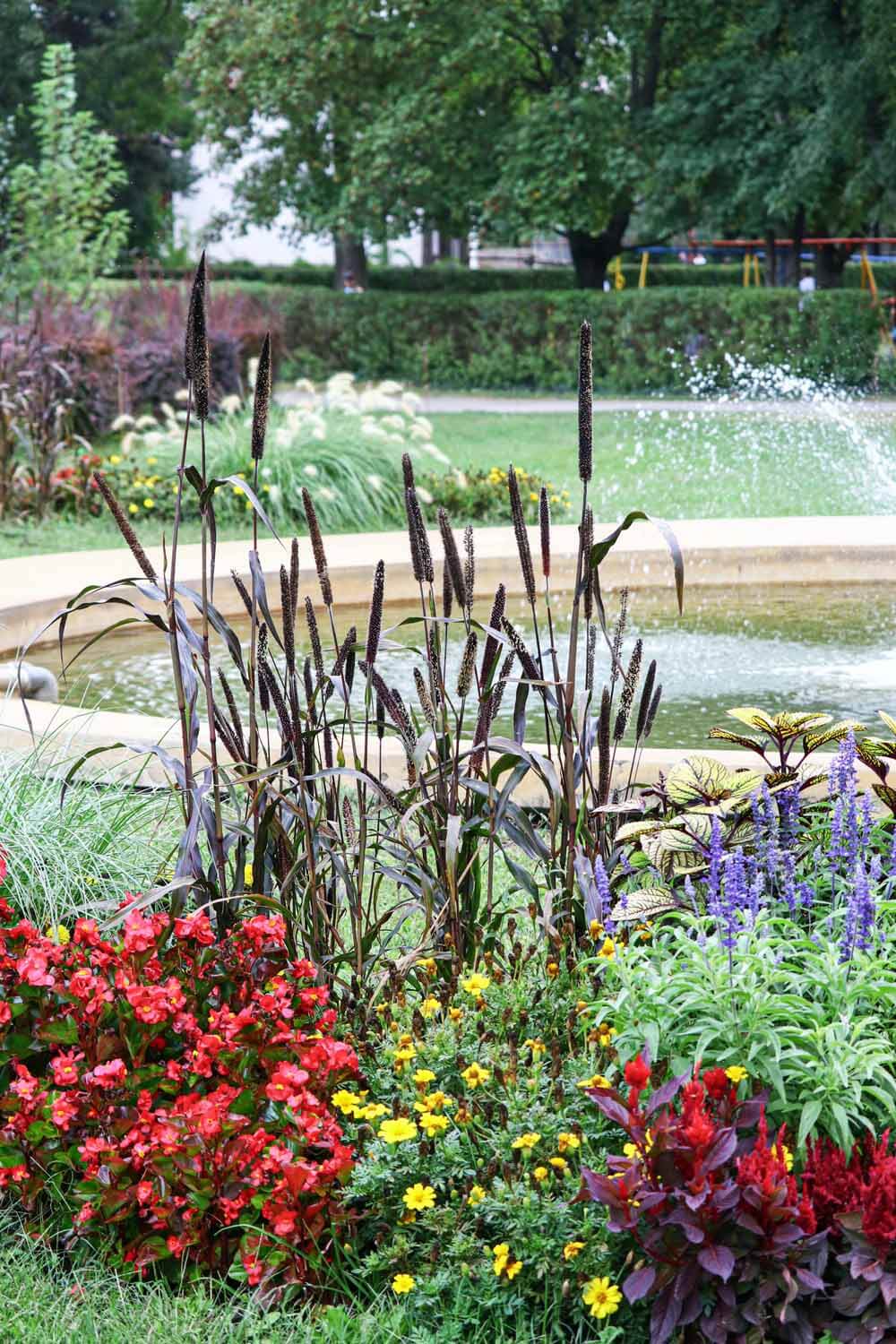 An annual grass that I regularly see in garden centers is the bold purple ornamental millet (Pennisetum glaucum 'Purple Majesty'), which reaches up to 4 feet. It provides purple foliage, which can be quite striking from summer into fall. If planted in a full sun location, the blades will be the darkest. Upright purple flower spikes appear above the foliage, usually in mid to late summer. More compact 'Jade Princess', which reaches 2-2.5 feet, is another exceptional variety with lush green blades and large, puffy purple-red spikes that curve at the tips. Ornamental millet spikes are often cut when fresh and dried for Halloween or Thanksgiving arrangements. If the seed heads are left on, they are an excellent source of food for wild birds.
Chinese Feather Reed Grass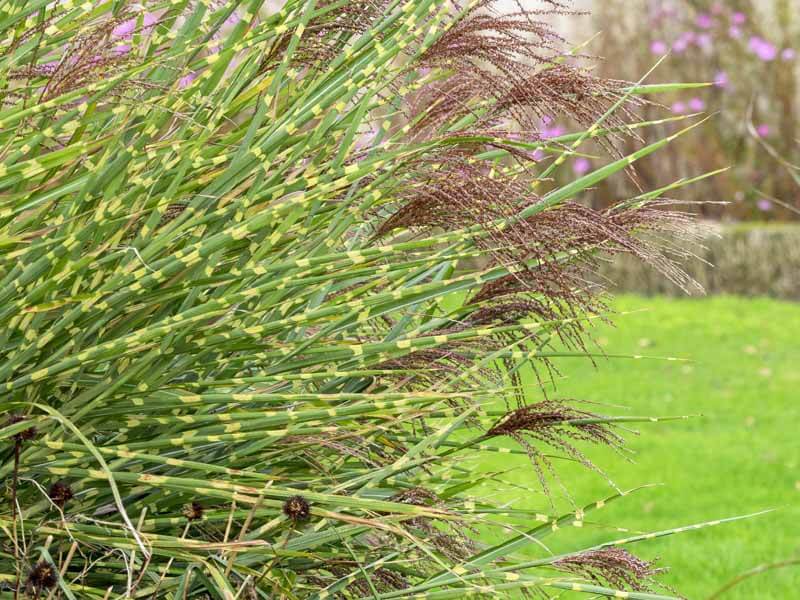 If I had a favorite Chinese feather reed grass, Miscanthus sinensis 'Gold Bar' would be top on my list. It is an introduction by Joy Creek Nursery in Scappoose, Oregon as well as a Great Plant Picks selection. As the name indicates, 'Gold Bar' has golden, zebra-stripe bars that begin at the base of the green blades and continue to the tips. It is ideal for large containers or planted in a garden in need of striking foliage throughout the season. 'Gold Bar' is more compact and upright for feather reed grass, with a maximum height of 4-5 feet. It is also hardy, surviving in USDA Hardiness Zones 5-8. The foliage turns tawny brown in winter and has nice structure, so wait to cut it back to the ground in late winter.
Purple Moor Grass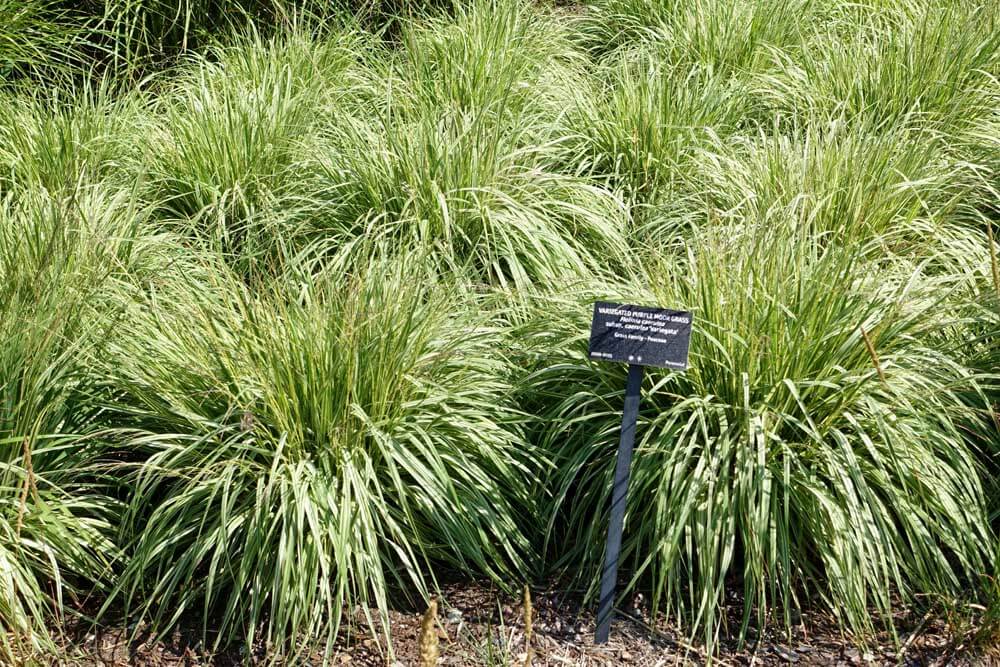 For an easy-to-grow, small, clumping grass, variegated purple moor grass (Molinia caerulea subsp. caerulea 'Variegata', Zones 4-9) is an outstanding choice. The yellow and green variegated foliage grows 1-2 feet tall and works well as a border plant along a flower bed. In late summer and early fall, clusters of airy yellow to purple flower spikes appear about 2-3 feet above the clump.  The purple flower spikes contrast well with the variegated foliage, and as they age, they turn yellow and look quite attractive into the autumn season.  Cut the plant to the ground once the flower stems have faded. During the growing months, moor grass needs additional water when it is dry.
Tall Moor Grass
Another worthy garden grass of the same species is tall moor grass (Molinia caerulea subsp. arundinacea).  This one has broader gray-green leaves that can form a clump about 3 feet tall with blooming stems up to 8 feet.  One of its most popular, best forms is 'Karl Foerster' (to be distinguished from the more common feather reed-grass, 'Karl Foerster (Calamagrostis × acutiflora 'Karl Foerster'), which has 2-3 foot leaves and feathery stems that can reach up to 7 feet.  The form 'Skyracer' has plum-colored plumes that reach straight into the air. Tall moor grass survives in Zones 5-8.
Giant Feather Grass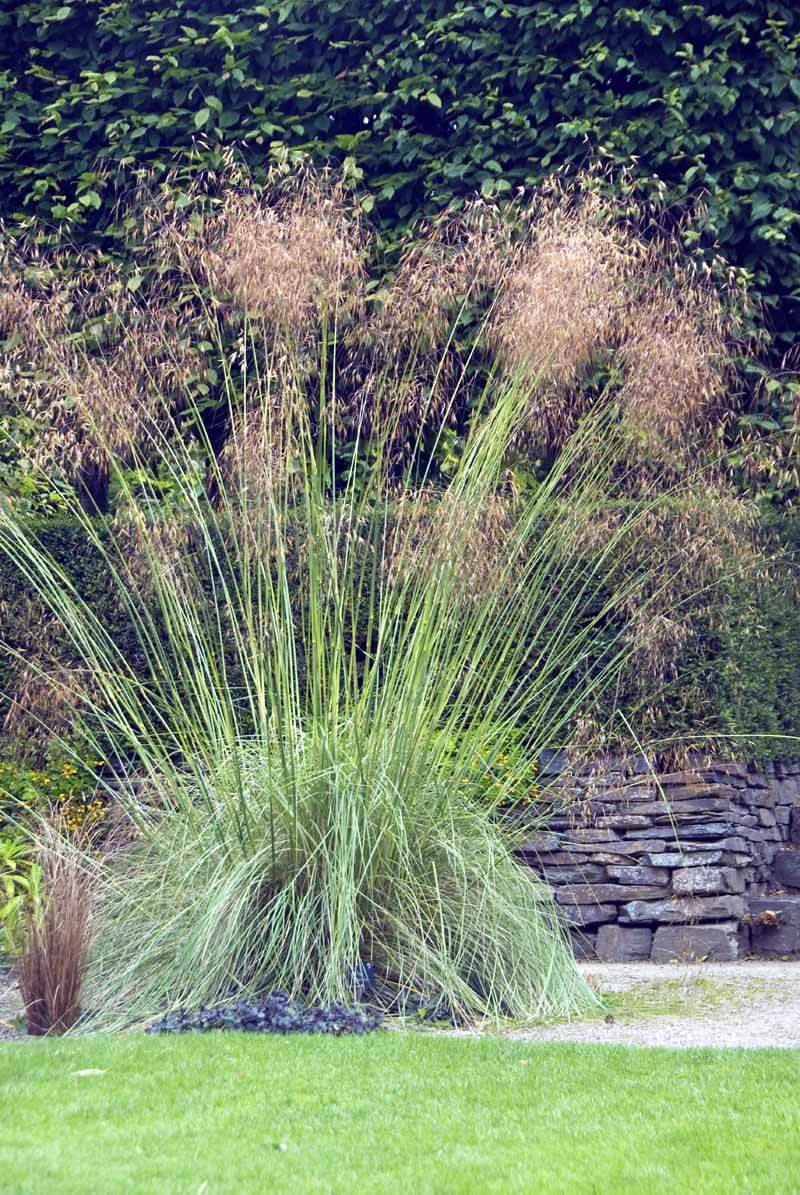 Native to Spain and Portugal, the tall flower spikes of giant feather grass (Stipa gigantea) rise high above the foliage and can reach up to 6 feet in height from clumps that are 2-3 feet high. It is drought-resistant and hardy in Zones 6-10. Be sure to plant it where it can be appreciated as a specimen plant.  It makes a very bold statement in a gravel garden.  Airy stems of yellow flowers appear in summer, and a large plant in full bloom almost looks like a glistening cloud.  It is a real attention-getter when in full bloom. Cut it to the ground in late fall or when the leaves begin to fade.
This listing presents a small sampling of some of the ornamental grasses that are available at local garden centers.  If there is a particular public garden in your area that features perennial grasses, fall is an ideal time to visit to get an idea of what they look like at the end of summer in your area.  Fall is also a good planting time.