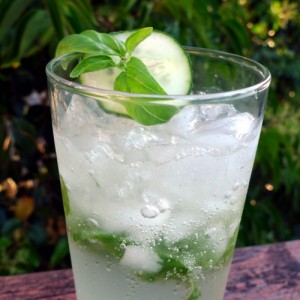 Nothing is more refreshing in summer than a delicious cocktail made with crisp cucumbers and aromatic herbs harvested straight from your garden. These drinks contain fresh rosemary and basil, though you can also replace them with fresh mint, if you like. Whip up one of these delicious summer cocktails, and let your party stand above the rest.
Cucumber & Basil Mojito
2 sprigs fresh basil leaves
2 slices cucumber
1 lime, quartered
1 tablespoon raw cane sugar
1 shot white rum
4 ounces club soda
Crushed ice
Makes 1 serving
In a tall, sturdy cocktail glass, add the fresh basil leaves and raw cane sugar. Macerate the sugar and mint together at the bottom of the glass with a wooden spoon and then squeeze in the lime. Add the rum, cucumber slices, and let the mix sit for 5 minutes before adding the ice, club soda, mixing. Finish the drink with a slice of cucumber and fresh basil sprig.
Cucumber & Rosemary Lemonade Chiller
1 cup fresh cucumber slices
2 sprigs fresh rosemary
4 cups water
5 shots ounces vodka
1 cup fresh lemon juice (juice of approximately 5-6 large lemons)
1/2 cup superfine sugar
1 cup crushed ice
Makes 5 servings
Place the superfine sugar, lemon juice, and vodka in a glass pitcher, and mix until the sugar has dissolved. Add the cucumber and rosemary and allow the flavors to marry for 20 minutes. Add the water, ice, and mix well before serving. Finish each drink with a sprig of rosemary and a lemon slice.