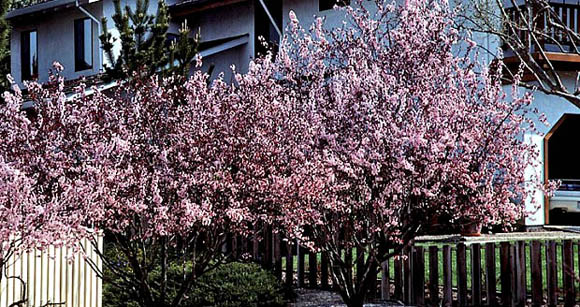 In the hoity toity world of landscape architecture, small flowering trees known as "accents" are often fruit trees bred to enhance the flowers but eliminate the fruit. The Japanese flowering cherry is a famous example in Washington DC. The Bradford pear has become a favorite white accent for urban gardens. But times have changed and my clients are all clamoring to get the fruit back without sacrificing beautiful flowers.

January is a perfect time to think through the kinds of fruit you'd like to grow via catalogs on online. Stock of some types are limited so it's important to get the order in as soon as you can. Growers ship the trees to you during bare root season in your area. In the warmest regions, planting bare root is done in January through February. In the cold north, it's April to May. The season is defined by those months when the trees are just beginning to break dormancy.
What is a bare root tree? It is planted like a farm crop in the grower's fields. When the trees are fully dormant the grower digs them up, knocks the soil from the roots and ships them for sale. You'll find bare root trees at the garden center during this season too, but you'll be limited to stock on hand. Here are the main reasons why it's better to order by mail and plant during bare root season:
Bare root is cheaper because no soil or pot are involved, you so you aren't paying to ship them – just the tree.
You order directly from the grower so there are more varieties and dwarfs to choose from.
You get to inspect the entire tree from root to branch tip for damage or undesirable growth that would otherwise be hidden beneath the soil.
Trees are planted before temperatures rise so roots develop ready for the summer heat.
Roots don't have a nice fertile root ball of nursery soil, which makes them move into fresh ground sooner.
Only by planting bare root can you amend the soil deep within the root zone. Dig a big hole and use quality organic matter to mix with the soil in order to help marginal ground become more fertile for the young tree. This is particularly important when planting in clay soils that tend to compact to rock-like hardness making it tough to get water and fertilizer into the root zone later on.
The best amendment to mix with the excavated soil from your planting hole is Black Gold Garden Compost Blend because it contains everything you need for a good start. Not only is it rich in natural manures, it contains mycorhizzae, an important living fungus that helps plants grow. A healthy compost component in the amendment helps your tree flourish in fully organic ground with a stronger immune system and an extensive root zone for increased drought resistance.
You can further enrich the soil by sprinkling organic fertilizer onto each layer as you backfill around the spindly bare roots. A quality fruit fertilizer should be added to provide needed nutrients. As new roots form and spread through the conditioned soil they will encounter the decomposing fertilizer to stimulate stronger trunk, branch and leaf development the first year.
These long January days are ideal for exploring the many online fruit tree sellers who carry truly unique and wonderful varieties. Avoid typical supermarket varieties and look for outstanding gourmet fruit such as Asian pears, which sell for over $1 each in the market and are super easy to grow. Finally, check if the variety is available in dwarf or semi-dwarf to allow small gardens to produce all the diversity of a large orchard.