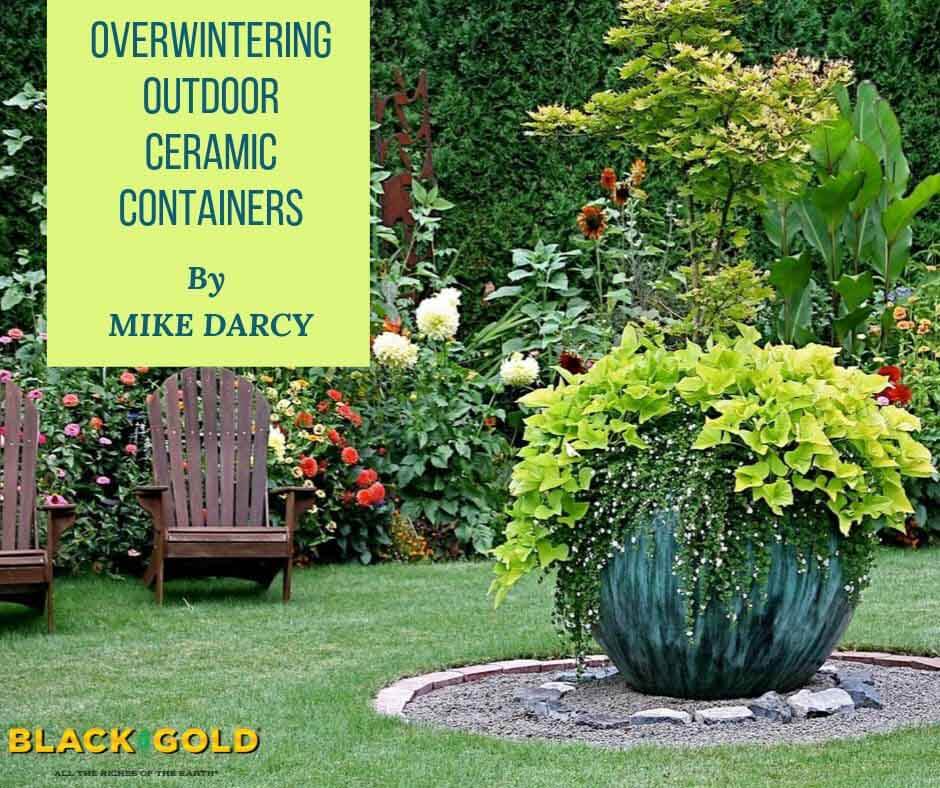 With 150+ potted containers throughout my garden, it is important that I overwinter them well. Living on the relatively mild western slope of Oregon's Willamette Valley, our winters do not compare with those in colder parts of the country, but we do get freezing temperatures. Almost every winter, we will have some nights when the temperatures dip into the low 20's and sometimes into the high teens. While we also have our fair share of rain during the winter months, we often get a few days of snow and ice, which can wreak havoc on containers.
Protecting Wintering Containers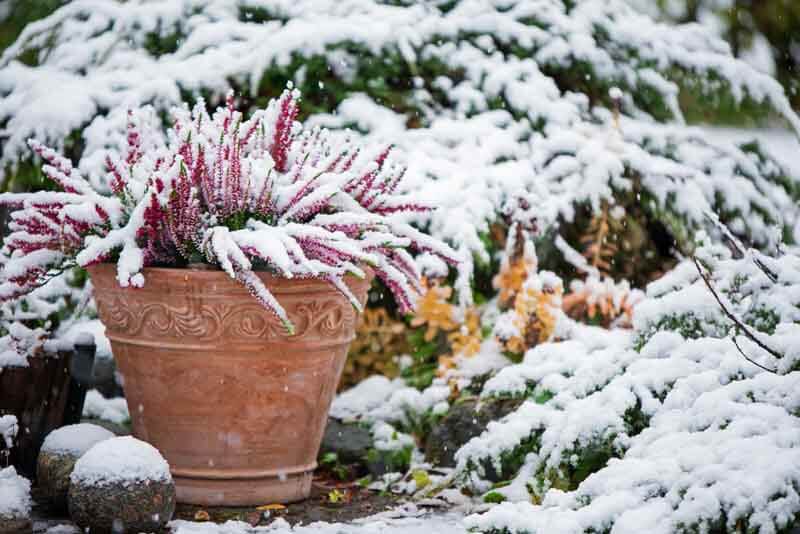 Plants in containers are exposed to the elements more than those in the ground. Pots do not offer roots as much insulation or protection, but each is different in its protection and durability, whether glazed ceramic, concrete, plastic, Terracotta, or stone.  (In this article, we will cover ceramic pots, which are what I use.) Just like the hot summer sun can quickly dry soil in a container, especially with Terracotta pots, cold temperatures, and winter wind can freeze the soil. The ice expands, and as it does, it often has enough force to crack certain pots, especially if the soil is moist.
The question is, what ceramic containers endure winter cold without cracking? In our climate, it would be very unusual for a container not to have soil wet from the winter rain and then potentially freeze. So, having the right container is an important necessity.
Over the years, I have learned through trial and error what pots work. The conclusions that I have reached are not scientific but based on my own experience in dealing with different types of pottery from different places. Some behave poorly outdoors and are better reserved for indoor plantings.
Pots for Indoor Use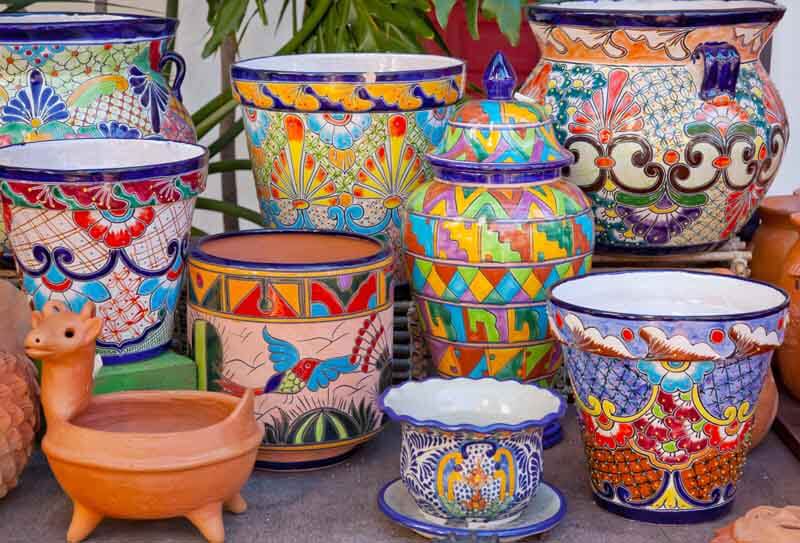 First, bear in mind that some manufacturers add elements to their clay to make pots more winter hardy, and some don't. Thickness and firing temperature can also help prevent cracking. Generally, I have found that Terracotta-based Mexican pottery, glazed or unglazed, will not survive a cold winter without cracking. Likewise, most pottery from China is variable, but the thin pots tend to crack. Some of the most beautiful pottery that I have seen is from Thailand, but it tends to be thin-walled and is poor for outdoor planting.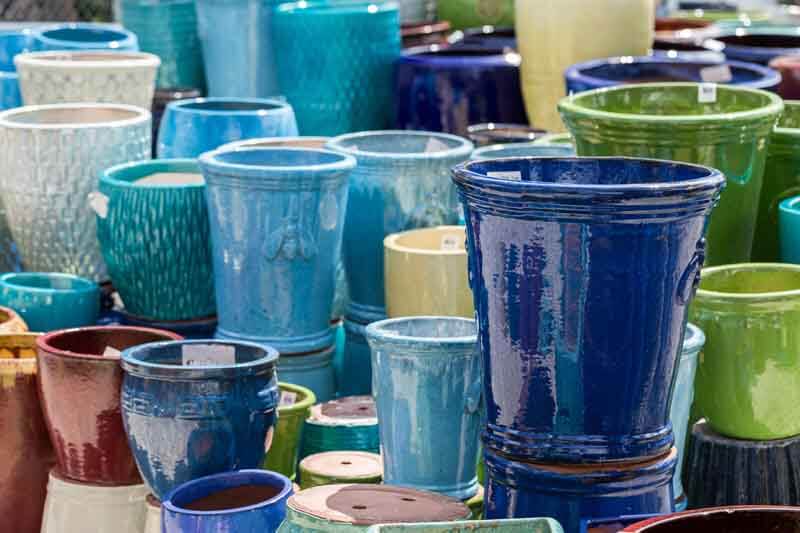 We do have some pots from Thailand in our garden, though. These tend to have unique designs and colors and create much interest from visitors. We use Thai pots as pieces of garden art with nothing planted in them. There are holes in the bottom for the rain to drain through, so there is no concern about cracking.
If you choose to grow summer annuals in pots that are not reliably frost-proof, take out the soil when you remove the annuals. Or, if your containers are mobile, move them into a garage to protect them.
Pots for Outdoor Use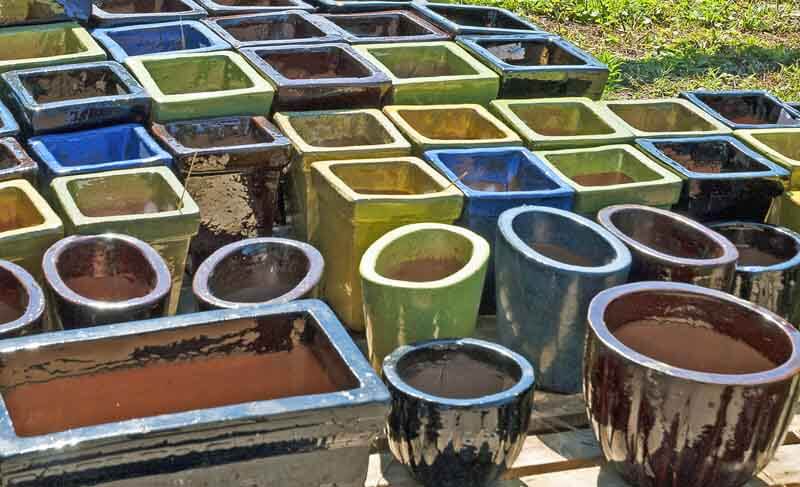 Containers from Italy seem to go through our winters just fine, but those that consistently weather through without cracking are from Vietnam. In our area, the Vietnamese pots sold in local garden centers are thick-walled, highly glazed and fired, very heavy, and frost proof. I have some pots from Vietnam on our deck that we have had for 15 plus years, and they have never cracked. These pots are exposed to winter winds, rain, freezing; they have no protection from the elements.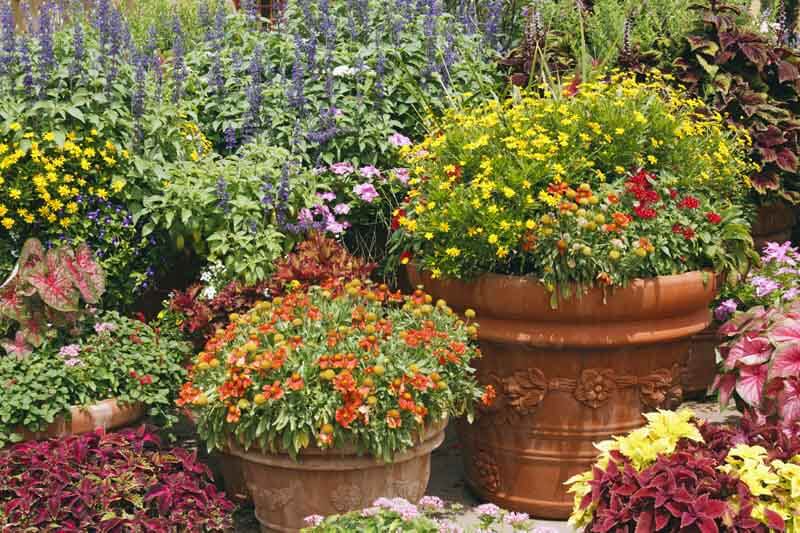 Another important factor when a purchasing pot is getting the right pot for the right location. Check the selection of winter-hardy pots at your local garden center for colors, sizes, and styles with good thickness, high fire, and thick glaze. I have found that the right colorful containers scattered throughout the garden are permanent additions that also serve as garden art.
Microclimates play a role, too. Try to protect your outdoor pots through winter by placing them below overhangs or patios close to the house. Not only can this further help protect them from cracking, it helps the shrubs or perennials they hold.