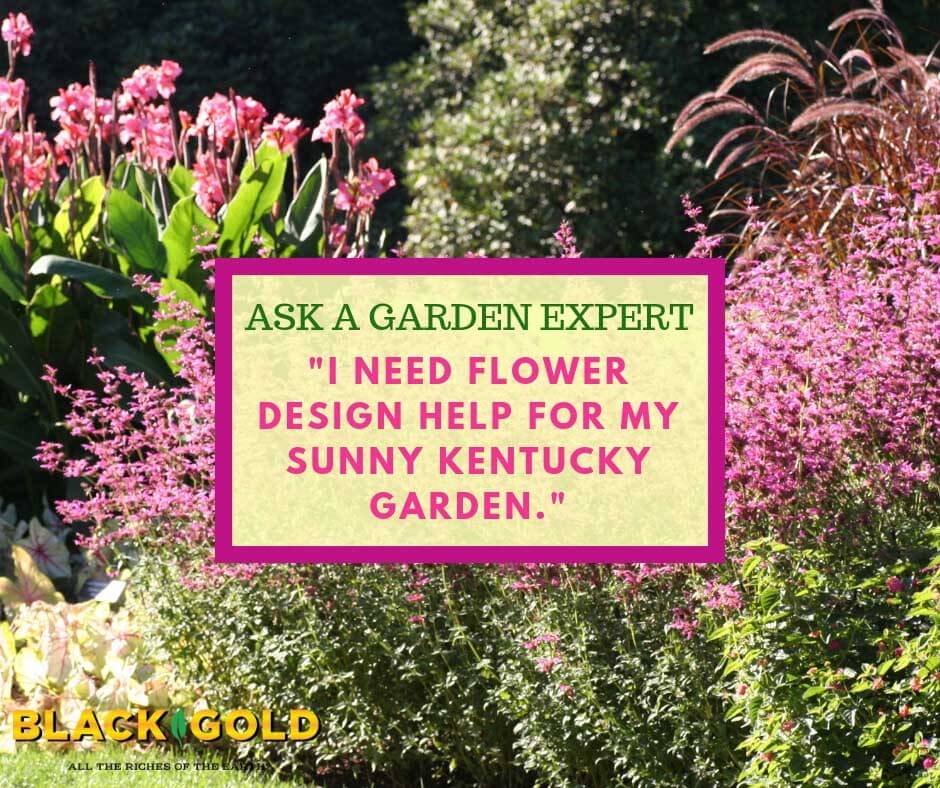 "I have a large area to plant flowers in that gets full sun but I am not sure what design and mixture to use." Question from Karen of Cannon, Kentucky
Answer: Most garden flowers grow best in fertile soil with excellent drainage. I recommend working up your soil to increase aeration and adding a fertile blend of compost (Black Gold Garden Compost Blend) and peat moss (Black Gold Peat Moss) to ensure they get off to a great start. Adding a slow-release fertilizer formulated for flowers will also help them grow and perform at their best. It may also be wise to get your soil tested for pH. The University of Kentucky does soil testing.
Creating Flower Beds
As far as design, the finest flower gardens edge the periphery of key yard spaces, such as home foundations, fencelines, patios, shrub borders or other signification structural areas of your yard. Flower borders such as these can be designed in straight lines, which provide a classic, formal look, or sweeping curves that give a garden space a more full, curvaceous look.
Finishing Flower Beds
Once you have laid our your bed lines, edge them well. A clean bed edge acts as a frame for your garden. (Click here to read more about different bed edges). A layer of fine mulch will also make your flower garden look professional. (Click here to learn more about different garden mulches.)
Flower Design
I recommend planting taller perennials towards the back or centers of the flower garden while leaving space for ground-covering perennials and colorful annuals towards the front of the beds. It is also essential to consider flower color and bloom time when designing with flowers. Dot the garden with flowers in complementary colors that are pleasing to your aesthetic preferences. Then consider bloom time: choose bulbs and perennials for spring, flowers for early summer, and flowers for late-summer and fall. That way, your garden will never look dull and colorless. Everblooming annuals will extend the floral effect.
Choose flowers that are best suited for the heat of your Kentucky summers. Hellebores and bulbs are great for the early season; salvias, daylilies, baptisia, and perennial geraniums are perfect for early summer; coneflowers, perennial blanket flower, tall phlox, and black-eyed-Susans are great for midsummer; and great fall perennials include goldenrods, asters, and Japanese anemones. (Click here to read more about the best garden asters.) Bold, ornamental, perennial grasses also look great in perennial borders.
I hope that this helps!
Happy gardening!
Jessie Keith
Black Gold Horticulturist