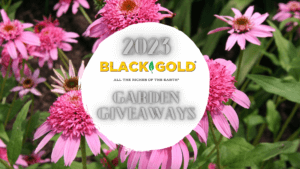 Each month Black Gold offers exciting giveaway opportunities in partnership with many respected horticultural companies. Winnings always include Black Gold products to make your garden more successful. We encourage everyone to enter monthly!
If you're interested in partnering with Black Gold on a future contest, please contact marketing@sungro.com.
---
Partner: Just Add Ice®   ,The National Garden Bureau
Dates: Friday, January 9, 2023 to Friday, Feb 3, 2023
Value: $195
Winnings: 3 Premium Orchids from JUST ADD ICE®  in ceramic decorative pots
along with 3 -8qt bags of Black Gold® Orchid Potting Mix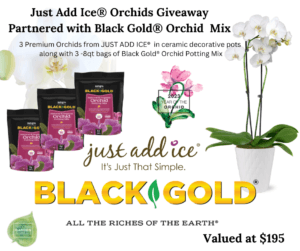 Winner: Rebecca from Los Angeles, CA
---
February 2023 –

sponsored by Johnny's Selected seeds , AAS-Winning Seeds and Black Gold®



Partner: Johnny's Selected Seeds , AAS Seeds, National garden Bureau
Dates: Feb 20-March 17th
Value: $175
Winnings: SunBlaster Mini Greenhouse kit including Seeds, hat, trowel, sower, pot labels along with Black gold Seedling Mix and 5 AAS Winner packs of  seeds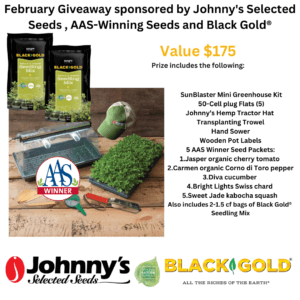 Winner: Olivia from San Antonio, TX
---
March 2023 Partnered with Algreen and Harris Seeds

Partner: Algreen and Harris Seeds
Dates: March 7-31st
Value:$125
Winnings:
Winnings include 1,  3-Tier vertical  planter from Algreen Products® 
Includes Weather Resistent Non toxic Seal and Treatment

Slots to Position Shelves at Different Heights

Decorative Trellis Backing

3 Planters with Drain

Quick and Easy assembly with Hardware for Mounting on Wall
Five variety packets of lettuce provided by Harris seeds, and two 1cf bags of Black Gold® Natural & Organic Potting Mix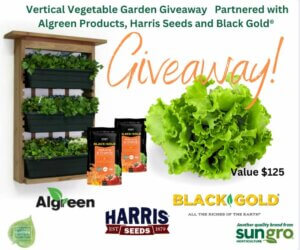 Winner: Holly from Mechanicsburg, PA
---
April 2023
Partners: Pure Line Seeds and Black Gold®                
Dates: April 7- April 28th
Value: $100
Winnings include 3- 7 inch Round Self Watering Planters with Water Level Gauge
1- Pumpkin Peppers™ Halloween Red plant
1- Tomato: Sweet Sturdy™ Jimmy plant
1-Pepper: Pillar Peppers Galaxy™ Yellow plant
1- 2cf Black Gold® Natural & Organic Potting Mix
1-1.5cf Black Gold® Seedling Mix
Along with 3 seed packets including Cauliflower, Tomatoes, and Kale
Winner: Shannon from Burtchville, MI
---
May 2023

Partner: Endless Summer® Hydrangeas with Black Gold®  
Dates: May 5th-May 29th
Value: $220
Winnings: include 2- 2 gallon Pop Star® Hydrangeas by Endless Summer®
1-1.5cf bag of Black Gold® Natural & Organic Potting Mix
1-8qt bag of Black Gold® Natural & Organic Earthworm Castings Blend
1-gallon galvanized watering can
2.5 lb tub of Proven Winners® Plant Food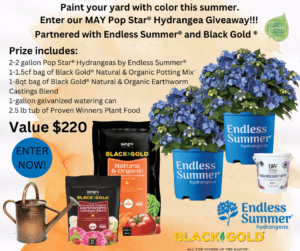 Winner: Becky from West Seneca, NY
---
June 2023

Partner: Brindabella Roses™ from SUNTORY Flowers, Harris Seeds™, Black Gold® and NGB
Dates: June 2nd – June 30th
Value: $250
Winnings:
2-3 Gallon pots of Crimson Knight Brindabella Roses™
1-Precision Micro Trimmer
2-1.5 cf bags of Black Gold® All Purpose Potting Mix
1-2.5lb Container of Proven Winners®
Premium Continuous Release Plant Food
1- Large pair of Rose Gardening Gloves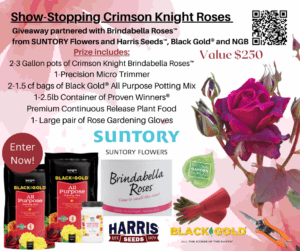 Winner: Shawn from Sewickley, PA                                                                                                                                                                                                                                                           
---
July 2023

Partner: Corbrahead®, Sakata®, and Forge & Flower
Dates: July 4th-July 28th
Value: $175
Winnings:
CobraHead® Weeder and Cultivator
Forge & Flower Window Box
Seed packets from Sakata® Home Grown including the following-:
Pak Choi Asian Delight
Lettuce Green Tiger
Lettuce Red Tide
Radish Regal Red
and 2-1cf bags of Black Gold® Garden Soil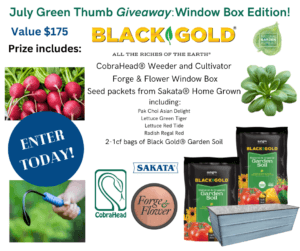 Winner: Lynne from San Jose, CA
---
August 2023
Partner: American Meadows and Intrinsic Perennial Gardens, Inc.
Dates: Aug 4th-Aug 28th
Value: $125
Winnings:
3-4.5QT American Gold Rush Rudbeckia plants by Intrinsic Perennial Gardens, inc.
3-3 inch Prairie Sun Rudbeckia plants by American Meadows
1-1.5CF Black Gold® Natural & Organic Ultra Outdoor Planting Mix
1-8Qt Black Gold® Natural & Organic Earthworm Casting Blend
1-2.5lb Container of Proven Winners® Continuous Release Plant Food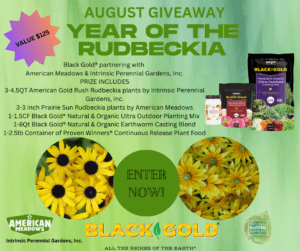 Winner: Michelle from Greenville, SC
---
September 2023

Partner: Proven Winners® Color Choice®
Dates: Sept 1st- Sept 29th
Value:$175
Winnings:
QTY 2- 1 Gallon  Double Play Doozie® Spirea plants
QTY 2-1 Gallon  "NEW" Double Play Dolly™ Spirea plants
QTY 1-1.5CF Black Gold® Natural & Organic Potting Mix
QTY 1-1CF Black Gold® Natural & Organic Garden Compost Blend
Winner: TBD
---
October 2023

Partner: DutchGrown
Dates: Oct 6th-Oct 30th
VALUE:
Winnings: Bulbs DutchGrown TBD
Winner: TBD
---
November 2023
Partner:
Dates: Nov 3rd- Nov 30th
VALUE:
Winnings: Amaryllis TBD
Winner: TBD
---
December 2023
NO GIVEAWAY