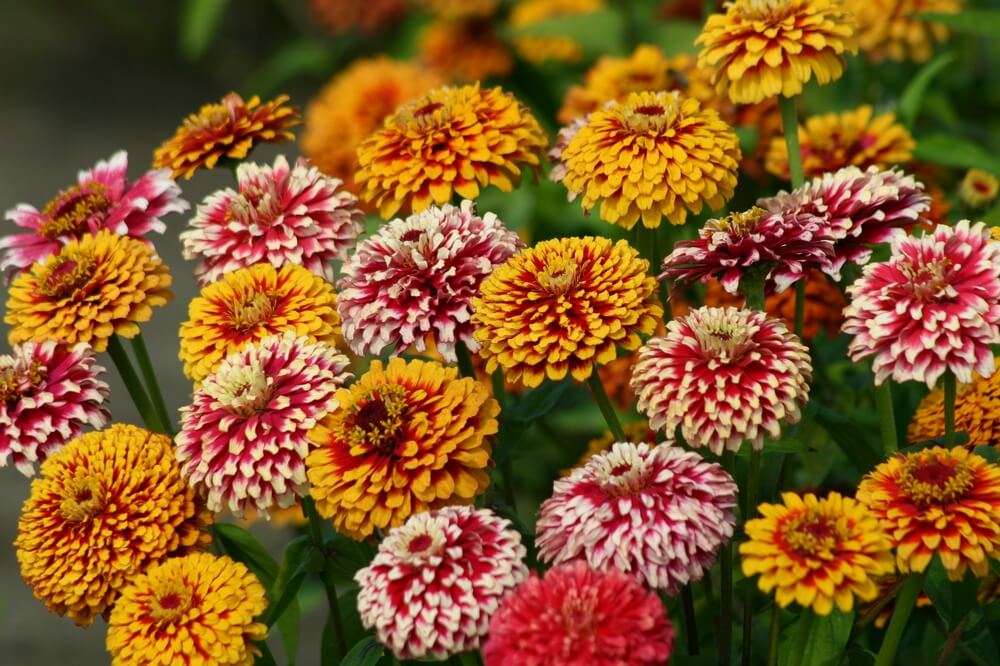 Finding garden flowers that bloom effortlessly through the hot, dry summer months can be a challenge for those new to gardening. So many popular bedding plants are tender and water needy. Impatiens, coleus, dahlias and even petunias will quickly flag when the heat and drought ramps up. But, have no fear. Lots of bedding plants will make it through the worst of the summer weather. Some even shine—blooming effortlessly all summer long.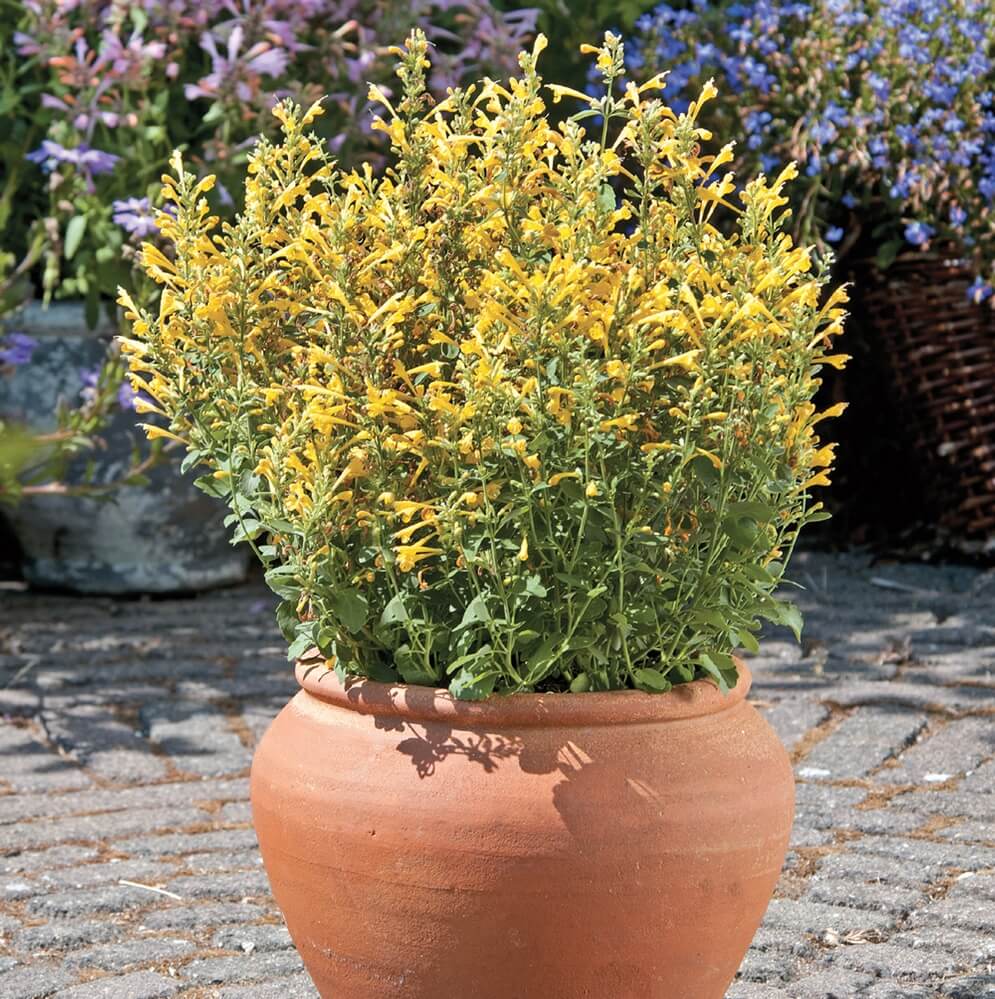 When choosing "hot" summer flowers, I like to think of their origins. Resilient selections come from sultry climates, like Mexico, Africa, the American South, and hot, dry regions in the Mediterranean. They're adapted to hot weather. Agastache, angelonia, cuphea, salvia, marigolds, and zinnias are several excellent choices. Exciting varieties are generated each year, making it easy to fill the garden with beautiful flowers sure to shine.
Hummingbird Mint
Hummingbirds love the sunny flowers of agastache (otherwise known as hummingbird mint) and the blooms shine through summer in containers or garden beds. They've been a standby in my garden for the last 20 years because they are so beautiful, fragrant and easy. Many new resilient varieties make gardening and crafting colorful flower combos easier than ever. The new Agastache Arizona™ Sun and Arizona™ Sandstone, with their gold and soft orange blooms and foot-high statures, will bloom through hot, dry weather and mix well with many similarly tough garden flowers. Though hybrids, the parent plants originate from the American Southwest—a testament to their ability to take the heat.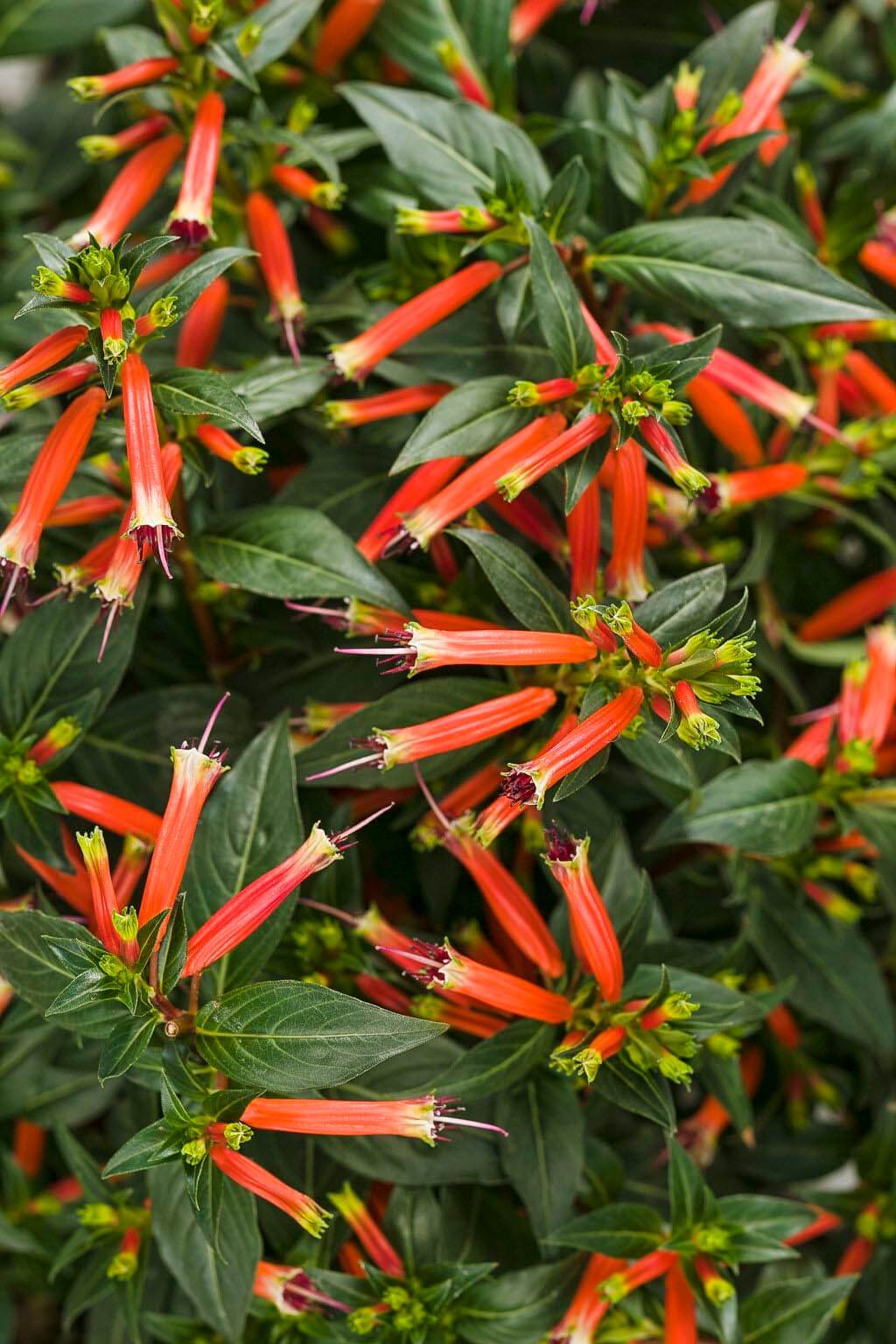 Angelonia
The Mexican native narrowleaf angelon (Angelonia angustifolia) produces snapdragon-like spikes of white, purple and pink flowers through summer months. Of these, the carefree bloomers in the Serena™ Series have won multiple awards (Mississippi Medallion Award, Dallas Arboretum FlameProof Award, Louisiana Super Plants Award) for their high performance and ability to stand up to summer heat. The breeders claim: "Plants grow up to 50% larger in Floridalike conditions."
Firecracker Plant
Gardeners with large, sunny, South-facing beds should consider planting the big, bushy firecracker plant, Cuphea Vermillionaire™. New from Proven Winners, the bushy plants reach around two feet and become laden with lots of orange-red, tubular flowers that are a hummingbird mainstay. A strong tendency to rebloom until frost makes this a superb bedding plant as does its high tolerance to hot, dry weather.
Scarlet Sage
In late summer, I always rely on colorful scarlet sage (Salvia coccinea) to add bright garden color up until frost. And, these natives of the American South and Mexico are made for hummingbirds! The tall species gently self-sows, so I simply dig the seedlings and place them where I want them, but that doesn't keep me from planting a few choice varieties as well. The AAS- and Fleuroselect-winning varieties in the Summer Jewel™ series are compact (reaching one and a half to two feet), bloom continuously, and come in shades of red, pink, and white.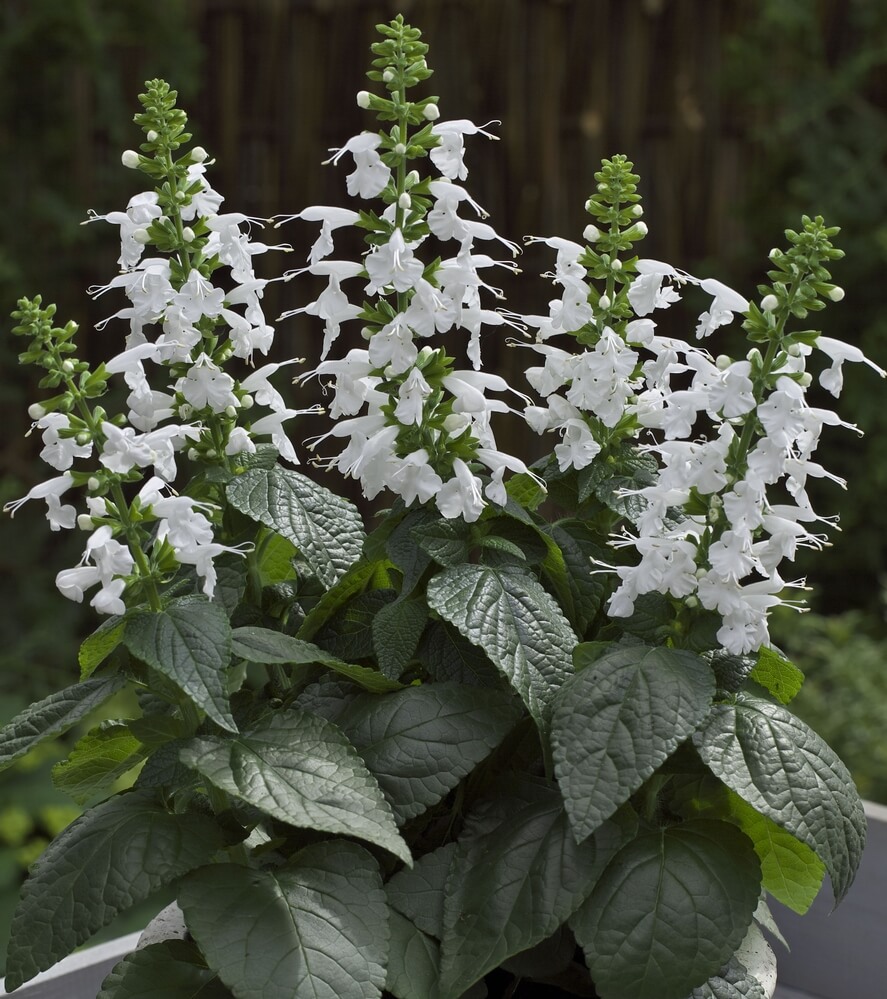 Marigolds
Once established, marigolds are made for summer with their nonstop flowers in flame colors. The tall, Garland Orange African marigold (Tagetes erecta 'Garland Orange') bears huge, long-stemmed flowers on strong, bushy plants less apt to topple over in the wind. Plants reach three feet, making them a great choice for colorful, back-of-the-border fillers.
Zinnia
There's always a place in my garden for zinnias. Not only do they make great cut flowers, but newer varieties flower effortlessly with little deadheading (removal of old blooms). The new Sasiando mix, which comprises Zinnia 'Macarenia', with gold and orange double blooms, and 'Mazurkia', with ivory and red double blooms, attracts butterflies in a big show of flowers. Both are high performers in sweltering summer weather and their bushy plants reach two to three feet. Deadheading is not necessary but may keep plants looking prettier.
Plant a few of these water- and heat-wise plants and your flower garden will be smiling through even the most scorching days of summer, with moderate care and watering. Give them a boost with an OMRI Listed flower food and top-dress with Black Gold Garden Compost Blend and keep the sunny blooms and bouquets coming!