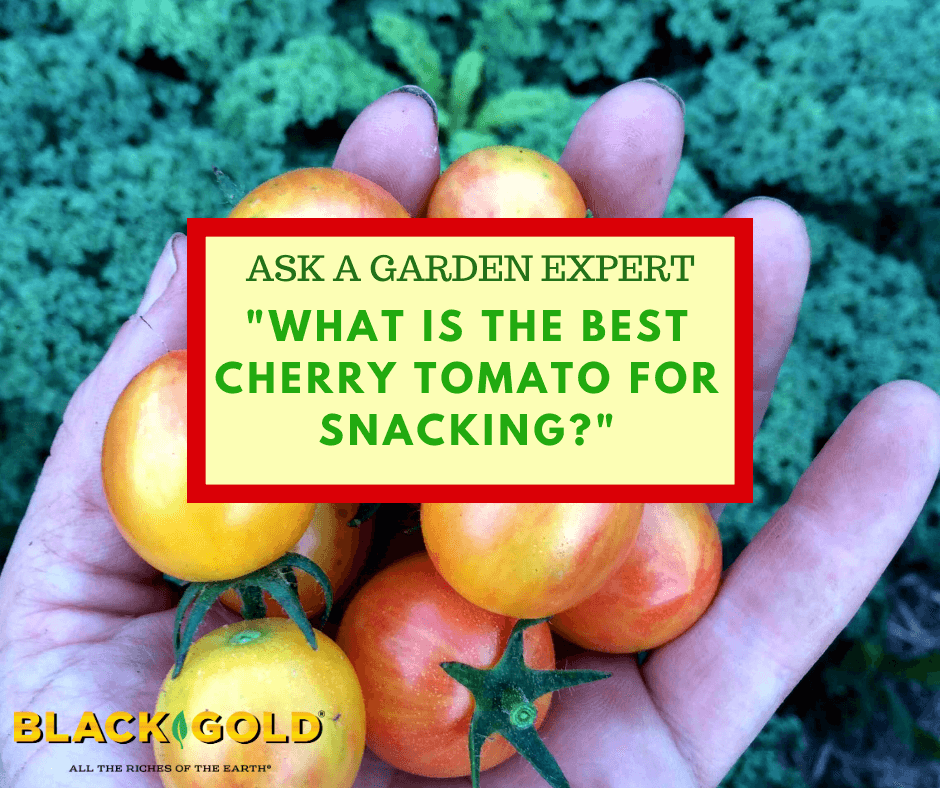 "I'm looking for a good cherry tomato or currant tomato snack for my men at work to grow at the warehouse. I like indeterminate, sweet, hardy, and easy to harvest." Question from James of Clearwater, Florida
Answer: You've asked the right person! I've grown more different kinds of cherry tomatoes than I can count in the quest to find the best. The old-fashioned person in me always sticks with the classic, indeterminate, orange-fruited 'Sun Gold' for consistently good production and high flavor, but I've adopted some others in recent years that I grow alongside my 'Sun Gold'. These are the orange 'Sun Sugar' (a little sweeter but less complex) and the truly beautiful, tart and delicious, red-striped, gold 'Sunrise Bumblebee' (photo above). For reds, 'Favorita', and 'Apero' have high, high yields and great, super sweet flavor.
Several years ago, I wrote a piece about my favorite cherries for flavor. There are a few that I've grown since to add to the list, but the tomatoes in the piece are all super sweet and flavorful: My Top 10 Best-Tasting Cherry Tomatoes.
Still, if I were to whittle it down to one, I'd choose 'Sun Gold'. (I am not alone. It was won numerous taste tests and produces non-stop.)
I hope that this helps! I also recommend you read the article Growing Tomatoes from Seed to Harvest.
Happy cherry tomato growing!
Jessie Keith
Black Gold Horticulturist
Follow up from Jim of Clearwater, Florida:
"Thanks for the answer on the best cherry tomatoes. I forgot to include one important item which is our tropical weather exceeding 90 degrees in summer. Are any of your favorites good to keep producing through our brutal summers?"
Answer: 'Sun Gold' and 'Super Sweet 100' are two excellent varieties recommended in a University of Florida Extension article about tomatoes cherry for warmer regions. I am telling you! 'Sun Gold' is near perfect.
Enjoy your cherry tomatoes!
Jessie