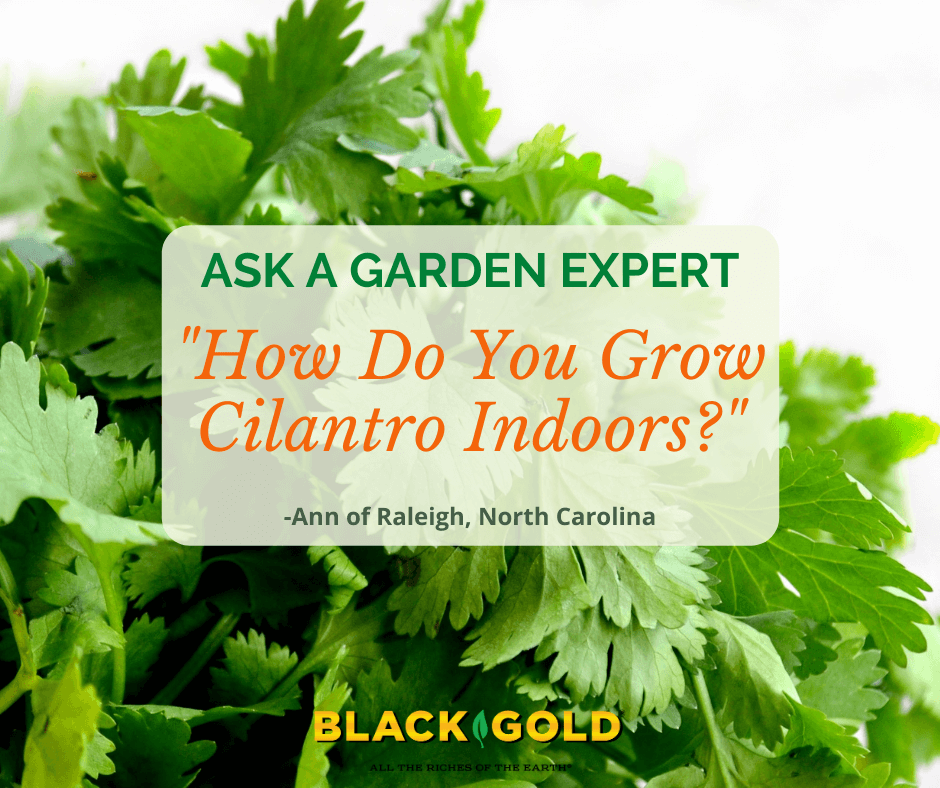 "What is the best practice to ensure a window-sill cilantro plant will thrive? I have a green thumb and can grow or rehab practically any plant/flower/herb/garden. However, each time I've purchased a cilantro plant, it wilts after a few months. I only water when dry. Thank you!" Question from Ann of Raleigh, North Carolina
Answer: Cilantro (Coriandrum sativum) is a short-lived annual herb that grows best in full sun and cooler temperatures between 65–70°F. That's why it dies away after a few months after flowering. It's just what annuals do. My recommendation is to start it from seed in pots along a sunny windowsill and keep replanting as needed.
Growing Cilantro from Seed
Cilantro seeds germinate well in Black Gold Natural & Organic Potting Mix. Sow the seeds, cover them lightly with 1/8 of an inch of soil, and water them thoroughly. Then keep the seeds lightly moist by spritzing them with water. Expect them to sprout in a week to ten days. Then keep the soil just moist by watering from the bottom. It also helps to apply an application of water-soluble fertilizer weekly after they begin to grow. Typically, you can start trimming the leaves for cooking after a few more weeks. Microgreens can be harvested earlier.
Cilantro remains leafy for only a couple of months before it starts to send up stems of white, lacy flowers. If you let it flower and set seed, you can harvest and dry the coriander seeds for pickling and cooking. If you prefer cilantro, then pull the plants as they flower, and plant seeds anew. You might even maintain a couple of pots and plant them several weeks apart to ensure you have a constant flow of cilantro.
Some cilantro varieties stay leafy longer than others. 'Calypso' is one of these. It is generally ready to harvest 50 days after planting.
Happy gardening,
Jessie Keith
Black Gold Horticulturist