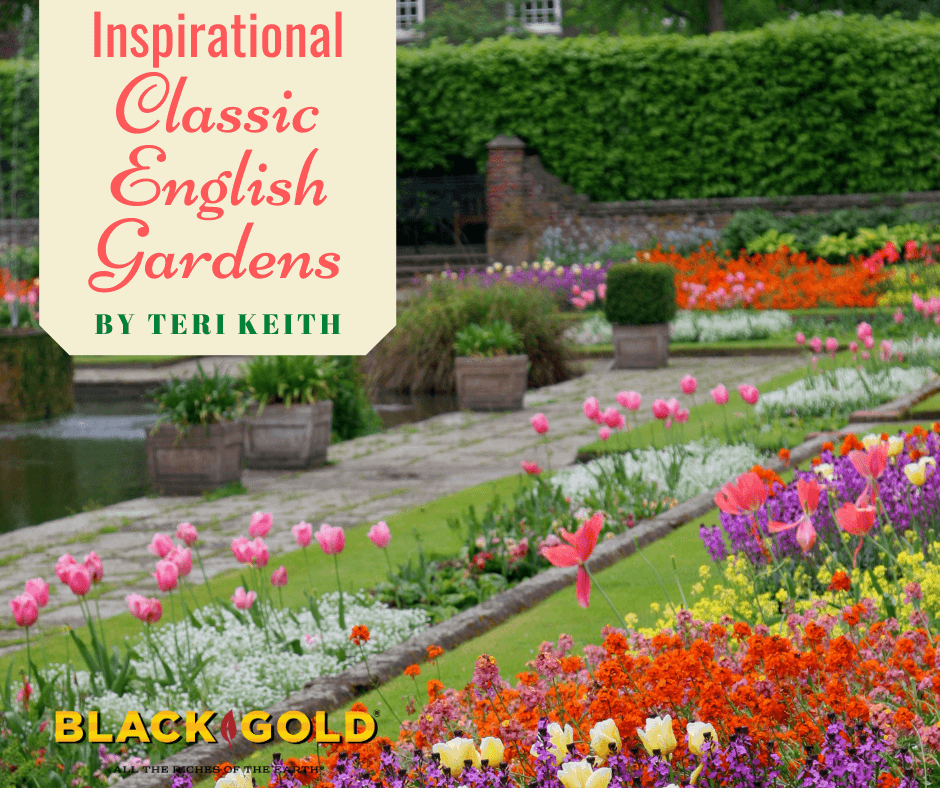 I have always been in love with English gardens, from the informality of cottage gardens, filled with hollyhocks and climbing roses, to more formal gardens around estates and castles, with tidy clipped evergreen topiaries, tree allées, and flower borders.  In many of England's most famous gardens you find a mix of both informal and formal garden styles. Some designs are attainable and inspire my own home plantings, while others are simply a joy to learn about and see.
Formal English Gardens of the Aristocracy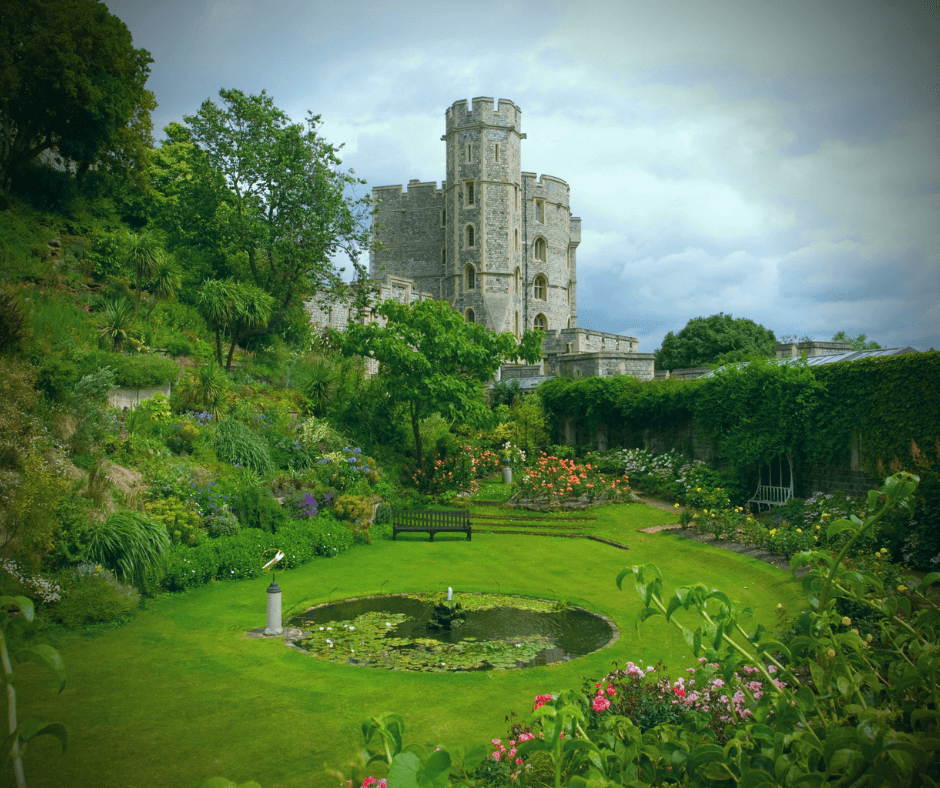 Medieval English gardens (5th to the late 15th centuries) were often most focused on utility as well as beauty. Elizabethan gardens (16th to 17th centuries) adopted the geometric formality of other aristocratic gardens popularized across Europe. In the 18th century, Capability Brown (b. 1716, d. 1783), a lover of broad, sweeping, picturesque and pastoral landscapes, became (and still remains) England's most famed and beloved landscape designer. Many of his landscapes and gardens still exist today and define the quintessential English landscape–molded and shaped so deftly that the natural beauty shines. The Victorian era (19th century) brought about a revival in formal gardening.
Take the ornate 19th century garden at Elvaston Castle (est. 1840s), just near Derby, England, which was created by the ambitious gardener, William Barron. It was famed for its elaborate and fanciful topiaries, which were used to create great scenes and surround beautiful gardens. (Topiary is the trimming of evergreens into shapes, such as boxes, obelisks, tiered spheres, or even animal shapes.) The garden was filled with all manner of geometric gardens.
Elements from all garden eras are still found in grand old English gardens today, many surrounding the homes of aristocrats. Carefully clipped, formal hedges edge long drives up to the house and frame big expanses of lawn as well as pleasing gardens between. A prime example are the grounds of Windsor Castle (established by William the Conqueror in 1070), the favorite castle of Queen Elizabeth II. The east terrace garden, which recently was opened to the public, contains expansive geometric gardens with fans of fragrant roses and other prized flowers, large pools, and cooling fountains. Formal allées of trees and shrubs add to the splendor of the property.
In addition to the grand gardens of the aristocrats, there was always a kitchen garden somewhere on the estate and often an orchard. Those who worked for the Lords and Ladies were the ones who initially had the cottage gardens.
My Favorite English Gardeners of the 20th Century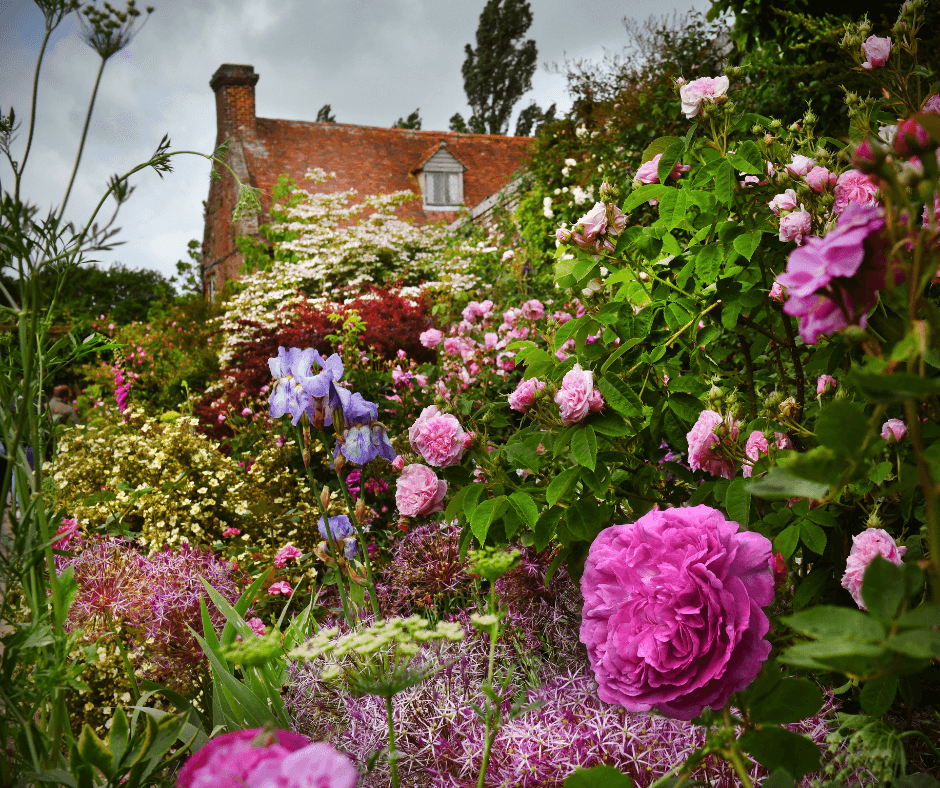 Nostalgia for the beauty of England's old gardens helped shape newer English garden styles of the 20th century, which most inspire me. Two famous English gardeners (and garden writers) with smaller houses on much smaller estates, have helped me the most in my garden design.  These men were John Beverley Nichols (1898 – 1983), and Christopher Lloyd (1921 – 2006) of Great Dixter.
Christopher Lloyd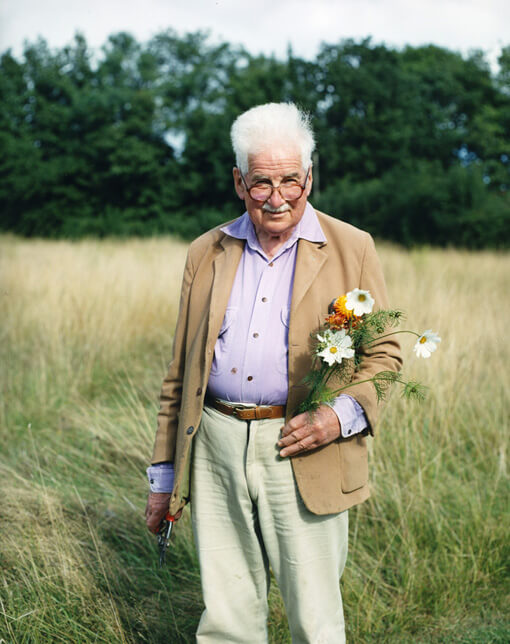 Great Dixter is one of the most famous gardens in England, and the estate is only 4 acres.  It was owned by Christopher Lloyd who inherited the property from his family.  Since his passing 15 years ago, the historic gardens have been maintained and nurtured by horticulturist Fergus Garrett. The house has three parts: the oldest from the early 1500s, the second from the 1850s, and the last  from 1912. The latter two have been restored to look like the original.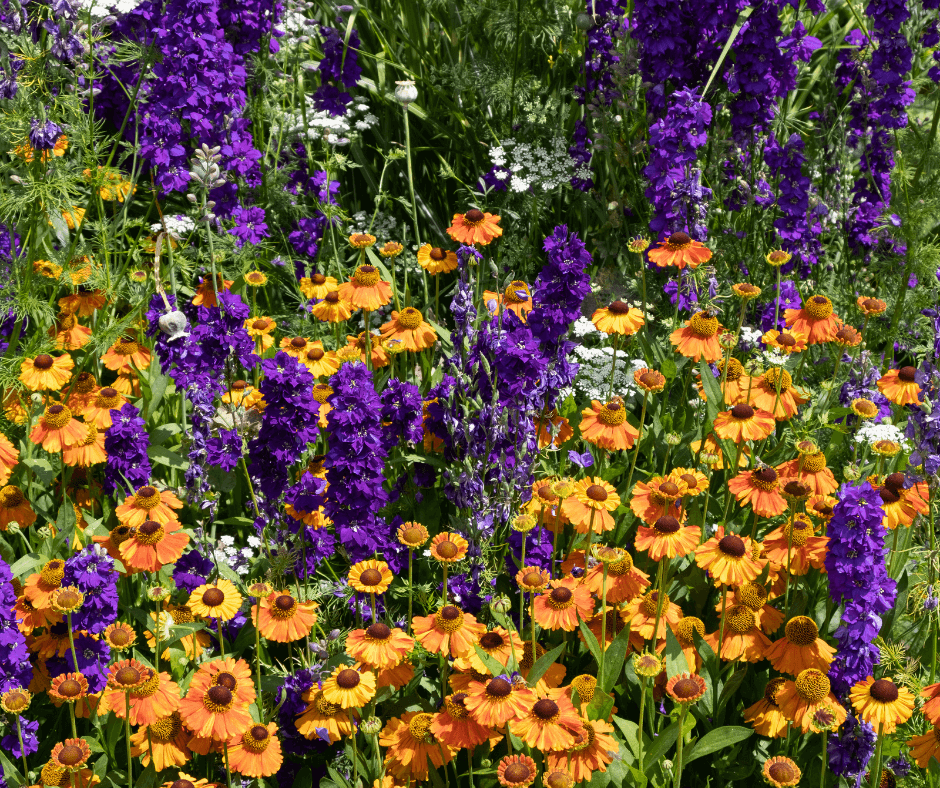 Lloyd's garden philosophy was, "if you like it, do it." He often chose wild combinations of flowers with contrasting textures and colors. His bold plantings became world-renowned for their sensational looks. For example, in one spring garden he had a mix of purple and red tulips, colors not usually grown together.  (Try reading his inspirational book, Color for Adventurous Gardeners (2001)). Lloyd divided Great Dixter into 15 different gardens including topiary, exotic, sunken, meadow, peacock, and the 'essential water garden.'  A long flower garden runs across front of the house.  The beds are filled with flowers, shrubs, roses, ivies, topiary, and ornamental grasses, all mixed up, to make fabulous, and unusual displays.  Great Dixter is open to the public and visited by thousands of people every year.  His many books on gardening have excellent advice and fantastic photos.
Beverley Nichols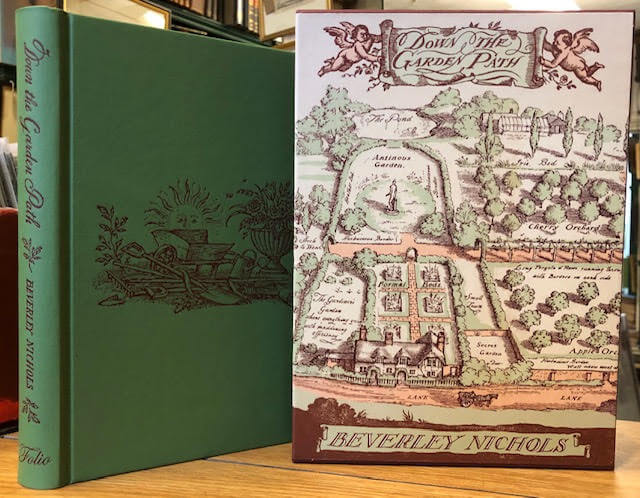 The other English garden addict that has inspired me and my gardening is (John) Beverly Nichols.  He started out writing murder mysteries in the 1920s, but in 1932 he wrote his first garden book, Down the Garden Path. It became an instant best seller. My favorites, and his most famous books, are a trilogy that include Merry Hall, Laughter on the Stairs, and Sunlight on the Lawn. The uplifting books mix reality (there really is a Merry Hall, and the gardens mentioned were real) with fiction and humor.
Nichol's property was only 5 acres. After he got rid of all the existing plants, except for very old trees, he filled it with his own gardens. He put a grove of trees in one corner and flowerbeds all around.  His love of snowdrops were evident in the early spring beds he created, and many others show his artistic pairing of roses, shrubs, trees, and flowers. He also had what he called his 'essential water garden.'  Beverly loved garden art–classic pillars, urns, cherubs, and statuary–which he would buy like an addict, whether he could afford it or not. His purchases were made in stealth; he would sneak away from his butler, who handled the money, in order to buy them. Despite any minor garden-art transgressions, his gardening advice has been invaluable to me.
Creating Your Own English Garden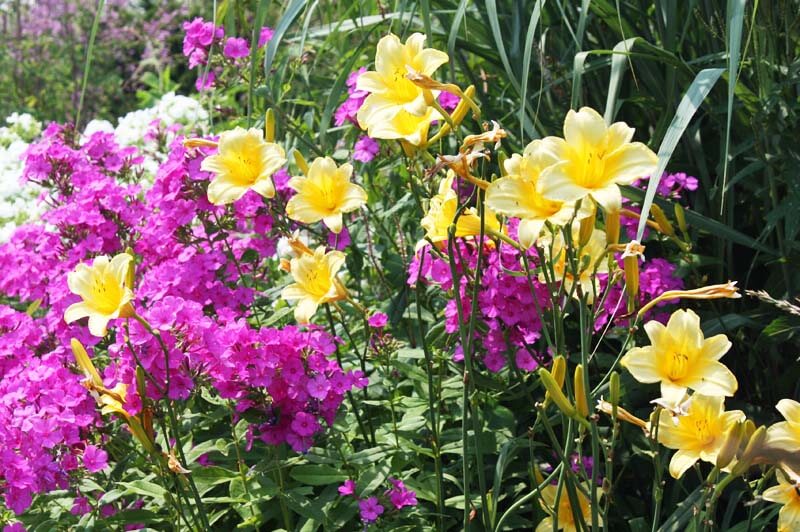 Following the advice of these English gardeners, I have very full gardens, some created in the English cottage style. My favorite garden flowers are daylilies, lilacs, roses, hostas, and rambling clematis vines. Many new annuals add yearly color to my beds and containers.
Following Christopher Lloyd's advice, my trees, flowers, and shrubs are mixed together in unique arrangements that please me. I have one garden with many different hostas, rhododendrons, and smooth hydrangeas (Hydrangea arborescens 'Annabelle'), all under a tri-color beech (Fagus sylvatica 'Roseomarginata'); another bed contains a variegated lilac with lots of the dainty 'Freckles' violets that bloom in the spring; another has two large, arching beauty bushes (Kolkwitzia amabilis), with their small, pink, trumpet flowers etched in light orange, surrounded by colorful coneflowers, bearded iris, and bee balm in front of my 'essential water garden.' All of these beds are fortified yearly with quality compost, such as Black Gold Garden Compost Blend, to keep my gardens fertile and performing at their best.
The English made the everyday cottage garden something for beauty and enjoyment. I hope learning a little about old and new English gardens encourages you to read more, experiment in your garden, and follow your own garden path, wherever it leads you.