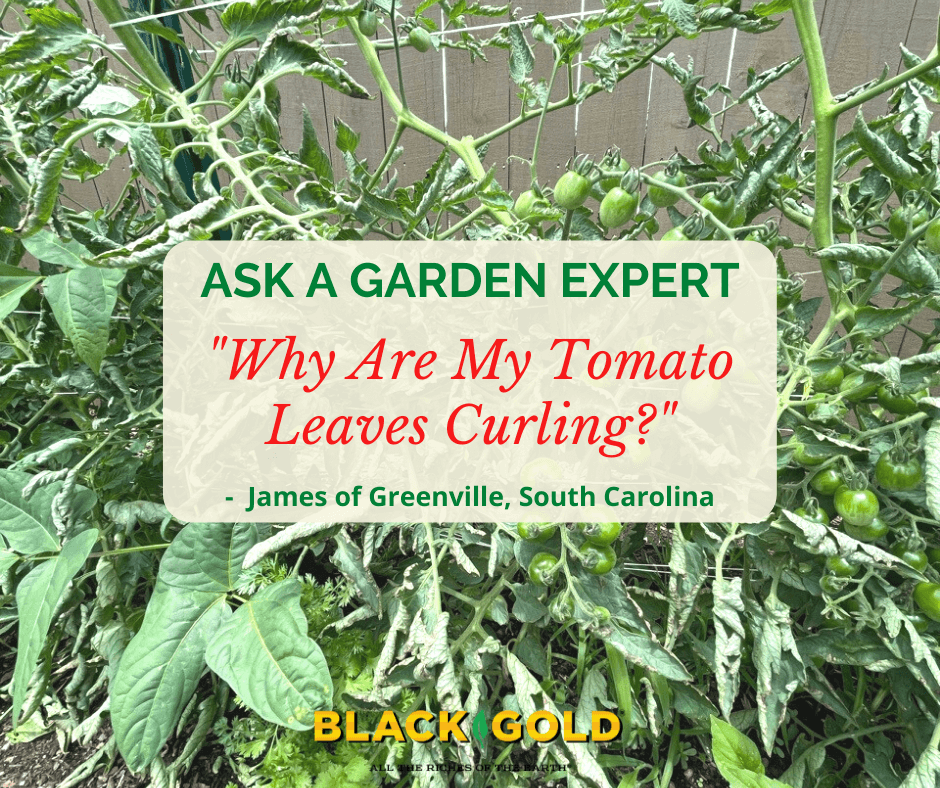 "Lots of my tomato plants have curling upward leaves, and in most cases only edge damage. Why?" Questions from James of Greenville, South Carolina
Answer: There is a Tomato Yellow Leaf Curl Virus, but your plant lacks several of the symptoms, including stunting, yellowing, and eventual leaf browning. Tomato plants more commonly experience physiological leaf curl when subjected to various environmental stresses. In this case, I believe yours is caused by environmental stress.  Here are four possible sources of stress.
Environmental Tomato Leaf Curl Causes
Too little or too much water — Vines fail to grow as well when water is lacking, and they develop root rot when there is too much water. Either can cause leaf curl. Regular, even watering will yield the best results.
High heat — Temperatures over 85 degrees F will cause most tomato plants stress and sometimes leaf curl. Some tomatoes are more heat-tolerant. Two of the best heat-tolerant varieties include the large, red-fruited 'Heatmaster', which can take the high heat of the South, and disease and heat-resistant 'Heatwave II', which bears deep red tomatoes with good flavor.
Wind stress — High winds cause rapid water loss from the leaves and stresses vines. Leaf curl can result.
Herbicide damage – Glyphosate herbicide damage is most common. It can cause this type of leaf appearance if a small amount reached your tomatoes from a downwind application.
Could any possibilities be the cause? Please let me know. In the interim, click here to read more about leaf curl, and watch the video below about growing tomatoes to perfection!
Happy gardening!
Jessie Keith
Black Gold Horticulturist