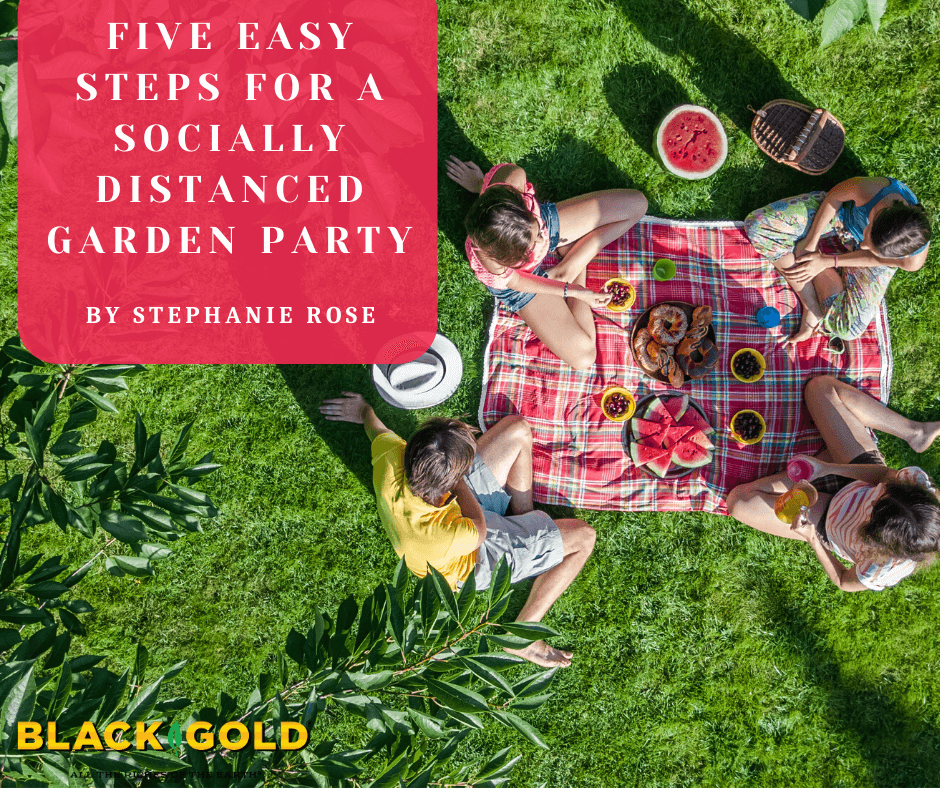 A garden or spacious yard is a wonderful venue for an outdoor party, especially in the days of COVID-19. A warm summer evening with a drink in hand and a garden filled with friends, each on their own picnic blanket or lawn table, is a lovely way to hold outdoor gatherings where we can enjoy the beauty of nature together, safely. The surroundings are already decorated with bright flowers, flitting bees and butterflies, and sparkling sunshine. Add a few mosquitoes or mosquito-repellent plants are you are set (click here to learn more about naturally repelling mosquitoes.)
Under normal circumstances, I use waste-free reusable materials for my garden parties. A floral table cloth, vintage dishes, ornate cutlery, and decorative glassware all have a place at my table, and they are readily available at garage sales and thrift stores. But these days reusables are the safer option, so for these, I go green.
The need to maintain space is also essential. So, I am improvising this season with well-spaced areas where I can enjoy my friends at a safe distance. Follow these five easy steps to create a festive garden party experience, through COVID-19 days and beyond, and your guests may never want to go back inside again!
1.  Garden Party Settings and Cloths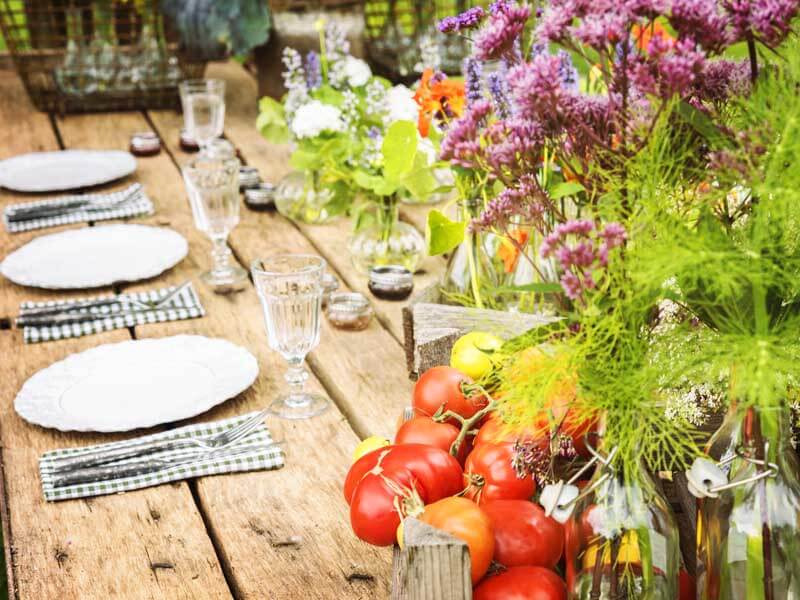 When it comes to garden parties, forget minimalism!  Keep the decor intimate, plant-focused, and functional, and spend both your time and money on beautiful reusable or compostable items that can be used again and again or eventually used to feed your garden.
Layer plenty of florals and natural elements on tables for guests, and keep dishes and cutlery pretty but green and compostable (a great way to add to that compost pile). Floral table cloths, such as bright, easy-to-clean Mexican oilcloth table cloths, green compostable, biodegradable plates, cutlery sets, and paper cups are all good choices. If the party is picnic-style, have friends bring their own blankets and pillows for comfort on the ground.
Go crazy with bright colors and mixed patterns or use natural materials, like burlap and unbleached paper, on the table to create a neutral base for festive decor. Then collect what is available in the garden and use it to decorate the table. When the party is over, most of the decorations can go right into the compost bin or dishwasher.
3.  Garden Party Flowers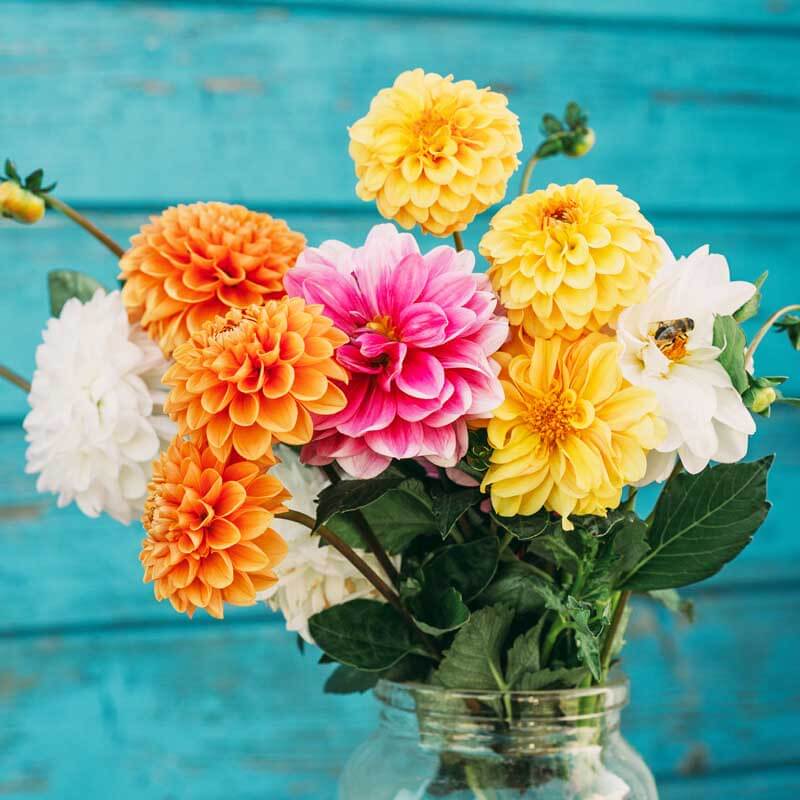 You simply can't have a garden party without freshly-picked flowers, herbs, and vegetables! Add cut flowers to mason jars, vintage glassware, or recycled tin cans, or make a fragrant herb bouquet by combining herbs that have both foliage and attractive flowers. Black-eyed-Susans, purple coneflowers, sunflowers, and zinnias all add a nice pop of color to any herbal arrangement. (Click here to learn more about growing beautiful, low-cost cut flowers.) When planning your garden, you may want to consider potting flowers or succulents so that they can be arranged time and time again for your garden parties.
2.  Garden Party Food from the Garden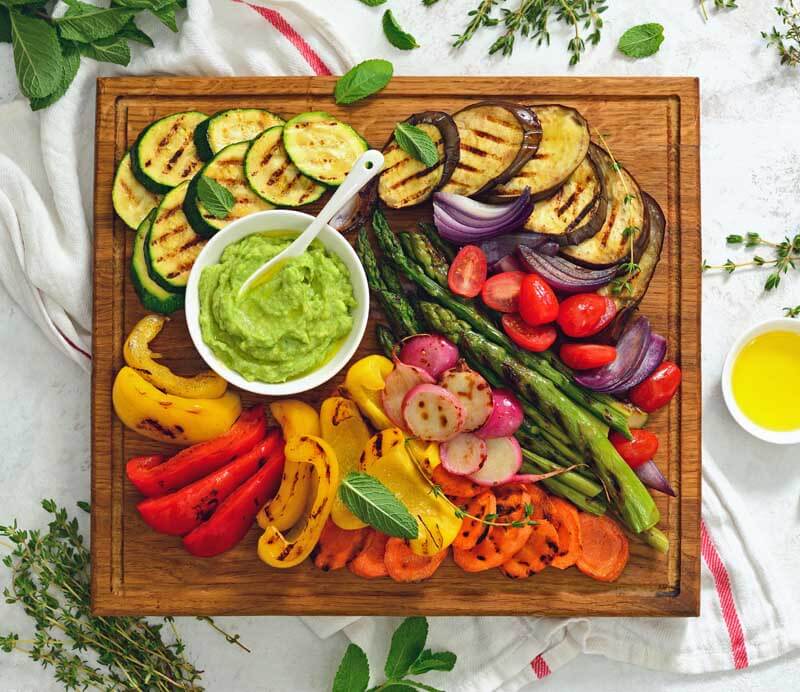 Barbecues and garden parties can often be meat-centered. Instead, refocus the menu around plants! Fresh salads, crudites, and a plant-based burger add a light take to the evening. Plan the menu with foods that are in season, using fresh ingredients harvested from the garden. Add fresh vegetables to the main dishes, along with herbs in cocktails, and fruit for dessert. Make guacamole and hummus to reduce the extra waste from prepared packaged dips. And don't forget edible flowers! (Click here to learn more about the tastiest edible flowers.) No garden party is complete without them.
4.  Create an Intimate Setting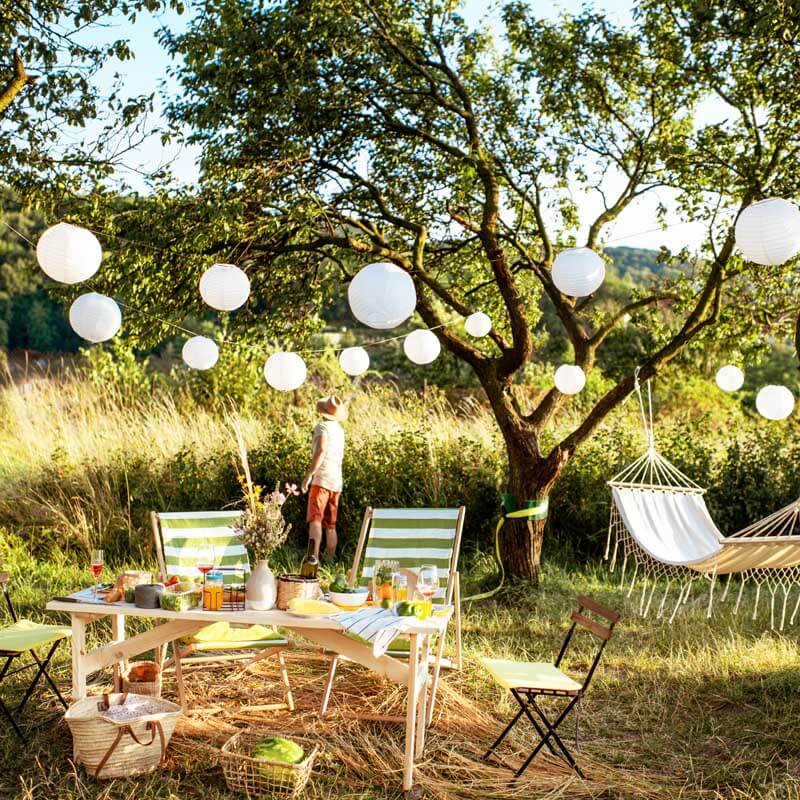 Keep the plant theme going and use your garden as the backdrop. Arrange eating areas throughout your garden where guests can fill their plates one at a time. Garden parties don't have to end just because the sun goes down. String up some solar lights or lanterns to set the tone for a fresh, natural environment. Pop tea lights in mason jars and you have a simple, glowing table centerpiece. Keep unwelcome guests away with bug-repellent herbal candles containing lavender, mint, rosemary, or citronella for the tables. You can even use several of them to illuminate a pathway to your patio. There are endless ways to get creative with candles in the garden. Adding classical music at a low volume can add an elegant touch to your party. Your garden will start to feel like Buckingham Palace and your guests like royalty!
5.  Garden Party Climate Control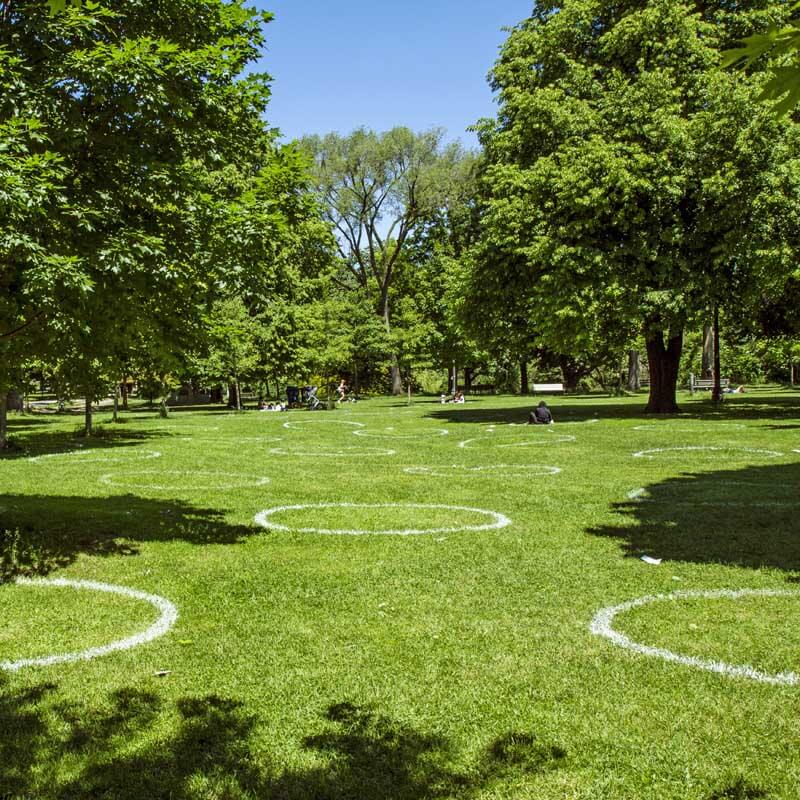 Having a party outside is lovely for a multitude of reasons, but the great outdoors can get too hot or cold sometimes. As the host, it's your responsibility to keep your guests – and yourself – as comfortable as possible. To keep the heat at bay, set up fans or even a foot pool, and provide cool drinks. On chilly evenings, break out blankets, heaters, or a cozy outdoor fire. Just maintain enough space for safety and comfort, and you will be set.
Now that your garden is party-ready keep these eco-friendly tips in mind, so you can enjoy your garden to the fullest while keeping your guests comfortable and not putting additional strain on Mother Nature.