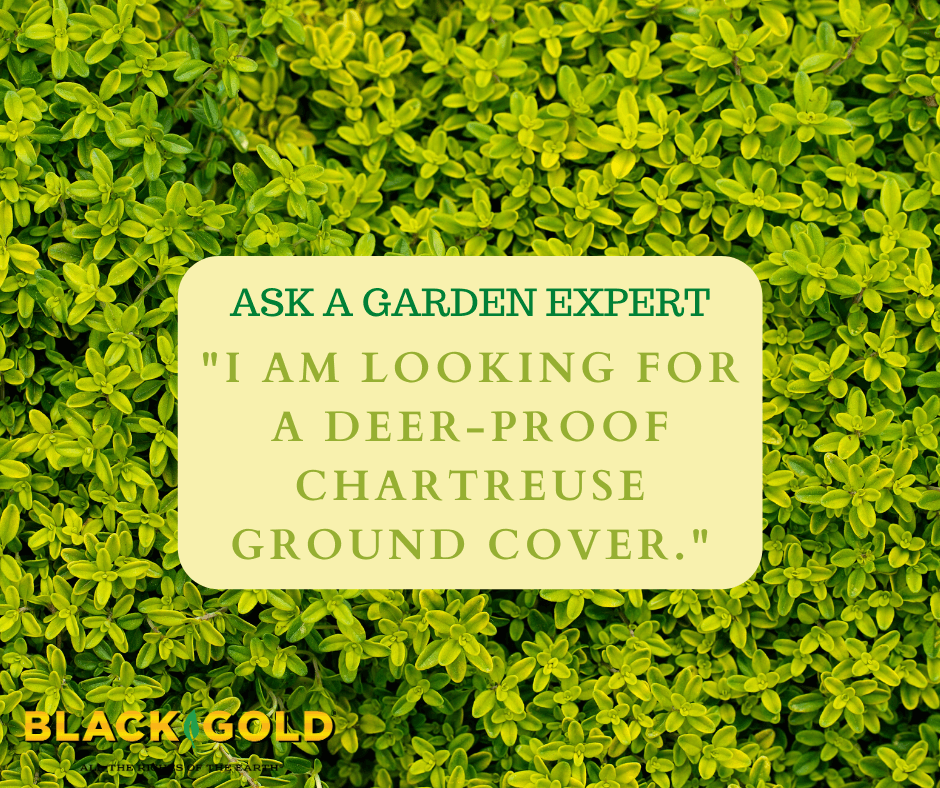 "I planted a chartreuse ground cover, I believe it was a sedum, not sure.  Very low growing.  It looked great & then the deer discovered it – they ate it all.  Can you suggest another chartreuse ground cover that perhaps the deer wouldn't – the little darlings." Question from Peggy of Canton, Michigan
Answer: Many sedums are succulent treats for deer. It is really too bad because they are otherwise so tough and beautiful. There are a number of low, spreading groundcovers with chartreuse or golden-chartreuse color that deer tend to avoid. Here are some perennial options in addition to one woody option.
Deer-Resistant Chartreuse Groundcovers
Golden Creeping Jenny (Lysimachia nummularia 'Aurea'): Here's a fast-spreading, non-evergreen groundcover that will withstand both partial sun and shade. It grows best in fertile soils and can take over quickly, so plan to dig some out on occasion to keep it in line.
Golden Spotted Deadnettle (Lamium maculatum 'Aureum'): Spotted deadnettle is a pretty, fast-spreading flowering groundcover in the mint family. In general, deer avoid plants in the mint family. The variety 'Aureum' has very pretty golden-chartreuse leaves and pinkish flowers in spring. It grows best in partial sun to shade.
Good Vibrations® Gold Spreading Juniper (Juniperus horizontalis Good Vibrations® Gold): The beauty of this chartreuse groundcover is that it is evergreen. Each plant only reaches a little over 1 foot tall but can spread as far as 6 feet. It is very tough and thrives in full sun.
Banana Boat Creeping Broad-leaved Sedge (Carex siderosticha Banana Boat®): Plant this beautiful, deer-resistant sedge in groups to create a chartreuse and gold ground cover. It grows best in partial shade.

Golden Lemon Thyme (Thymus x citriodorus 'Aureus'): Deer can't stand the strong smell of thyme, and this sun-loving groundcover has the leaf color you want and is also edible. Just be sure to plant it in well-drained soil.
I hope that some of these suggestions interest you.
Happy gardening!
Jessie Keith
Black Gold Horticulturist