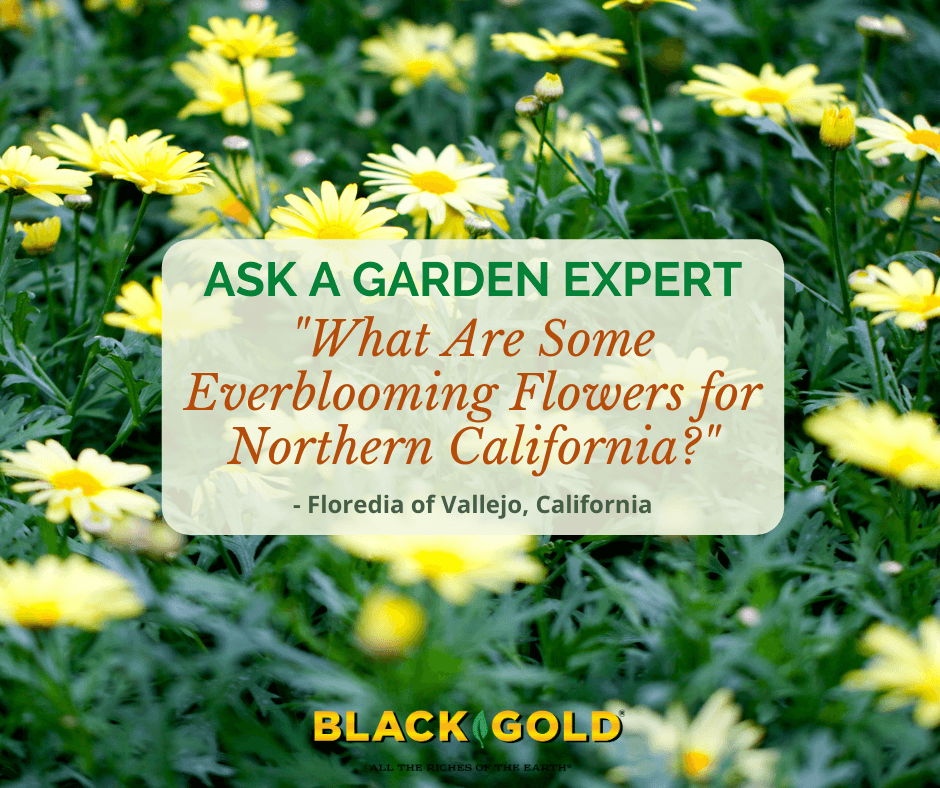 "I live in Northern CA– in the Bay Area. What are the flowers I can plant that will bloom year-round?" Question from Floredia of Vallejo, California
Answer: You live in USDA Hardiness Zone 9b. Thankfully, there are lots of everblooming garden plants that continue to look pretty year-round. Here are some suggestions for your zone and mild, arid climate.
Six Everblooming Flowering Plants for Northern California
Marguerite Daisy (Argyranthemum frutescens, Zones 9-11): New varieties of this daisy from the Canary Islands have been bred to bloom continuously. Vanilla Butterfly® is an especially pretty, high-performing type with ivory and butter-yellow blooms. Established plants tolerate heat and some drought. Bees and butterflies will visit the flowers.

Everblooming Roses (Rosa spp., Zones 5-10): Most new roses are continuous bloomers that tend to flower most vigorously in spring and then in bursts when weather is favorable throughout the year. (Click here for a great list of roses recommended for the West Coast.)
Lynn's Legacy Texas Ranger (Leucophyllum langmaniae 'Lynn's Legacy', Zones 8-10): Beautiful lavender-blue flowers cover this evergreen Mexican shrub through most of the year. Plant it in a well-drained spot. The Chihuahuan Desert native needs dry soil once established.
Mes Azur Sage (Salvia 'Mes Azur', Zones 6-9): Here is a tough evergreen everblooming salvia that bears loads of small purple flowers all year round. It will only slow down a bit during the hottest driest times of the year. It is a great plant for bees.
Red Neck Girl Forsythia Sage (Salvia madrensis 'Red Neck Girl', Zones 7-10): If you like big, bold plants, then this everblooming Mexican salvia is for you. It has huge spikes of yellow flowers on 4-6-foot plants. Hummingbirds love them.
Redvein Indian Mallow (Abutilon striatum, Zones 9-11): Pendulous flowers of yellow with striking red veins cover this shrub through the warm growing season. Specimens can become quite large (8-10′) but take well to rigorous pruning. It also grows well in pots.

There are hundreds more flowers for your area that bloom almost year-round, so let this list be the start of an ongoing search.
Happy gardening,
Jessie Keith
Black Gold Horticulturist