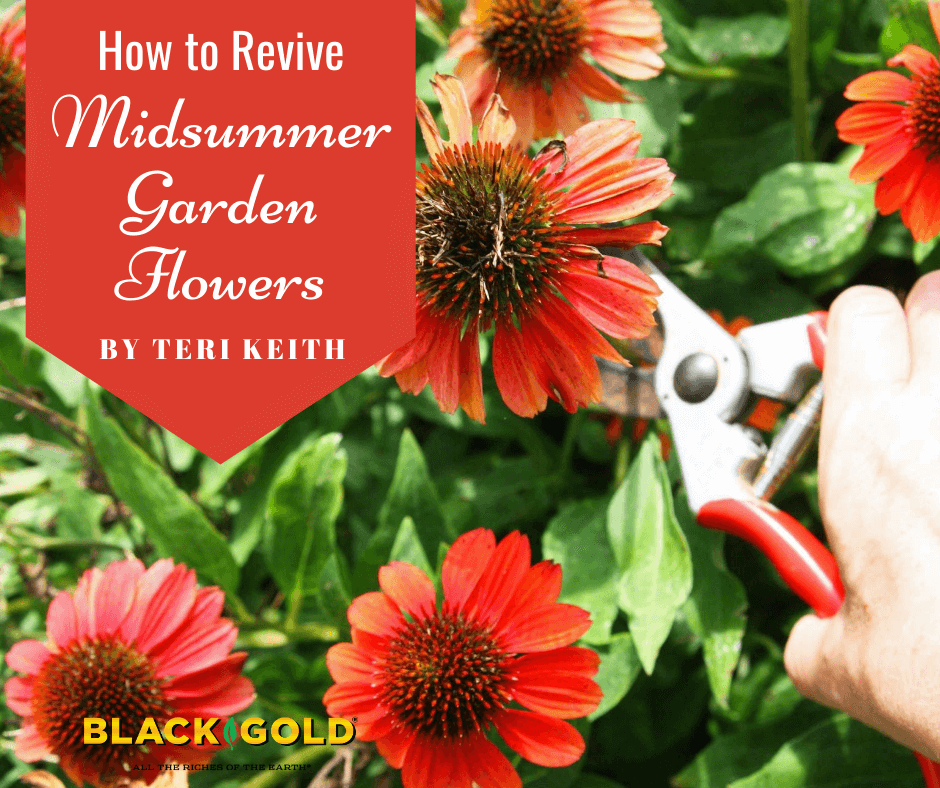 The neverending summer heat, especially here in the Midwest, stresses garden flowers and potted plants as well as the people that care for them. Formerly vibrant containers of calibrachoa, petunias, marigolds, gaillardia, salvias, zinnias, and other annuals, can start to look pretty drab by August without intervention. Plenty of perennials will also pop back and either rebloom or form attractive foliage.  Some gardeners may think, "Who wants to go out in the nineties and work on plants past their prime?" Don't make this mistake. If you give certain garden flowers a little reviving boost, they will look great until fall.
Start by Avoiding the Heat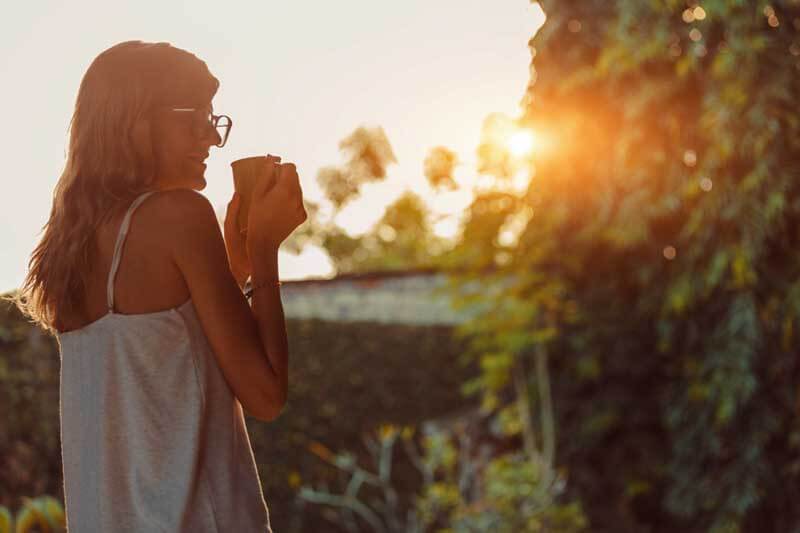 Care for your flowers in comfort by avoiding midday temperatures. When you are at ease, so are your garden plants. Go outside from early to mid-morning when it is coolest. Drink a glass of icy water before going out, and keep another on hand outdoors. Decide how long you can stay in the hazy, humid jungle before feeling overheated. For me, this usually turns out to be for an hours from 8:00 to 9:00 AM, and no longer, since this is all I can tolerate at one time. On the hottest days, I also use an ice pack around my neck, which is a big help.  These are easy to find online and well worth the money.
Trimming Back and Deadheading Annuals Midseason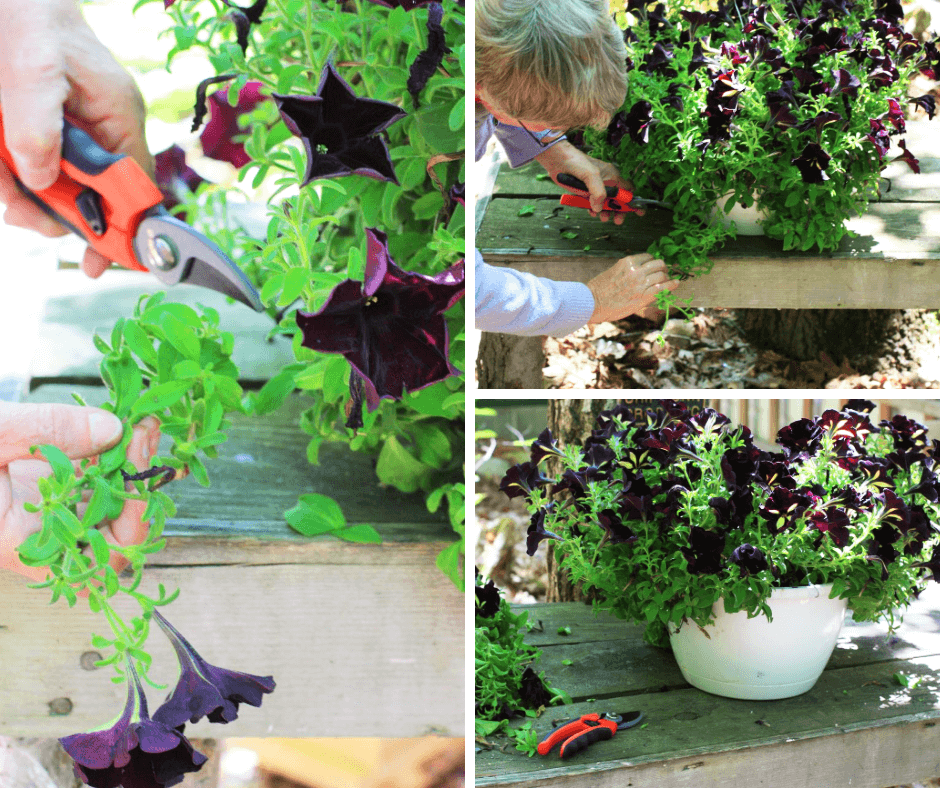 Trim Midseason – Most annuals can be brought back to their former glory with only a little bit of work. Whether in containers or the garden, many need to be cut back, especially calibrachoa and petunias. Cut leggy stems back by one third to three quarters, and they will pop right back. (Click here for a detailed overview of cutting back petunias and calibrachoa.)
The need to trim also holds true for marigolds, zinnias, verbena, salvias, and annual dianthus, as a general rule, only cut these back by one quarter to one third. They should bounce back quickly and look beautiful for the rest of the season. Follow up with selective deadheading as needed.
For taller garden annuals, such as cosmos and amaranths, cut them back by half, and in only one week or two, they start putting out new flower stems. The plants will look bushier and bloom once more.
Deadhead Regularly – For compact marigolds, tall zinnias, dahlias, annual salvias, and flowering geraniums, only remove the spent flowers. Remove larger dead flowers one by one and shear off lots of smaller spent blooms. You may lose a few buds in the shearing process, but you will gain loads more.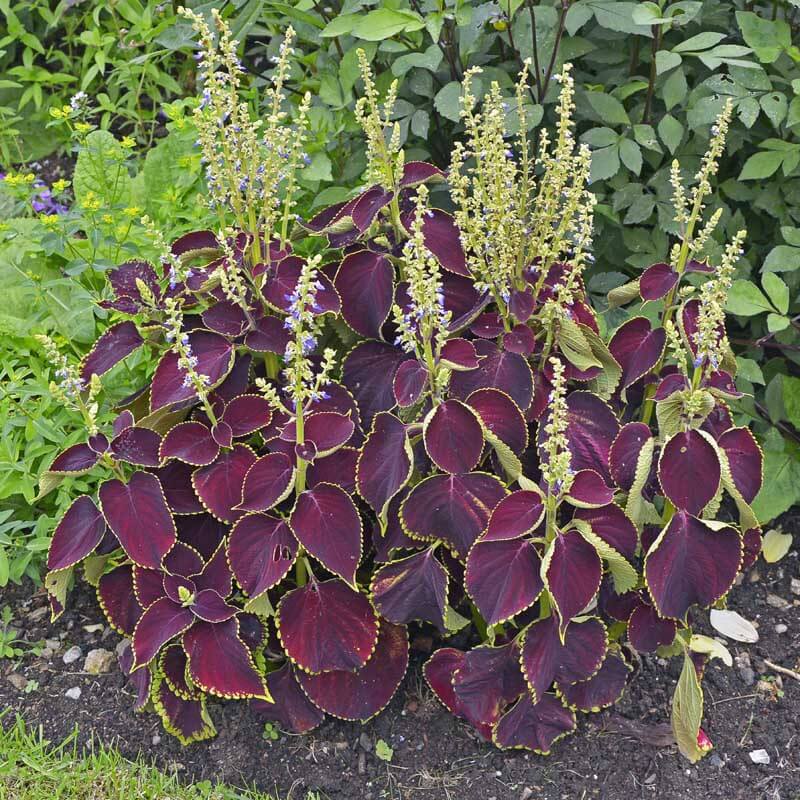 Pinch Buds Regularly – There are foliage plants that also require regular deadheading to keep their leaves looking beautiful. Coleus is the most popular garden annual that suffers from flowering. When plants flower, they put energy towards blooms rather than pretty leaves, and the plants instantly start to lose their good looks. So, remove their flower buds on sight.
Trimming Back and Deadheading Perennials Midseason

Perennials are a bit different. Quite a few will also rebloom, but some won't, so it pays to know what will provide more flowers with trimming and deadheading and what won't. With that said, even perennials that don't rebloom will respond well to trimming by providing an attractive flush of new foliage, which helps keep gardens looking their best. Here are some reliable rebloomers.
Blanket flower (Gaillardia x grandiflora) has pretty, colorful daisy flowers that turn to round, tan seedheads after blooming. Keep these seedheads cutback. Another method is to wait until they are almost finished blooming and then shear the plant back by one third.

Catmint and perennial salvia (Nepeta hybrids and Salvia hybrids) send out long stems with violet-blue or purple flowers. Over time, those of many varieties tend to sprawl. (One exception is Cat's Pajamas, which has tidy, upright stems of flowers.) Eventually, catmints stop blooming heavily, and their stems get ratty looking. At this point, cut back to the base clump, and new stems will start growing and flowering in a matter of weeks.

Coneflowers (Echinacea species and hybrids) respond well to more than one method of pruning. One can wait for them to almost complete flowering and then cut the whole plant cut back–one third for the smaller varieties and one half for the taller ones reaching 3 feet or more. New flower buds should appear in just a couple of weeks. Another method is to selectively deadhead as each flower dies. Towards the end of the season, be sure to allow plenty of flowerheads to dry. Their seeds are an excellent food for finches and other songbirds.
Hardy geraniums (Geranium spp. and hybrids) vary in their ability to rebloom. Newer varieties that rebloom need to be cut back by one third after their flowers start to wane. Common garden varieties, such as blood geranium (Geranium sanguineum), will not rebloom. Still, their old foliage needs to be cut back by three quarters to encourage new growth, which forms a pretty green mound of leaves that turn red to orange-red in fall.
Ox-eye daisy (Heliopsis helianthoides) is a favorite of mine that reaches 5 to 6 feet tall if you let it. But, if you cut the summer bloomer back by half in late spring, it will produce a shorter plant with better branching and more flowers. Mine bloom from July to August. Occasional light deadheading will encourage further blooms. Unlike the closely related black-eyed Susan, which spreads rapidly by seeds, ox-eye daisy does not aggressively self-sow.
Tall garden phlox (Phlox paniculata varieties) is another flower that responds well to being cut back by one third after the first flowers of the season start to die away and going to seed. A quick trim will have them producing many bright flowers on new stems in no time.  I have lots of lavender, pink, and white phlox that get up to 3 feet tall.  All reliably rebloom after being cut back.

Yarrow (Achillea hybrids) have rosettes of feathery leaves that send up tall stems of blooms in early to midsummer summer.  After the display of flowers stop, cut the plants back by two thirds, and new flowering stems will quickly appear. Newer varieties tend to be the best rebloomers.
Tickseed (Coreopsis species and hybrids) come in lots of varieties, but all produce many daisy flowers of yellow, orange, or rose in summer. Some of the most common are those of threadleaf coreopsis (Coreopsis verticillata), which have lacy leaves, lots of small, bright daisies, and do well in full sun. Depending on the variety, plants can reach 12 to 32 inches. By midsummer, they will have gone to seed. Shear them back by one third to produce a new wave of blooms by late summer.
Reblooming daylilies (Hemerocallis hybrids)-  There are many reliable reblooming daylilies on the market. The most reliable for all-summer bloom that I have found is is 'Happy Returns'.  It has bright yellow flowers and reaches just 2 feet tall. After it has stopped flowering in early to midsummer, either remove all of the spent flower stems and selectively remove any dead or dying foliage, or cut the clump back by 1/3 to encourage new flowers. Either way, they will rebloom and look great in just weeks.
All these perennials are drought tolerant, once established, and loved by butterflies. Aside from tall phlox and daylilies, they are deer resistant as well.
Increase Care After Pruning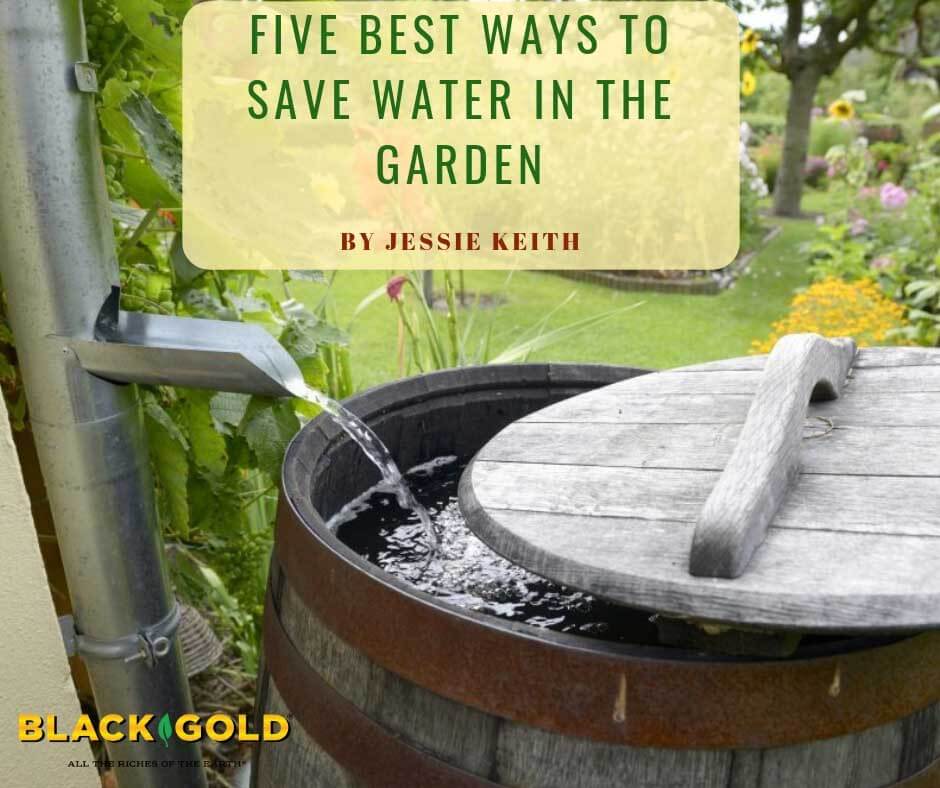 All plants, whether in pots or the soil, require regular water, and all need to be fertilized generously with a slow-release fertilizer for the best results. Top-dressing beds and containers with a little Black Gold Garden Compost Blend can increase fertility and soil water-holding capacity, so it also helps. The addition of Black Gold Just Coir to containers will increase their ability to hold water, which can reduce the need to water. Keep the care up, and you will be pleased with the final results. Time to get to work!
We encourage you to watch the following video by my daughter that details how to trim back daylilies, salvia, and more!
Author's note: Do not cut back Hosta leaves to promote new ones.  Unlike other perennials, the new small leaves that would appear, are next year's leaves and will weaken the plant for the following spring.