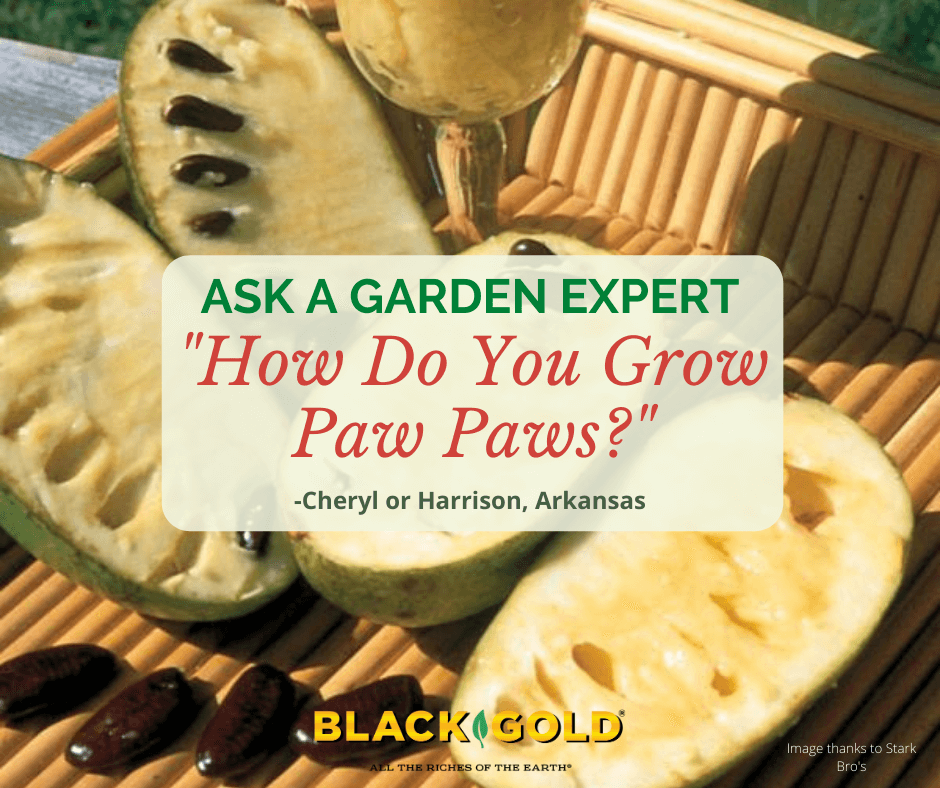 "I have heard that it is almost impossible to grow a pawpaw tree. Is it possible for someone that is not a master gardener to grow this tree?  I would love to have a few." Question from Cheryl or Harrison, Arkansas
Answer: You are in luck! Pawpaws (Asimina triloba, USDA Hardiness Zone 5-9), also called custard apples, are easy to grow. Some varieties are self-fruiting, but most require cross-pollination, so you will need more than one tree for fruit development. Pawpaws are also growing in popularity, so there are more and more varieties with great tasting fruit from which to choose.
Pawpaws are native across eastern North America and look great as small specimen trees (15 to 30 feet) in sunny locations. In spring, the tidy, attractive trees produce unique, three-petaled purplish-maroon flowers, and in fall the large leaves turn shades of golden yellow. Pawpaw fruits are oval, greenish-yellow on the outside, and custardy, sweet and yellow on the inside with large black seeds. The fruits are ready to harvest by late summer or fall, depending on the variety. Wild fruits are sweet and taste somewhat like a ripe banana when mature, but new varieties have been selected for their improved flavor.
Five Great Paw Paw Varieties
For more great varieties, visit Peterson Paw Paws.
How to Grow Paw Paws
These trees look very nice when planted in open, sunny lawns as specimen trees. They grow best in fertile soil with average drainage and a slightly acid to slightly alkaline pH of 5.5 to 7.5. At planting time, amend the soil with a little Black Gold Canadian Sphagnum Peat Moss. (Click here for more details about how to plant trees.) Keep the trees well irrigated in the late spring and summer of the first year, especially during hot spells. Fertilize with a granular fertilizer at planting time. Space the trees at least 20 feet apart in anticipation of their mature size.
I hope that these tips help.
Happy gardening,
Jessie Keith
Black Gold Horticulturist