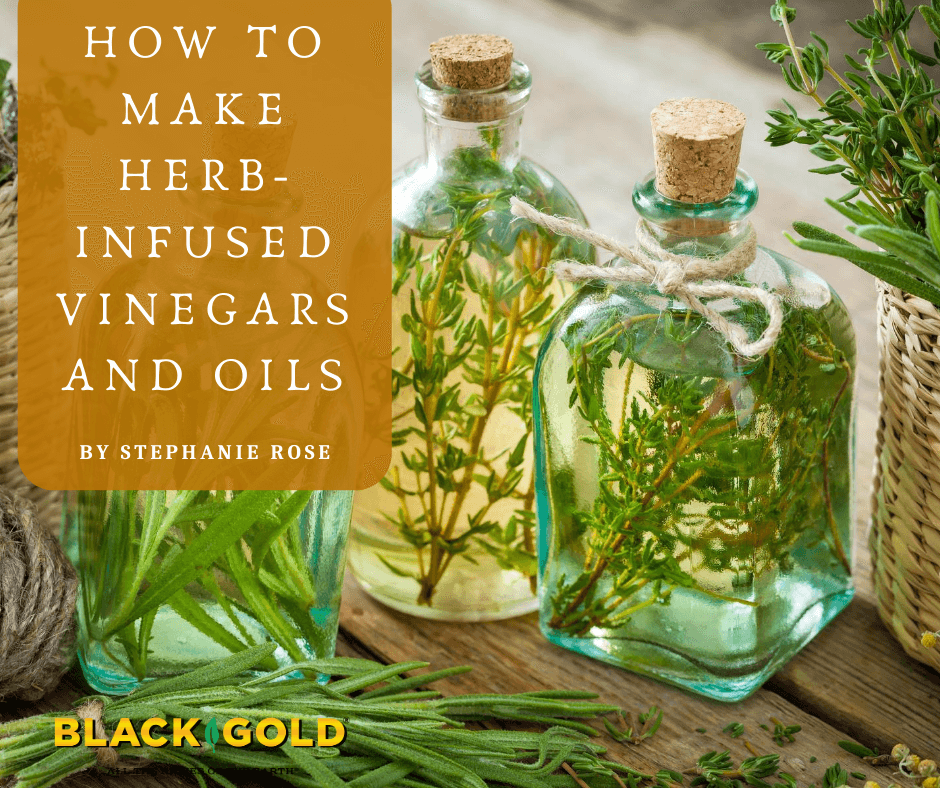 Making your own herbal infusions in oils and vinegar is a great way to preserve herb flavors from your garden. Since comparable store-bought bottles can be pricey, you'll save money and have some delicious artisanal gifts to give to friends and family.
Harvesting and Drying Herbs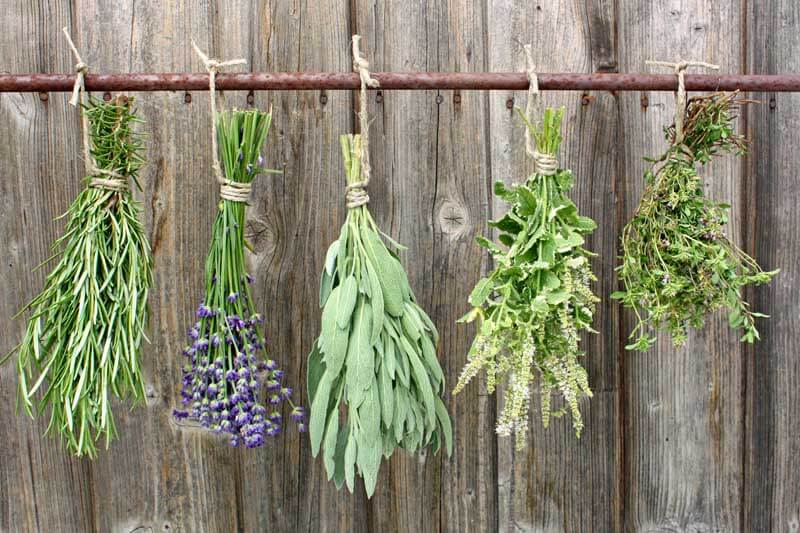 Some herbs can be infused dry; others should be infused fresh. Dill, oregano, thyme, rosemary, and sage are all suited for dry infusion. Basil, cilantro, chili, and chives have the most flavor when infused fresh.
Harvest herbs from your garden early in the morning using clean, sharp scissors or pruners. If you plan to use fresh herbs, start your infusion immediately after cleaning the stems. To prepare dry herbs, hang them upside down in bundles or lay them in a single layer on trays in a dark, cool area. (Click here for some other drying methods.)
Which Herbs to Infuse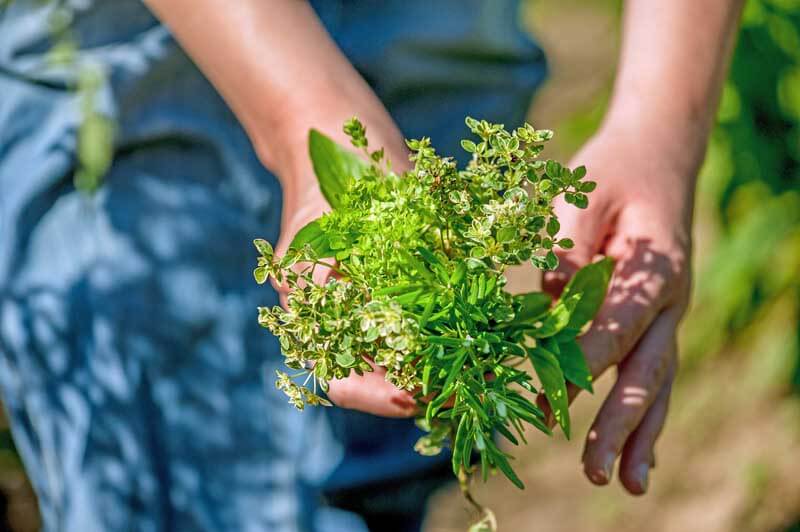 The herbs you choose are entirely up to you! What are you growing? What's freshest in the garden and best for your flavor palate? You can make single herb infusions, like basil oil or rosemary vinegar, or you can blend flavors together, like citrus zest, chili, and thyme. Choose a few options, and you'll have plenty of ways to add spice to your kitchen creations.
Oil Infusion Methods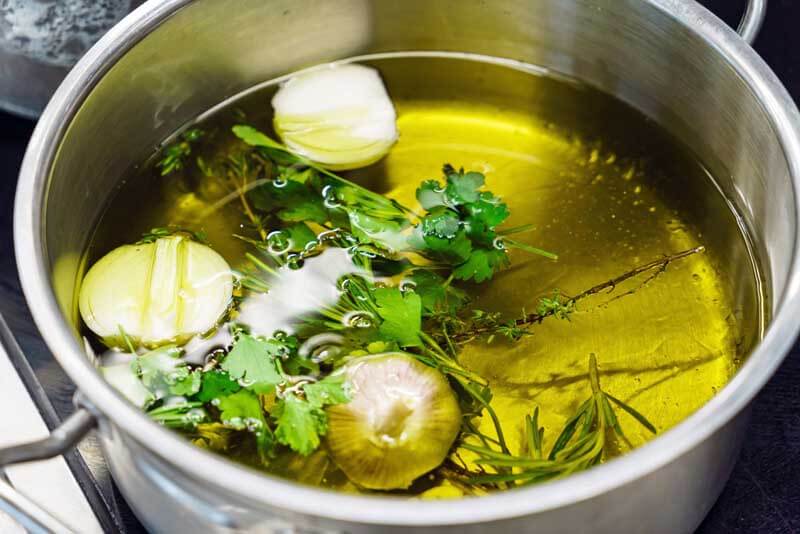 Infusing the flavors of herbs in oil is most effective when the oil is warmed. This can be done on the stovetop, in the sun, or a Crockpot. The infused oils will be ready in just a few hours this way. You can also place herbs in oil for a cold infusion as long as you have the time to wait for six weeks to get your finished herbal oil.
Safety notes: When infusing herbs into oil, be sure to use dried herbs for the stovetop and sun-infused methods. Jars and bottles must also be dry and sterile. (Click here to learn how to sterilize jars and bottles.) Clean, dry, chopped or processed fresh herbs can be used for the slow-cooker method, as long as the oil is heated to a temperature just over 140 degrees F, which is hot enough to kill bacteria.
Stovetop Oil Infusion
Slowly heat the oil and herbs in a double boiler. Pack as many herbs as possible into the boiler top. Then, pour the oil over them–enough to fill your jars or bottles. Pour an inch of water into the bottom of the double boiler. Heat the double boiler on medium-high for a few minutes. Reduce the heat to low for a few hours until the oil becomes aromatic. If you do not have a double boiler, you can use a saucepan set on the lowest heat setting.
Sun Oil Infusion
Pack herbs into a large mason jar and pour oil over them, covering the herbs completely. Screw the top onto the jar, and leave it out in the sun for up to eight hours. To avoid overheating the herbs and eliminating some of their benefits, don't use this infusion process during the height of summer. This method works best during the warm parts of late spring and early fall.
Slow Cooker Oil Infusion
Place the dried herbs into the Crockpot. Cover them with oil. Heat on low (190 degrees F) for a few hours or until the oil becomes fragrant. To create multiple oils at the same time, place the herbs in mason jars, cover with oil, and add a lid to each jar. Fill the Crockpot with a couple of inches of water and heat.
Editor's note: If using fresh herbs, such as basil, start with a large bunch–maybe six big stems. Clean the stems and pat them dry. Blanche them in boiling water for 5-10 seconds, place them on a towel and lightly pat them dry, then put them in a food processor with a pinch of salt and puree them. Add the puree to a clean 16 oz. canning jar, fill with light olive oil, and cover with a lid. Fill the Crockpot with a couple of inches of water, place the jar in the water, and heat for a couple of hours. Finally, place three layers of cheesecloth over a bowl, pour the mixture through, and squeeze out all of the basil oil. Pour the oil in a fresh, clean jar and store it in the refrigerator for a couple of weeks. Another option is to store it in the freezer in a well-sealed plastic freezer container until use. A lidded silicon ice cube tray also makes a good container.
Cold Infusion
Pack dry herbs into a jar, lightly compacting them until filled to the top. Pour olive, canola, or grapeseed oil over them, gently pressing them down with a spoon to release some of the air bubbles. Completely cover the herbs with oil. Set the jar in a cold, dark room for four to six weeks.
Vinegar Infusion Methods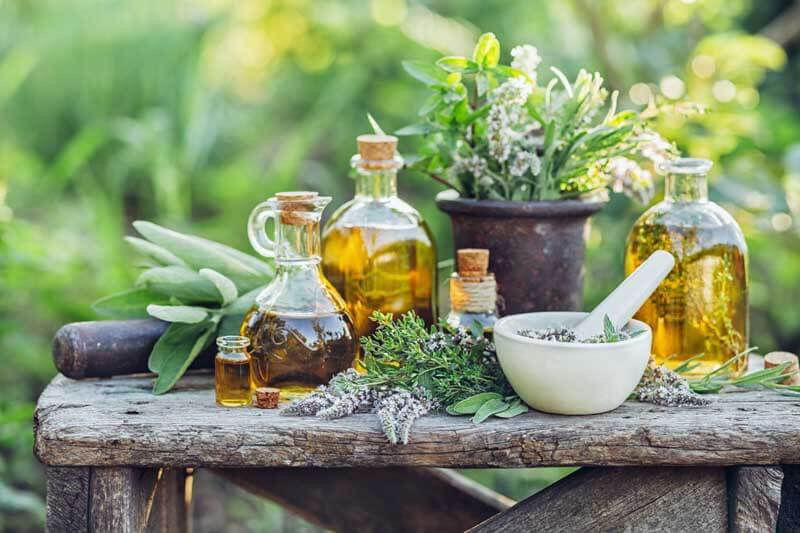 The method you use to infuse vinegar depends on whether you are using herbs alone or adding fruit. In either case, the herbs do not need to be dried first. Pick fresh, clean herbs from the garden, and add them to the vinegar of your choice. Keep in mind that better quality vinegar will result in a better final product. White wine, apple cider, and coconut vinegars are lively when infused. If you have a sweet tooth, white balsamic is good for fruity infusions.
Herb and Fruit Vinegars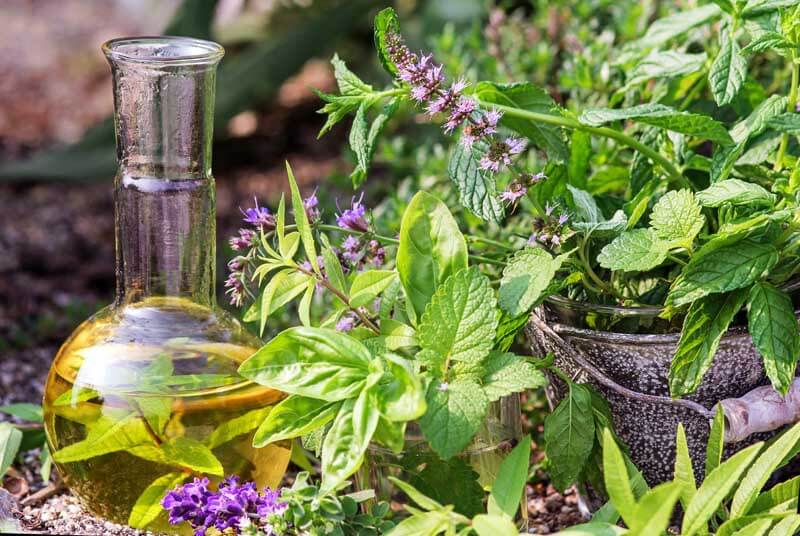 If you're infusing vinegar with both herbs and fruit, such as strawberries, choose fruit that is ripe and free of blemishes. Wash it and cut off any stems. Harvest and wash fresh herbs. Bruise them with the back of a knife to release their scent and taste. Pack the fruit and herbs together into a jar. Cover them with vinegar and secure the top of the jar. Place it in a cool, dark room for ten days. Strain the solids out of the vinegar. Stire it in the fridge for up to a month.
Herb and Fruit Vinegar Recipes:
Strawberry Herb Infused Vinegar
Fennel & Citrus Infused Vinegar
Herb Vinegars
Pack washed and bruised herbs into a jar. Cover them completely with vinegar and secure the top. Place it in a cool, dark room for about two weeks. Strain the herbs out of the vinegar. Store the finished vinegar in the fridge.
Herb Vinegar Recipes:
Fresh Herb and Nasturtium Infused Vinegar
Chive Blossom Vinegar and Vinaigrette
Vinegars and oils should be capped and properly stored to enjoy for the months to come. They also make fine gifts for sharing.