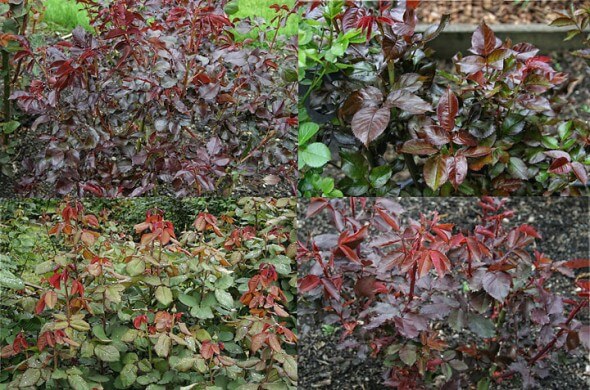 June is the month when, in most areas of the Pacific Northwest, roses will be at their peak bloom. Portland, Oregon calls itself "The City of Roses" and the Portland Rose Society is celebrating its 124th Annual Rose Show, which is the oldest rose show in the United States and also the largest.
At one time, rose bushes were a mainstay of many home gardens. There would be few home gardens without some rose bushes and they were a very traditional plant to have in the landscape. New varieties would appear every year and gardeners flocked to garden centers to get the newest and the best. In 1986, the rose was designated as the official flower of the United States. Do not think that roses only have color when they bloom. Look at this collage of photos from the garden of Portland rose grower Rich Baer of his bushes with no bloom but great color.
Roses have occurred throughout recorded history and it is interesting to note that they only occur in the northern hemisphere. The oldest rose identified today and still commercially available is Rosa gallica and in ancient Rome, it was very common to see roses planted at homes as well as in public gardens. In the 1700's a revolution in rose interest occurred with the increased trade between China and Europe. Rosa chinensis, the China rose, was introduced into Sweden in 1752 and became well known in the rest of Europe around 1793. What made Rosa chinensis so phenomenal was that it was a repeat bloomer as prior to this time; roses were primarily one time bloomers.
More recently, one of the most popular roses of all time, 'Peace' has a very interesting history. In 1939, an international conference of rose hybridizers was held in Lyon, France. When the group visited the rose growing firm of Meilland, there was a particular rose that captivated their attention. Shortly thereafter, when it appeared that there would be a Nazi invasion of France, Francis Meilland sent budwood of this plant to rose growers in several countries including the United States. After France was liberated in 1944, plants from this budwood were introduced into the United States and the rose was named 'Peace'. In 1945, the secretary of the American Rose Society sent each of the 49 delegations at the inaugural meeting of the United Nations a single long-stemmed 'Peace' rose with the note: "We hope the 'Peace' rose will influence men's thoughts for everlasting world peace."
Over the years, roses began to lose some of their allure as rose breeders tended to concentrate on plants with strong stems and single "perfect" flowers. Fragrance and disease resistance seemed to have gotten lost. The way we garden has also changed and with homes on smaller lots, there is less space to plant a traditional rose garden. Gardeners began to plant mixed borders or flower beds that were not made up of just one variety but many. Then the "green" movement arrived and the high maintenance of caring for roses with constant spraying made them even less desirable.
The gardening public wanted roses that were fragrant and required little or no spraying and luckily the rose breeders heeded the public and new roses began to appear with both fragrance and disease resistance.
One of the most popular roses of all time is "Knockout". This is a shrub type rose with clusters of cherry red flowers. I have a grouping of "Knockout" in my garden and I have never sprayed them nor have I seen any sign of disease. This would have been unheard of not so many years ago. While it is not the traditional long stem rose, it is a shrub that mixes well with other plants and gives me color all summer.
Another favorite rose in my garden is Rosa glauca which is a species rose. While the flower is a single type, the foliage on this plant is outstanding and many people visiting my garden will comment on it. The leaves tend to be a blue-gray color and provide great contrast to the green foliage surrounding it. This is a large growing plant, mine is probably eight feet tall and almost as wide. The branches tend to be weeping and thus give a fountain effect. Try planting this in the background of a flower or shrub bed.  An added bonus is clusters of red hips in the fall.
As part of the Portland Rose Festival Celebration, there is an event called "Portland's Best Rose". This event was held on Sunday, June 10, at the International Rose Test Garden in Washington Park. A group of rose enthusiasts, media people and gardeners, all come together and judge a selection of roses growing in the International Rose Test Garden with the criteria being how the roses look right at this moment. The overall winner designated as Portland's Best Rose for 2012 was "Monkey Business". Looking at this photo, it is easy to see why.
A special category is that of fragrance. For this category, the general public was asked to vote along with the "judges". The winner was "Sugar Moon". Not only did "Sugar Moon" win at Portland's Best Rose event, it also won as best fragrance at the Portland Rose Society Rose Show.
Growing roses is not difficult. The primary requirement is sun and good drainage. They should be planted with a minimum of five hours of sunlight. Use Black Gold Garden Compost Blend when planting and work it into the ground around the roots as well as on top of the soil. Rose and flower fertilizer will supply the necessary nutrients for a healthy bush and is formulated with alfalfa meal which is prized by many rose growers. Apply in spring when new growth appears, again in mid-summer and a final application in late summer or early fall.
Check out your local garden center for disease resistant roses and you will see how easy it is to work them into your landscape with other blooming plants. There is no need to be on a constant spray program with the new roses available today.
"What's in a name? That which we call a rose by another name would smell as sweet". ~ William Shakespeare