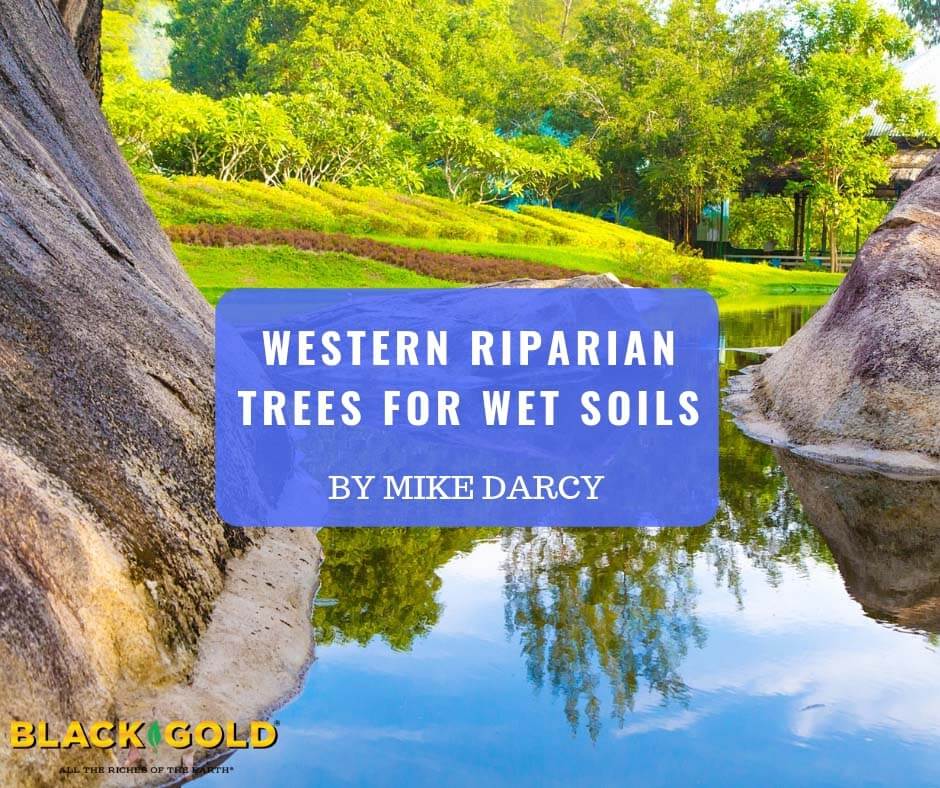 Do you have moist ground in your yard but want trees for the site? For a gardener with wet or damp soil, finding a tree that will thrive in such conditions can be challenging. When browsing through a garden center and reading the cultural requirement for many of the plants, probably one of the most common phrases will be "needs a location with good drainage". Often when I give presentations to garden clubs, a very common question asked is what kind of trees are recommended for areas with wet soils.
When recommending trees for wet soils, I have tended to rely less on textbook comments and more on actual experience. While my own garden does not have this issue, I have visited many gardens with moisture problems. The following selection of trees for wet soils has been collected from talking with other gardeners and actually seeing these trees growing in yards and landscapes.
But, in general, trees adapted to wet soils tend to either be natural waterside trees or lowland trees that inhabit flood plains that become seasonally water saturated. These are called riparian trees, and they are worth seeking out when planning landscape plantings for damp ground. When planting these trees in the landscape, it is always wise to enrich the soil with a fertile amendment, like Black Gold® Garden Soil.
Trees for Wet Soils
Tupelo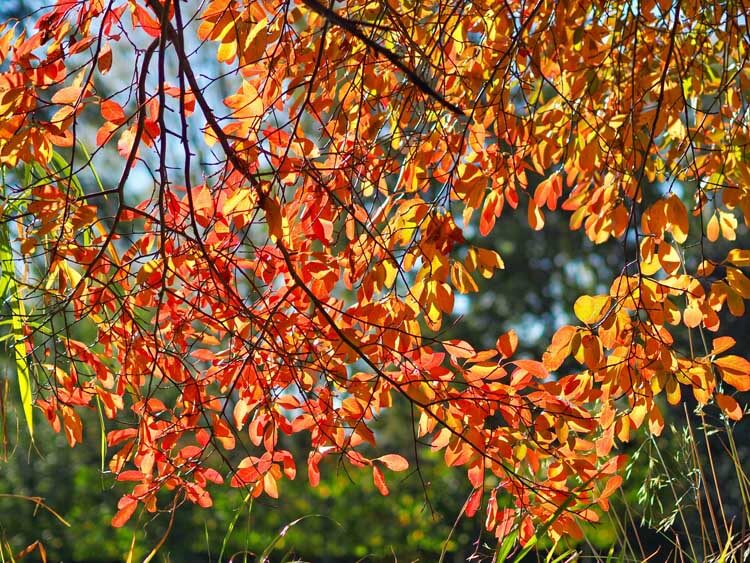 If I had to pick just one tree for an area with wet soil, it would be Nyssa sylvatica.  Commonly called blackgum, sour gum, or Tupelo, it is a very hardy deciduous tree native to eastern North America, from southern Ontario to central Florida. Honey made from its flowers, appropriately called 'Tupelo Honey', is well known across the east, especially in northwest Florida. The trees are dioecious, meaning there are separate male and female trees that flower in late spring. Male trees have pollen-bearing flowers, while the female trees are fruit-bearing. Female trees develop small, bluish-black fruit if a male tree is close by for pollination. The olive-shaped fruits appear in small clusters, and while they can make a mess on a deck or driveway, birds like them.
The Tupelo is very well adapted to the Pacific Northwest and will reach a height of 35-50 feet. It is disease and insect resistant and makes an excellent shade tree.  However, the real attribute of the Tupelo is its spectacular fall color.  The simple leaves turn yellow and orange and then bright red before dropping. The red fall color is outstanding.
Alder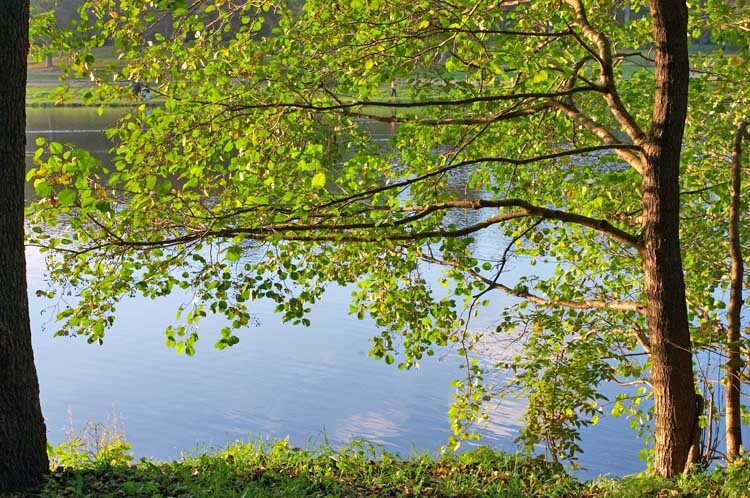 Alder (Alnus spp.) is another group of trees that are moisture loving and fast growing. Red alder (Alnus rubra), is a riparian native from Alaska to northern California. It usually reaches about 50 feet and has attractive bark that is light gray. The dark green leaves are rust colored and hairy underneath.  European alder (Alnus glutinosa) is a non-native tree but one of the best for wet soils and can even survive standing water for a time.  A disadvantage of alders in our Pacific Northwest region is that they are prone to getting tent caterpillars in the summer.
Pacific Crabapple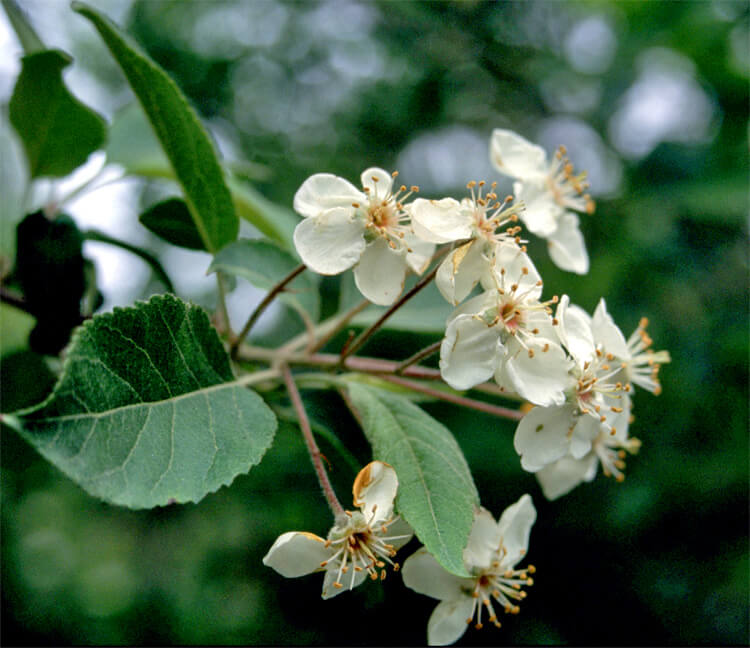 Native nurseries sometimes sell the Pacific crabapple (Malus fusca), which is a shrubby, small tree with fragrant white spring flowers and small yellow to purple-red fall apples that make delicious jams and jellies. In the wild, it survives along streamsides and moist woods, so it is perfect for lowland landscapes that are seasonally wet.
Willows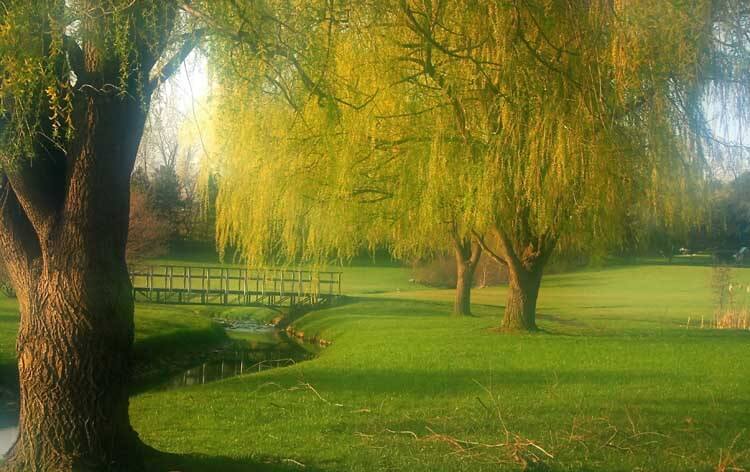 Many willow (Salix spp.) trees will also tolerate wet soils and look attractive, though most are fast-growing and short-lived.  The Pacific Northwest native Hooker's willow (Salix hookeriana) is a shrubby tree that can withstand high soil moisture and has attractive leathery leaves. White willow (Salix alba), which is native across much of North America, is not a tree for a small lot as it can reach 75-100-feet high and almost as wide.  The leaves are silvery beneath and often turn gold in the fall. Golden weeping willow (Salix alba 'Tristis'), has young stems that are bright yellow and are often used in flower arrangements. Be aware that willows have shallow and invasive root systems and should not be planted near power or sewer lines. While a weeping willow is beautiful to look at, it needs lots of room.
Vine Maple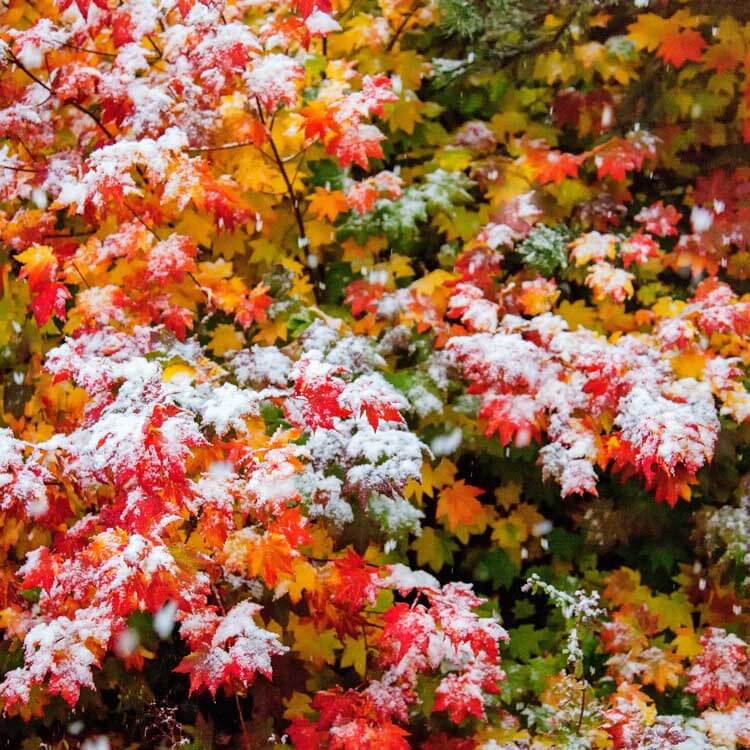 The Pacific-Northwest-native vine maple (Acer circinatum) has truly beautiful pale green leave with fall color of yellow, orange, and/or red. It is a small tree that rarely reaches heights above 20 feet. Several cultivated varieties have been bred, including the coral-red-stemmed Acer circinatum 'Pacific Fire', which has palm-shaped leaves that turn a rich yellow in fall.
If there is wet soil in your garden, others probably have similar issues. I like to advise gardeners to check around their neighborhood for yards with similar characteristics. Talk to other gardeners and look to see what trees they are growing. Most gardeners are usually very receptive about sharing plant information. Hearing what trees grow with success in your own neighborhood should give you some sound guidance.