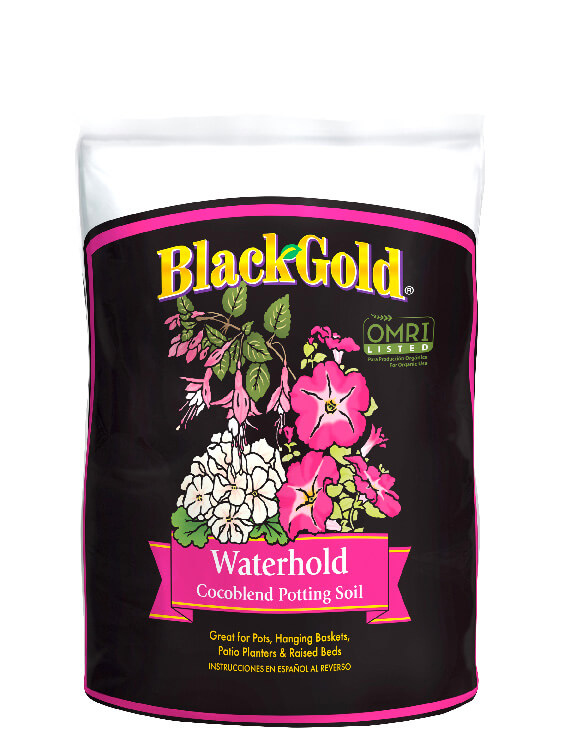 Since its launch in 2003, Black Gold® Waterhold Cocoblend (formerly just Cocoblend) became a popular product with those gardeners seeking a superior water retentive potting soil. To better reflect the product, we have changed the name and bag image to better focus on the benefits of this great OMRI Listed mix ideal for organic container gardening.
Waterhold Cocoblend combines coconut coir with Canadian Sphagnum Peat Moss to give your outdoor container plants the best water retention protection against exposure to heat, wind and sun. We at Sun Gro Horticulture use the same high-quality ingredients in this mix that we use in our professional grow mixes. We've done all the work for you. And we don't stop there; we also add earthworm castings and pumice to make this a high-performance potting soil for all container applications.
One of the most popular features of Waterhold Cocoblend is all of the great water-holding traits you would get in traditional water-holding potting soil, but no copolymer crystals (polyacrylamide), sometimes referred to as the "ooze from beneath". Black Gold Waterhold Cocoblend is an organic alternative to what you might typically find. This product is OMRI Listed, which means you don't have to hope the manufacturer meant well when they made their product. All of Black Gold® Waterhold Cocoblend's raw ingredients and manufacturing processes have been reviewed by the Organic Materials Review Institute. The end result is that Black Gold® Waterhold Cocoblend is suitable for producing a certified organic garden. Think of OMRI as the "Good Housekeeping Seal of Approval" for organic production. At Black Gold we insist our organic products are OMRI Listed so gardeners can garden with confidence.
You should not think of Black Gold Waterhold Cocoblend as a specialty potting soil, but as an all purpose potting soil with an additional feature: increased water retention. As we all know gardening can bring us a lot of enjoyment, but it can also increase your workload. With Black Gold Waterhold Cocoblend your "To Do" list can be reduced since you will need to water your outdoor containers and baskets less when you use it. Black Gold Waterhold Cocoblend may have a new name, but it's the same premium quality potting soil that will help reduce the frequency of watering your outdoor containers and baskets.