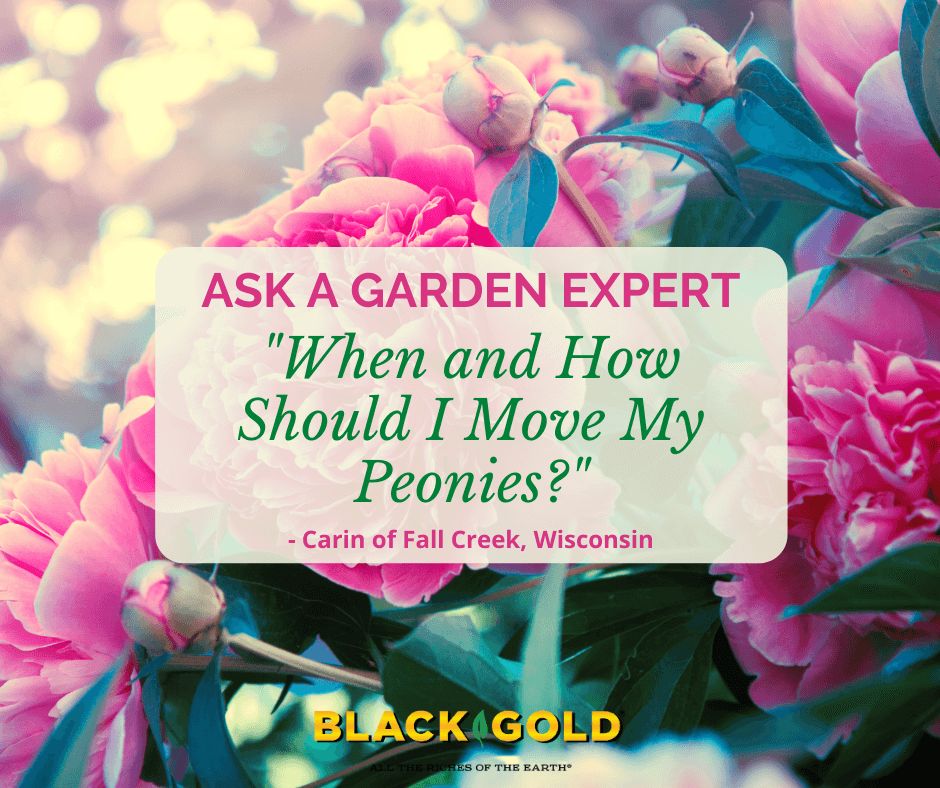 "When is the best time to move Peony plants?" Question from Carin of Fall Creek, Wisconsin
Answer: Because peonies are extraordinarily hardy, I prefer moving them in the fall, but you can also moving them after they bloom in the spring. But, there are six things that you should know before moving peonies.
Six Things to Know Before Moving Peonies
Peonies have very large taproots, so you need to dig deep to capture them all.
I recommend digging around the clump to maintain as much soil around the roots as possible. The less you disturb the clump, the better.
Peony buds like to rest just an inch or two below the soil surface. If you cover them with too much soil, they may not bloom.
Peonies should be fed with an all-purpose 10-10-10 granular fertilizer once a year. Surprisingly, overfertilizing peonies can reduce flowering.
Use a long, sharp shade to dig them up and divide the clump, if needed.
Small peony divisions may not have enough energy to bloom for a few years.
Peony Moving Steps
Dig around the clump.
Wrap the rootball with burlap to keep it intact.
Place the peony in a wheelbarrow or Tubtrug to transport it to its new location.
Dig a hole a bit larger than the rootball, place the backfill on a tarp or in a wheelbarrow, and mix the backfill with Black Gold Garden Compost Blend.
Sprinkle some bulb fertilizer into the hole and backfill.
Place the peony in the hole, and make sure the top of the plant is flush with the soil surface.
Fill in the sides with backfill, and make sure that there are no air holes.
Water in your peony until the soil is saturated.
I hope that these tips help!
Happy gardening,
Jessie Keith
Black Gold Horticulturist