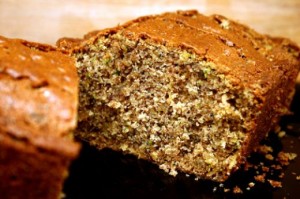 Home baking is a great way to combat chilly October days. Seasonal fall produce makes makes every recipe taste better, which is why we like to make this moist, easy apple apple bread.  It is great for the family, and makes a healthy dessert to add to kid's lunch boxes. Try it with vanilla ice cream and a drizzle of hot caramel topping!
Begin by preheating your oven to 350 degrees F.
Dry Ingredients
3 1/2 cups all-purpose flour
1 1/2 teaspoons salt
1/4 teaspoon ground nutmeg
2 teaspoons baking soda
1 teaspoon ground cinnamon
1 2/3 cups light brown sugar
1 cup chopped walnuts or pecans
Wet Ingredients
1 cup vegetable oil
4 beaten eggs
1/3 cup apple cider
2 cups grated apple
1 teaspoon lemon juice
Directions
In a large bowl, add the dry ingredients, and whisk them together until well combined. In a separate bowl, combine the wet ingredients, and mix them with a hand mixer on medium speed for 1 minute. Slowly add the wet ingredients to the dry ingredients until just combined, then fold in the chopped walnuts or pecans.
Spray two standard loaf pans with non-stick spray. Distribute the batter evenly in each pan. Once the oven is to temperature, bake the loaves for 50 minutes to hour. Check to see if they are done by inserting a toothpick into the center of each. Clean toothpicks mean your loaves are fully baked.