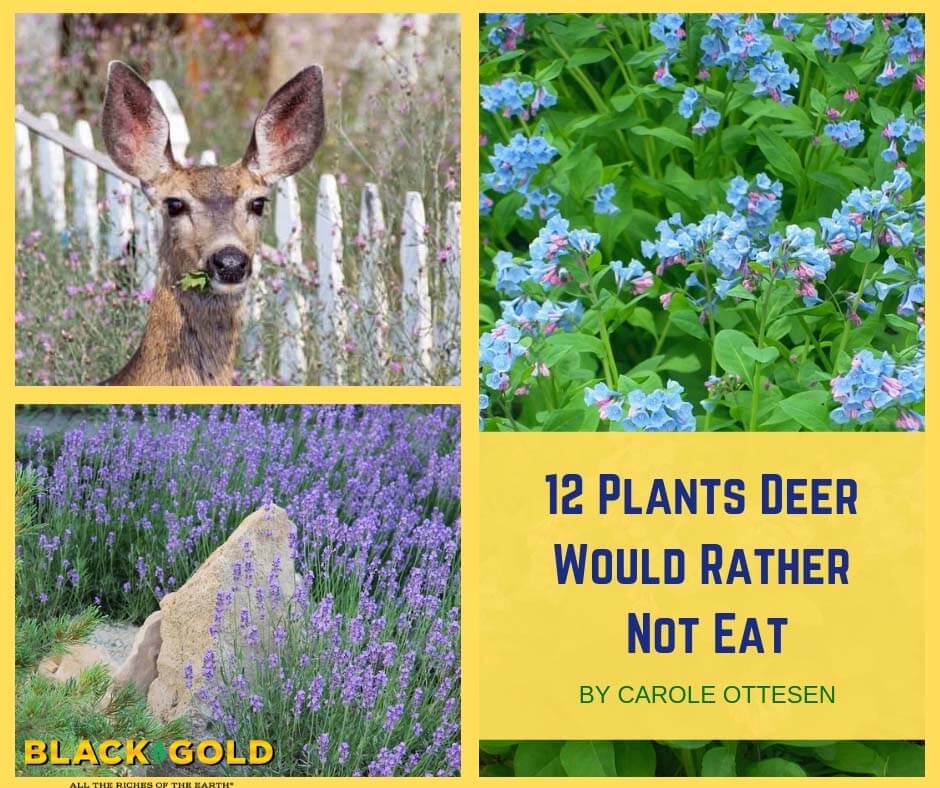 While it is true that starving deer will eat just about anything, it is also true that in times of plenty they have definite preferences. They'll seek out their favorites–daylilies, hostas, lilies, liriope, and yew–and ignore the rest.
If you garden in deer country, avoid endless frustration by growing plants deer would rather not eat. Be sure to plant them in sites best for their growing needs. All of these plants appreciate fertile garden soil and would delight in soil amended with Black Gold® Garden Soil at planting time.
Here are a dozen attractive shrubs and garden perennials that deer find unpalatable. I have tested these plants the hard way, having gardened in a heavily deer-populated area for many years.
12 Plants Deer Resist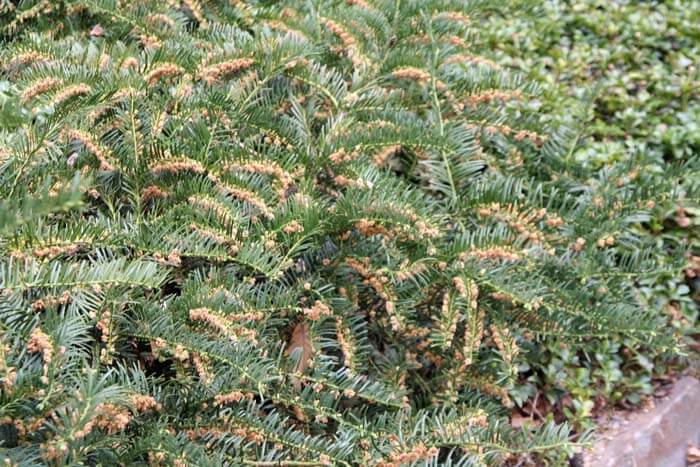 1. Plum Yew (Cephalotaxus

harringtonia

)
Plum yews are evergreen shrubs that closely resemble yews (Taxus), but unlike yews, plum yews remain unscathed even in deepest deer country. They are hardy to USDA Hardiness Zones 6-9 and come in different shapes. There are three cultivars of interest: 'Duke Gardens' grows slowly to 4-feet tall and about 5-feet wide; 'Prostrata' reaches 2-3-feet tall and spreads to 7-feet wide; 'Fastigiata' is a narrow, upright form that reaches 10-feet tall by about 6-feet wide.
2 Beal's Mahonia (Mahonia japonica 'Bealei')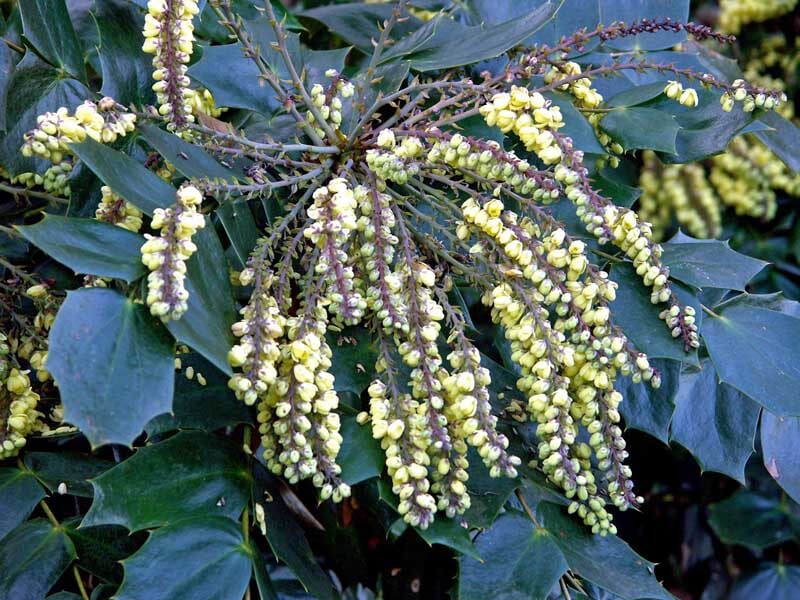 Even a starving deer will eat almost anything before trying prickly, evergreen mahonia.  Growing at a moderate rate in Zones 5-8, handsome mahonia reaches 10-feet high by about 5-feet wide. Its showy yellow flowers are a welcome sight in winter. Grow it in fertile, well-drained soil on the alkaline side.
3.
Japanese

Andromeda (Pieris japonica)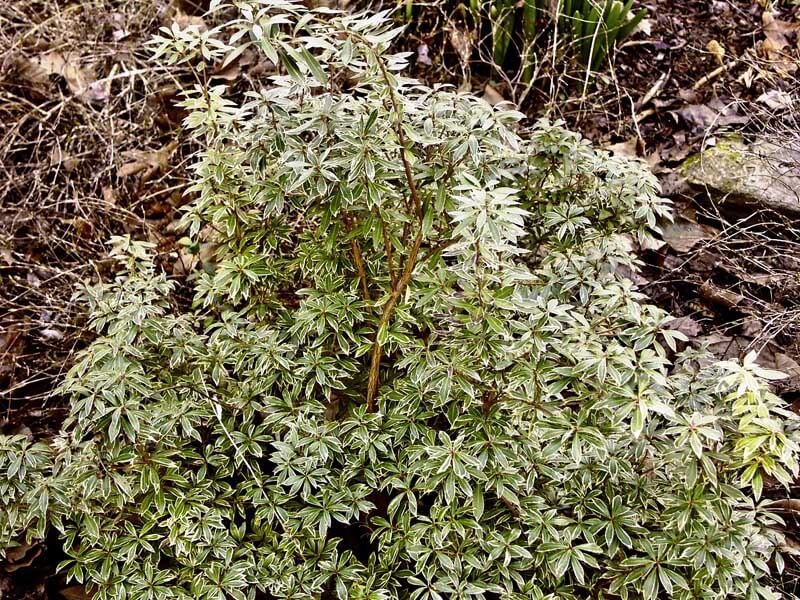 Evergreen with lily-of-the-valley-scented flowers, Japanese Andromeda grows slowly and gracefully to 8 feet by 3 feet in partial shade and rarely needs pruning. Some varieties have colorful leaves or are variegated.  The attractive 'Cavatine' is a dwarf form that grows to 2-3 feet by 2-3 feet, and 'Variegata' has pleasing variegated foliage. They survive in Zones 6-9 and prefer soil that is slightly acid, fertile, moist, and well drained.
4. Lenten rose (Hellebore x hybridus)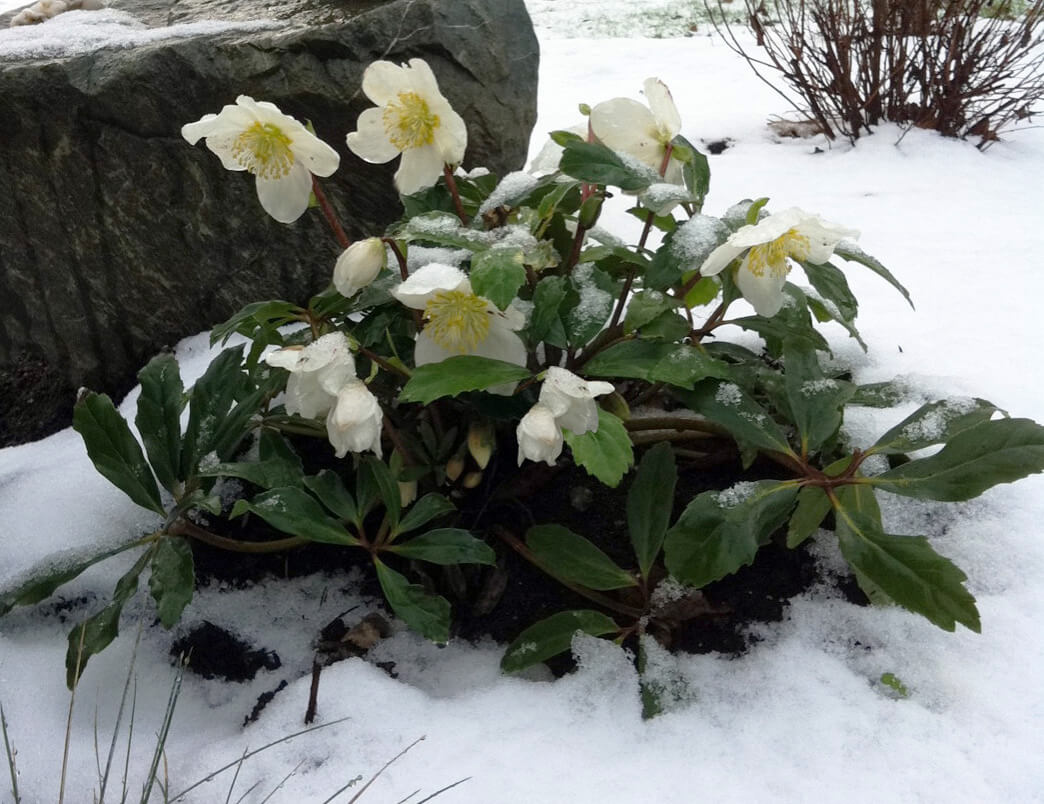 Hardy, long-lived Lenten roses are peerless perennials.  They are deer-proof with late-winter to early spring blooms and attractive evergreen foliage. Plant Lenten rose if you live in Zones 4-8. When in bloom they reach 18-inches tall and 24-inches wide, and they prefer in partial shade. Fertile, well-drained soil is what they favor.
5. Winter Aconites (Eranthis hyemalis)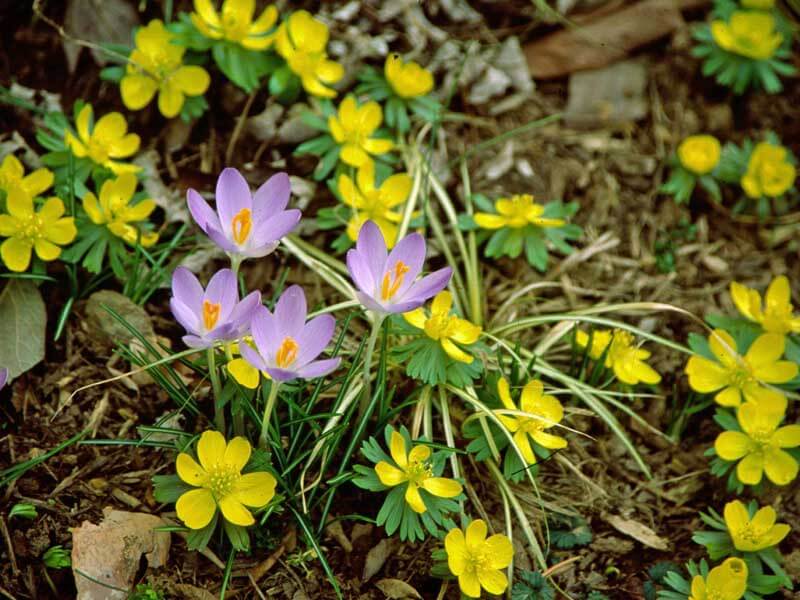 Super hardy winter aconites are deer proof and will survive all the way up to Zone 3. Planted in fall-planted as small tubers, winter aconites will naturalize to spread over the ground in showy buttercup-yellow carpets that reach about 4-inches tall.
6. Sacred Lily (Rohdea japonica).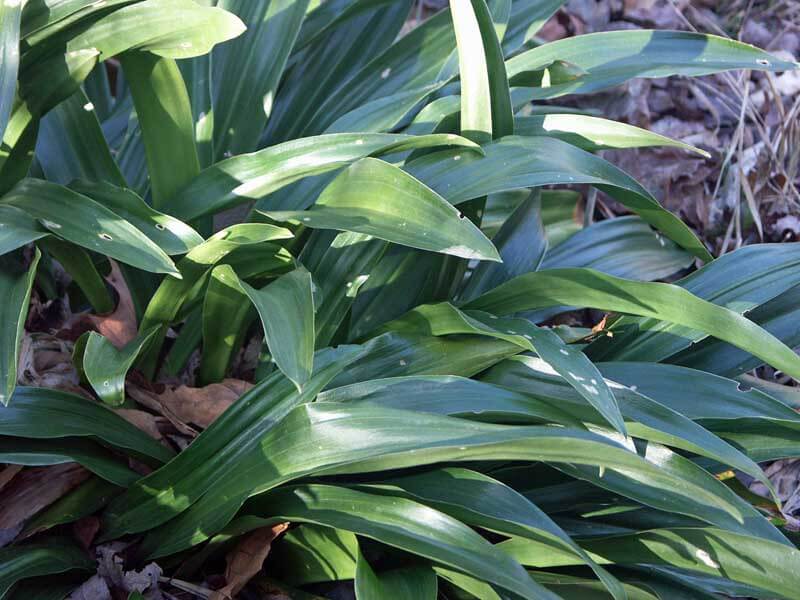 Deer ignore sacred lily. This fuss-free ground cover grows happily in dry shade where it forms colonies that reach 2-feet tall.  Its thick, glossy, evergreen leaves provide textural interest and the plants of this East-Asian native can be grown in Zones 6-9. Showy cones of red berries develop after the inconspicuous pale-yellow flowers. Grow this in rich or poor well-drained soils with a slightly acid pH.
7. Phenomenal Lavender (Lavendula 'Phenomenal')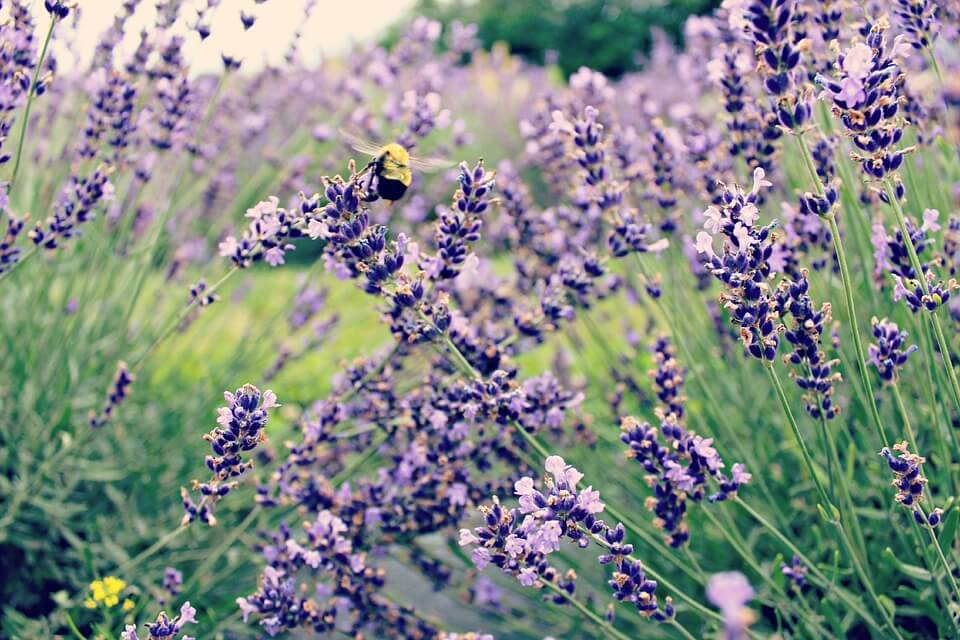 Lavender's fragrance, in both flowers and gray-green foliage, is pleasing to humans but keeps deer away from this sun-loving ornamental. Of the many cultivars of lavender, 'Phenomenal' is an exceptional performer that flowers heavily and reaches 2.5- feet by 2.5 feet.  It thrives in full sun, well-drained neutral to alkaline soil and appreciates a spot with good air circulation. Grow it in Zones 6-9.
8. Sweet Box (Sarcococca hookeriana var. humilis)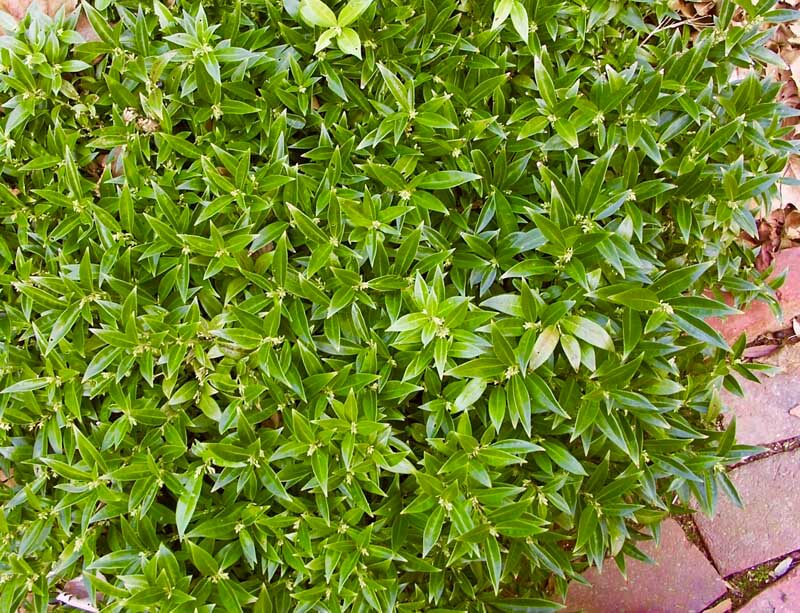 Sweet box forms an easy-care, 18-inch tall groundcover that thrives in moist, acid, well-drained soil in partial to full shade. Its glossy evergreen leaves are always neat and presentable, and the tough plants will survive in USDA Hardiness Zones 6-8.  In very early spring, sweet box produces tiny flowers with a vanilla-like fragrance that can scent an entire garden.
9.
Japanese

Sedge (Carex morrowii 'Ice Dance')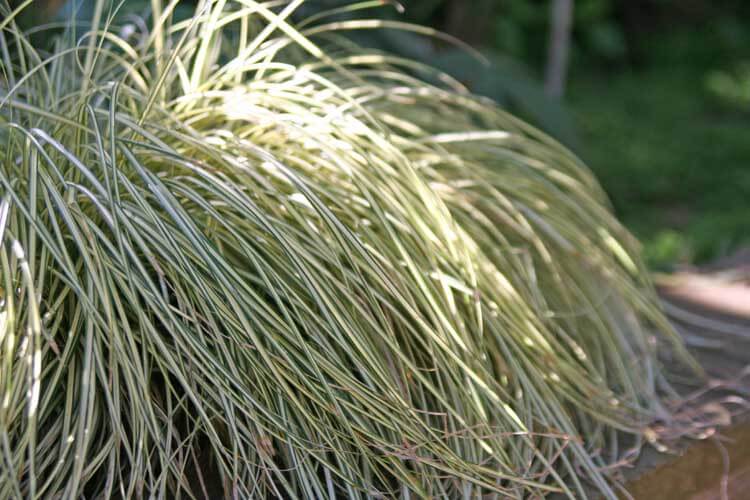 Evergreen Ice Dance sedge is a deer-proof substitute for variegated liriope, a deer favorite. Growing about 18-inches tall and wide in partial sun to full shade, Ice Dance's bright grass-like foliage is an excellent edger or ground cover for a moist spot with fertile soil. It is relatively hardy withstanding winters in Zones 5-9.
10. Japanese Roof Iris (Iris tectorum)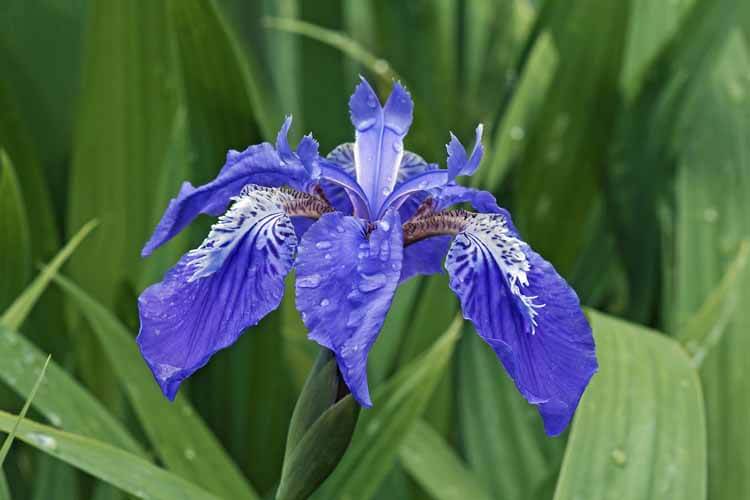 After Japanese Roof Iris' violet flowers fade, the neat, flat, pale green leaves form an attractive textured ground cover.  A vigorous grower in well-drained partial shade, Japanese roof iris reaches 1-foot tall and will grow in Zones 3-9.  The white-flowered form, 'Alba, is another pleasing variety to grow.
11 Catmint (Nepeta racemosa 'Walker's Low')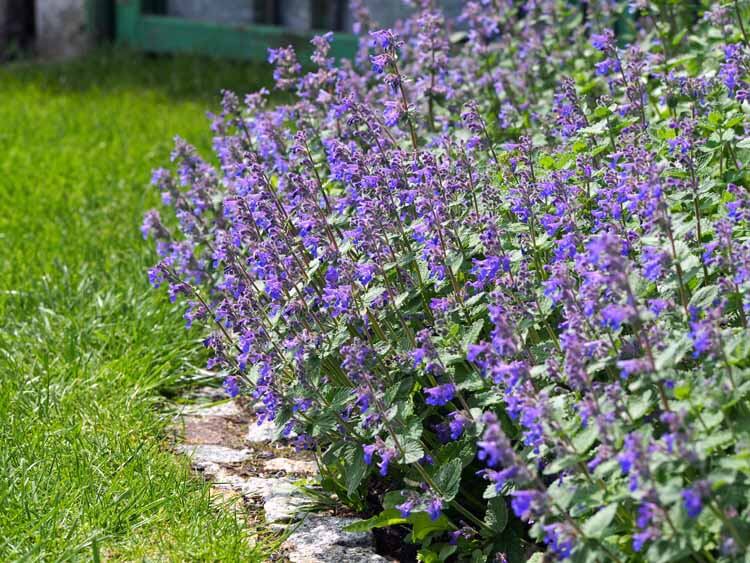 Catmint 'Walker's Low is drought-tolerant, silvery gray, and grows to 24 inches by 30 inches. This mounding perennial requires full sun, well-drained soil, and is hardy to Zones 3-9. Its lavender-blue flowers appear in early summer and will rebloom if the plants are shorn after the first flowering.
12. Virginia Bluebells (Mertensia virginica)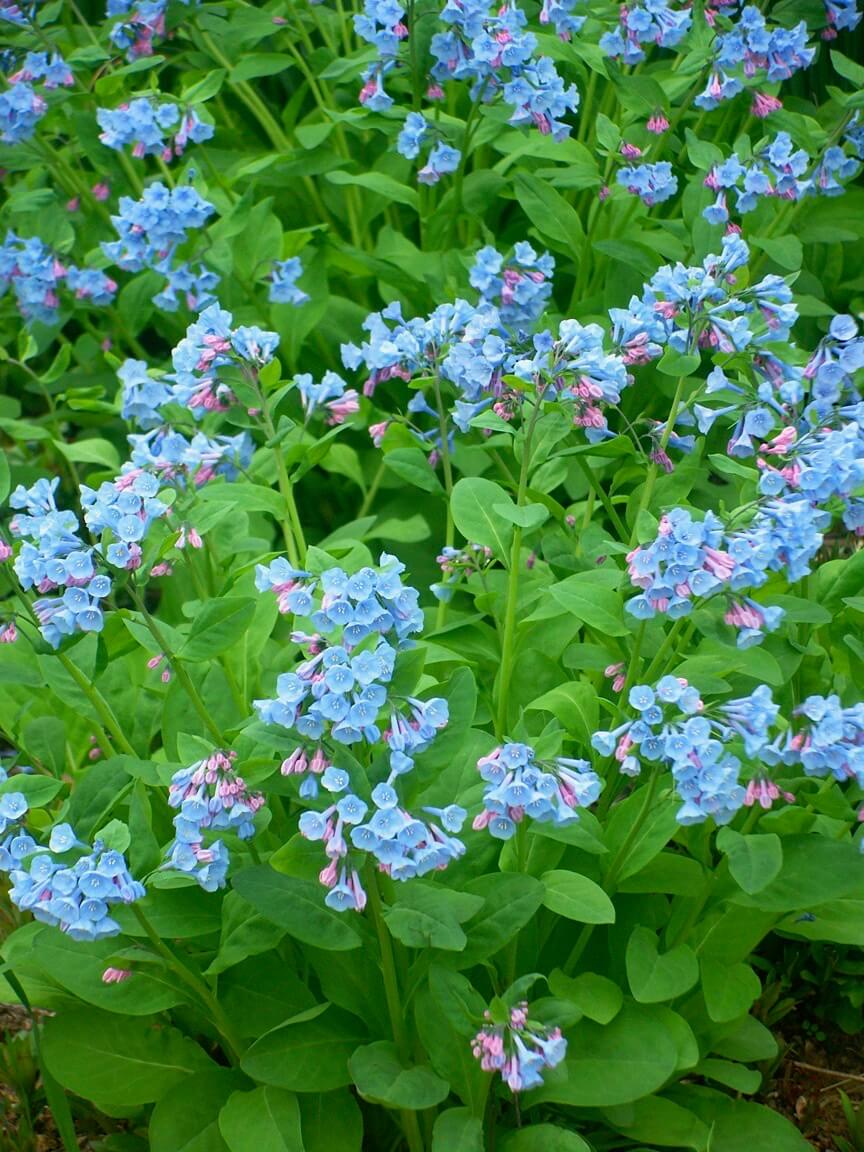 Spectacular Virginia bluebells are native to much of eastern North America where they grow in woodlands. They naturalize, creating a carpet of blue in spring, and are remarkably hardy, surviving winters in Zones 3-8. The spring ephemerals disappear by early summer but put on quite a show when in bloom. They are superbly interplanted with ferns that take over when the Virginia bluebells go dormant.
Any of these plants will give your garden a chance to shine, even in the most deer-ridden areas. So, plant them with confidence.