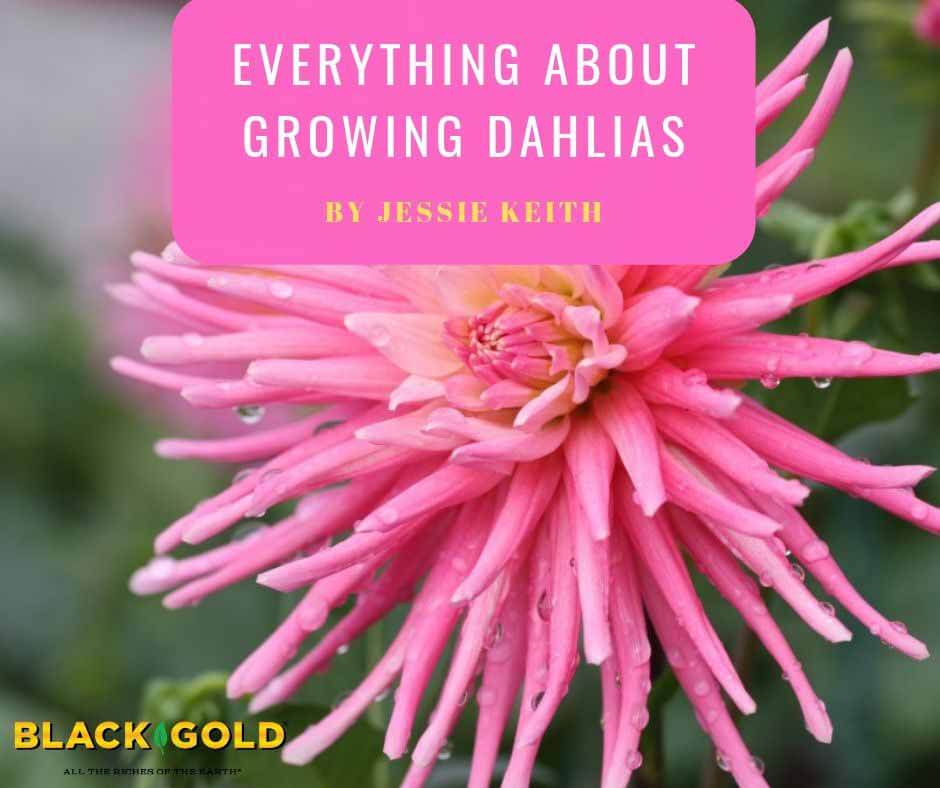 Dahlias come in all forms, from monolithic 12" dinnerplate monsters to tiny 2" pixie pincushion blooms, and colors—pretty much any shade except for true blue. So, you can never love just one. They thrive in the cooler seasons of early summer and fall and offer a botanical extravaganza of floral beauty with over 50,000 named cultivars and 20 wildly diverse forms. (Visit the American Dahlia Society (ADS) website to learn more.) Some are compact and perfect for containers while others are eight-foot monsters. All are wonderful and distinct in their own right.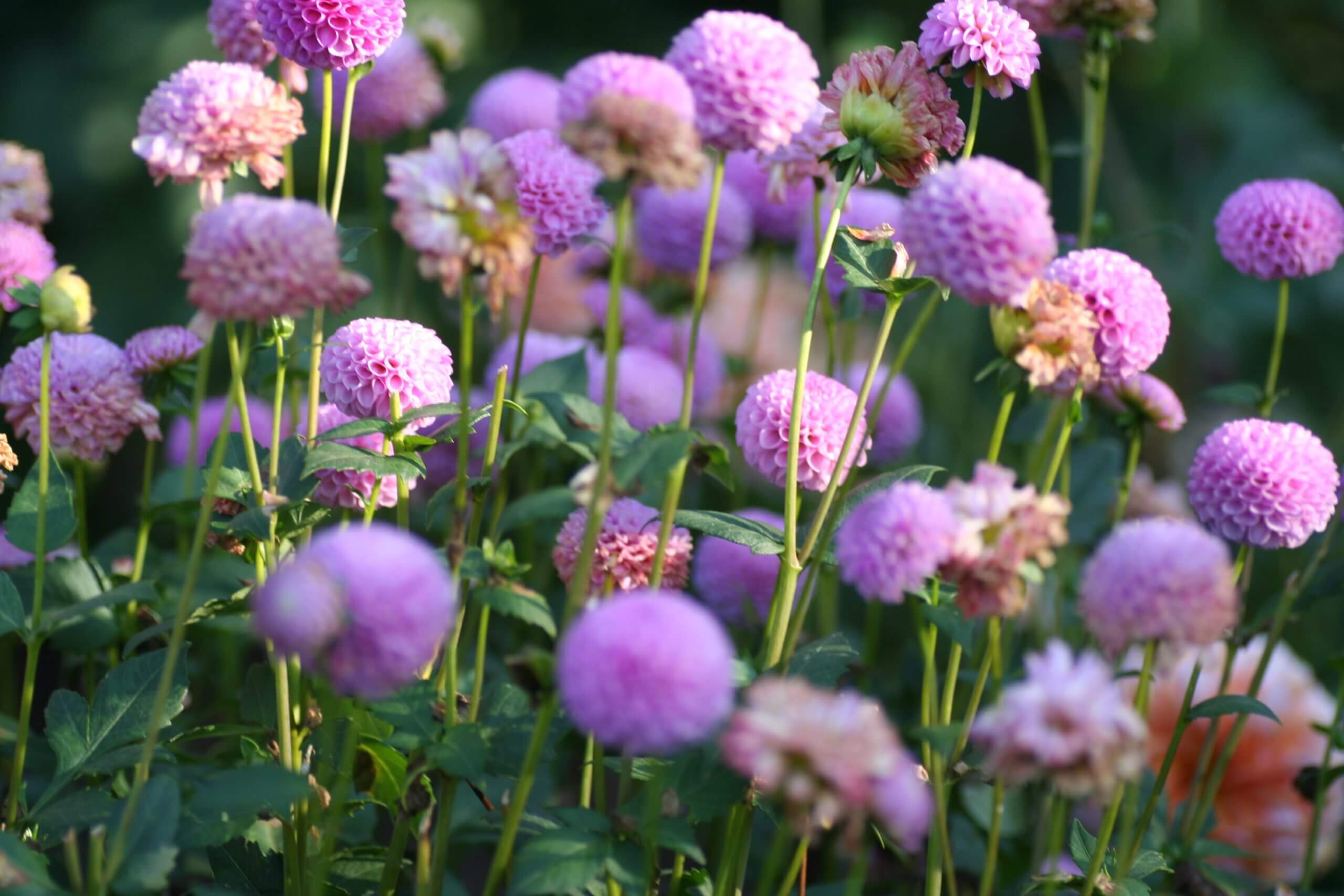 Dahlia Origins
The dahlias we grow in our gardens are hybrids of three high-altitude Mexican species, Dahlia coccinea, D. pinnata, and D. rosea, which were first collected in 18th-century Mexico and first cultivated in Mexico City under the care of the Spanish botanist, Vicente Cervantes (1755 – 1829). They were exported to the Royal Gardens of Madrid, Spain, in 1789, and began to appear in gardens across European shortly after. They popularized in the middle of the Victorian era (1850s-1860s), and by the early 1900s, there were thousands of varieties available across Europe and North America.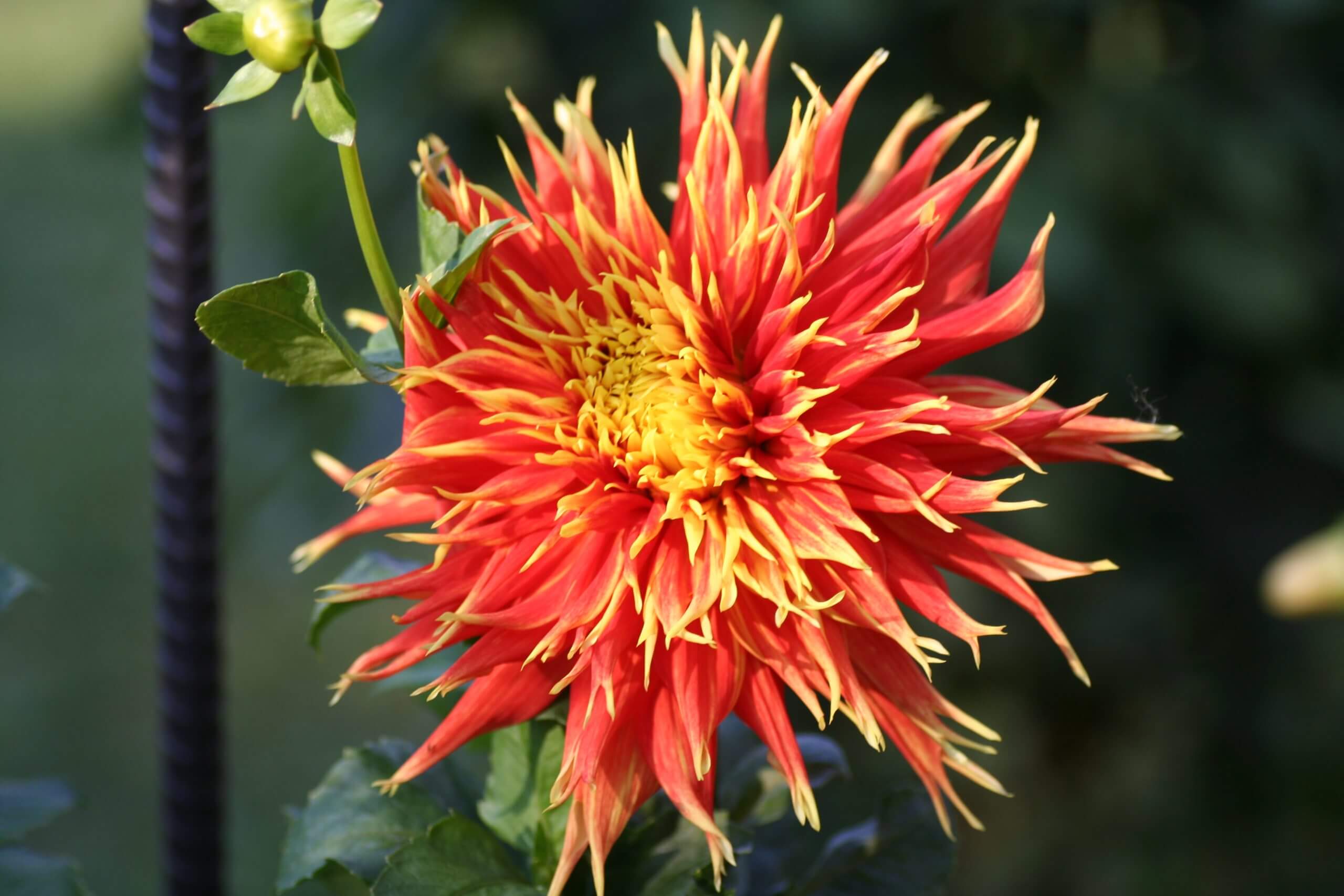 Hybridizers come up with new dahlias each year. Many home gardeners prefer compact, heavy flowering border dahlias that don't need staking. Five great performers recommended by Steve Nowotarski, the head of the ADS border dahlia trials, recommends the following three varieties: the party-pink decorative 'Melody Pink Allegro',  peppermint-striped 'Princess Paige', and magenta cactus-flowered 'Pinot Noir'. For cutting, taller, long-stemmed varieties are best, such as the vibrant red and yellow 'Show N' Tell', classic pink cactus-flowered 'Park Princess', and 'Mark Lockwood' with its lavender pincushion blooms.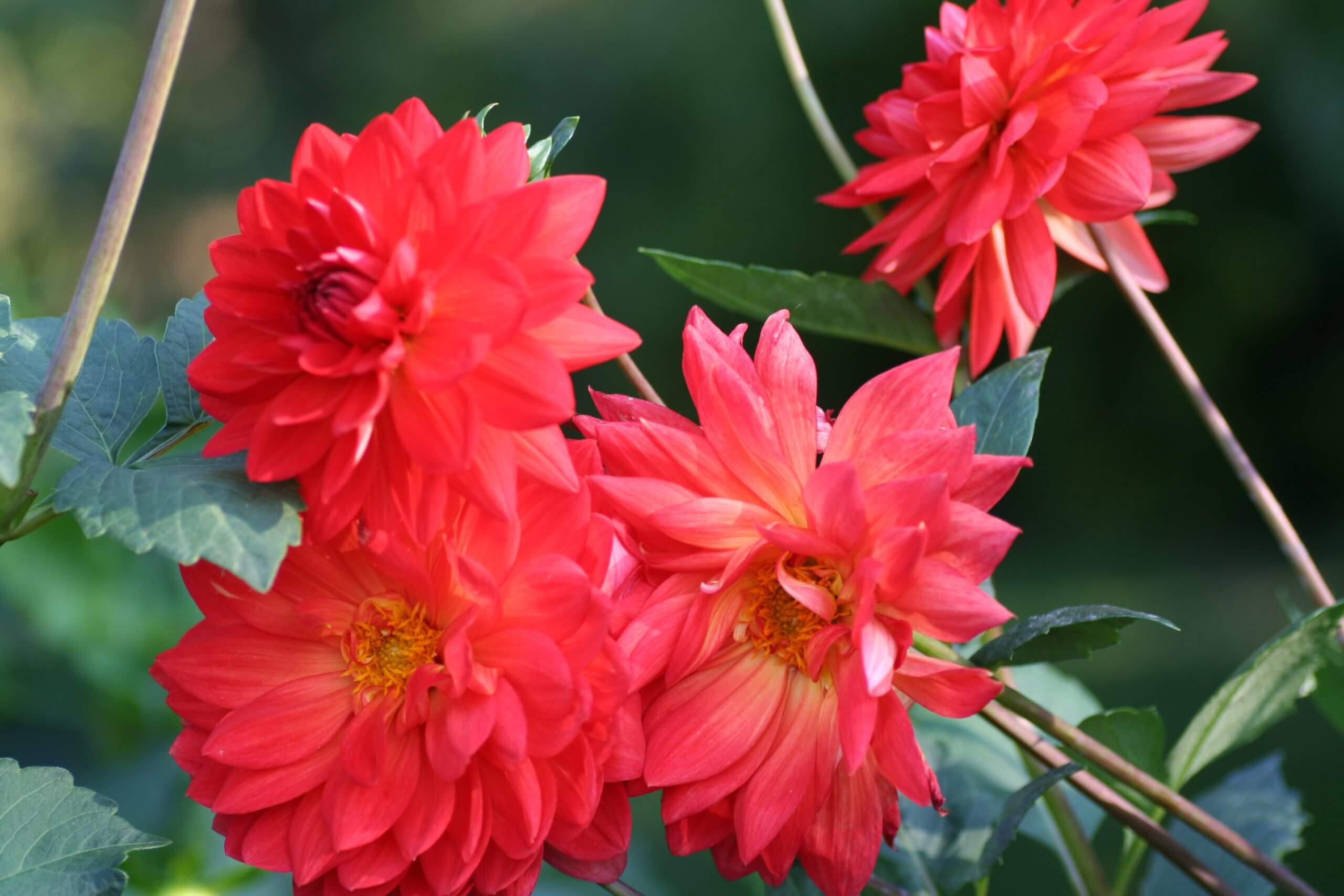 Growing Dahlias
Due to their cool, high-altitude origins, these sun-loving garden flowers grow best when weather is cool and humidity is moderate to low. When days are warm and nights are cool, they bloom and grow best. There is no real trick to getting their soil right. Like many plants, they excel in slightly acid to neutral, friable, organic-rich soil with very good drainage. Planting contained specimens in quality potting soil, such as OMRI-Listed Black Gold Natural & Organic Potting Soil with RESiLIENCE®, or heavily amending in-ground plantings with Black Gold Garden Compost, will ensure great rooting conditions. Keep the soil lightly moist, not wet, and feed flowering plants with a low-nitrogen fertilizer formulated for flowers.
Many dahlias are tall and require support—low tomato cages are perfect. Caging offers tall, large-flowered varieties needed support during heavy rains and wind –keeping top-heavy plants from toppling. Shorter varieties are easiest to tend as they don't require support. All plants, tall or short, should be deadheaded regularly to keep new blooms coming until frost.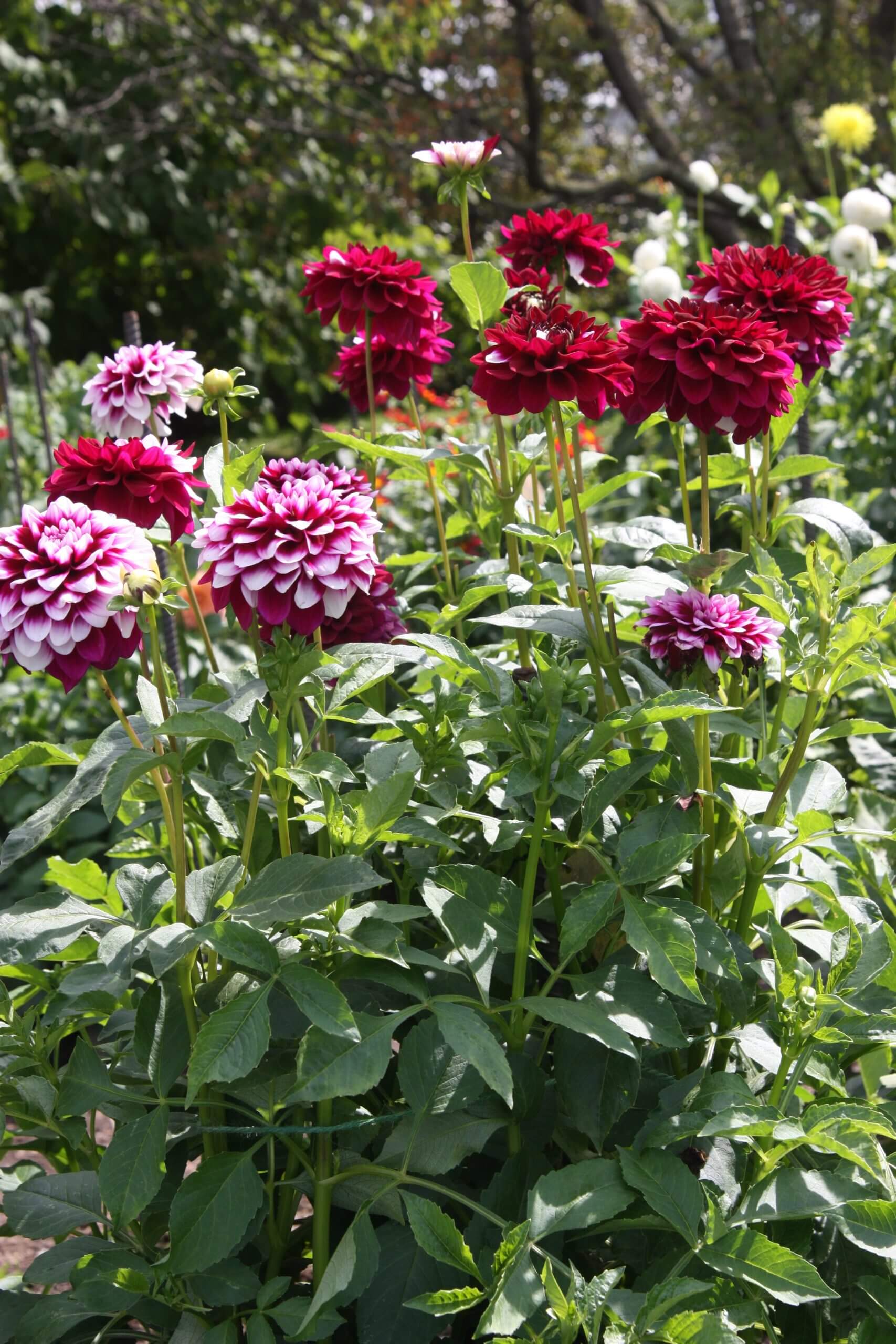 Overwintering Dahlias
Dahlias are tender perennials able to survive winters in USDA hardiness zone 8. In colder zones, their tuberous roots must be dug and stored indoors through winter. Dig dahlias after their tops wilt following the first light frost. When digging tubers, keep then intact and be careful not to damage their necks as this is where next year's buds will appear. Gently clean and dry the tubers before storing them. Pack in a dry peat/vermiculite mix and store in a cool, dry basement, garage or root cellar no colder than 40 degrees Fahrenheit.
Once the threat of frost is past, plant again in spring to a depth of four to six inches. In cool weather, refrain from watering tubers directly after planting to avoid tuber rot. On hot summer days, be sure to water them regularly and provide potted specimens with shade during the hottest times of the day. Care for them well, and you will have wonderful garden color and cut flowers, even during the hotter days of the month.
Another great perk about dahlias is their value. These beautiful garden flowers are very reasonably priced. Swan Island Dahlias is a great one-stop-shop for hundreds of fantastic varieties befitting any garden. Plant a few this year and after one season, you will be hooked!