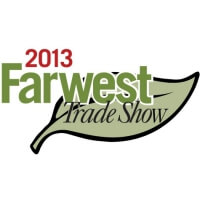 Every year we look forward to attending the Farwest Trade Show, and this year's show is slated to be outstanding, as always. Held from from August 22nd to the 24th (12:00 pm to 6:00 pm Thursday-Friday and 12:00 pm to 4:00 pm on Saturday) at the Oregon Convention Center in Portland, it boasts hundreds of exhibitors, nursery tours and seminars by industry leaders, such as plant breeder extraordinaire Dr. Jim Ault, Dan Heims of Terra Nova Nurseries and many, many more. There will also be loads of free workshops and lots of new and exciting gardening products and plants to check out. (We'll be at booth numbers 13043,13045, 14044 & 14046.)
If you are an area plant enthusiast, be sure to make it to Farwest. You'll be glad you did!
Registration is required. The early bird deadline is July 31st!