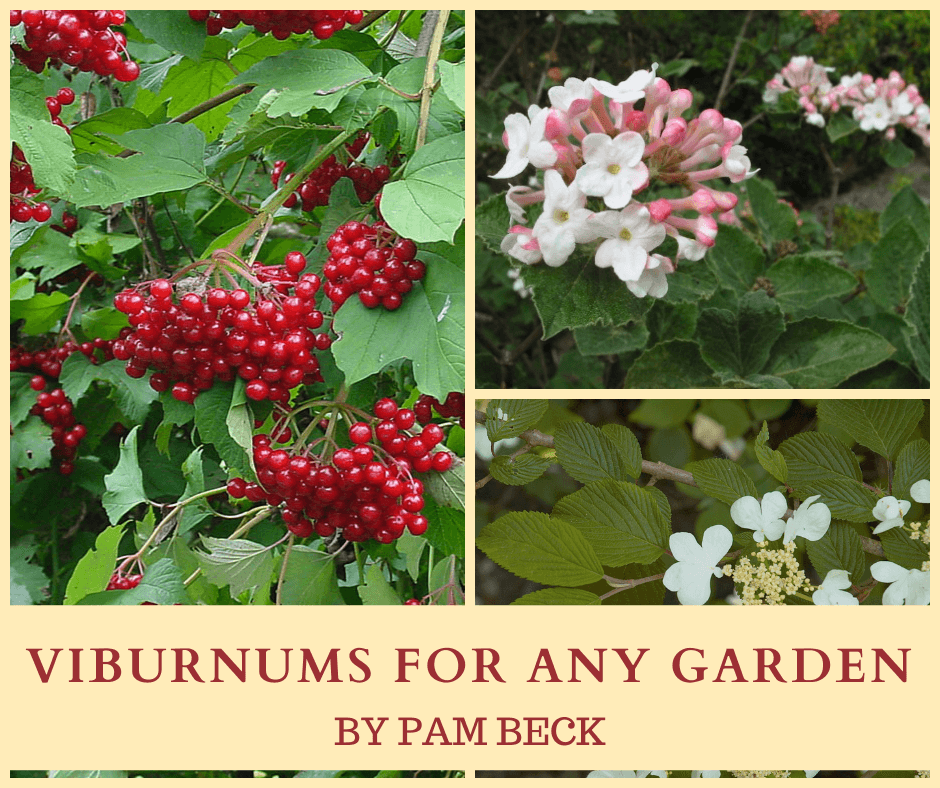 What exactly is a Viburnum? Viburnums are trees or shrubs, evergreen or deciduous, that may be diminutive three-foot globes or grow 60 feet tall. Their leaf texture varies from smoothly shiny to velvety, and, their leaf edges may be serrated, dentate, lobed, or not! Viburnum flowers are either round or flattish and range in color from white to pink. The blossoms are either deliciously fragrant, have absolutely no scent, or can be downright offensive. Just forget trying to determine what viburnum you are admiring by its fruit color alone since berries range from yellow to orange, red to black, and blue to purple.
According to the great Georgia plantsman, Dr. Michael Dirr, their characteristics are simply too varied to make a definitive identification without a very good reference guide. In his 2007 guidebook, Viburnums, Flowering Shrubs for Every Season, by Timber Press, Dirr admits that even taxonomists can't agree on how many species presently exist in the genus Viburnum with the true number probably falling somewhere between 160 to 250.
What makes a Viburnum a Viburnum?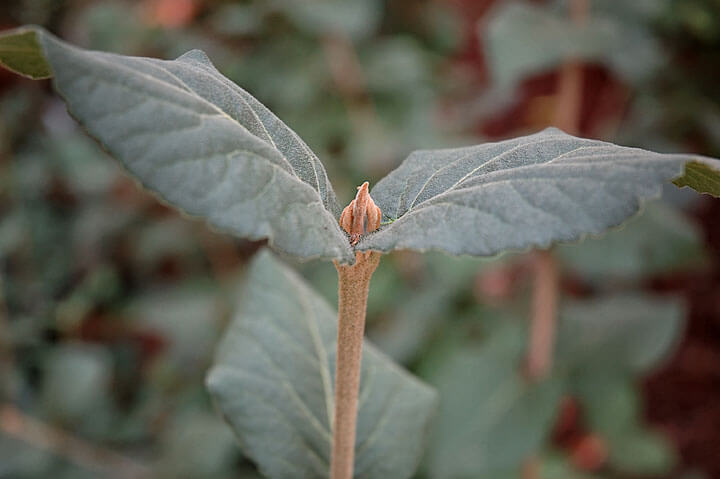 Famed tree and shrub specialist Michael Dirr's definition is:
The fruit is a drupe, generally ellipsoidal, flattened, ovoid to rounded, with a fleshy coat, hard bony endocarp, and a single seed within; and
The leaves are always arranged opposite; a few species, occasionally, have three leaves at a node.
Growing Viburnum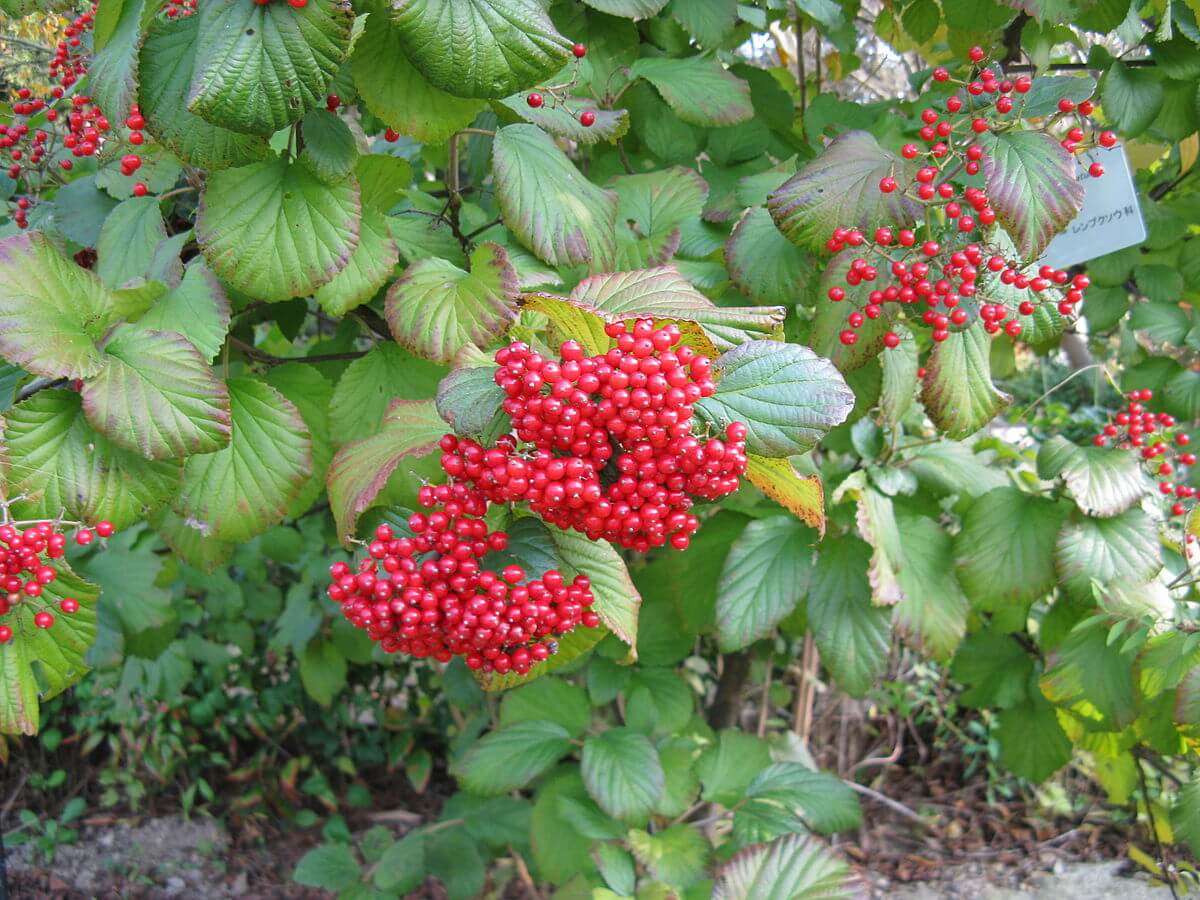 Besides their exquisite beauty, the main reason why we embrace viburnums in our home landscapes is their extreme hardiness. Many varieties can be very drought tolerant (once established) as some of our best Southeastern native viburnum hail from dry woodlands. A few, such as our native Arrowwood, will also tolerate wet feet. Most will grow well in full sun to part shade, can take a variety of soil types, and still thrive.
Planting Viburnum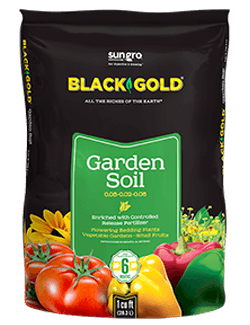 In the absence of good soil, you could amend the planting hole fill dirt with Black Gold Garden Soil for improved drainage that will still provide enough moisture retention essential for a newly transplanted viburnum. Otherwise, mulch the base of your new addition with Black Gold's Garden Compost Blend in order to help hold moisture, keep developing roots cool in summer and warmer in winter, and to suppress weeds.
Great Viburnum
In my home landscape, I have found several species of viburnum grow well under the canopy of a large Black Walnut tree, where it is very dry. Here I have planted Koreanspice bush (V. carlesii) and Cranberry viburnum (V. opulus), and they both perform beautifully.
Viburnums have also been evaluated for their resistance to deer grazing. The toughest survivors of deer predation are our native Arrowwood (V. dentatum); Blackhaw (V. prunifolium); Smooth witherod (V. nudum), which is sometimes erroneously called "possum haw" and, the Maple-leaf arrowwood (V. acerfolium).
Koreanspice Viburnum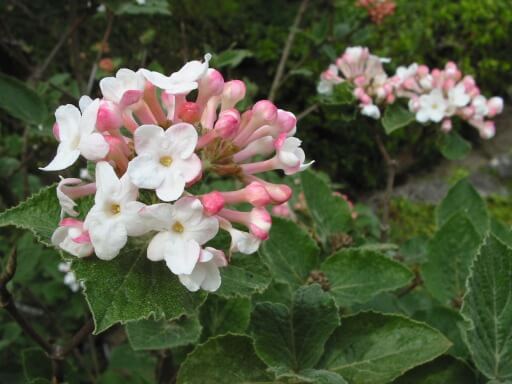 Koreanspice viburnum (V. carlesii, Zones 4-7) is one of our most popular, old-fashioned, pass-along southern shrubs. Grown for its intensely sweet springtime fragrance, the late March to early April flowers of Koreanspice begin pale pink, turning white with age, grow 2-3 inches across, and are rounded. This 8-10 foot tall shrub has dull green leaves that turn reddish in the fall, and red to black fruits.
Cranberry Viburnum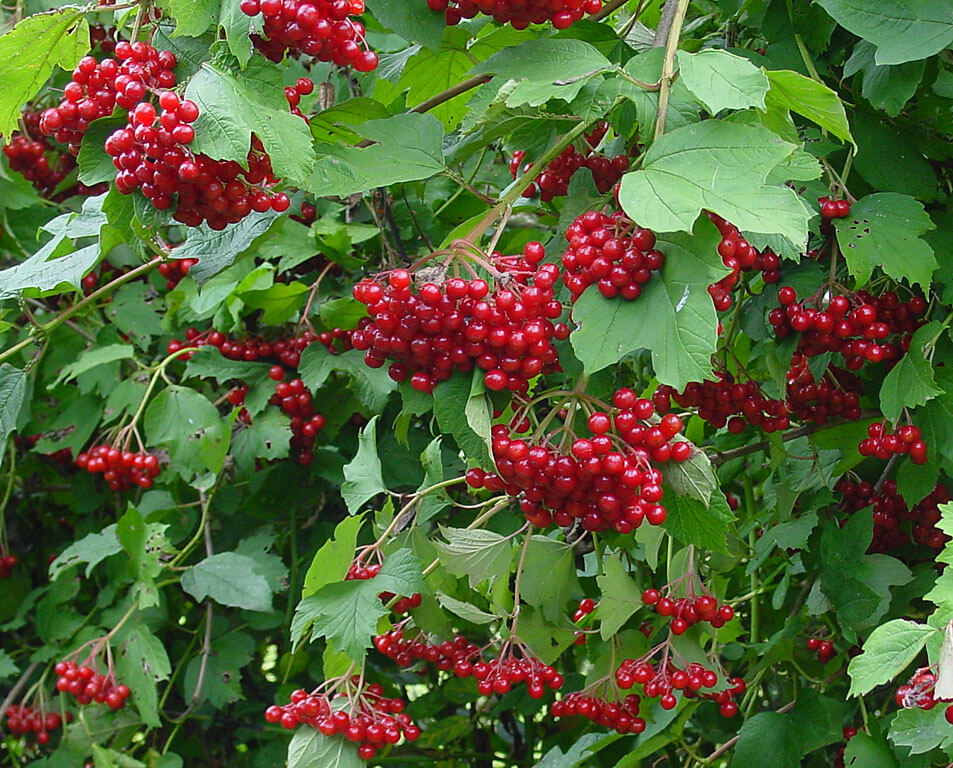 The Cranberry viburnum is named for its brilliant cherry-red fruit clusters that begin coloring in late summer. Its famous leaf fall color is much more dramatic in cooler regions where leaves turn gold, red, and burgundy. A very good cultivar is V. opulus 'Compactum', which should top out at just 5-6 feet.
Chinese Snowball
For sheer drama, nothing compares to the Chinese Snowball (V. macrocephalum). This multi-trunked small tree can reach 12-feet or more in height and grow just as wide. Sometimes semi-evergreen in mild winters, this very dark-leafed viburnum is beloved for its 6-8 inch, rounded, springtime flowers that begin pale chartreuse and age to purest white. They are so beautiful that we can forgive it for not bearing any scent. A significant bonus is that it also flowers again from late summer into fall. Since the Chinese Snowball's hydrangea-like flowers are sterile, there is no fruit, therefore no unwanted seedlings.
Bodnant Viburnum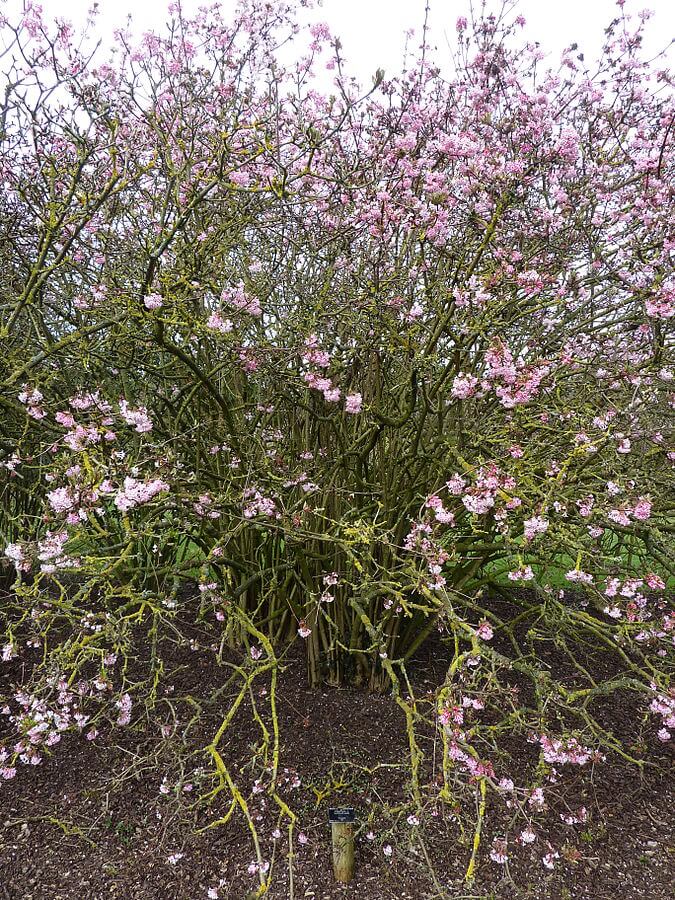 Your winter landscape could be delightful including a Bodnant viburnum in it. Viburnum x bodnantense 'Dawn' has bright pink, strongly perfumed flowers in late February to early March in my Wake Forest, North Carolina, Zone 7-8 garden. The small, rounded, sweetly fragrant flowers are borne on bare branches on a rather rangy shrub, but 'Dawn' blends nicely into the mixed border the rest of the year.
Viburnum Tinus
Garden centers offer V. tinus 'Spring Bouquet' in autumn, which is the right time to plant them. During the late fall months 'Spring Bouquet' forms tight rose-colored clusters of buds that will start popping open during the first months of the new year. These viburnum flowers are only slightly fragrant, but they will cover the small shrub. This evergreen viburnum will need part shade in summer, winter protection from sun, plus they benefit from being shielded from desiccating winds.
Doublefile Viburnum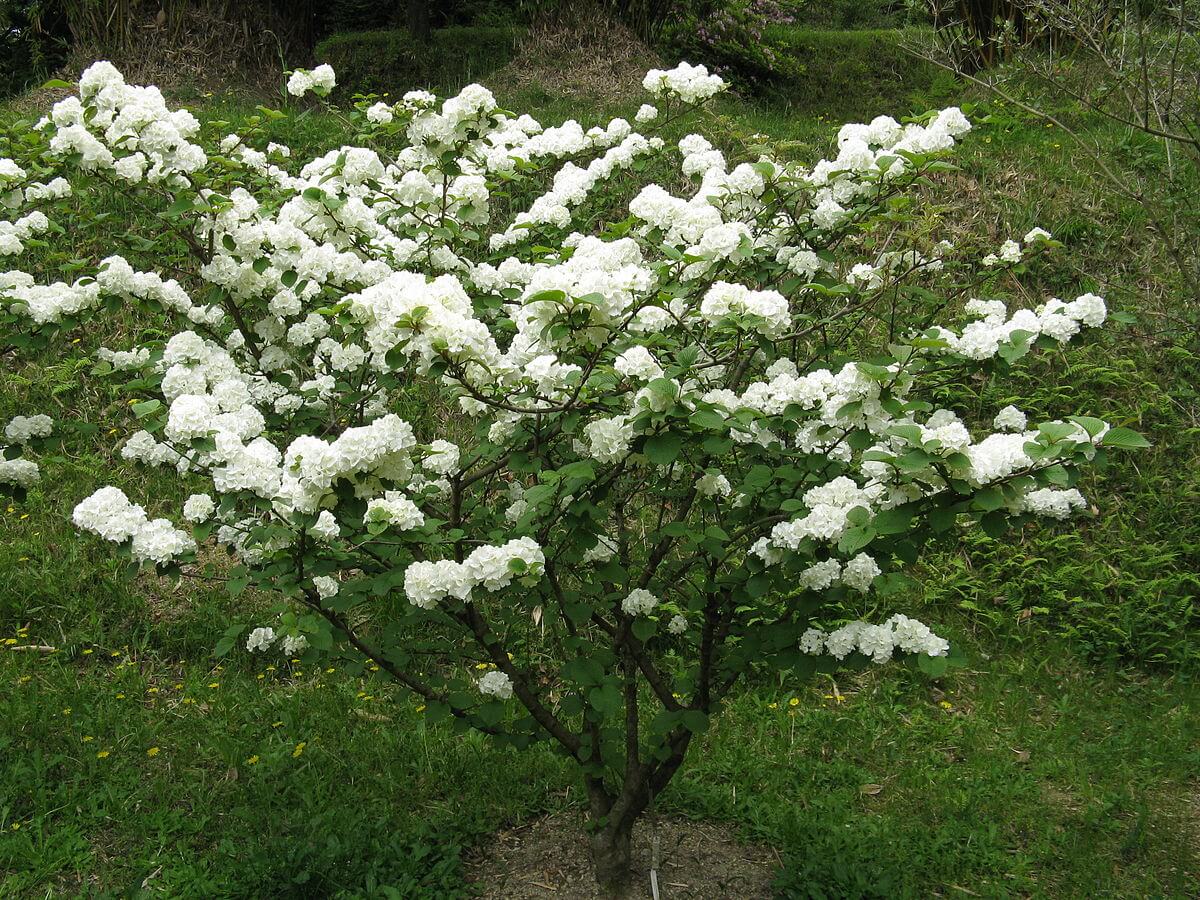 Since they bloom in early April, Doublefile viburnums, V. plicatum f. tomentosum, are great substitutes for ailing native dogwoods. Named for its flowering habit of doily-flat flowers positioned side-by-side along the top of long horizontal branches, this is a stunning small tree. These viburnum are deciduous in winter, have dark green foliage in summer, and bright red berries in late fall. A cultivar named 'Summer Snowflake' will bloom well in early spring, then sporadically repeat off-and-on throughout the summer.
Chindo Viburnum
Chindo viburnum is another popular viburnum that isn't grown for its flowers at all. Promoted by the late Dr. J C Raulston of North Carolina State University, V. awabuki 'Chindo', is a loosely pyramidal-shaped, shiny-leafed, evergreen shrub that can reach 15-20 feet. It grows in sun or shade and is shaped reminiscent of a large-leafed holly, so it makes an ideal screening plant. One warning is that a Chindo viburnum won't like winter temperatures that drop below zero; so, if it does get that cold you may have to trim your plant back severely in springtime to encourage new growth to flush.
There is probably a perfect viburnum for just about any location in your landscape, so how do you go about narrowing your selections? Ask your garden center professional for their recommendations, check with your local Cooperative Extension Service, and find a copy of Dirr's Viburnums book.