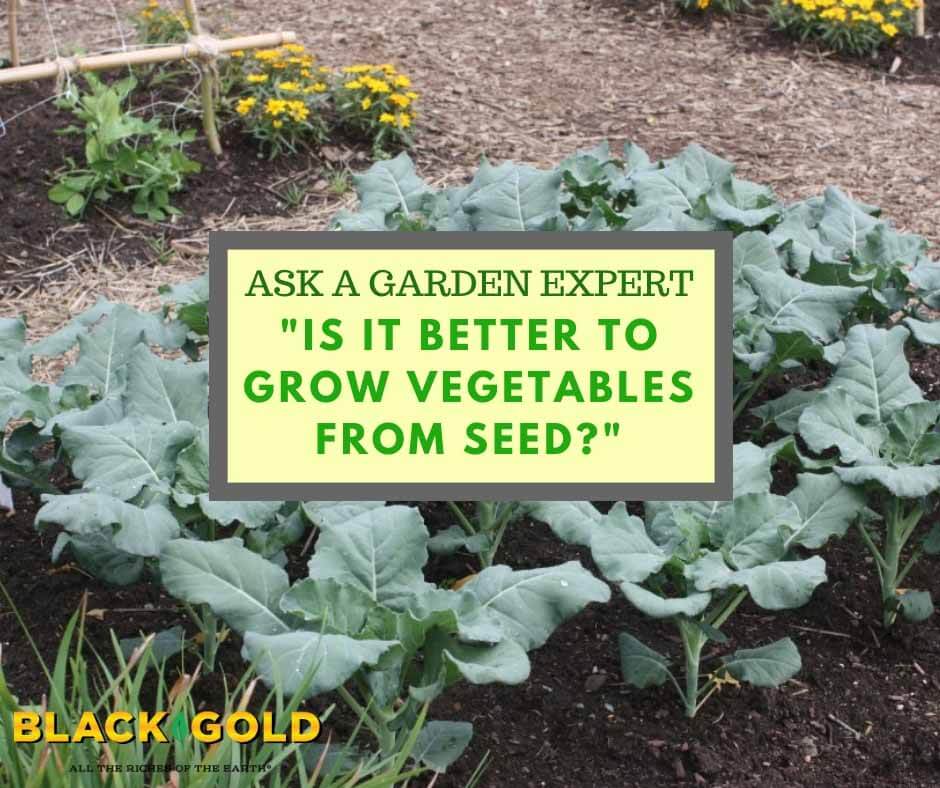 Is it really better to grow veggies from seeds or do buying big plants work just as well? Question from Donna of Newberry, South Carolina
Answer: It depends on the vegetable and your sense of adventure. Let's start with the vegetables that should always be grown from seed.
Vegetables You Should Always Grow from Seed
Large-seeded veggies sprout and grow very quickly and are much cheaper to start from seed, so buying them as plants is a waste of money. These vegetables include cucumbers, melons, pumpkins, squash, and zucchini. I start mine in 4″ pots of Black Gold Natural & Organic Potting Mix (seedling mix is not necessary). Plant the seeds a half-inch to one inch down, depending on seed size and packet directions. Water them in, place them in a warm sunny spot outdoors, keep them moist, and they will sprout in days.
You can also plant these seeds directly in the ground, but I like the pots because I have found that this method encourages better germination, and I can protect the young plants from foraging pests. Once the seedlings are strong and have put on several new leaves, I plant them in the ground. (Check out the videos below about growing melons and cucumbers.)
Cool Vegetables You Can Only Grow from Seed
I like to grow peppers, tomatoes, squash, and other vegetables from seeds because I always want to try new and exciting varieties that aren't sold at local garden centers and nurseries. Some of my favorite vegetable seed vendors for cool varieties are High Mowing Organic Seeds, Baker Creek Heirloom Seeds, Johnny's Selected Seeds, and Pinetree Seeds. Trying new, wonderful varieties makes starting plants from seed worth it.
I should also mention that some vegetables, particularly tomatoes, can get common diseases in the greenhouse and plant nursery–specifically early and late blights. It doesn't happen very often, but I have unknowingly purchased diseased tomatoes in the past. Since then, I have grown almost all of my tomatoes at home from seed.
Happy vegetable growing!
Jessie Keith
Black Gold Horticulturist