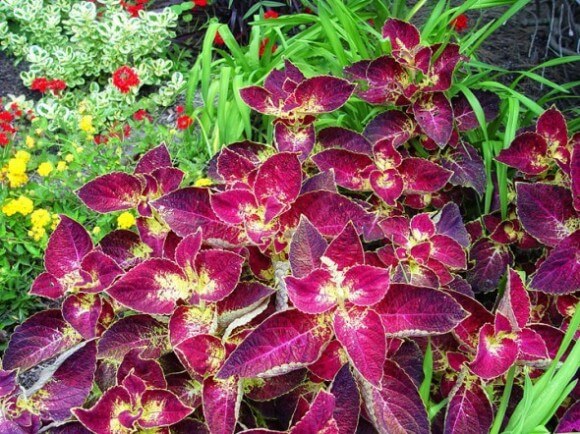 Now that the humidity has passed and it's okay to go outside, why not spice up your patio or entry with some cutting edge color. This time forget the flowers and try colorful foliage plants that bear beautiful leaves with vivid designs. These are bright and brilliant without waiting for blooms, and when the cold of winter sets in they are easy to bring indoors to brighten rooms during the dark days to come.
So dump out those worn out summer pots and lay in some bags of Black Gold Natural and Organic Potting Soil Plus Fertilizer and start turning your patio or front entry into an elegant autumn design statement. The controlled-release fertilizer in this soil will keep your fall-planted compositions carefree and well-fed for the next few months.
Persian Shield
I've fallen in love with Persian shield (Strobilanthes dyerianus), my favorite new plant with its rich purple leaves and dramatic venation. These are truly fabulous in low light or bright sun and can develop into large plants in a short time. While not particularly frost tolerant, they make a superior interior accent too, so I'm inclined to spend more for a strong houseplant later one. You can plant this one alone or combine it with succulent sanseveria, the old mother-in-law's tongue. The two together are decidedly modern in sleek containers or look exotic and tropical in a bamboo basket cachepot.
Coleus
Persian shield can also be grouped into a large color bowl with coleus. This is one annual that has exploded from a few colors to a whole rainbow in just a few years. When you choose an exotic pink to match that purple shield leaf, you've got an outstanding focal point for the patio. Later on it comes in to winter over in that sunny corner by the window.
Heuchera
Whenever you can buy a perennial that performs as well as an annual, you get top value for your dollar. Heucheras are another plant that's exploded as a foliage accent. These small mounts of brightly colored leaves in a rainbow of hues are equally fabulous in pots as they are in the border. They are renowned for retaining their leaves throughout mild winters, so in pots they give you a long span of performance. Plant vivid heuchera varieties into your fall foliage compositions and you'll have much larger specimens by spring to transplant into the garden.
Dwarf Fountain Grass
A final option that adds fine texture and animation to larger autumn pots is dwarf purple fountain grass varieties. These smaller hybrids with their maroon foliage will be in bloom by early fall, and their arching stems that bear fuzzy lavender-tone blooms sway and nod in the autumn breezes. Use one as the center piece of a rusty, iron pedestal urn with the dark beauty of heuchera, coleus and Persian shield for an upscale, eye popping display to welcome visitors over holidays and special occasions. Plant a pair of them to flank your front door, sheltered under the porch or at your entry steps to create dynamic symmetry.
No matter how you mix and match, these colorful bedding plants provide fabulous foliage and are always a winner. They're all pest and disease resistant so they don't need coddling. There are no flowers to snip off so just enjoy the foliage until nights become too cold. Then bring these mature creations into your home to keep those vivid leaves happy and healthy all winter long.