Succulents have had a place in my home since I was in college. In fact, as life became busier and busier, I began to replace more tender, needy house plants with resilient succulents. By the time I had children, I only had succulent indoor plants. Then I realized that hanging succulents were even more convenient because they were out of reach from the kids and cats. They are beautiful and convenient if you have lots of windows that stream sunlight into your home. Some can even take the partial sun.
Another perk is that succulents lack the woes of average, needier hanging plants. They don't need to be constantly watered and tended to due to higher exposure to the elements. Succulents are much slower to dry out and far more forgiving if the soil runs a little dry. The foliage will continue to look lush as long as you keep giving them a little care each week.
Hanging Succulent House Plant Care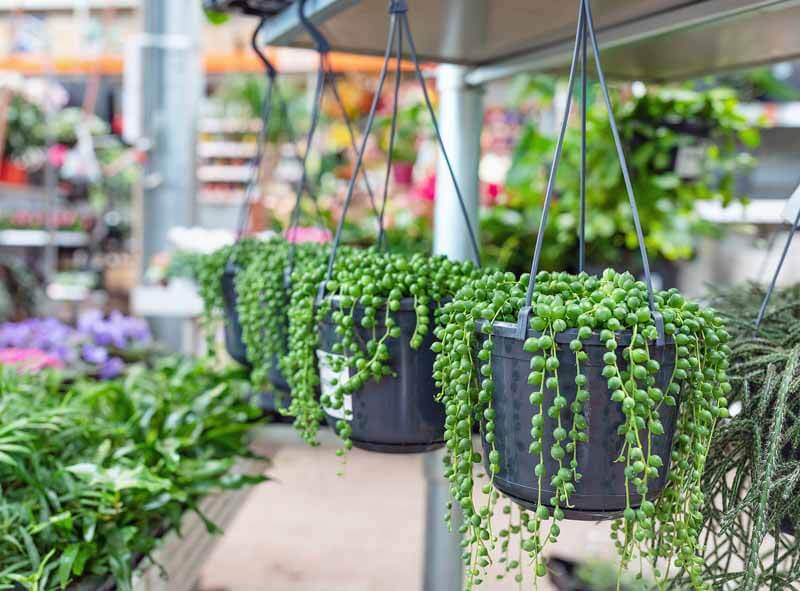 All hanging baskets should drain well and be filled with a porous, well-drained potting mix that also holds moisture. Black Gold Waterhold Cocoblend or Black Gold Natural & Organic Ultra Coir are both excellent choices that are also OMRI Listed for organic gardening. Black Gold Moisture Supreme Container Mix is another good choice. To each of these mixes consider adding additional Black Gold Perlite to increase porosity and drainage. (Click here to learn more about repotting house plants.)
It is good for the health of any house plant to be taken outdoors during the frost-free growing months. Hang them along a bright porch or patio where they will get some protection from the high midday sun and strong winds. Regardless of their drought-tolerant status, they will still require weekly to twice-weekly water when outdoors. Light, slow-release fertilizer, and intermittent water-soluble fertilizer will encourage robust growth. They must be well-rooted and established in their baskets before they are fully tolerant of dry heat and winds, so keep a more watchful eye on new plantings.
When you take them indoors in fall as house plants, give them direct sunlight or bright filtered light. Water much less during the cold months–excess water can induce crown or root rot. Thorough water two to three times a month should be sufficient, depending on the plant, pot, temperature, and humidity. (Click here to learn more about winter succulent care.)
Securing Hanging House Plants
If you have a mantle and little inclination to secure hooks to your ceiling, place hanging plants along the edge. Tall, sturdy plant stands also work. Otherwise, hanging plants should be hung from hooks or brackets. Strong hangers and hooks hung over wooden rafters or securely mounted to a wooden ceiling beam are your safest options. Proper installation is key.

Choose a large, solid metal hook to mount in a ceiling joist (supporting beam) to hang a plant. Start with the basic materials: a step ladder, stud finder, pencil, and cordless drill set with the right bit (it should be a little smaller than the hook's threaded shaft). Stud finders make it easy to find joists. Once you find the right spot, mark it with your pencil, and then drill a straight hole in the spot that is a little deeper than the length of the hook's threaded shaft. Twist the hook's base in until flush, and you're done.

Hanging Succulents for Foliage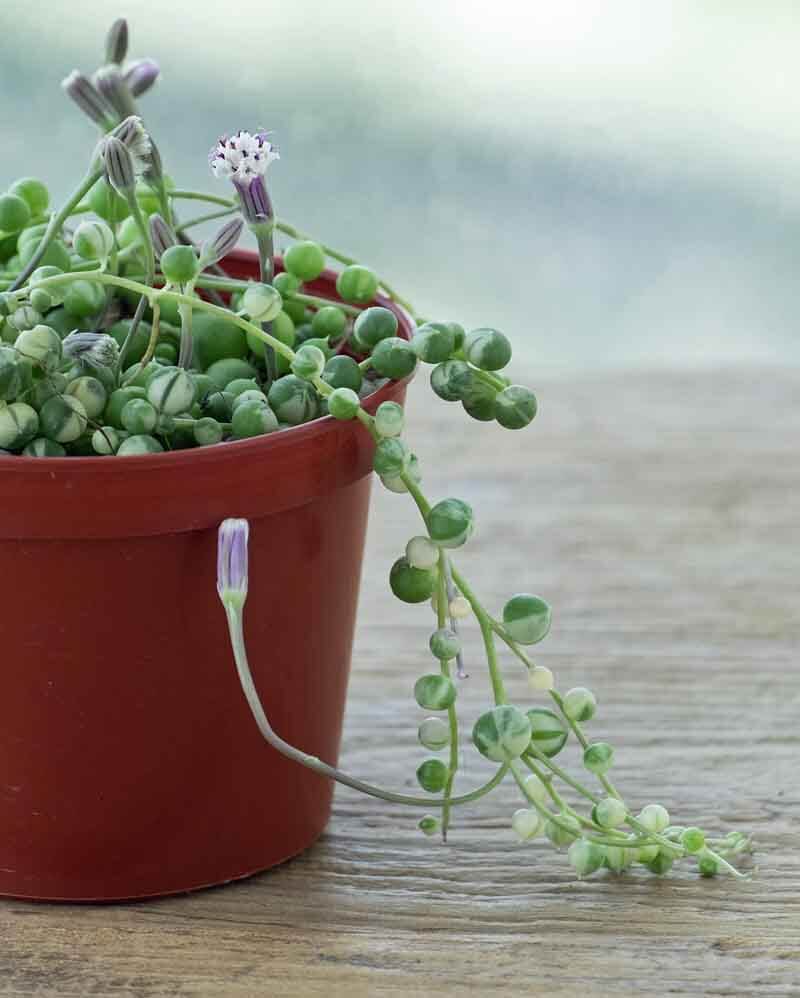 Burros, Dolphins, Donkeys, Pearls, and Pickles: There are several senecios that are uniquely attractive. Each grows to great lengths–up to 3 feet or more–and has whimsical succulent strands.  Blue Pickle Vine (Senecio radicans 'Glauca') has strands of fun, blue-green, pickle-like leaves. String of Dolphins (Senecio peregrinus) is somewhat similar, but its curved fleshy leaves look almost dolphin-like. Burro's Tail (Sedum morganianum 'Burrito') has dense strands of rounded, succulent leaves that look a bit like tails. Donkey's tails are nearly identical, but the succulent leaves have sharper tips, and the stems tend to grow longer. Finally, Variegated String-of-Pearls (Senecio rowelianus 'Variegatus') is one of the easiest and prettiest succulent hanging plants to grow. Its grey-green stems are lined with round baubles of foliage with streaks of ivory and pink highlights. This one's a little harder to come by, but Mountain Crest Gardens carries it often. Unusual white or lavender-pink flowers rarely appear on each of these plants.
Dancing Bones (Hatiora salicornioides) is a unique spineless cactus. Though delicate, yellow flowers often grace its stems, its glorious, mop-head of foliage is the main show. Grow it in a strong, sturdy hanging basket or tall container. Happy plants mature quickly and become large, so be sure you hang it from a strong hook secured to a beam.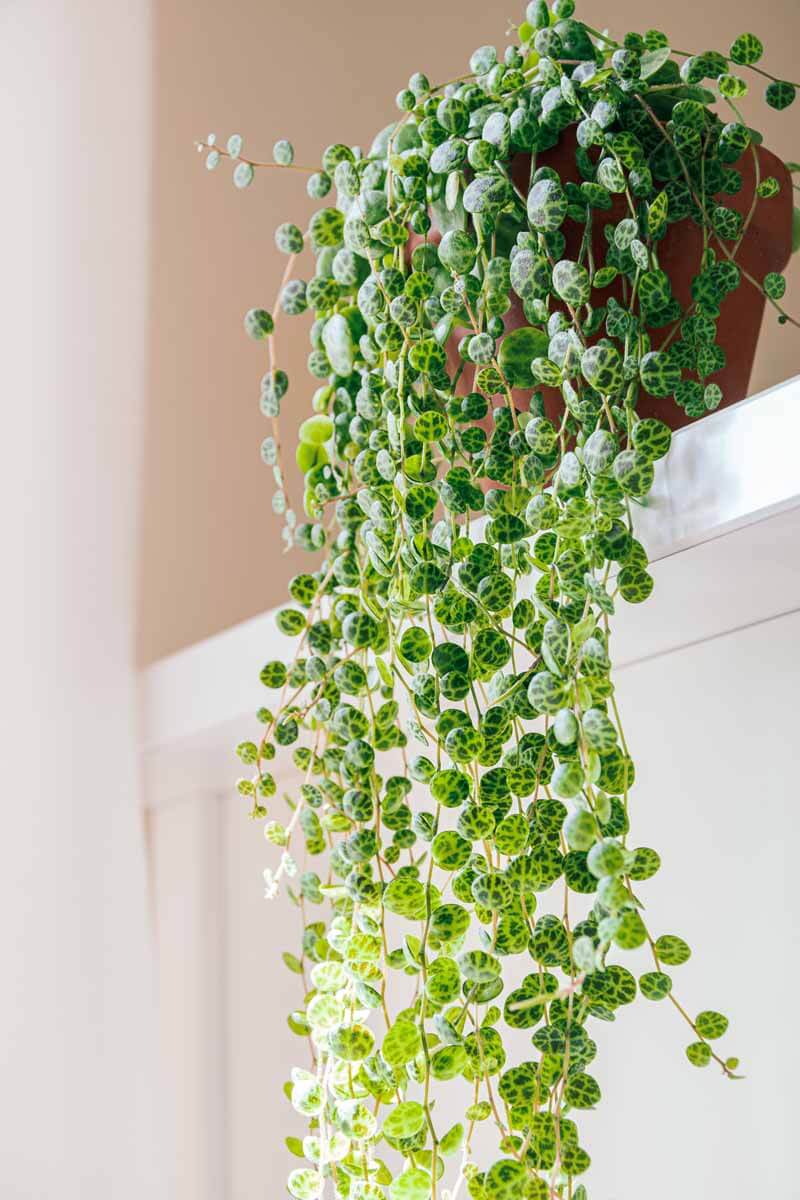 String-of-Turtles (Peperomia prostrata) has flattened, translucent leaves that look much like tiny turtle shells. In time, the plant will form a dense mat of dangling stems. This one can take a little less light.  On rare occasions, it may produce spikes of reddish-brown flowers that rise from the foliage.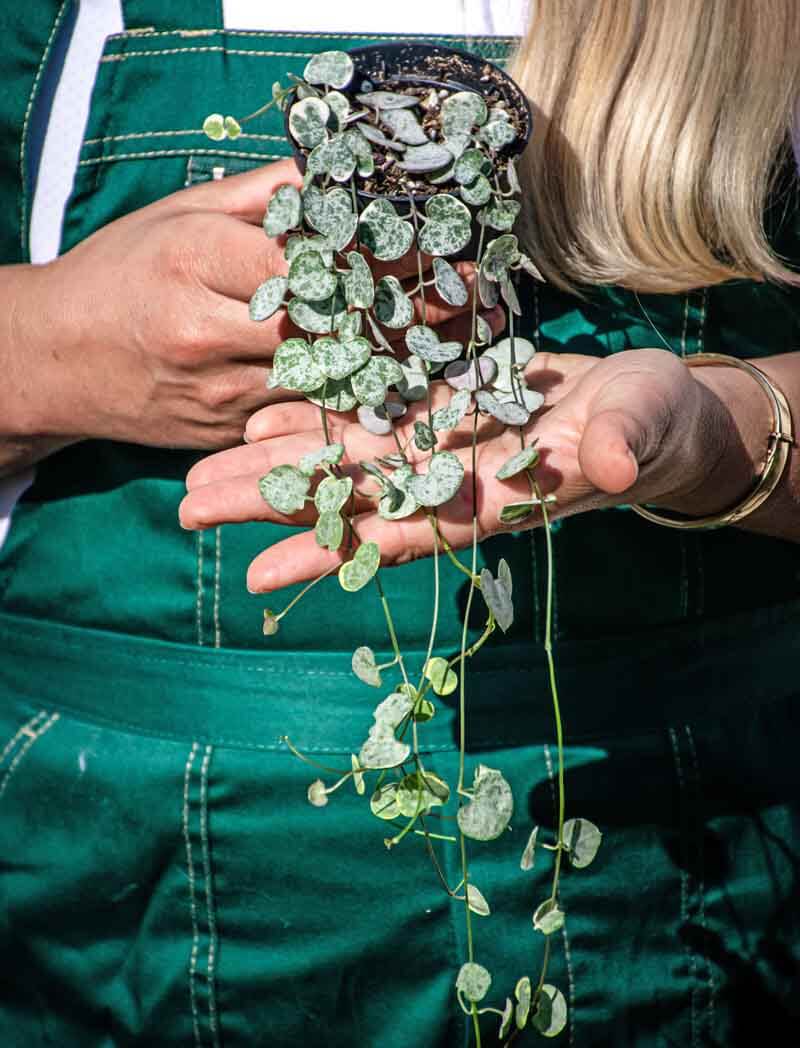 Variegated String-of-Hearts (Ceropegia woodii 'Variegata') has delicate, heart-shaped succulent leaves of silvery-white, pink, and dark green that dangle from the dark stems for an impressive show. It is one of the easier house plants that you can grow, and it does not disappoint when it comes to good looks.
Hanging Succulents for Flowers and Foliage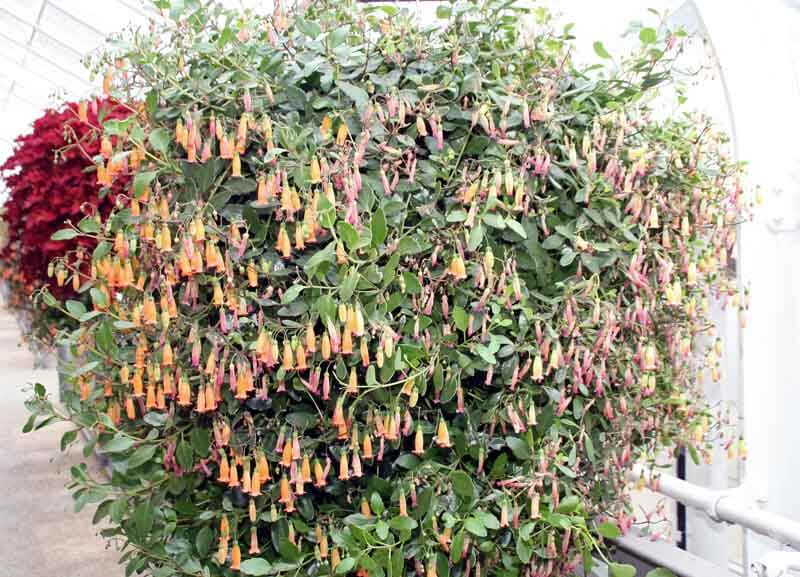 Chandelier Plant (Kalanchoe manginii) becomes massive with age, so choose a substantial container from the start. Its dense stems have rounded succulent leaves. From late winter to early spring, copious orange to salmon-pink bells bloom for weeks. During the rest of the year, the lush foliage of this Madagascar native looks attractive. Thin out excessive older growth to encourage new.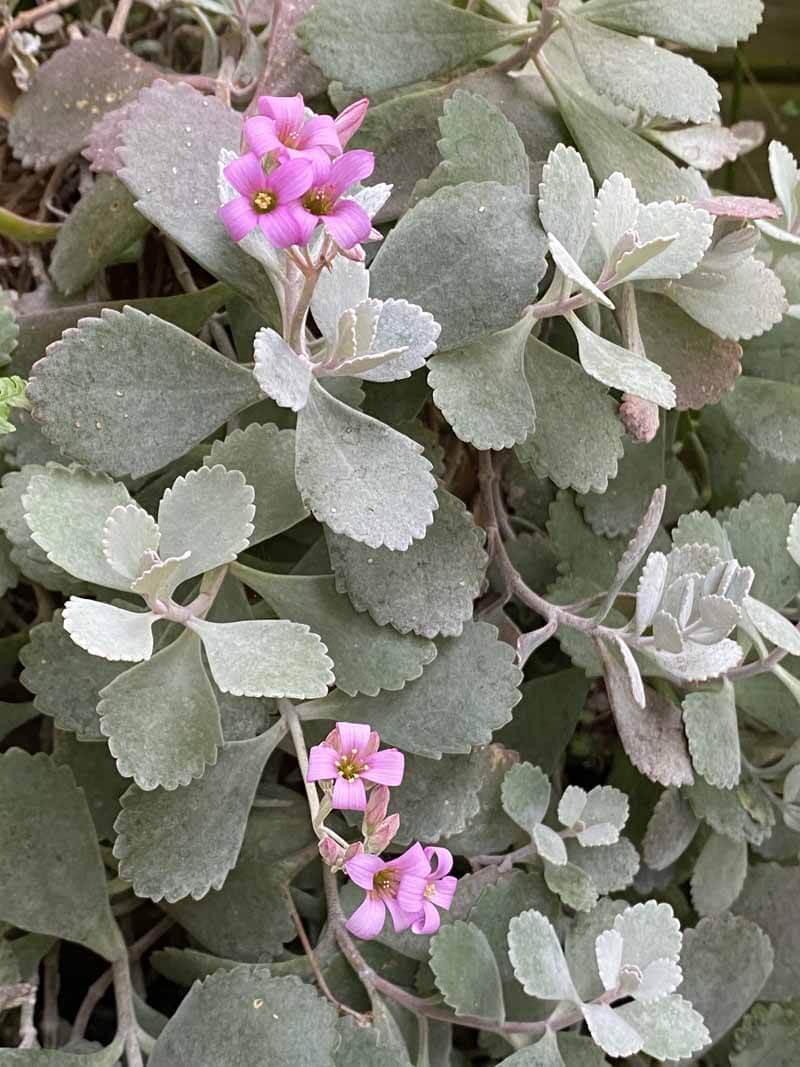 Flower Dust Plant (Kalanchoe pumila) has very bright silvery-white, almost dusty leaves that spill from any container or hanging basket. When this Madagascar native becomes laden with pretty pink flowers, it looks even prettier. Like chandelier plant, it flowers in late winter and spring.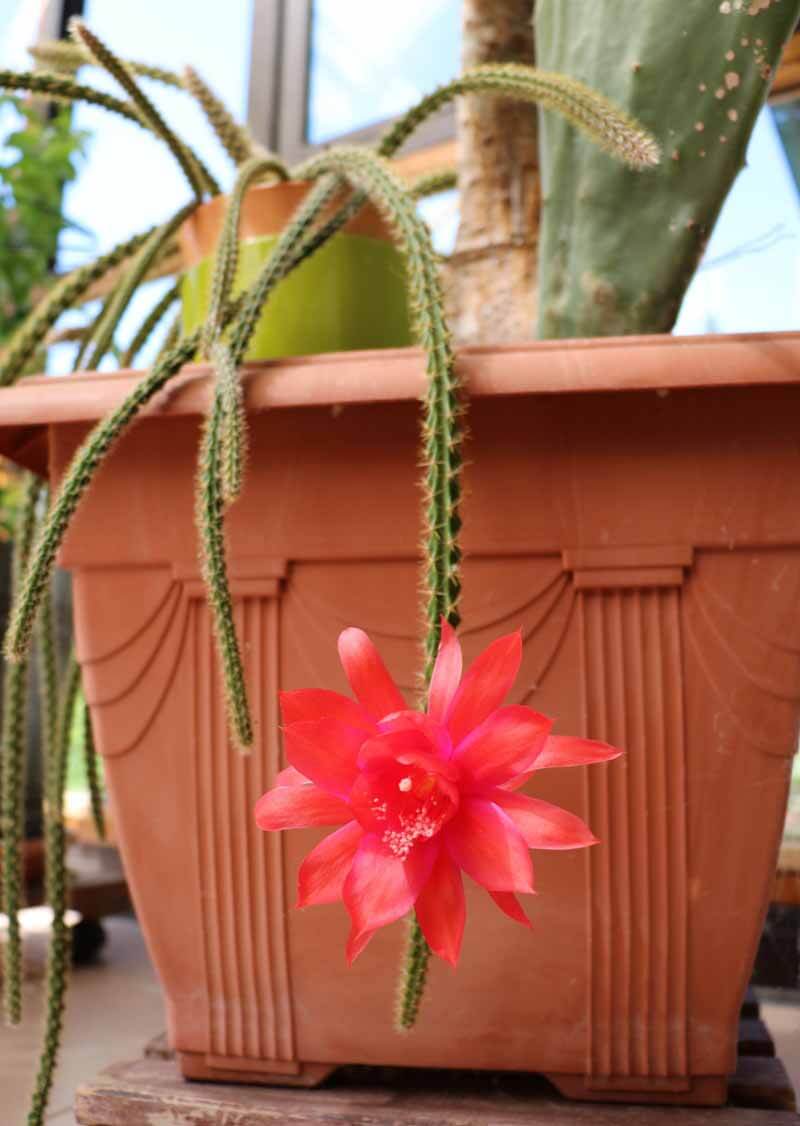 Rattail Cactus (Disocactus flagelliformis) develops long strands of finely-spined stems that cascade down to form a hair-like mop. Spectacular, large cactus flowers of pink, reddish-pink, or purplish-red appear from spring to summer. Prune off any excessive stems or those that become damaged or tangled.
Easy to Propagate and Share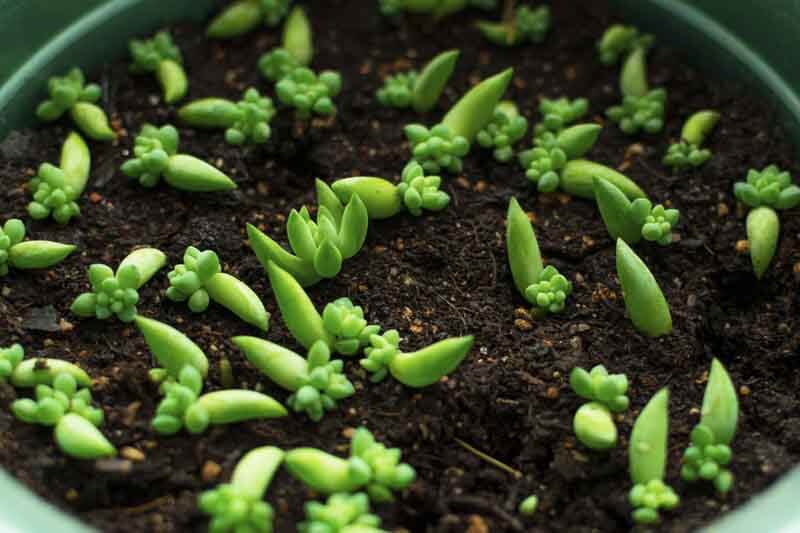 Most succulents and cacti can be propagated from leaf or stem cuttings. The rarer your plant, the more you will want to propagate it for gifting and friends. Here is what you will need to take stem or leaf cuttings from your hanging succulents.
Materials
Succulents
Sharp knife
Shallow pots with bottom saucers/tray
Perlite or porous growing mix
Grow lights or a bright window
Rooting hormone with an anti-fungal additive (optional)
Use a sharp knife to gently cut healthy leaves from the stem. Dip the bases of the leaves, or a stem tip, into rooting hormone; rooting hormone hastens the rooting process and reduces rot but is not necessary. Gently moisten the perlite or potting mix in your shallow pots, and nestle the bases of the leaves into the mix. Place the pots in a spot with bright, filtered light and keep the perlite or mix lightly moist to almost dry. Over a matter of weeks, the bases will root and small plantlets will appear. You can pot them up once they have several leaflets.