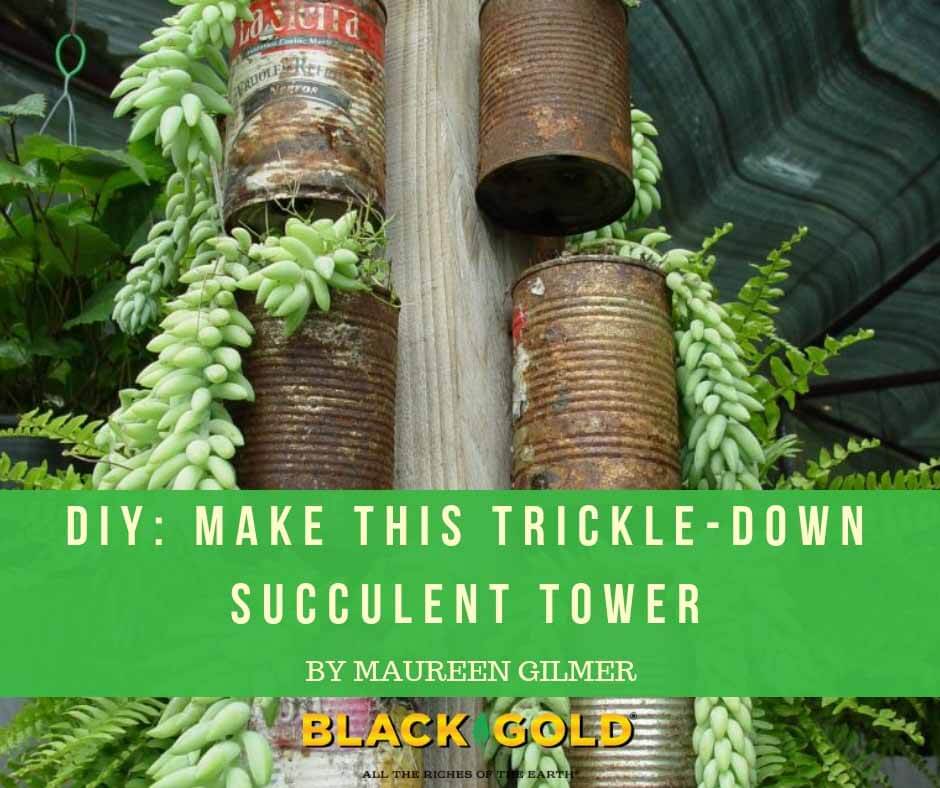 This idea came from deep within Mexico where plastic nursery containers are rare and coveted.  Tin cans are used, whenever possible, instead of pots to save money.  When I found the tower at Xochemilco, I realized this is trickle-down-watering at its finest.  It's also the most innovative idea I'd seen for recycling and saving money.  It also offered a great way to grow more plants with less water and space.  Anyone with a fence post, porch post or just a single 4′ x 4′ in a post hole can create this vertical green tower.
Cascading Succulents
The good news is that it's used for the most beautiful of all succulents: string of pearls (Senecio rowleyanus), donkey tails (Senecio morganianum),  string of bananas (Senecio radicans), and rosary vine (Ceropegia woodii).  All produce long, dangling tresses that soon cloak the post in pendulous foliage.  Though frost tender, they benefit from your cover, or simply remove cans before the first frost and decorate your sunny windows for the winter.
For most who live where there is summer rain, this vertical system solves the problem of keeping succulents dry enough, so they don't rot in the heat.  It was invented in Mexico City by a cottage-level succulent grower to protect cacti and succulents with overhead tarps where it rains in the afternoons.  It will work with your climate, too.   When you grow plants under patio covers on posts, they're covered from rain but still exposed to plenty of sun.  This keeps them dry until you decide they need water.
Watering and Drainage
Watering is the most fun since each can drains into the one below it and so on.  That means every drop of water you apply is utilized.   This system will work for virtually any kind of plant and offers a great way to grow herbs, greens, and flowers, too.
If you use succulents to create your version, you must ensure the cans drain quickly by using a nail to punch numerous holes in the bottom, not just one.  Use only Black Gold Cactus Mix when planting each can.  Tin cans are ideally sized for cell-pack succulent starts or small 2″ potted seedlings, the largest root ball that fits.
Potting Mix
Due to the small root zone, keeping water in the cans is vital for less drought-resistant plants, such as cilantro.   Take advantage of Black Gold Waterhold Cocoblend Potting Soil to help each plant maintain moisture over a much longer period as well as benefiting from higher fertility levels and RESiLIENCE®, which may reduce wilting. Pine needles are used in Mexico for mulch which is stuffed into the tops of the cans to hold on to moisture and extend time spans between trickle-down watering.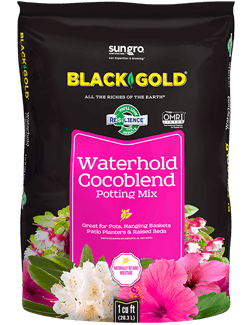 There are a dozen variations possible on this basic idea, from fancy wire bales on the cans to upsizing everything too much larger containers for the same trickle-down on a larger scale.  It's endless how Black Gold potting soils can turn discarded cans into the biggest problem solver of the season.  Start collecting them today.  Then plant your succulents any time of year and sow winter greens late summer for easy picking on the porch.