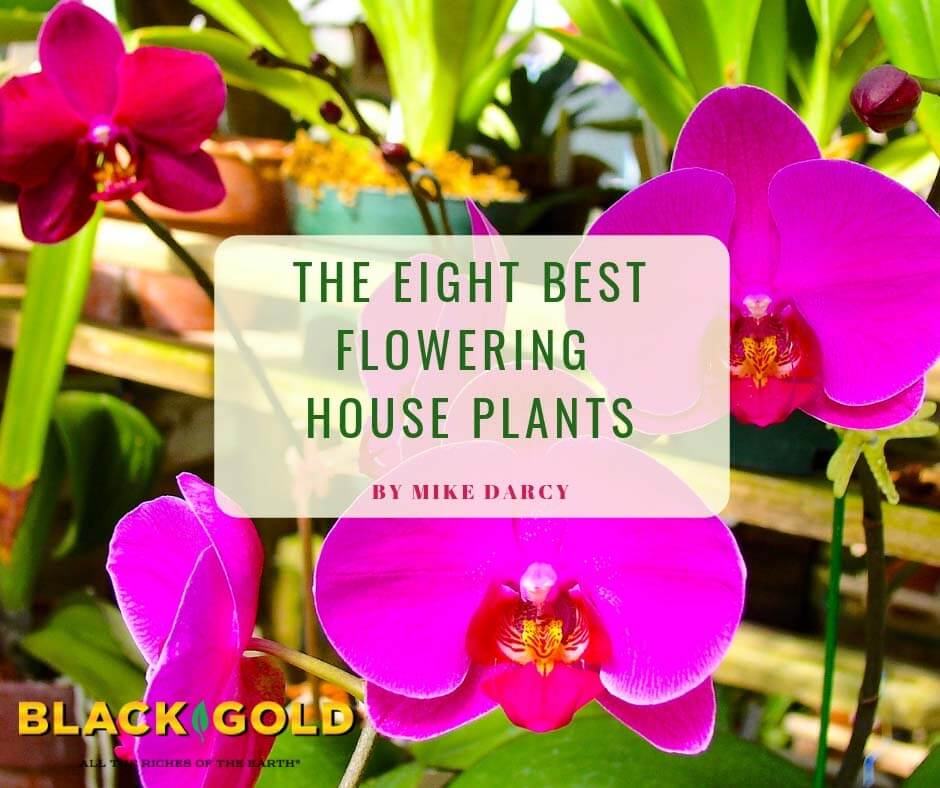 House plants have made a resurgence in popularity over the past several years and the trend shows no signs of diminishing.  On a recent visit to a large Portland garden center that had just finished their annual January house plant sale, the manager told me it was the best one they have ever had. By the end of the first weekend, they were almost sold out.  Throughout the sale, restocking was continuous.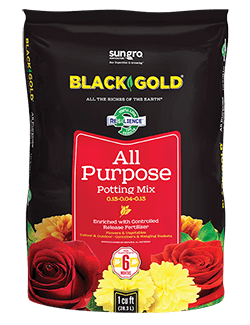 Some customers buy house plants for the flowers and others buy them for the foliage.  Of course, it is a bonus if you can have both flowers and attractive foliage. Also, many flowering house plants bloom in winter when color is most desired.
Like any plant, whether grown indoors or outdoors, good soil is essential.  Black Gold All Purpose Potting Mix is an ideal potting mix for most indoor plants, except for orchids where orchid bark is recommended for epiphytic (tree-dwelling) orchids and Black Gold Orchid Mix is recommended for terrestrial (ground dwelling) orchids.
Flowering Kalanchoe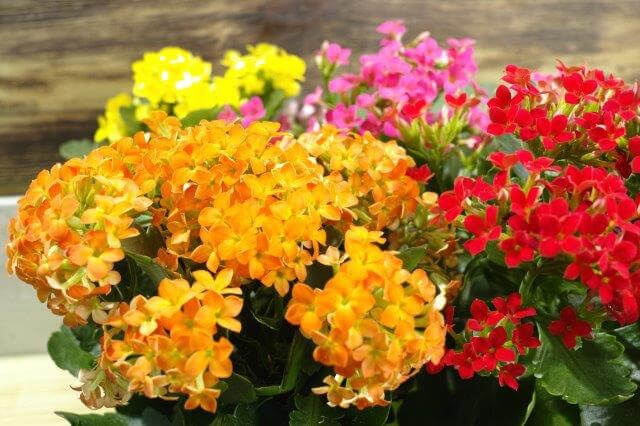 You will love the bright and colorful flowers of flowering kalanchoe (Kalanchoe blossfeldiana). You may not recognize this popular house plant by the name, but once you see it, you will know it.  Its succulent green leaves sometimes have scalloped edges that make this plant attractive, even without flowers.  And, its small, brightly colored blooms of pink, orange, red, or yellow appear in clusters above the leaves.
Clivia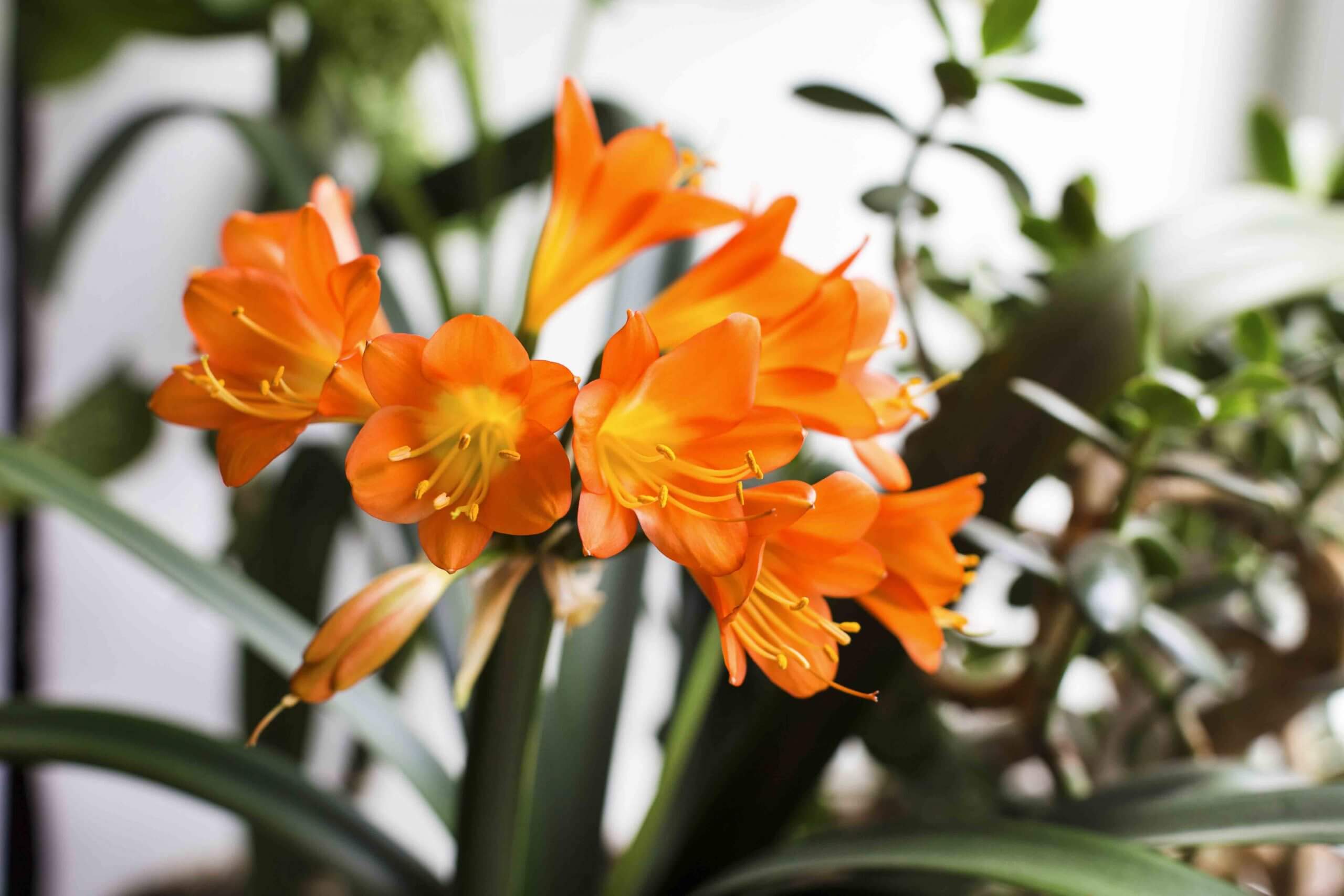 Clivia (Clivia miniata) is a member of the amaryllis family and produces clusters of large, orange, funnel-shaped flowers.  Sometimes Clivia may have yellow flowers but orange is the most common.  The strap-shaped leaves can be up to 2 feet long and are usually about 2 inches wide and very dark green.  Clivia will bloom best if the roots are crowded in the pot.
Bird of Paradise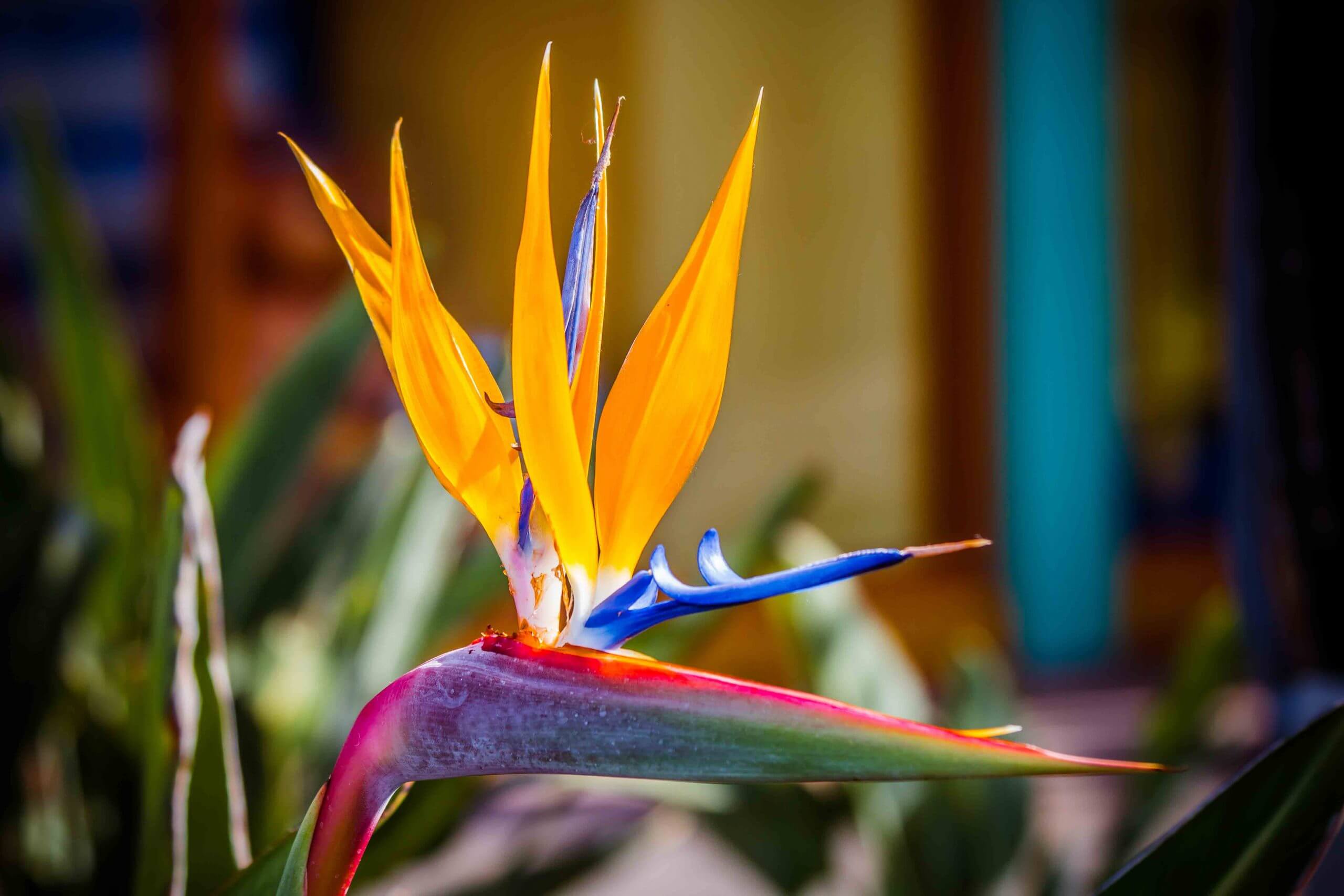 For large pots try the 5- to 7-foot bird-of-paradise (Strelitzia reginae). It is like Clivia in that it blooms best with crowded roots.  It is named for its large, unusual flowers that look much like the head of a crested bird. The primarily orange flowers have highlights of blue and magenta and appear on long stems, making them excellent for cutting. (The cut flowers last a long time in the vase.) It's bold, tropical leaves are dark green, often with a blue-green tint.  Fertilize this one often.
Dwarf Citrus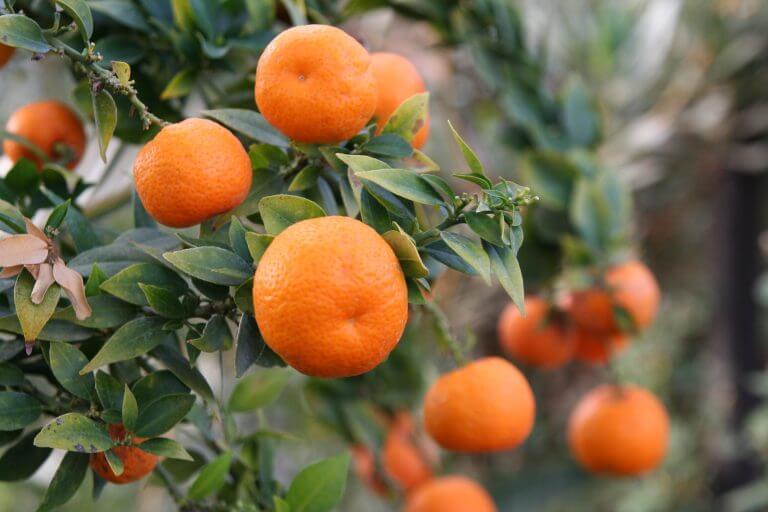 Dwarf citrus trees come in a variety of shapes and sizes and are popular because their flowers are so fragrant.  If they actually set fruit, that is an added bonus.  For a 'starter' citrus, I would suggest the Meyer lemon (Citrus limon 'Meyer') as it seems to adapt to being indoors better than some others.  Another one to try is Chinotto sour orange (Citrus x aurantium 'Chinotto'), which is compact, grows slowly, and bears clusters of sour orange fruits.
Citrus of all kinds do require plenty of light or they will get very leggy.  Take them outside in the summer, and clean them up before you bring them indoors in fall, (Click here to learn how to clean house plants in fall before bringing them indoors.) and they will thank you! (Click here to learn more about growing Citrus indoors here.)
Night Blooming Jasmine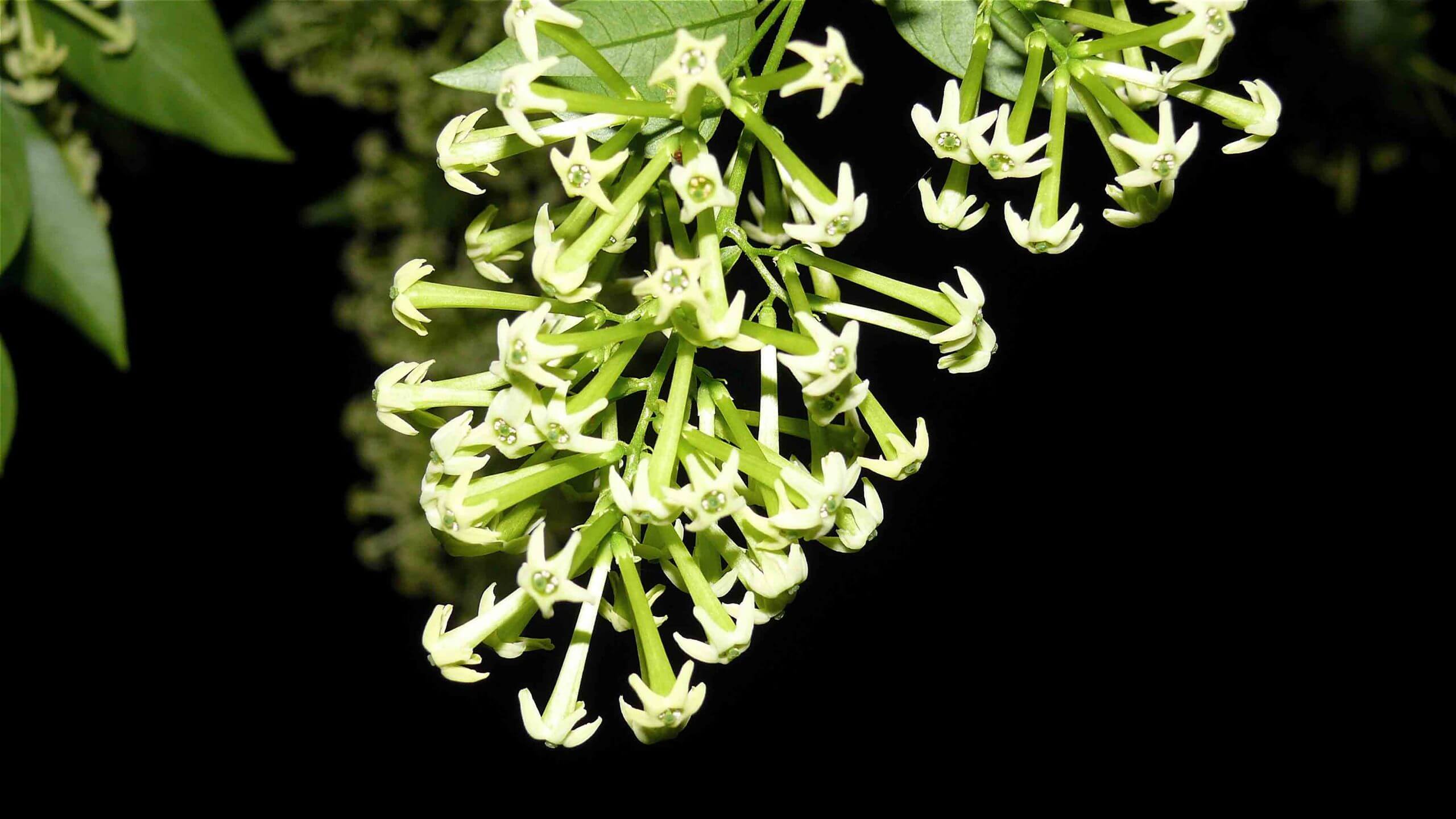 Night blooming jasmine (Cestrum nocturnum) has a very powerful fragrance, and as the name implies, it is a night bloomer.  Grow this evergreen vine on a window sill, and prune it hard after bloom to encourage new growth and flowers.  The attractive small flowers tend to be greenish white, but it is the fragrance that attracts one to this plant.
Orchids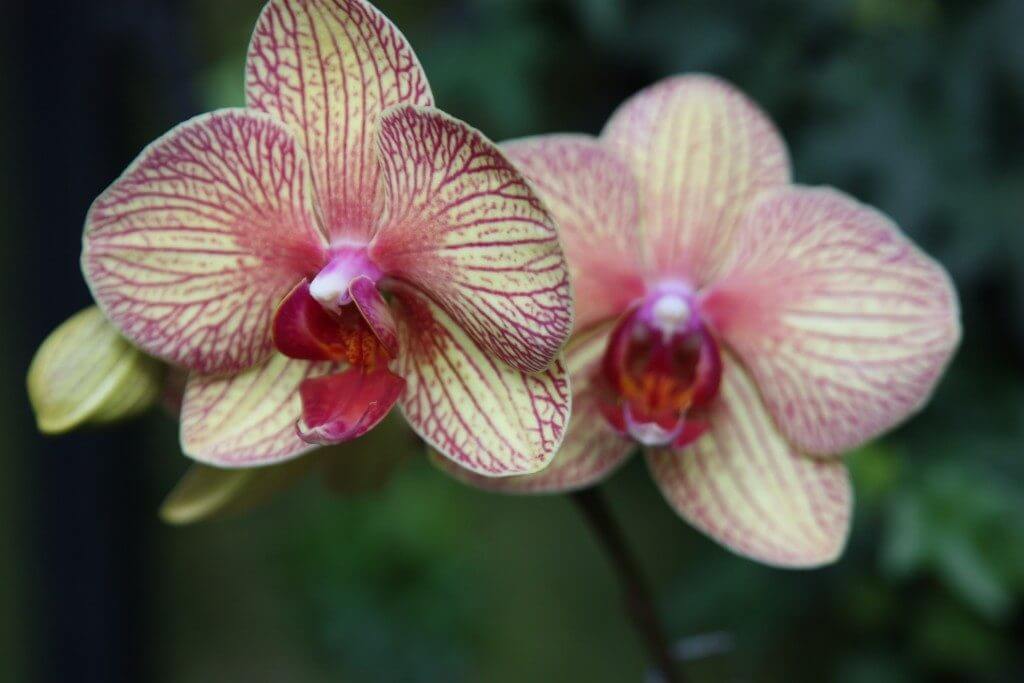 Orchids are flowering plants that are available in not only garden centers but in many grocery stores.  There is a huge selection available as to flower color, shape, and size.  Orchids are popular because the flowers last for a long time, often over several months. (Click here to learn more about how to grow orchids.)
Gardenia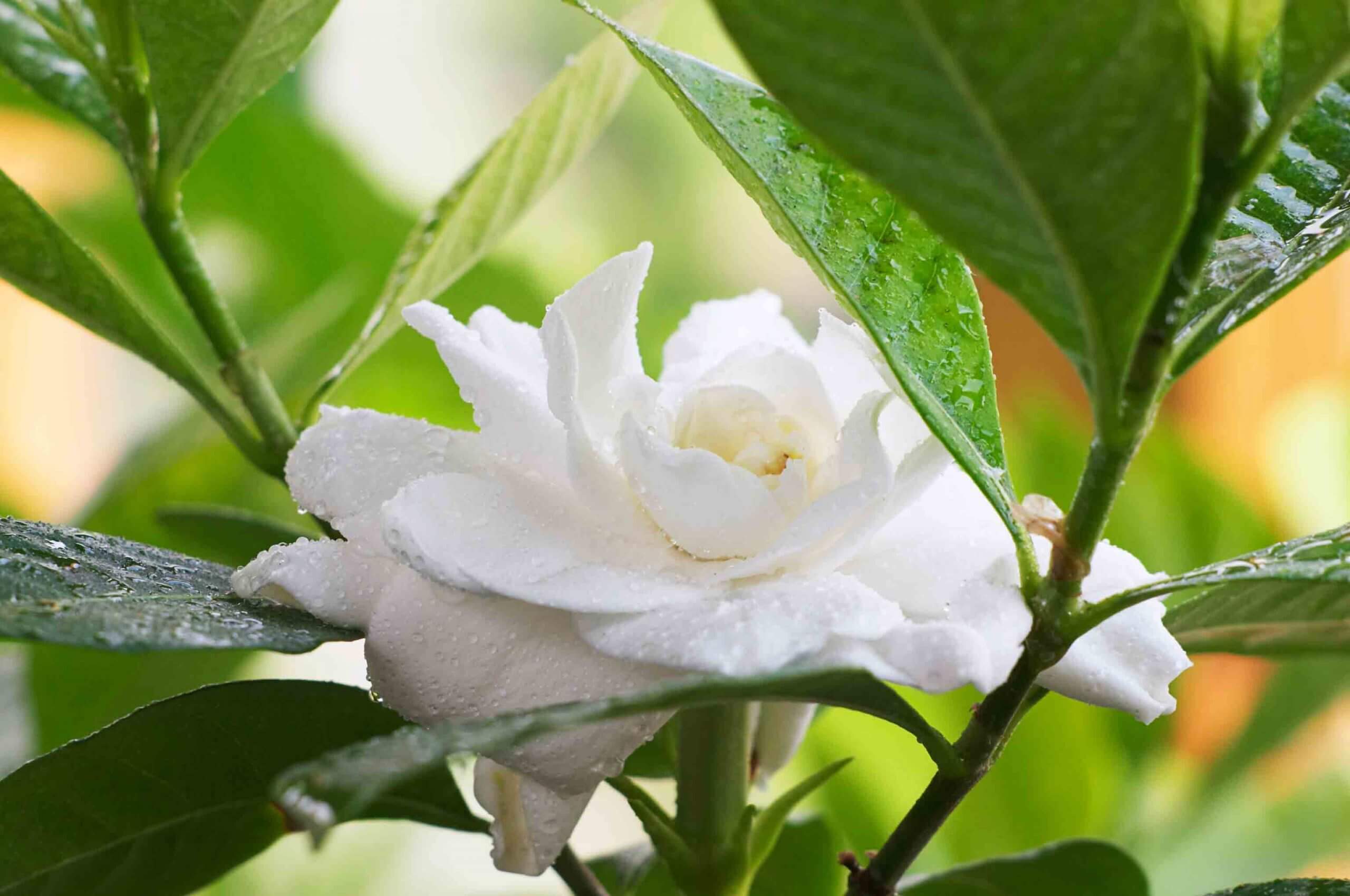 Gardenia (Gardenia spp.) is another blooming plant with an intense fragrance that is most aromatic at nighttime.  If you have enough light to grow citrus in your house, you can probably grow gardenia.  These evergreen shrubs have shiny leaves, and the flowers are pure ivory.  Gardenia 'Mystery' has large, white, double flowers that bloom over a long blooming period.  Keep gardenias pruned regularly or they will become rangy.
Lipstick Plant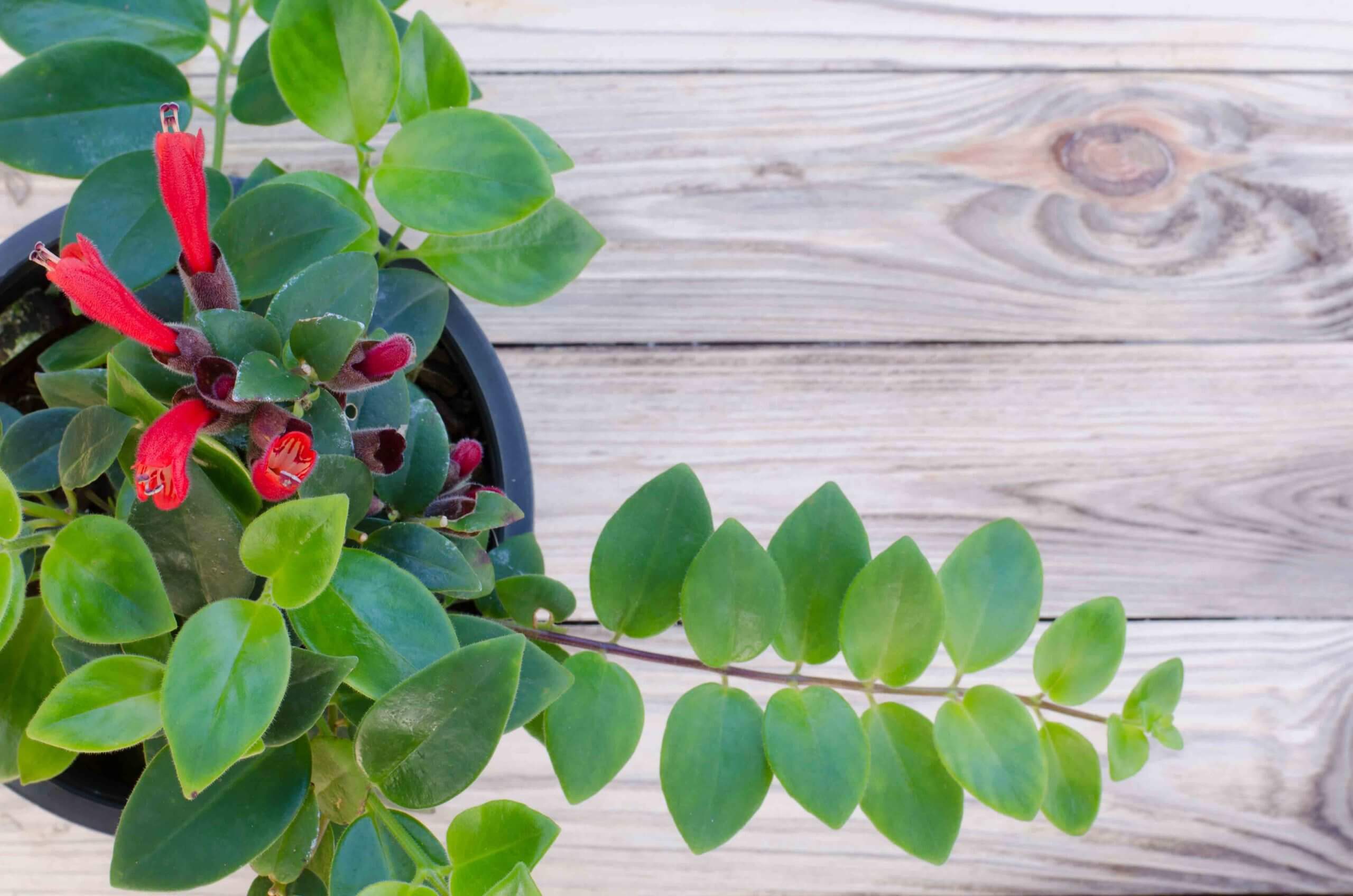 The vine-like lipstick plant (Aeschynanthus radicans) is a very easy houseplant to grow, and it looks great in a location where it can trail.  Its tubular flowers are red and the stems cascade downward.  It has a long blooming period and will tolerate low light.
House plants brighten the home, especially those with impressive flowers. It is always fun to try a new house plant, so I encourage people to experiment with something they have not grown before.  Many can be taken outdoors during the summer, to improve the looks of the garden, porch, or patio.