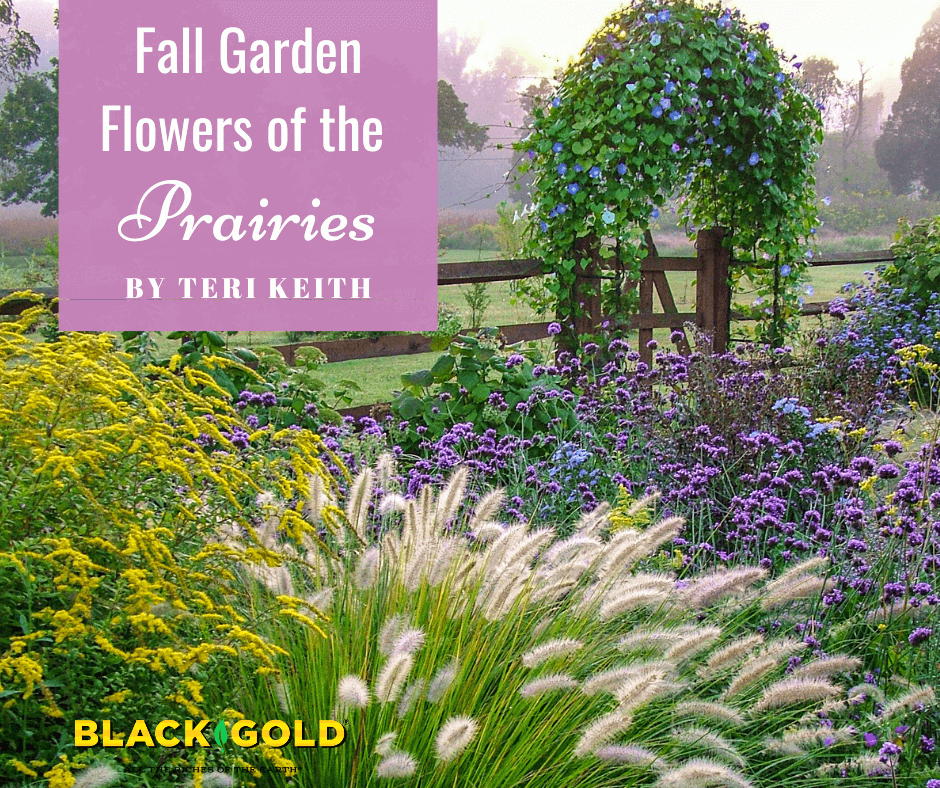 So many favorite summer garden flowers were originally natives of the American prairies–purple coneflowers, black-eyed-Susans, and blazing star among them. Fall is no exception. Whether you plant wild forms or garden varieties, flowers of the prairie are generally easy, tough landscape plants. (If they could withstand trampling and grazing by elk and buffalo, they surely can grow well in your garden!) Some can be planted now, while others can be added to your plant list for next spring.
It's never too late or early to start thinking about next year's flower garden, and late summer and fall is the time to see what's looking beautiful or not-so-great in your garden. Look for holes where a little more color and interest could do some good. You might also make space by removing or thinning out any disappointing or overcrowded plants. Once space has been made, plant now or plan for next spring.
Fall Garden Flowers with Prairie Origins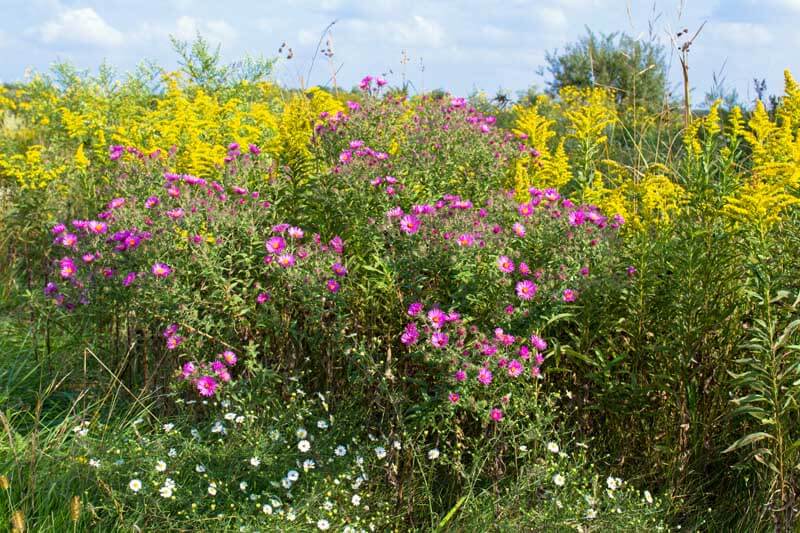 All of these stellar garden plants have their origins from native prairie wildflowers of North America and grow best in full sun and fertile to average soil with good drainage. Feed beds with organic matter yearly to keep your garden soil and plants happy. Black Gold Garden Soil or Flower & Vegetable Soil are excellent amendments for tired beds in need of a boost.
Fall Asters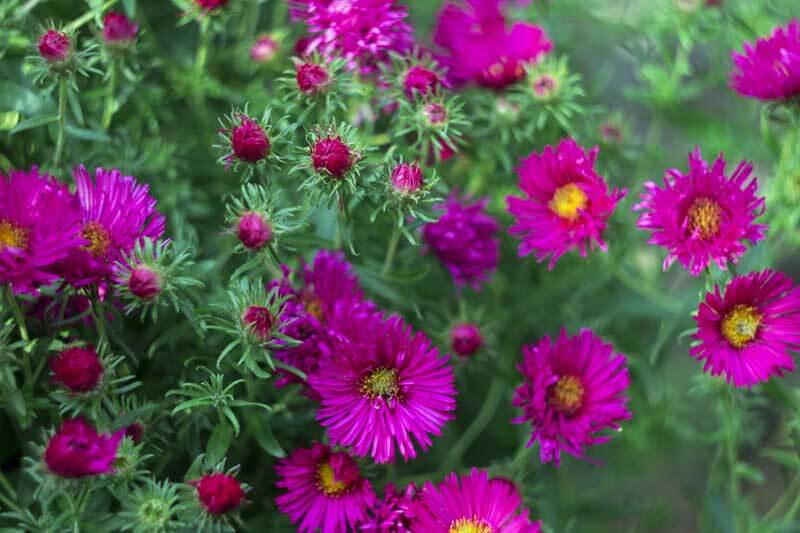 Perennial asters are favorite fall flowers, and most originate from American grass and prairie lands.  Their little daisies can be single, double, or even puffed and come in purple, violet-blue, white, reddish-purple, or shades of pink and lavender. There are many notable species. Of these, I like the tall New England Aster (Symphyotrichum novae-angliae, 2-6 feet, USDA Hardiness Zones 3-8) with its bright purple daisies and ability to grow in both moist and dry soils. Aromatic aster (Aster oblongifolius, 2-6 feet, USDA Hardiness Zones 5-8), which is tolerant of poorer soil, is another winner with its fragrant foliage and lavender-blue flowers with golden centers.
Exceptional varieties include the classic Purple Dome New England aster (Symphyotrichum novae-angliae 'Purple Dome', 18 inches x 12-24 inches), which is compact and has the deepest purple flowers that bloom in midfall. The taller Alma Potschke New England aster ( Symphyotrichum novae-angliae 'Alma Potschke', 3-4 feet) has a wealth of semi-double flowers of reddish-pink. The cool October Skies aromatic aster (18 inches x 18 inches) bears a dense display of lavender-blue flowers with yellow centers on compact plants. Butterflies, birds, and bees love asters, but deer don't.
Goldenrod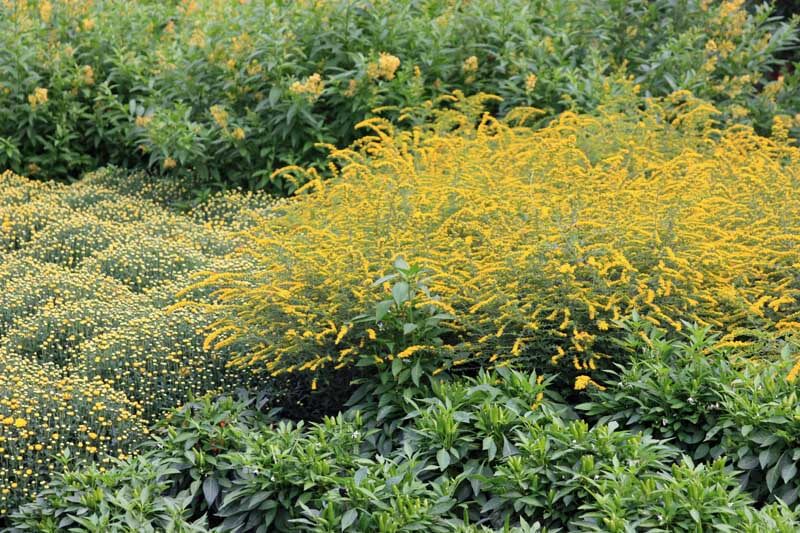 Most associate the name Goldenrod with tall field weeds, but they are not weeds at all. (And, forget the old wive's tale that they cause seasonal allergies; goldenrods bloom at the same time as allergy-causing ragweed, hence the confusion.) Nurseries have developed some beautiful varieties, worth planting in your garden for fall color. One of these is Golden Fleece goldenrod (Solidago sphacelata 'Golden Fleece', 2 feet x 3 feet, Zones 4-9), which becomes heavily adorned with cascading streamers of bright golden flowers from the middle of September through October. Plant it in full sun and average to dry soil, then sit back and enjoy the butterflies. Trim off old flowers to encourage new ones. 'Golden Fleece' is deer resistant.
For a bolder statement try the Fireworks wrinkleleaf goldenrod (Solidago rugosa 'Fireworks', 3-4 feet, Zones 4-9) with its impressive sprays of golden flowers that explode in mid-fall. Plant it towards the back of a border beside tall ornamental grasses, tall mums, and Joe-Pye weed.
Sunflowers and Oxeye Daisies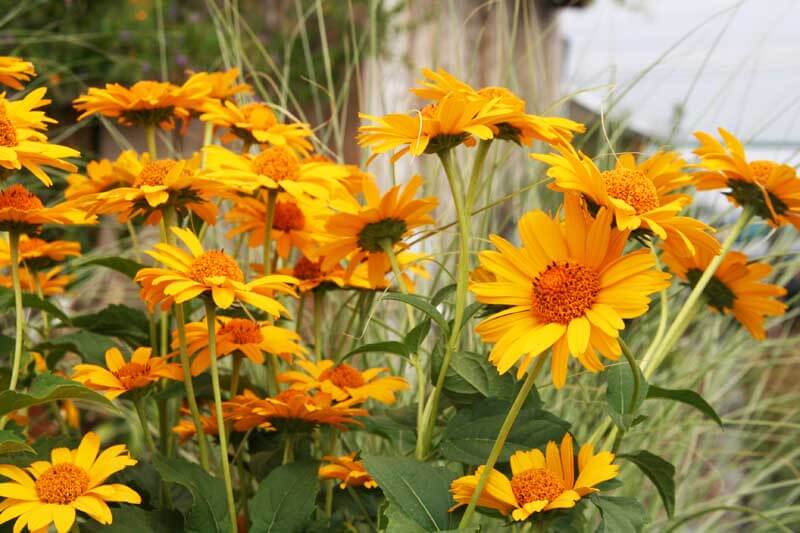 Perennial sunflowers (Helianthus spp.) and oxeye daisies (Heliopsis spp.) look similar, but oxeyes often bloom earlier and continue flowering into fall. One of my favorites is Burning Hearts oxeye daisy (Heliopsis helianthoides var. scabra 'Burning Hearts', 3-4 feet, Zones 3-9), a particularly colorful and long-blooming variety that flowers from midsummer to mid-fall. It has purplish leaves and black stems that hold 3-inch flowers of gold with fire-red centers that fade to bronze.  Another excellent choice is Proven Winners' all-gold 'Tuscan Sun' (2-3 feet, Zones 3-9). Be sure to water oxeyes during dry periods, and plant them in full sun. Bees and butterflies cannot get enough of these flowers.
The compact Autumn Gold willowleaf sunflower (Helianthus salicifolius 'Autumn Gold', 2-3 feet, Zones 5-10) has a mounding, mum-like habit and becomes covered with sunny, yellow flowers in mid to late fall. Leave the nutritious seed heads for foraging birds.  Once established, 'Autumn Gold' will tolerate wet or dry soil conditions, likes full sun, and is deer resistant.
Joe-Pye-Weed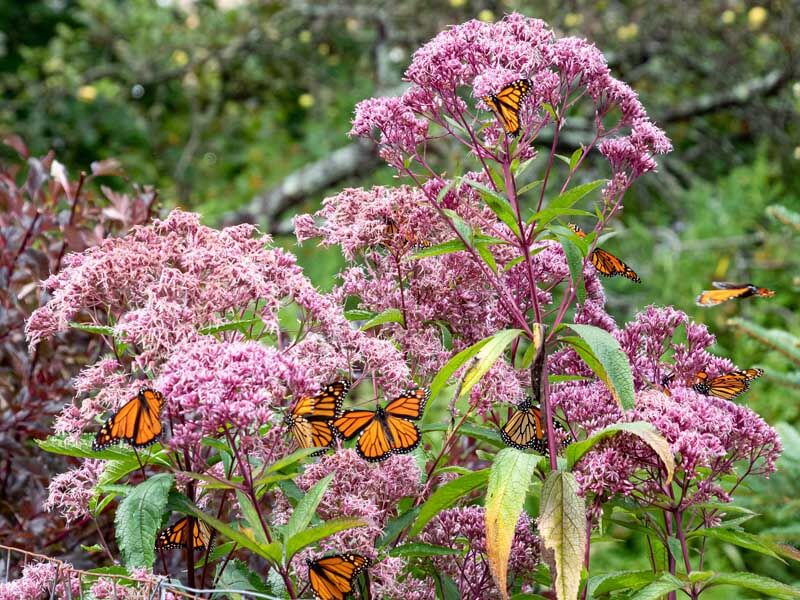 Spotted Joe-Pye weed (Eupatorium maculatum, 3-7 feet, Zones 4-8) is a bold garden perennial that flowers from late summer to fall and commonly inhabits moist prairies. The wild form is useful in big garden borders alongside ornamental grasses, hardy hibiscus, and tall perennial sunflowers. Tamer options also exist. 'Phantom' is a maculatum hybrid that only reaches 4 feet tall and produces lots of puffy purplish-pink flowers on tidy, well-branched plants. They grow well in average to moist soil, full sun, and are a favorite of butterflies but not deer.
Muhly Grass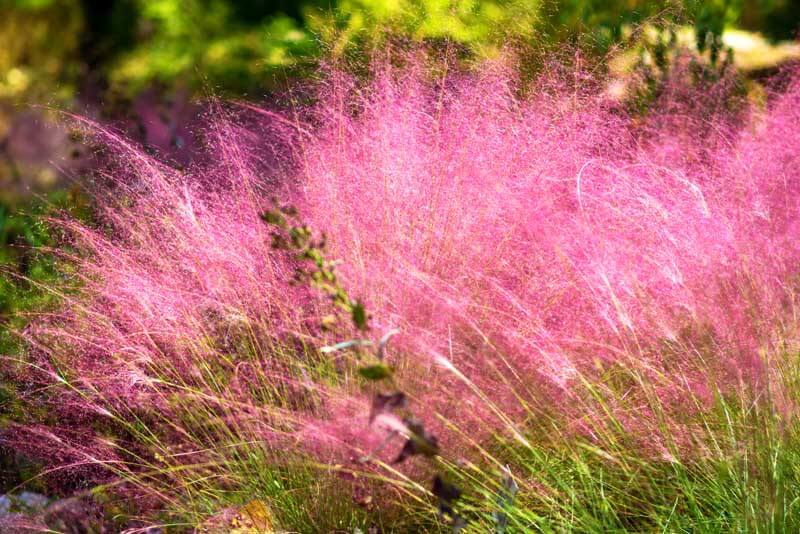 The prairie-native muhly grass (Muhlenbergia capillaris, 2-3 feet, Zones 6-9) is a tough, fall-blooming grass, with cloud-like puffy seed heads or rose or pink. An excellent variety is Regal Mist® with its ruby-pink clouds of grass plumes in fall that are still showy into winter.  It reaches 4-feet tall, does well in any well-drained soil, and is drought tolerant.  Plant muhly grass in full sun. Even though it is a grass, it is deer resistant.
Another fall grass for prairie gardens is Proven Winners' Prairie Winds® 'Blue Paradise' little bluestem. The neat, upright bunch grass just reaches 3-4 feet and has steely blue blades that turn purple in fall. Leave it uncut for winter interest.
Sedums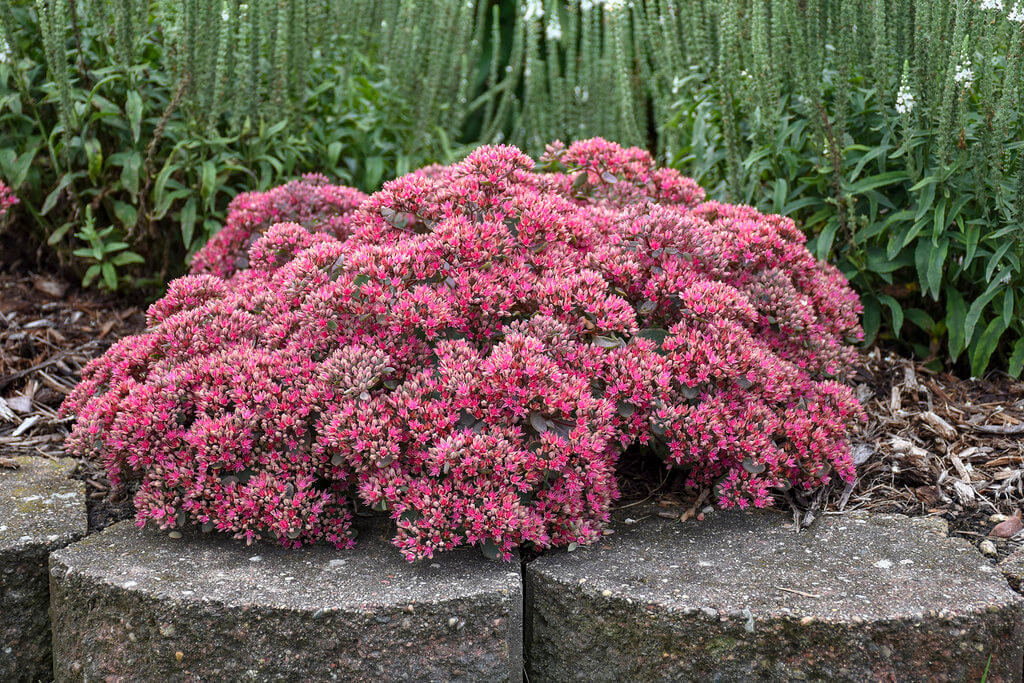 There are some prairie sedums, though few to none are commonly available to gardeners, so I am improvising with a favorite garden variety.  Rock 'N Round™ 'Popstar' (10-12 inches, Zones 3-9) is an excellent mounding stonecrop with loads of pink flowers late in the season, and purplish-gray leaves the rest of the growing season. Low-growing, fall-blooming stonecrops like Rock 'N Round look beautiful when planted along the margins of a prairie-inspired garden.  The succulents have thick leaves that hold water and are tolerant of hot, dry spells. Most new varieties have fancy leaves that are beautiful all season long. Sedums are generally deer resistant.
When planting any of these fall beauties, dig a hole twice as large as the roots, incorporate a few handfuls Black Gold Garden Soil into the backfill.  Then plant your perennial. Follow up by adding a quality slow-release fertilizer.
Adding just a couple of these pretty fall flowers to your late-season display will give it a boost. Hardier varieties can be planted in the garden now, or save a few for your need-to-get spring list.