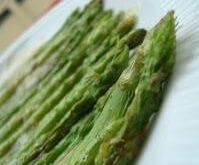 Asparagus is one of those foods that when barbecued needs little flavor enhancement because the natural flavors are so incredible on their own. It tastes even better then freshly picked from the garden in spring.
For an easy and healthy vegetarian/vegan side dish for your barbecue, try this easy recipe for grilled spring asparagus.
Ingredients:
1 pound fresh asparagus
1 tbsp olive oil
2 cloves minced garlic
The zest and juice from 1 lemon
1/2 tsp salt
1/4 tsp freshly ground pepper
grated Parmesan cheese to taste
Preparation:
Toss together all ingredients, making sure asparagus is well coated with garlic, salt, olive oil, lemon juice, and pepper.
Place on the grill and allow to cook for at least 5- 7 minutes, turning occasionally. The asparagus should be bright green and still have some bite.
Once off of the grill, sprinkle the grilled asparagus with lemon zest and Parmesan cheese. This flavorful vegetable also tastes great over pasta with chopped fresh tomatoes a drizzle of extra-virgin olive oil.