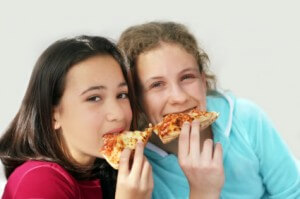 Making pizza is a fun activity that kids enjoy.  They love to create their own pizza masterpieces, and if you provide lots of interesting garden-fresh veggies to the fixings, they tend to dig into the healthy stuff and get creative.
Ingredients for 4 to 6 personal pizzas:
1 pound whole wheat or white pizza dough, cut into four to six even balls
1 medium zucchini and/or yellow summer squash, thinly sliced
1 medium sweet pepper, finely chopped
1 small package sliced, fresh mushrooms
2 green onions, thinly sliced (1/4 cup)
3 plum tomatoes, thinly sliced
1 8 ounce can pizza sauce
1/2 cup basil pesto
1/2 cup coarsely chopped pitted black olives
1 bag shredded mozzarella cheese (8 ounces)
Fresh basil leaves
Grated Parmesan or Romano cheese
Preheat your oven to 425 degrees F.
Set up a "buffet-style" line of ingredients that your kids can pile onto their personal pizzas. Each child should get one or two balls of prepared pizza dough to knead and roll. Prepare a clean, flat surface dusted with flour. Be sure to provide plenty of working space, and help your littlest pizza makers with sauce application, if needed.
Start by placing the pizza dough balls on a lightly floured surface, and let the kids roll them into rounds. Encourage them to build the edges up slightly to keep in sauce and toppings. Place the pizza dough rounds on floured paper plates for the kids to decorate with ingredients. Give the kids a choice of basil pesto or red sauce.
Once all of the ingredients have been added—sauce and toppings—transfer the rounds onto a baking sheet lined with parchment paper. Bake the pizzas between 12 to 15 minutes or until the crust has browned and the cheese appears bubbly and slightly brown. Your little chefs will be eager to eat their pizzas right away, but allow the pies to cool first. Buon appetito!