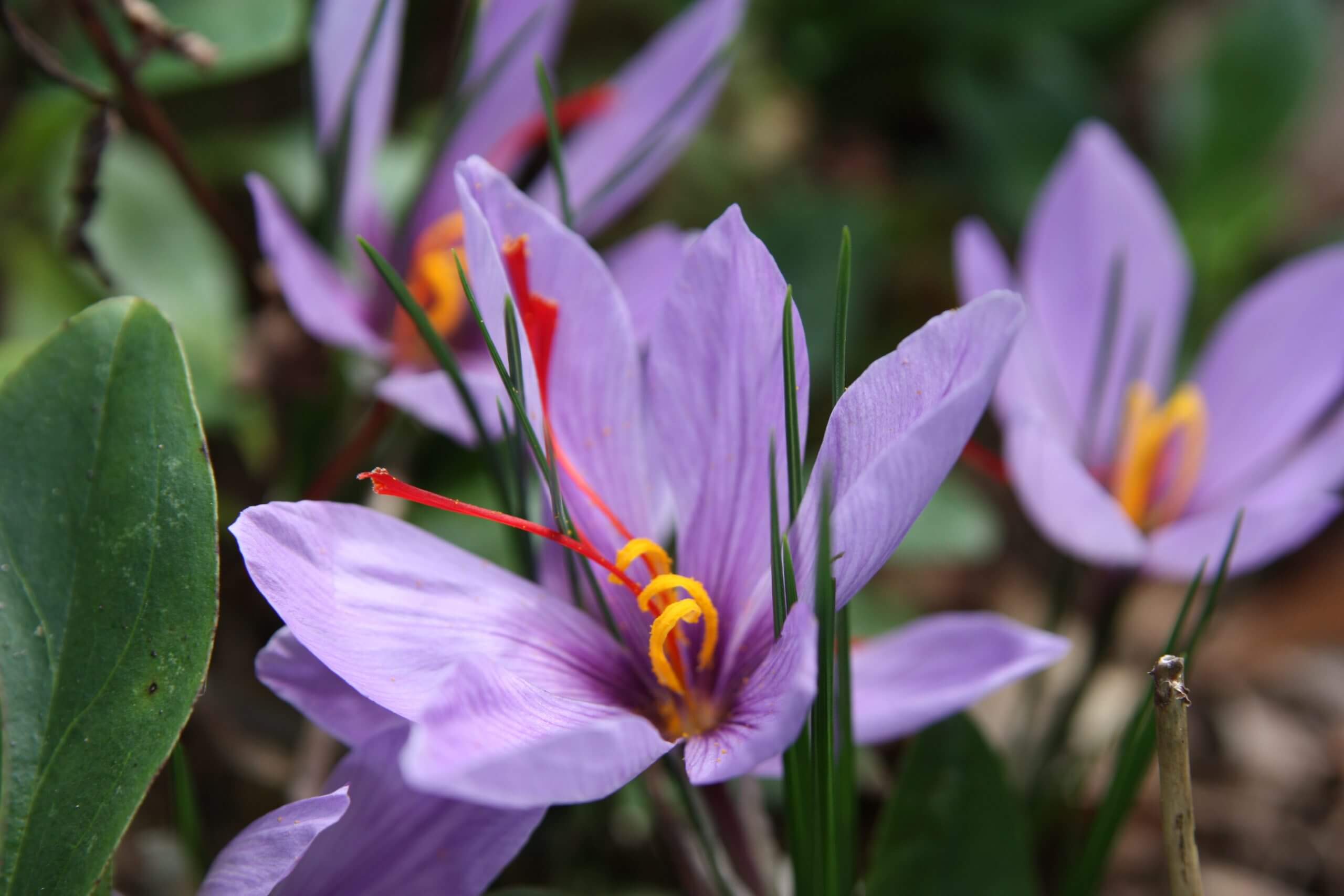 From each fall-blooming crocus flower emerges three red, precious strands. These are elongated stigmas (female flower parts) otherwise known as saffron—an extraordinarily expensive aromatic spice popular in Mediterranean, Middle Eastern and Indian cooking.
The saffron crocus (Crocus sativus) has been valued for its spice for over 3500 years and was first cultivated in Ancient Greece. The red strands impart a distinct scent and flavor to food, which is likened to aromatic hay with a touch of bitterness. Over the centuries, the flowers were bred and selected to have larger and larger red, thread-like stigmas. The wild parent species of the saffron crocus is believed to be the Central Asian native, Crocus cartwrightianus, which has smaller flowers and saffron threads but is otherwise visually indistinguishable from the cultivated form.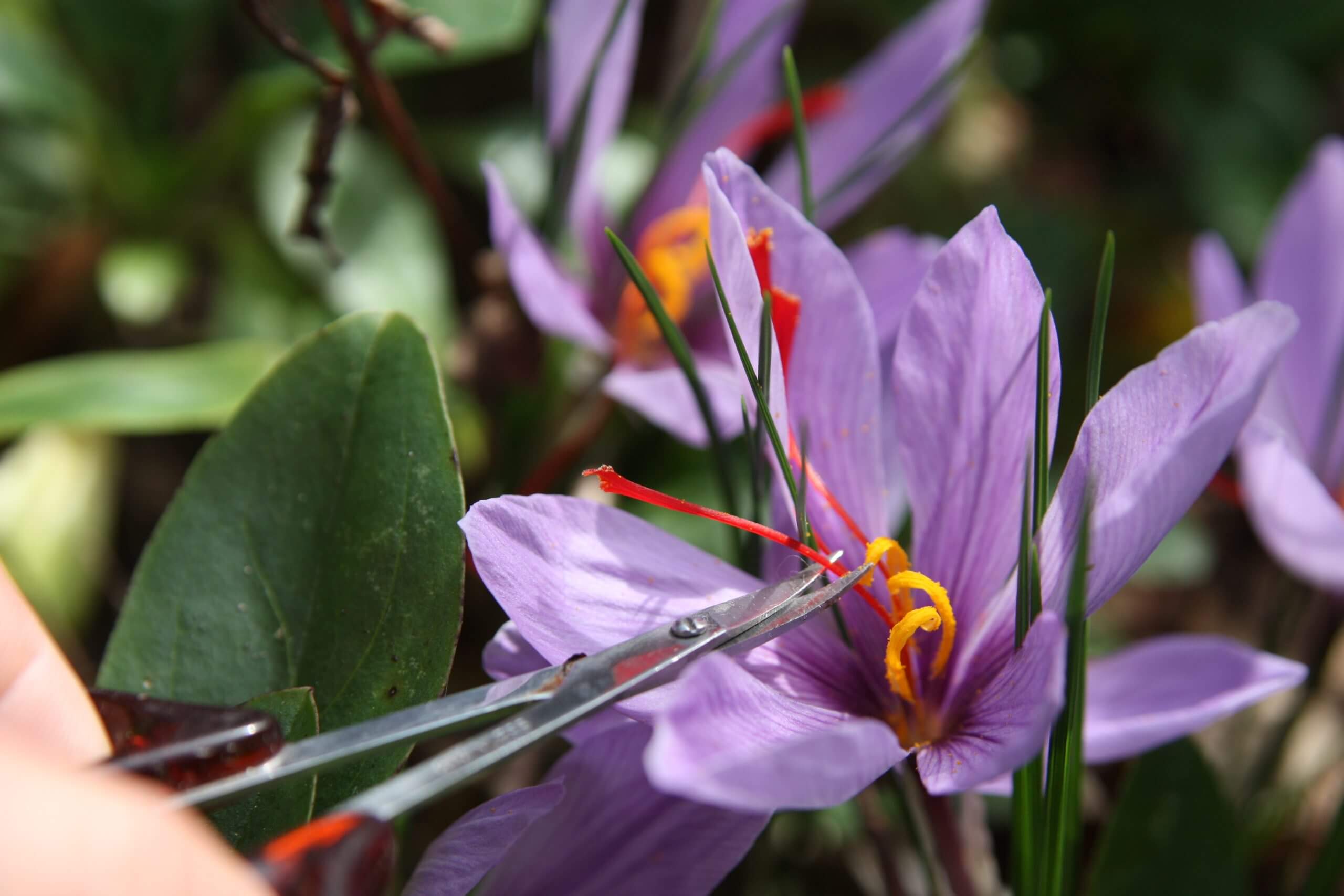 Saffron is one of the world's most expensive foods—ranking up there with truffles and caviar and costing as much as $1,500.00 per pound. This is because each flower yields only three delicate strands and harvest is manual and painstaking. The stigmas from each flower must be trimmed off, neatly and quickly. Imagine scouring the ground delicately trimming flowers for hours on end with hardly any harvest to show for your labor. Needless to say, most of the world's saffron supply is grown in Middle Eastern countries and India, where labor is less costly.
Of course there's another option for obtaining this slowest of slow foods; with a little ingenuity and investment, gardeners can grow their own! The saffron crocus corms are not expensive—averaging 0.78 cents apiece—and they are easy to grow as long as growers live in USDA hardiness zones 5-8 and have a sunny growing spot with sharply drained soil.
In the garden, I have interplanted loads of saffron crocus with low-growing perennials that need to be cut back by fall. That way, the crocus are given a chance to bloom and shine once the spend summer perennials have been trimmed. Gardeners seeking a reasonable amount of saffron for cookery should start with at least 50 corms. Two good sources for saffron corms are Brent and Becky's Bulbs and White Flower Farm.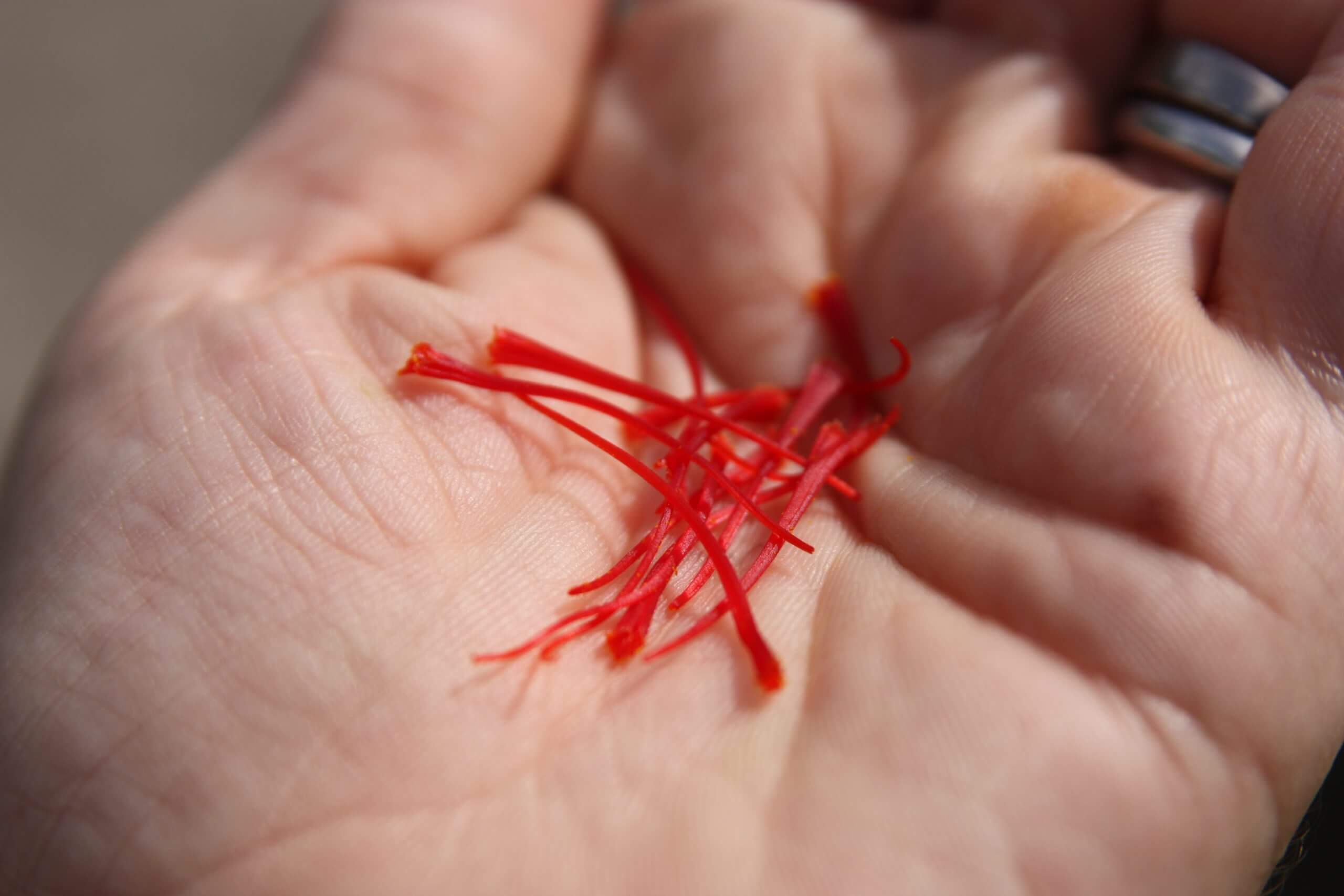 Fall-blooming crocus like these can be planted from early summer to early fall. Begin by choosing a sunny garden spot where the soil is well-drained—preferably among summer perennials that are low-growing or will need to be cut back in fall. This crocus even grows well in poorer, rockier soils, so don't be too worried if you are stricken with somewhat infertile soil. Next, prepare the soil by adding a little Black Gold Garden Compost Blend, being sure to mix it in well. Crocus corms are typically planted 4 inches down. Before planting, add a pinch of bulb fertilizer and work it in. Plant corms at a density of 10 per square foot or simply dot them around a garden bed.
Saffron flowers bloom first, typically in mid-October. Next come the long, grassy leaves that remain evergreen through the winter and should be cut back in spring. Be sure not to cut foliage back until it turns brown or else corms won't store enough fuel for a good flower show the following fall.
Growing saffron takes a little dedication, but it's somehow satisfying to raise something so precious and pricey in your own garden. And the beautiful violet-blue flowers continue to be a welcome treat to the eyes even after the saffron has been snipped away.