This summer is already a perfect storm, and we aren't even in hurricane season yet! If you've already been hit with Mother Nature's powerful presence, your plants need help to recover. Whether it's heat and drought or saturated soils and gale force winds – plants are suffering. They need your attention in different ways depending on where in America you live. For those horribly damaged in the East, it's important to take a close look at your woody trees and shrubs. Storm winds can injure them in unique ways that may only be revealed upon close inspection. Pests and diseases often enter storm damaged trees through these sometimes subtle breaks in the bark. Attending to wounds now can not only help them recover faster, you may be able to prevent bigger problems down the road.

Torn away branches. When branches are lost to wind, they are often ripped from the trunk taking considerable bark with them. This results in large areas of exposed cambium and other tissues that invite pests and disease to enter the internal structures. To protect your tree provide a Band-Aid by sealing the wound with a coat of watered down interior latex paint. Tip: Mix it to match your bark color to camouflage that ugly injury.
Cracked intersections. Sometimes the winds can damage the joint where a branch forks out from the trunk. This crack can cut off moisture and nutrition carrying tissues in the cambium layer just under the bark. A crack can limit as much as 50% of the moisture supply to the branch it serves. As a result, the severed parts dry out and weaken, then are easily torn away in the next wind storm. Either prune away the branch below the crack, or relieve the pressure by pruning to reduce its overall weight.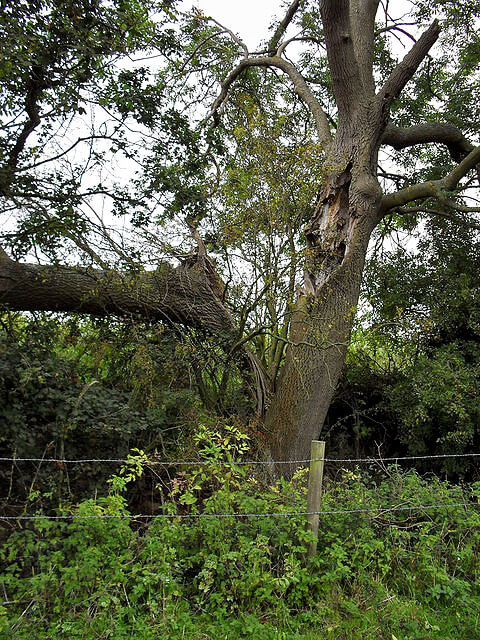 Raised roots. When the wind pushes a tree or shrub too hard, it's roots can be ripped right out of wet rain-saturated soil. If roots remain exposed to air, they'll dry out and the root hairs die. For a smaller tree, first straighten the trunk up and then press the soil and roots back in place with your boot. Water well to collapse any air pockets that remain hidden underground.
Defoliation. For sensitive shrubs that have been defoliated by wind, provide them with extra nutrition to encourage leaves to regrow. This is a big job that requires a good dose of nitrogen. To provide fast acting organic nitrogen that is gentle on these injured plants, cultivate alfalfa meal fertilizer into the soil to stimulate cell division in stems and leaves. Water well and reapply every month or so for the rest of the season.
Exposure changes. Where trees have been pruned or removed due to storm damage, the landscape beneath them will be badly damaged. Use Black Gold Earthworm Castings to introduce a wide range of nutrients to the soil around these plants to help them recover. Where these plants are now exposed to sun due to tree canopy reduction overhead, be sure to water more generously. Retain this moisture with a generous layer of Black Gold Garden Compost Blend to help the roots remain cool and moist through this hot season.
Become your own physician this summer by taking good care of the trees and shrubs that survived. Storms are always with us, so if you prune, feed and water correctly, the next time around your efforts will pay off with a stronger more resilient landscape.