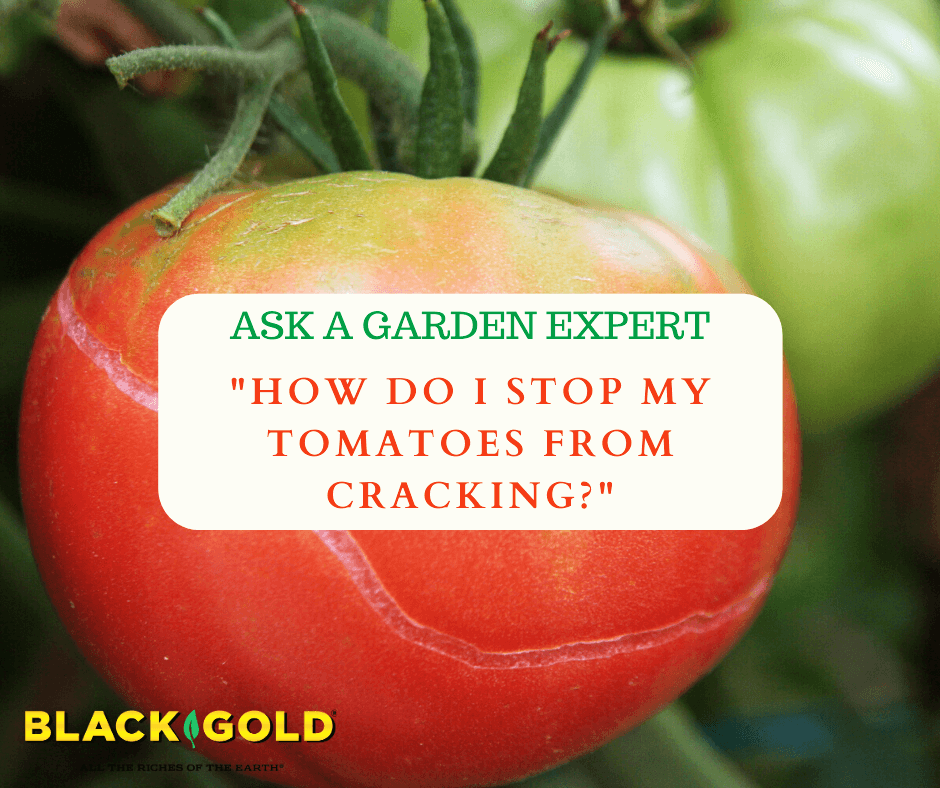 "Stop my tomatoes from cracking! Last year even though the weather was optimal with sun and rain my cherry tomatoes continued to split as they grew and most were not edible as the bugs got into them as soon as they split. Is there a way to stop them from splitting like that?" Question from Sylvia of Belle Plaine, Minnesota
Answer: There are several things that you can do. Let me start by explaining what causes tomato splitting. Splitting occurs when a tomato is ripe and full of natural sugars and then it rains significantly. Tomato plants take up water fast, and due to a natural process called osmosis, the water is attracted to the plant parts with the most sugar–ripe fruits. So essentially, those sugary tomatoes fill up with too much water too fast and split. Here are the three best solutions to keep this from happening.
Ways to Stop My Tomatoes from Cracking
1. Choose crack-resistant tomato varieties. Some tomatoes either naturally resist cracking or were bred to be crack-resistant. The sweet cherry tomatoes 'Ladybug' and 'Jasper' are just two of many that are reliably crack resistant. You may see a crack here and there, but they are infrequent when compared to average cherries. 'Baby Cakes' salad tomato is tasty and both crack- and disease-resistant. And 'Big Rainbow' is a beautiful heirloom with great taste and crack resistance. And, if you like delicious orange slicers, 'Chef's Choice Orange' cannot be beaten for flavor and crack resistance. These are just a few of many options.
2. Give your tomatoes maximum drainage. Amend your vegetable garden soil well, and berm it up in your tomato beds to facilitate the best drainage possible. Excellent soil drainage will keep your tomatoes from taking up as much water as fast. Our best vegetable garden soil amendments include Black Gold Canadian Sphagnum Peat Moss, Garden Soil, and Garden Compost Blend. Till these in and then rake up the bed areas into wide berms where you plant your tomatoes. (Click here to read our top 10 essential tips for vegetable gardening success for more bed prep tips.)
3. Pick tomatoes just before they are fully ripe. If you pick tomatoes just before they are fully ripe and allow them to ripen in a bag or on a windowsill, you can avoid the cracking problem. Slightly underripe tomatoes lack the full-sugar load that causes cracking.
For further tips on growing beautiful tomatoes, I recommend you watch our video about growing tomatoes from seed to harvest below.
Happy gardening,
Jessie Keith
Black Gold Horticulturist