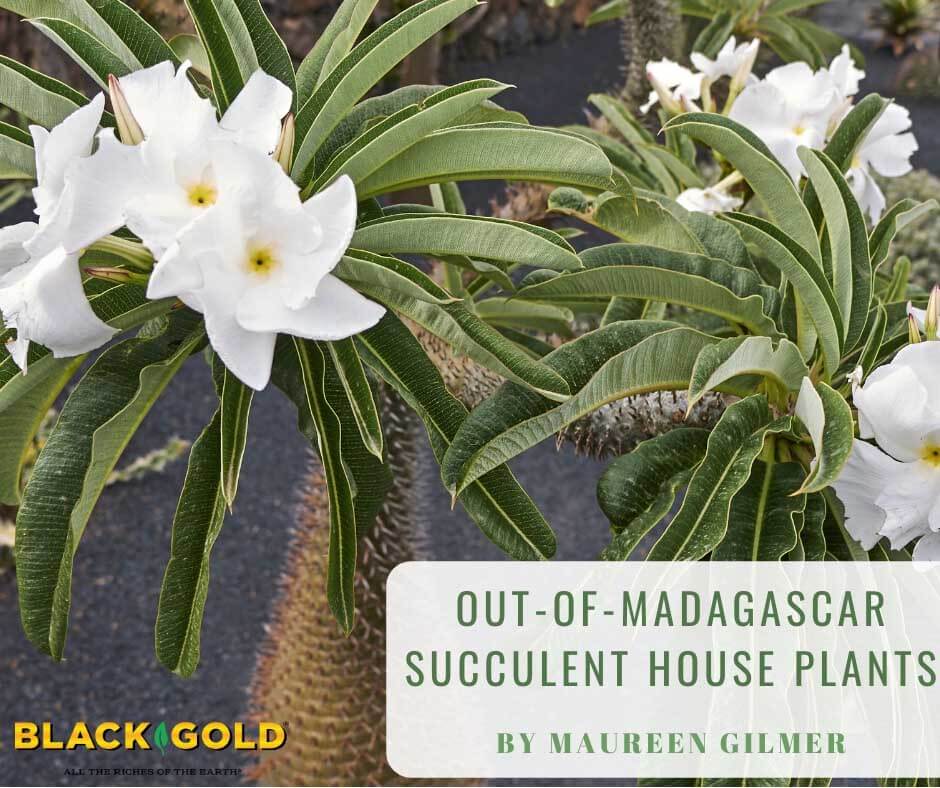 Much like the unique plants and wildlife of Galapagos Islands that evolved in isolation, the "endemic" plants of Madagascar, an island off the east coast of Africa, are equally unique. (Endemic species are found in one place and nowhere else on Earth.) Madagascar succulent plants evolved to withstand the island's extremely hot and often dry growing conditions and wide-ranging environments, from rain forests and dry forests to deserts. This is where some of our best succulents for easy outdoor (and indoor) cultivation originate. They overcame extremes of climate and epic drought to survive, yet they are beautiful and worthy of growing.
Madagascar succulents for growing come in dramatic sizes, shapes, and forms. Some are upright succulents with strong trunks that make good indoor trees and shrubs. These have long life spans and tend to have hard or woody stems. Larger sizes make them particularly valuable for "greening" indoor spaces where ceilings and light sources are high up. And, if it's bright enough, some bloom. Here are three large, useful indoor or outdoor Madagascar endemics for planting.
Madagascar Palm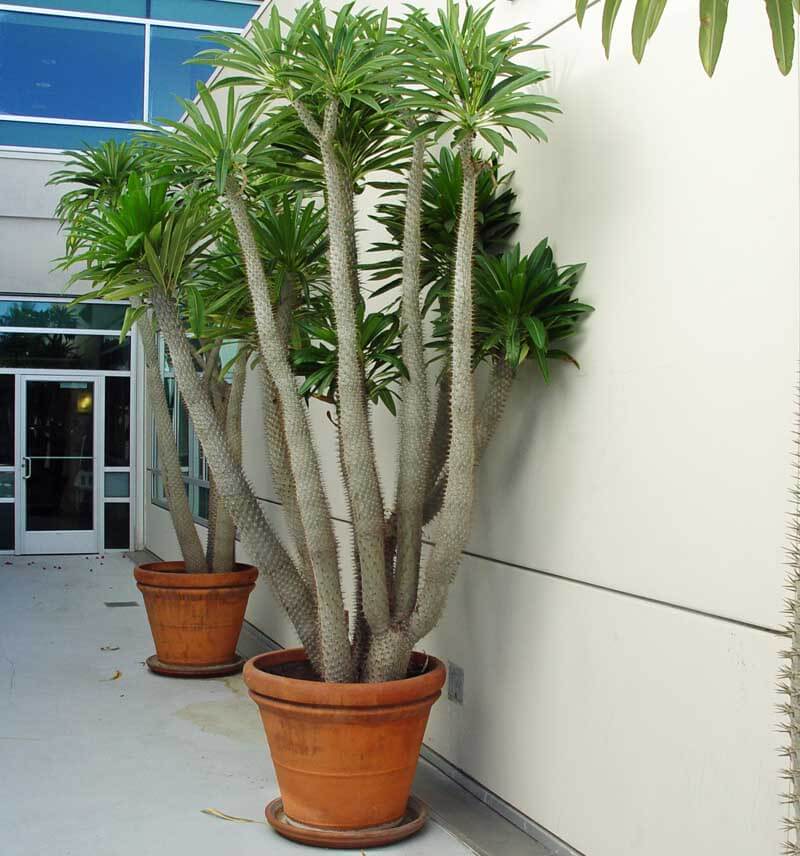 The Madagascar palm (Pachypodium lamerei, USDA Hardiness Zones 9-11) isn't a palm but is often mistaken for one. It is a big succulent beloved by designers for outdoor living spaces as well as indoor drama. Its big, fat, spiny trunks are topped with clumps of leaves. Mature specimens can reach many feet in a relatively small pot (those planted in the ground can reach up to 20 feet.), and spiny trunks prevent animal damage. After several years, a mature plant may produce flowers similar to those of Hawaiian plumeria.  Put your big Madagascar palm pot onto a rolling pot platform to bring it indoors in winter and out for the summer to accent that special patio.
Mother of Thousands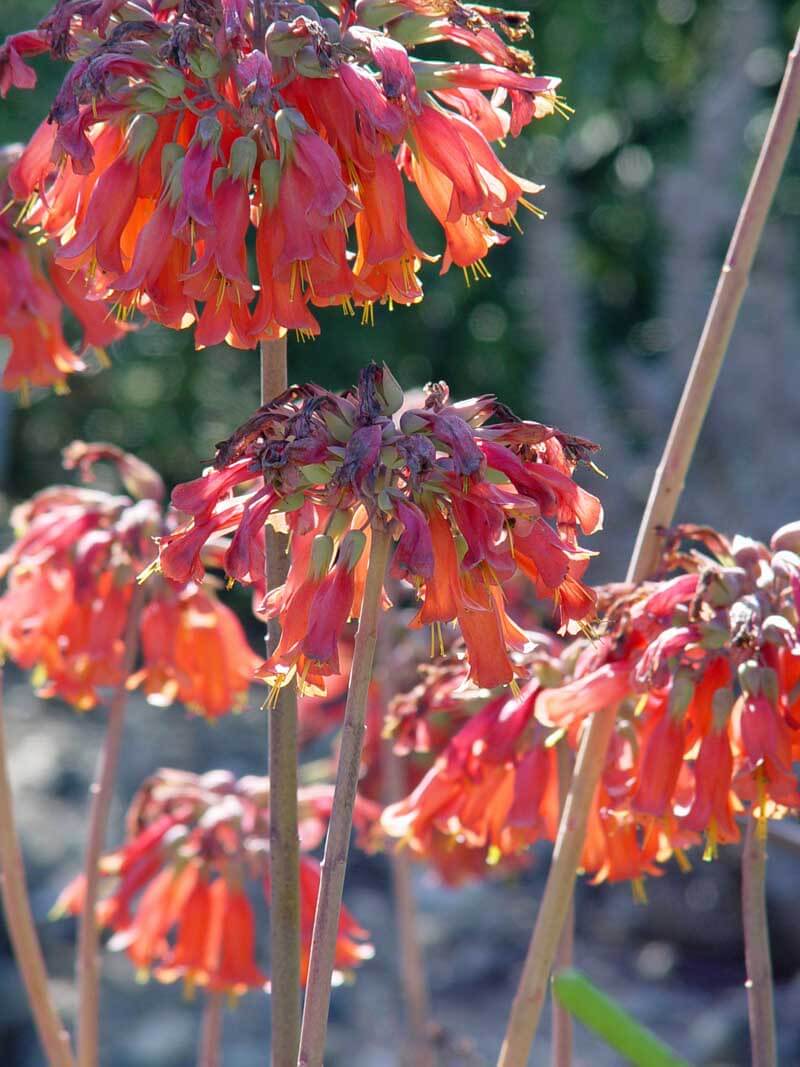 Mother-of-thousands (Kalanchoe daigremontiana and Kalanchoe tubiflora, Zones 9-11) is one of the easiest plants you can grow.  It's so fast-growing and drops so many seedlings it's a weed in succulent nurseries because of it's "mother of thousands" reputation.  She makes babies along her leaf edges that eventually detach and root, offering you plenty of volunteers.  You'll save every single one after you experience the plant's enormous coral-red pompom blossom clusters. Due to shade tolerance in hot-zone gardens, mother of thousands can grow in any home or come out to the garden after the last spring frost. So long as your pot is very well-drained, and you plant it in porous Black Gold® Cactus Mix, there should be no chance of overwatering.
Pencil Tree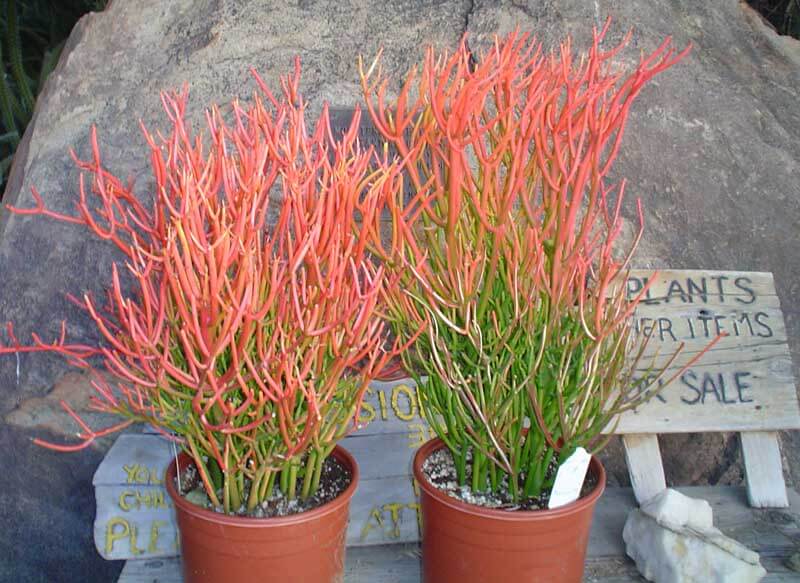 When the days grow short, the pencil tree (Euphorbia tirucalli, Zones 11-12) turns red-orange, leading to the popular name of the common, commercially-grown variety "firesticks" or 'Sticks on Fire'.  Firesticks is sold by florists in winter for holiday color, so indulge, knowing that it will make a really good long-term house plant. This is a highly toxic species, so beware growing it if you have pets or kids. (Keep pencil tree up high and out of reach where the light is bright or refrain from growing it at all.)
Mature specimens will eventually reach a tree-like stature or become a big bush. (In the ground, they can reach 4-8 feet high.) Be careful when you prune off stems; the white sap is so toxic that it can cause temporary blindness if allowed to enter the eyes. In Africa, its sap was used as an arrow poison, so take these warnings seriously. Wear protective gloves and wash everything–tools and clothes–afterward pruning. (Click here to learn more about pencil tree toxicity.)
Planting Madagascar Succulents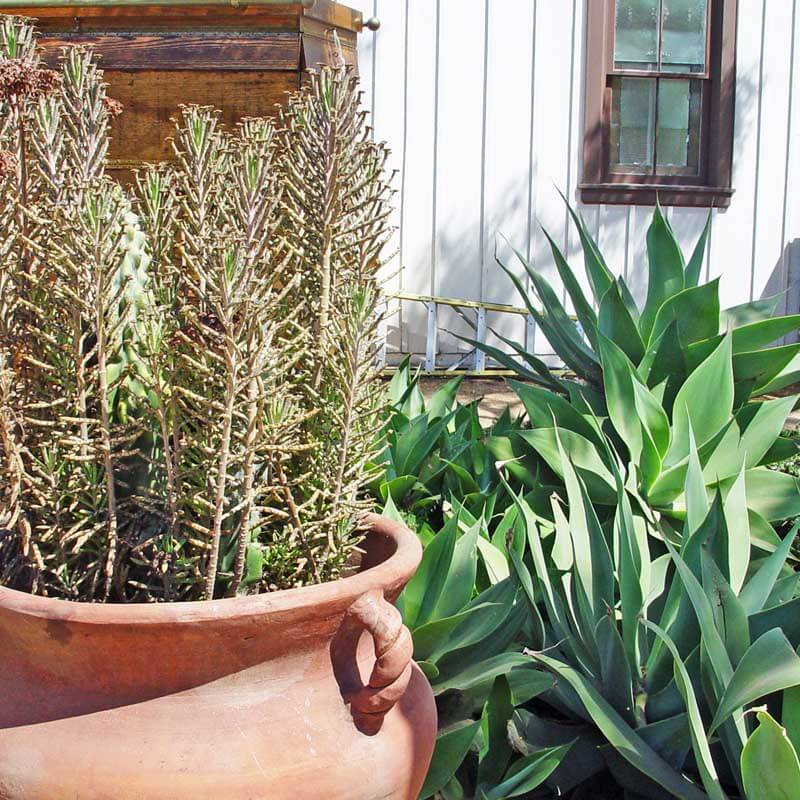 These tender succulents hold water in their stems and leaves and have shallower roots so that you can plant them in smaller-than-anticipated pots. Choose low, broad containers to help keep top-heavy specimens stable. A pot just large enough for anchorage that's not tippy will do. One that's relatively lightweight and easily moved indoors and out with the seasons is also recommended. Modern lightweight pots, made of composition or fiberglass, are a more portable choice than heavy ceramic pots, which are almost impossible to move without breaking or damaging floors.
Invest in rolling pot platforms for each floor pot to make them easy to move. This will allow you to roll them out and hose both plants and pots down thoroughly at winter's end to renew their appearance for summer.
Hosing also removes dust and lingering pests. For smaller potted specimens, the shower works the same way.
Succulents were considered novelty plants until western droughts became more common and severe. Then everyone went crazy over succulents in the garden. Now everyone is going crazy about house plants. So, when the two come together, consider one of these plants from Madagascar. They're exotic, easy, impressive, and will endure the most epic drought and survive, no sweat.