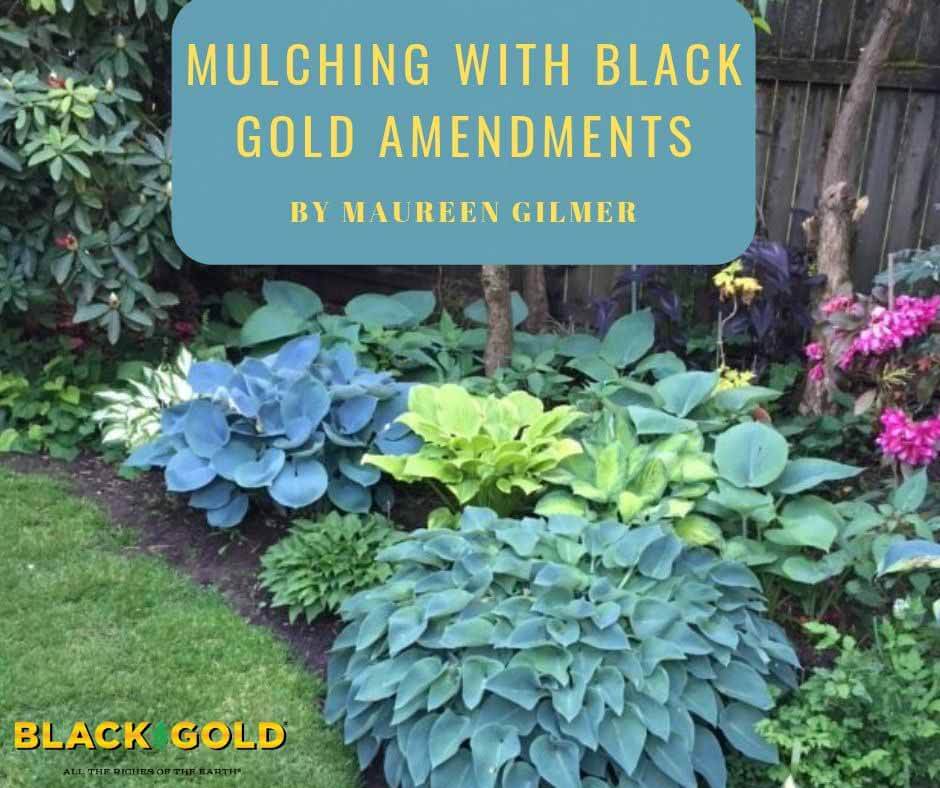 When the drought is long, soils are poor, and money is short, one way to revitalize struggling garden plants is to protect their roots with mulch. Good mulches help to retain moisture, cool the root zone, and discourage weeds. The conventional wisdom is to mulch with wood chips or ground up bark, but both are very slow to decompose and can bind needed soil nutrients. The better option is to protect small beds and containers with organic-rich amendments that give back.
Garden Mulches for Soil Enrichment
Rich compost, peat moss, coir, or Black Gold Earthworm Castings are all amendments that double as mulches–alone or as home-mixed blends–in small ornamental gardens or vegetable gardens.  All offer needed organic matter, which helps soils better retain water and maintain porosity. They also offer structural and water-holding benefits.  For example, Black Gold Garden Compost Blend contains peat moss for water retention and compost give poor soils better aeration for easier establishment and performance.
Amendment mulching is often most effective in shaded areas because it helps to simulate conditions on the forest floor.  If you take a cross section of this "duff" layer, you'll see that it's mostly leaves or needles with a fine, dark layer that sits right on top of the earth.  It's rich in decomposing organic matter, which is why shade plants are often surface rooted.
Landscape Mulches for Trees and Shrubs
This is also true of acid-loving plants, such as azaleas or camellias, which  develop a wide, shallow root system where the majority of the soil nutrition lies. In fact, without a yearly surface application of organic matter, these plants can suffer. All too often you see the surface roots of azaleas exposed after years without the addition of a mulch layer.  The organic matter is essential to keep their roots moist and cool, especially when drought descends. We recommend mixing a 1:1 of Black Gold Garden Compost Blend and Black Gold Peat Moss for acid lovers. Both products offer needed organic matter and peat moss is a little more acid, which benefits these plants.
Assess your favorite plants, planters, individual trees and shrubs to determine if they will benefit from this special treatment.   Apply a 2- to 3-inch layer of amendment around the base of the plant.  Always keep it few inches clear of the trunk to prevent bark-to- mulch contact, which can induce stress and rot.  Extend the mulch layer out to the edge of the drip line.
Don't work the amendment in. Just smooth and pat it with your palm to flatten it out for better soil contact.   Moisten often with just a light spray or collected household water to keep these amazing shrubs and trees happy on minimal rainfall.  For areas with brief drought, mulch provides great short-term protection from an abnormally dry or hot summer.
As landscapes everywhere are being altered to be more efficient, don't forget that amendment mulch can mean so much more to your plants.  If you already have bark mulch in place, the next best thing is to sprinkle amendments over the bark, so they can filter down and provide support the next deep water day or after a welcome summer cloudburst.