For those of you that have followed my monthly web articles, you are aware that I live and garden in a suburb of Portland, Oregon. While we are probably famous for our rainy weather, this year seems to be an exceptionally wet year. Not only wet, but some very cold days this past winter and the spring has continually been cool. We made a record (perhaps not something to brag about) these past few months by having the longest period without the temperature reaching 60 degrees since weather record keeping began in 1940 at the airport. When talking with various garden center personnel, the consensus seems to be that we are about two weeks behind what would be a "normal" spring season.
On April 6, at about 4:00 in the afternoon, we had one of the most torrential hail storms that I can remember. The sky just seemed to open; down came the hail, completely covering the ground, deck and roof. After the hail stopped, I looked out the window and it was as though we had just had a snow storm! And this is April! Earlier in the week, I was digging a hole to plant a shrub and after the shovel was into the ground about 12 inches, water started filling the hole from the bottom. I can never remember by soil being so saturated. Obviously this can be frustrating for gardeners but all the more reason to make plans for the day when sun does arrive. And it WILL arrive, we just do not know when.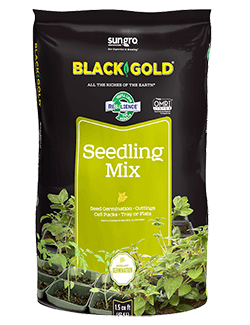 All of these conditions make for a good reason to have a good supply of Black Gold Seedling Mix on hand. This is the ideal time to get seeds started so that once the weather warms; you will have plants to set outside. Whether you are starting vegetable or flower seeds, get them started now. Then when your seedlings are ready to transplant outdoors or you have bought transplants from a garden center, work into your outdoor flower and vegetable beds Black Gold Garden Compost Blend and along with it mix in a starter fertilizer. The starter fertilizer will supply a readily available source of nutrients as well as Mycorrhizae. Mycorrhizae has been added to the fertilizer as it has the attribute of helping plants draw in nutrients from the soil.
If your roses were pruned in February, there should be signs of buds swelling and breaking opening and perhaps new growth is emerging. Once new growth is 4-6 inches long, it is time to fertilize. A fertilizer formulated for flowers is ideal because it will have some fast- and slow-acting nitrogen as well as other nutrients all helpful in making roses look their best. Early in the season, like now, I also like to add Black Gold Alfalfa Meal. It provides needed nutrients naturally, including nitrogen, and breaks down quickly. While not all plants require a nitrogen boost, roses do. Since roses are primarily grown for their flowers and since rose flowers appear on new growth, adequate nitrogen will encourage new growth and hence more flowers.
Another great Pacific Northwest plant for gardeners is the rhododendron. For early blooming rhododendrons, once the flowering is over, it is time to fertilize. If your rhododendron needs pruning, just after blooming is an ideal time. If you wait too long, then you will cut off flower buds forming next year's bloom. After bloom, it is also good to remove the old flowers and you will see there is a natural place to break them off at the base of the flower where it attaches with the stem. Fertilize with fertilizer for acid-loving plants. Make one application after bloom and then another in mid-summer. At the same time you are adding the fertilizer, consider amending your soil around the base of the plant. My favorite product for this is Black Gold Garden Compost Blend. I like to lightly work it into the soil (rhododendrons have shallow roots so do not cultivate deeply), add fertilizer and then water. It gives the soil a very polished and "finished" appearance.
While we hopefully will have some sunny days soon, do not rush the season by planting summer vegetable plants. Last year I heard so many gardeners lament their early rush to plant summer vegetables and then experiencing the failure with plants performing poorly or dying. Warm season vegetables like tomatoes, basil, cucumbers, beans, and squash are called warm season for a reason. These plants all need warm days and nights and planting too early will result in failure.
Summer will arrive, just don't rush it!