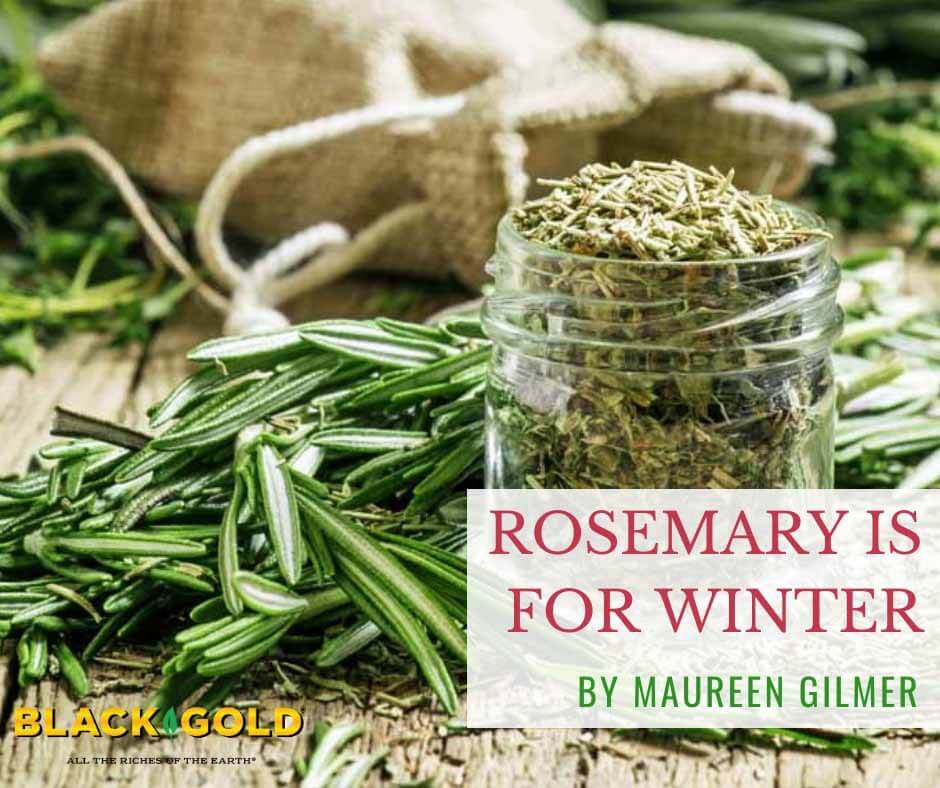 When I first came to the Southern California desert, I was shocked at how well traditional rosemary (Rosmarinus officinalis, USDA Hardiness Zones 8-10) shrubs survived through 120ᵒ F summer days. When provided good drainage and some water, these plants thrive in dry, mild-winter locations and reach mammoth proportions. If fragrant, culinary rosemary is able to thrive in low-desert heat and naturalize along the West Coast, it should grow well in practically every garden where it's hardy. There isn't a more useful plant for arid-zone landscaping, but rosemary also fares well as a potted plant where winters are cold.
Rosemary History and Uses
Rosemary is native to the Mediterranean and parts of Asia. It has a long history of use and cultivation going back thousands of years. Grown wherever possible outdoors in mild areas, whether as an ornamental or herbal plant, it has also been traditionally cultivated in pots in colder winter regions and brought indoors to shelter. As a house plant, rosemary can be clipped with scissors to release its scent, just as the Romans did to perfume their courtyards naturally. Greeks believed wearing sprigs of rosemary in the hair while studying assisted with memory, hence the plant's perpetual association with remembrance. And, during the plague years, rosemary was burned as a disinfectant much like white sage smudge sticks have been used in the Americas for purification.
The sheer range of uses for rosemary should make everyone want to grow this easy and willing plant. It is above all a culinary herb, and foodies often use the straight twigs for savory beef or lamb kebab sticks or sprigs to naturally flavor roasts. As the leaves are heated, they release their plant oils. Rosemary may also be used to flavor olive oil, teas, and is an essential ingredient in many classic herbal mixes, such as Herbe's de Provence, a provincial herbal mix from southern France. (Click here for a Herbe's de Provence recipe and to learn more about classic French herbs.)
Rosemary has also been traditionally valued as a hair tonic. The Romans, being largely dark-haired, used it to create a hair rinse brewed with water and then cooled. It was poured on dark hair to cut residual soap accumulation and left hair shiny and beautiful. Blondes used the same technique with Roman chamomile (Anthemis nobilis).
Rosemary Types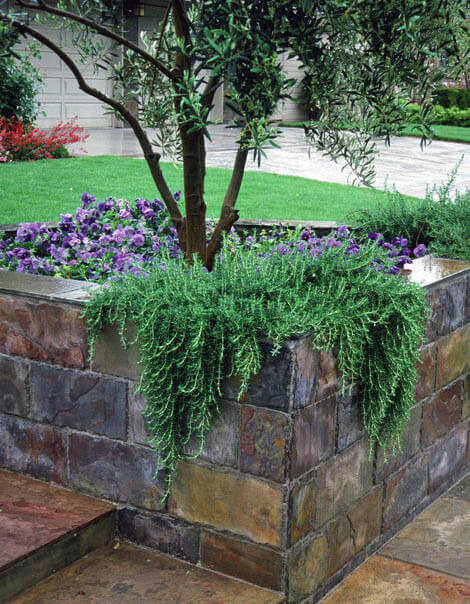 Rosemary averages 4 feet at maturity but can reach 6 feet tall in its natural, rocky, sunny habitat in the Mediterranean. Its narrow leaves become more silvery and needle-like in dry weather and greener and broader when rain is plentiful. Pale violet-blue flowers that attract bees may appear from midwinter to spring.
There are two basic forms. The standard or "official" form from the old herbals is Rosmarinus officinalis. Hardy to 10 or 20° F, it's a long-lived evergreen shrub for mild-winter regions and often used for landscaping. The shorter variety, Rosmarinus officinalis 'Prostratus', develops a low mat of graceful, cascading foliage. Growing to about 1 foot tall, with almost an infinite spread, there is no better cascading plant for pot, slope, cliff, or wall. Its dark tresses are incredibly tough and prefer more shade than the upright type. It works well as a house plant due to having a shorter stature. There are named varieties of rosemary of varying sizes and flower colors, some are even hardier (the variety 'Arp' is touted as being hardy to Zone 6), so there's one for all different sunny gardens.  Everyone else can treat it as a house plant that comes outdoors for the summer.
Growing Rosemary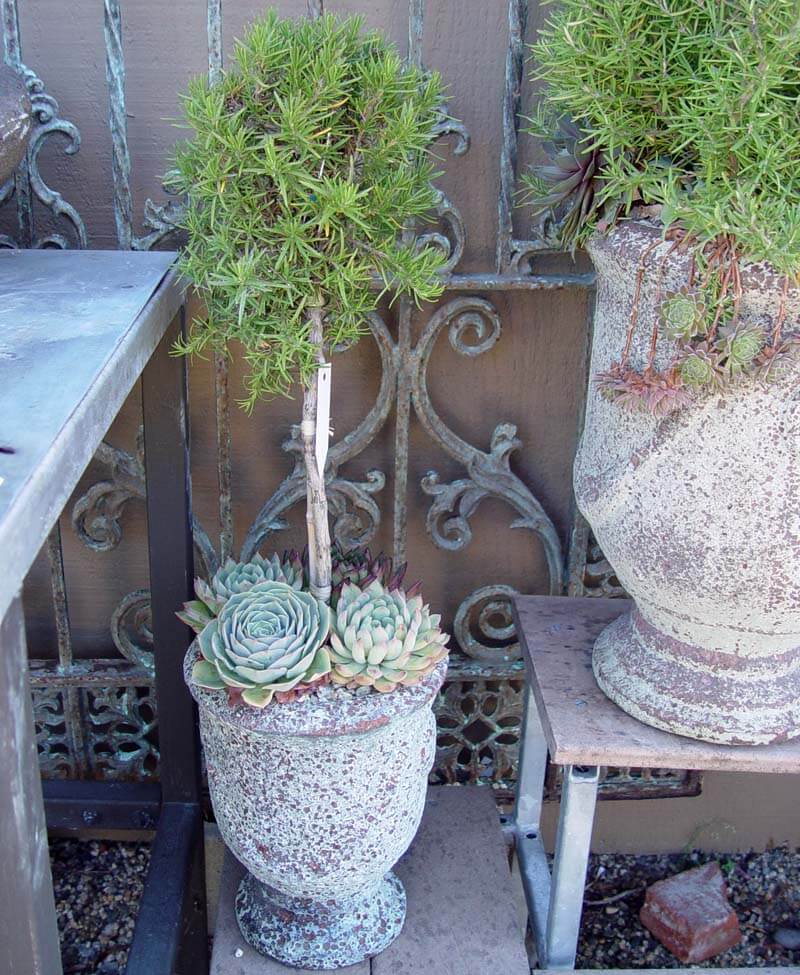 Grow potted rosemary in a mixture of equal parts Black Gold Natural & Organic Potting Mix and Black Gold Cactus Mix to avoid overly damp conditions that cause root rot in arid-zone hill plants like these. Make sure there's a big drainage hole or many small ones because rosemary must have fast drainage to avoid fungal infections that also plague lavenders, which like the same growing conditions.
There is no easier drought-resistant, long-lived herb, shrub, or useful plant to grow for home and garden that will make you feel like a pioneer woman. Rosemary is one plant that can teach you much about the cultivation of useful herbs. From a woman with a self-sufficient, pioneering attitude, a novice can learn hands-on how to harvest and prepare herbal material to use in the household and to make really fragrant gifts for family and friends.
Eight Simple DIY Rosemary Crafts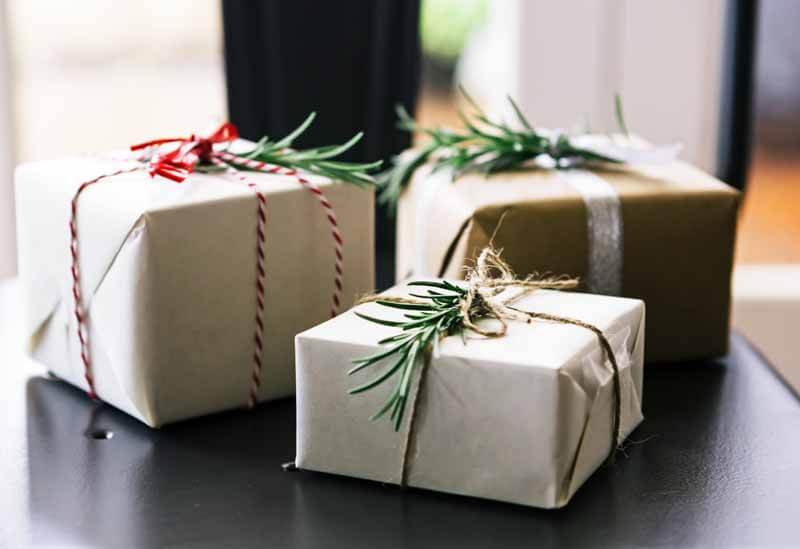 Put freshly dried rosemary into tied cheesecloth bundles to season soups and stews.
Place sachets filled with rosemary into drawers to scent linens and clothes. (Rosemary's non-floral scent makes men's clothing smell pleasantly herbal.)
Fill pretty, recycled jars with freshly-dried leaves for holiday gifts for foodies (and pet lovers too, see idea 8).
Stud pomanders with short rosemary sprigs and place them on a mantel or tree for scent and beauty.
Create small wreaths or herbal swags with creeping rosemary sprigs for hanging indoors or out. (Once the leaves are dry, collect them for cooking.)
Decorate a freshly wrapped gift with aromatic sprigs tucked into the ribbon.
Infuse olive oil or fine vinegar with fresh-cut rosemary sprigs for a culinary gift.
Grind dried rosemary leaves and scatter in pet beds to battle odors and discourage ticks and fleas.
If you live where rosemary does not thrive year-round, buy a rosemary topiary to grow indoors, or invest in a potted 1-gallon rosemary to decorate for the holidays. Both will provide super fresh culinary clippings. Enjoy the indoor plants through the new year, then move them outdoors when temperatures warm up. And, where it's mild year-round, plant your garden with lots of rosemary, so you have plenty of "mother" plants to snip and clip for the rest of your life.