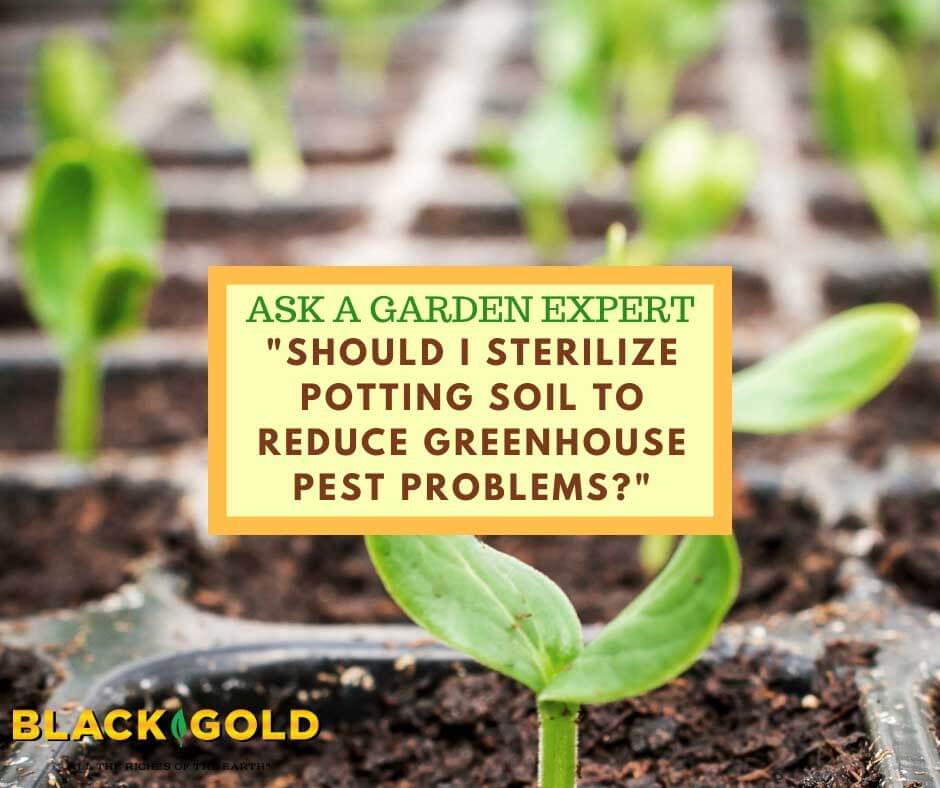 "In an effort to keep down the insect population of my indoor veggie garden, I've been sterilizing my soil in the oven or microwave. I've had whitefly and fungus gnat infestations from using Miracle Gro and other soils right out of the bag, so someone told me to sterilize, and it seems to work. However, if there are beneficial microorganisms in your Black Gold soil, I fear that sterilization may kill them. So, my question is this… should I heat sterilize my Black Gold organic soil before using it indoors? Or is that defeating the purpose of the soil's ingredients?" Question from Holt of Georgia
Answer: Theoretically, fresh, straight-out-of-the-bag potting mix should be pest and disease-free. Black Gold® gets good grades in this arena, but if a bag gets slashed or torn during transport or is improperly stored, the contents can pay the price. (Only buy Black Gold® bags that are undamaged with contents that are not waterlogged.) Otherwise, you shouldn't have to worry. Still, if you prefer to play it safe, soil sterilization is certainly helpful with preventing damping-off (click here to learn more), and it would kill any harboring pest eggs, but beneficial microbes will also pay the price.
The chief potting soil beneficials to consider are mycorrhizae and the good microbes in earthworm castings and sometimes compost. Other soil components, like Canadian Sphagnum peat moss and bark, are not particularly rich in any worthy beneficial microbes accessible to plant roots. Currently, we do not add mycorrhizae to any of our Black Gold® soils (unlike some of our Sunshine® mixes), but we do add earthworm castings and compost to quite a few, including our Black Gold® Natural & Organic Potting Mix. Sterilization would certainly kill any soil good guys, but if you are determined to sterilize, it should not impact your growing dramatically. And, you can always beef up your soil after sterilization by adding Black Gold® Earthworm Castings Blend from a well-sealed bag, or dry mycorrhizae spores, which are available at most garden stores.
Even after the sterilization of greenhouse pots, surfaces, and soil, pests may come. Every open door, window crack, or new plant brought indoors is a threat. When it doubt, fight back early using smart IPM. We have lots of blogs on the topic. (Click here to read an article about managing the worst indoor plant pests, and watch our video below about beating fungus gnats.)
Happy indoor vegetable gardening!
Jessie Keith
Black Gold Horticulturist