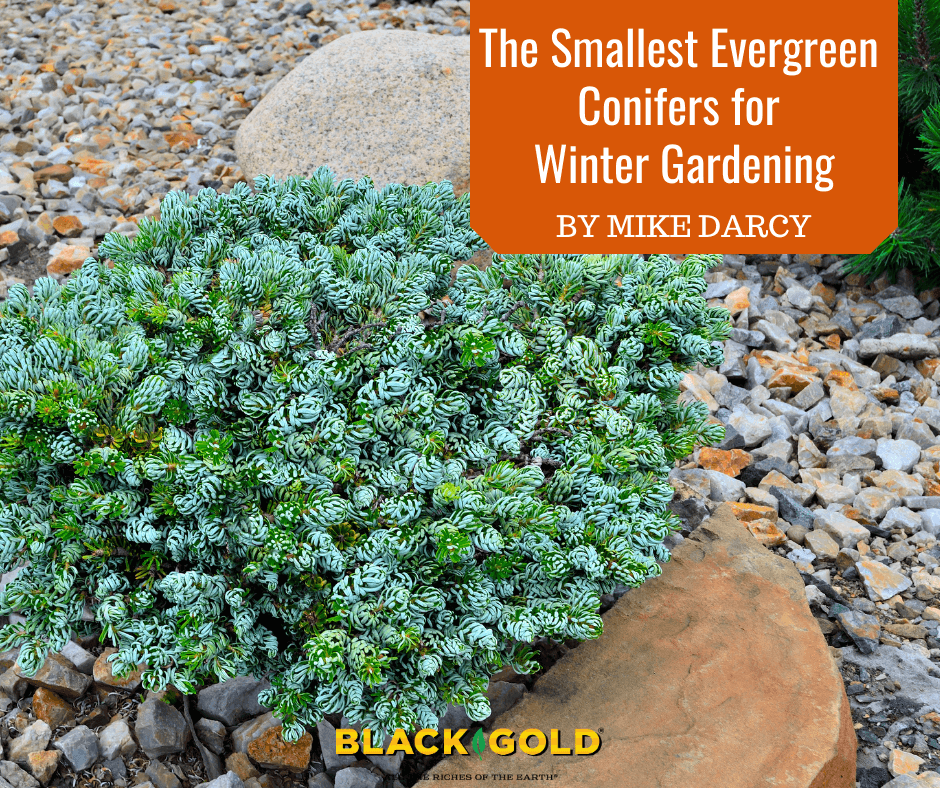 I grow "miniature" or "dwarf" plants with caution*. Living and gardening in the Pacific Northwest, I have found that plants seem to grow larger than many of the plant tags indicate. I have had many experiences where plants get larger than the literature states and many gardening friends tell me that they have had the same experience. Perhaps it is our generally mild weather, rich soils, and regular rain that make for some nearly ideal growing conditions. (Sometimes, I tell myself that the plant does not know what the tag says!) So, growing guidelines can be helpful, and lists of truly tiny plants, in this case, evergreen conifers, useful.
Miniature and Dwarf Conifers Defined
Fortunately, the American Conifer Society has established size categories for conifers that attempt to address the continuous growth of supposed miniatures. While it is not perfect, it is a step in the right direction. The four categories are based on approximate growth per year and include:
Miniature conifers: less than 1 inch
Dwarf conifers: 1-6 inches
Intermediate conifers: 6-12 inches
Large conifers: more than 12 inches.
Of course, the region, climate, and culture will also play a factor in growth. Sometimes home gardeners have the opinion that a dwarf conifer will grow to ten-year dimensions and then stop growing. This is NOT always the case. Woody plants, including dwarf conifers, will continue to grow for the life of the plant–some more than others.
The Best Miniature and Dwarf Evergreens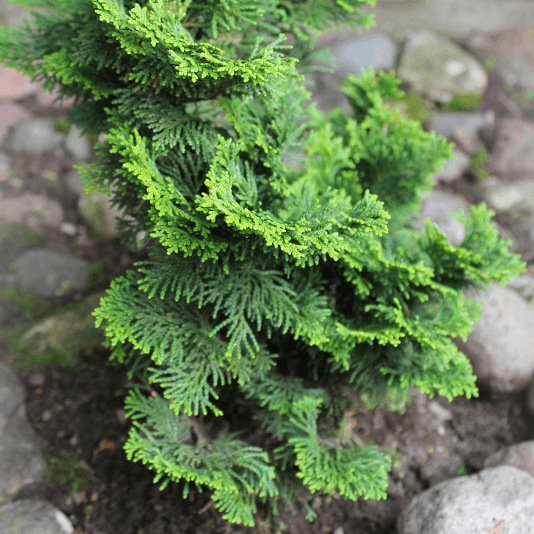 Recently, I visited the gardens of several different friends that grow small evergreens, and here are some truly slow growers that are recommended by the experts. (In my garden, I do not have many dwarf or miniature evergreens. Some that I have had, grew more than I had expected, and I gave them away.)
Miniature Korean fir (Abies koreana 'Kohout's Ice Breaker', Zones 5-8) offers brilliant silver and blue-green foliage throughout the year. This grows in a globose or rounded habit. The foliage has curled needles that show off the silvery-white undersides. Growth is 1-3 inches per year which makes this ideal for small gardens or rockeries. It was awarded the Award of Garden Merit from the Royal Horticultural Society, and in 2014 it was the American Conifer Society's Conifer of the Year.
Dwarf Columnar Common Juniper (Juniperus communis 'Compressa', Zones 4-9) is a narrow, upright, evergreen shrub with foliage that is tightly packed with blue-green needles that are prickly to the touch. The foliage tends to turn to a copper-bronze shade in the winter. It can reach 1-5 feet after ten years and is another Award of Garden Merit winner.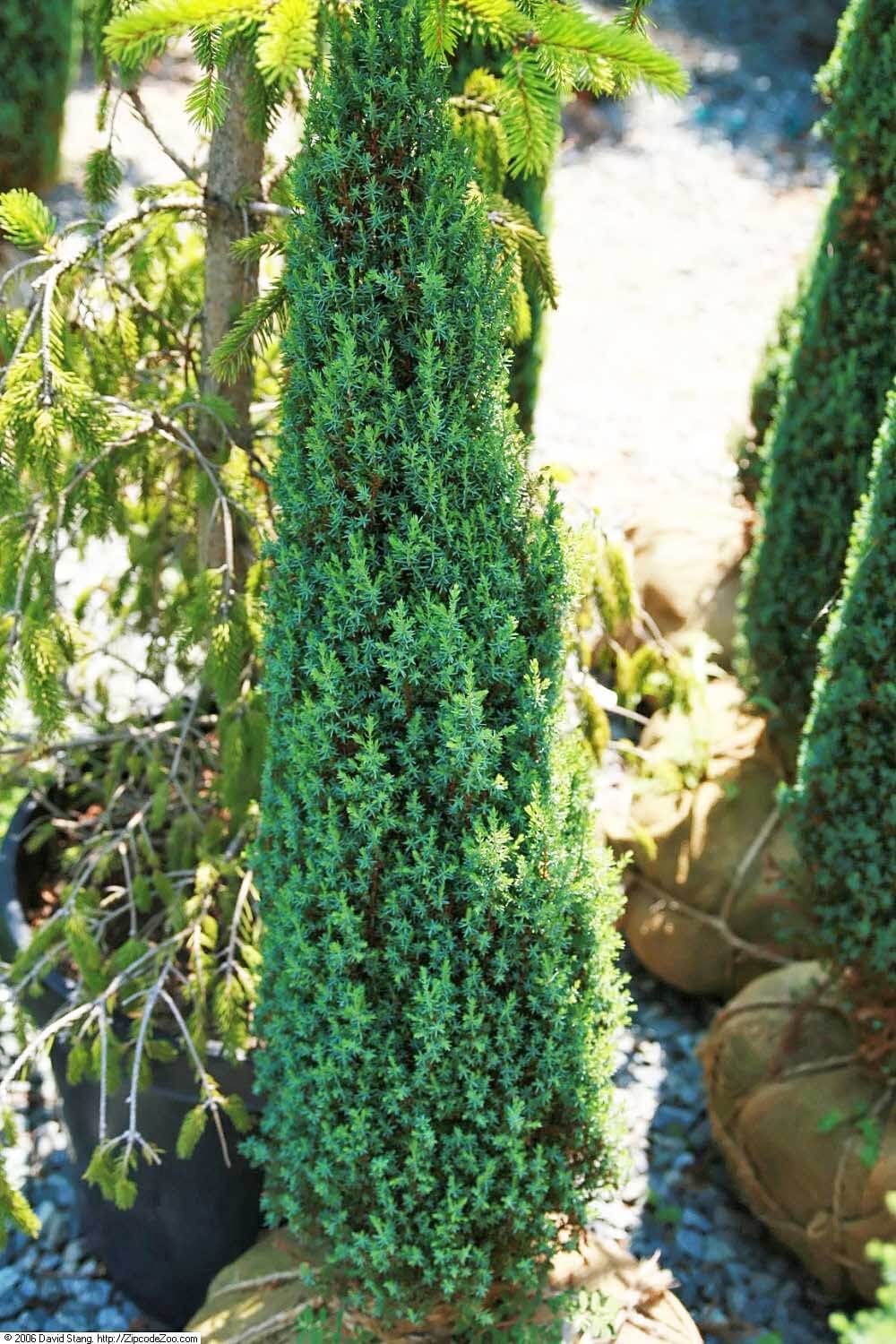 Miniature Hinoki False Cypress (Chamaecyparis obtusa 'Hage', Zones 5-9) is a compact pyramidal selection of Hinoki cypress. This foliage also turns bronze-ish in the winter in cold climates. After ten years, it might be about 16 inches tall.
Dwarf Black Spruce (Picea mariana 'Nana', Zones 2-8) has needles that are silver-blue-gray and very small that grow from thin branches that stay distinctive throughout their growth. As it grows, it develops a dense round habit, and in ten years it might reach 18 inches tall.
Dwarf Mugo Pine (Pinus mugo 'Jakobsen', Zones 2-8) is a clump-forming mugo pine with somewhat irregular branching. Specimens can look almost like bonsai. The needles are very dark green and held tightly together. It can reach 1-4.5 feet after ten years.
Dwarf Cedar of Lebanon (Cedrus libani 'Hedgehog', Zones 6-9) has very dark green foliage and forms a dense mound. The needles are prickly and can give the impression of a hedgehog. Expect it to reach 1-4.5 feet after ten years.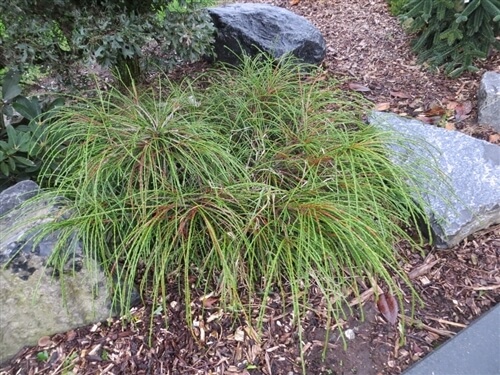 Dwarf Western Red Cedar (Thuja plicata 'Whipcord', Zones 5-8) is one that I have in my garden, and I love it. I actually have two plants, and both are in matching urn-shaped containers. A description I once read about it said that it, "looks like a firework of stringy foliage". That is a good description because the green branchlets radiate in all directions. It is low and mounding. After ten years it can reach 1-5 feet.
The selection of small growing evergreens is vast, so it is easy to begin to start collecting them. For those with small-space gardens or a deck, patio, or balcony, many of these make ideal potted plants that look good all year long.
*Writer's Note: For the past few years, I have been fascinated with the genus Ginkgo. My garden property could certainly not contain a standard Ginkgo which could reach 50 feet or more. Several years ago, I bought Ginkgo biloba 'Marieken' as I had been told that it was a dwarf form. It is a beautiful plant with soft green leaves that have ruffled edges and turn brilliant golden yellow in the fall. After about five years, it has a width span of about 6 feet and that is not what I would call 'dwarf'.