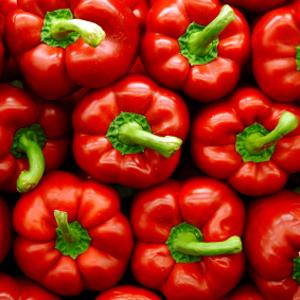 Roasted red peppers are delicious on salads and sandwiches, and but they are expensive to buy at the grocery store. Thankfully, they are very easy to make, so when peppers are in season, take some time to make your own. If you have a bumper crop of sweet peppers, roasting is a perfect way to make the most of your crop.
Work with as many fresh bell peppers as you have. Fully ripe, sweet red, orange, and yellow peppers look and taste best when roasted.
Wash the peppers, remove the tops, and scoop out the seeds.
Set your broiler to 500 degrees F.
Place the peppers 3″ apart on a sheet pan lined with parchment paper.
The top rack in your oven should be set 8-10 inches from the broiler's flame.
Using tongs, turn the peppers every 15 minutes for a total of about 25 or 30 minutes. When finished, the peppers should be soft and their skins just blackened and peeling.
Allow the cooked peppers to cool in a bowl covered with a cloth. The steam from the peppers will help loosen the skins.
When peppers are cool, peel the skins off with your fingers, or paring knife, and discard the skins.
Finished roasted peppers can be sliced or cut in half before using.
Roasted peppers taste best at room temperature with a little extra-virgin olive oil, Balsamic vinegar, and salt. Refrigerate them in a covered container for up to a two weeks. You can also place them in airtight containers, add a little olive oil, and freeze them for future use.