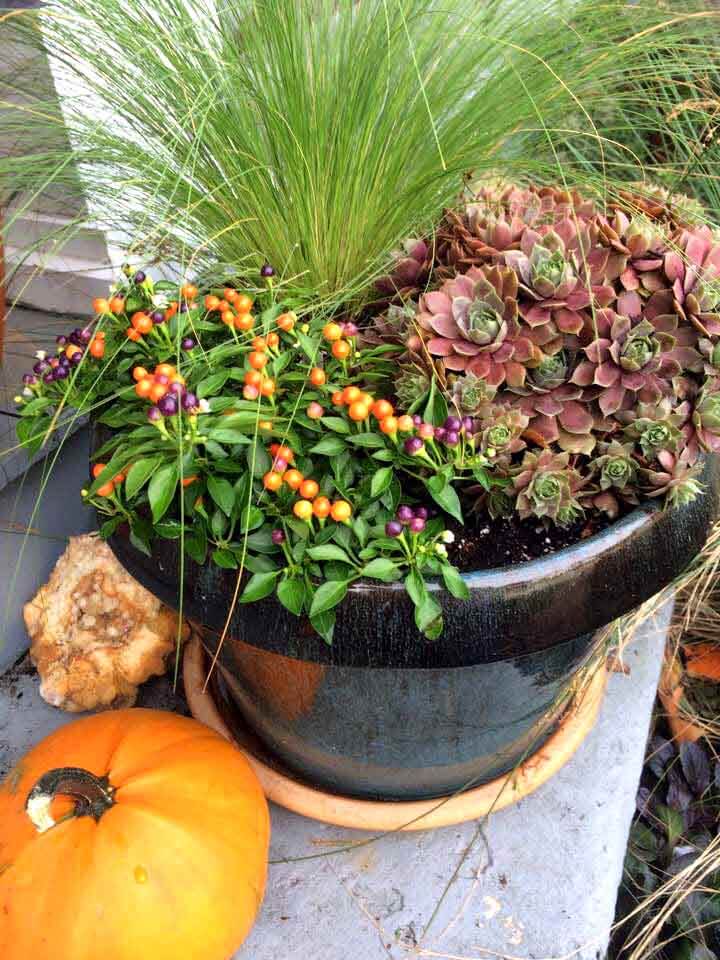 If you have a small garden, you can still grow vegetables! How? Potted vegetables, of course! For container vegetable success, it comes down to choosing the right pot, good soil, a sunny location, and keeping your plants fed and watered. Get these factors right, and you will be rewarded with lots of fresh vegetables all season long.
Container growing can be a bit more challenging, but a little mastery will bring big success. Veggie pots can be started in spring, summer, or fall, as long as you choose the correct veggies for the season.
The Right Plant and Pot Size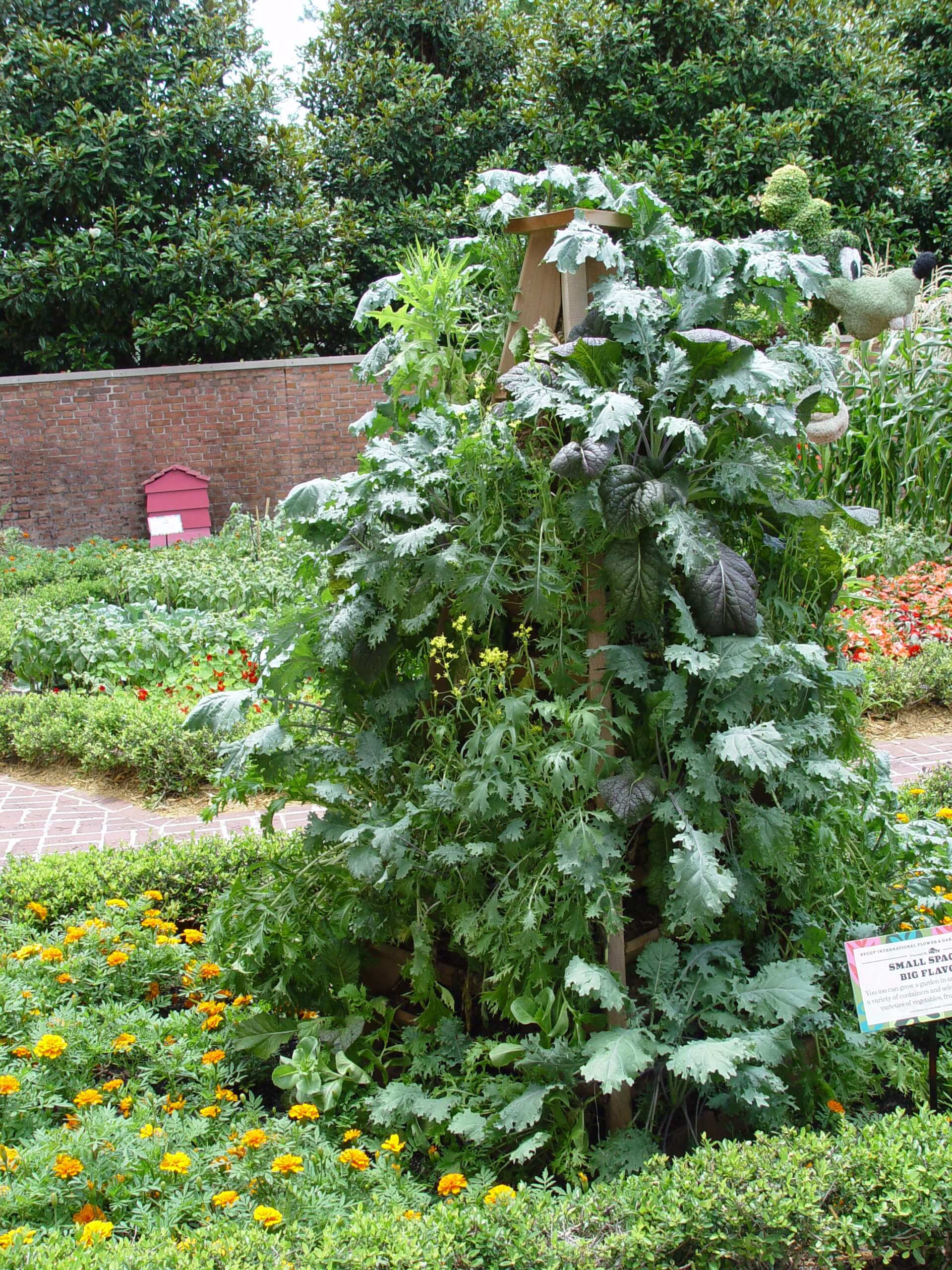 Bigger is generally better when it comes to pot size. Many summer vegetable favorites, such as tomatoes, peppers, beans, and greens need big pots. Vining plants, such as cucumbers, squash, melons, and sweet potatoes, need even bigger pots to grow to full glory. Large pots hold more soil and water and provide the depth and space plants need to grow fully and stably. They also have enough space to keep growing roots cool, a must for plant health. The large, deep pot should have ample room to accommodate the stakes or cages that many vegetables need to keep from toppling in summer winds.
Half whiskey barrels, big tubs, and deep trough planters have enough space for vegetables to grow to their fullest. Terracotta is not always recommended because it can wick water away. Choose lighter-colored pots with thicker because they tend to keep roots cooler. Be sure they have plenty of holes in the bottom for ample drainage. A layer of permeable garden cloth at each pot's bottom will keep soil from seeping out. Bottom trays are recommended.
Spacious vertical planters work well for vegetable growing, if they hold enough soil for plants to grow well. There are many great styles on the market and templates for crafty builders. Check our our vertical vegetable garden Pinterest Pin Board to view a few!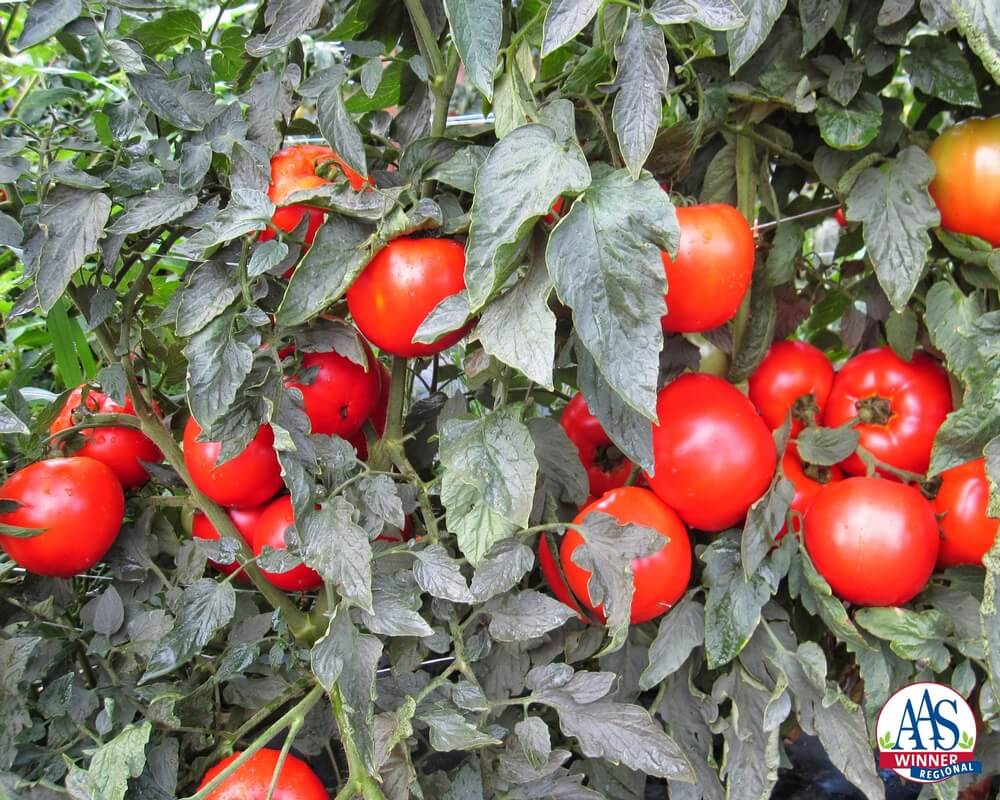 Smaller is generally better when it comes to plant size. When growing in containers, compact varieties are better suited to pot culture. Determinate, or non-vining bush tomatoes, are better than full-vining indeterminate types. Pick classic bush tomato varieties like the red slicers, 'Mountain Merit' and 'Celebrity', both AAS winners.
Other great bushy veggies (that are typically large vines) include little cucumbers, such as 'Bush Pickle', and space-saving squash, such as the small butternut 'Butterbush' and zucchini 'Fordhook'. A good cantaloupe to try is the very compact 'Minnesota Midget', and 'Bush Sugar Baby' is a short-vined watermelon suited to container culture. 'Little Baby Flower' is a another somewhat compact watermelon that we are growing in a pot this season with great success!
For rooting vegetables, such as carrots, turnips, beets, and radishes, pots sizes can be slightly smaller as long as they are deep. Upright vegetables, such as peppers and eggplant, should be staked or caged to supply added support.
Good Soil and Fertilizer Quality
Good soil that holds water well, but also has ample air space and great drainage, is needed for successful container growing. Black Gold® Waterhold Cocoblend Potting Soil mixed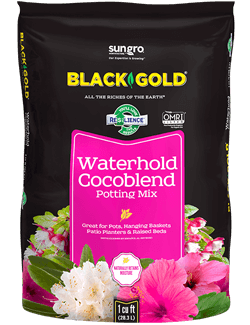 with Black Gold® Garden Compost Blend is the perfect combo for vegetable gardening in containers, and these OMRI Listed® products are approved for organic gardening. For containers holding herbs and green leafy vegetables, consider adding a little Black Gold Earthworm Castings Blend 0.8-0.0-0.0, which is rich in nitrogen. Change potted media out at least every two to three years for best results because potting mixes break down, lose structure, and acidify over time.
Most vegetables are "heavy feeders", which means they need a lot of food for good growth and development. A good slow-release fertilizer formulated for vegetable growing is best. Work the fertilizer into the root zone at planting time. For really heavy feeders, like tomatoes, it also helps to follow up with applications of a water-soluble fertilizer formulated for vegetables just at the point before fruits develop. This will help maximize fruit quality and load.
Effective Watering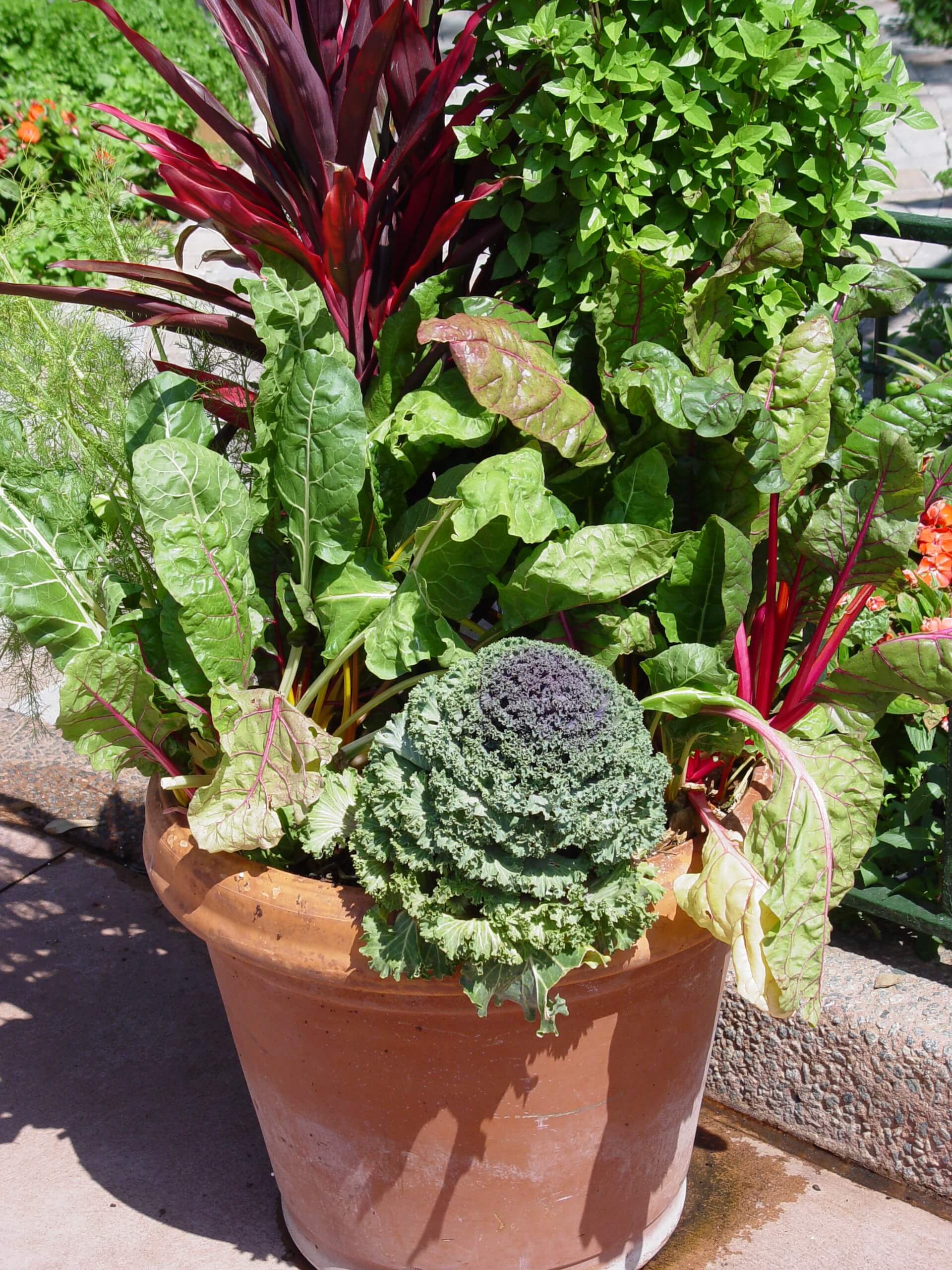 Lack of regular water is one of the main causes of potted vegetable failure. The number one rule to follow when watering potted plants is to continue watering until water starts to run out of the pot drain holes. This indicates that the container is saturated. Thorough watering will result in more expansive root development and stronger, more stable plants. If you only water the upper half of pots, plants will develop shallow root systems, which will reduce stability and cause fast drying.
Daily water is needed for most pots, but large pots may require water more frequently, depending on the plants and heat and humidity levels. More effective irrigation is also helpful. Consider drip irrigation for pots. It also helps to add an extra layer of porous organic mulch to keep surface water from evaporating. Leaf mulch, straw, or grass clippings are all great options that break down quickly while providing a little extra protection. Click here to read about the 8 best watering strategies for plants.
Good Container Veggies by Season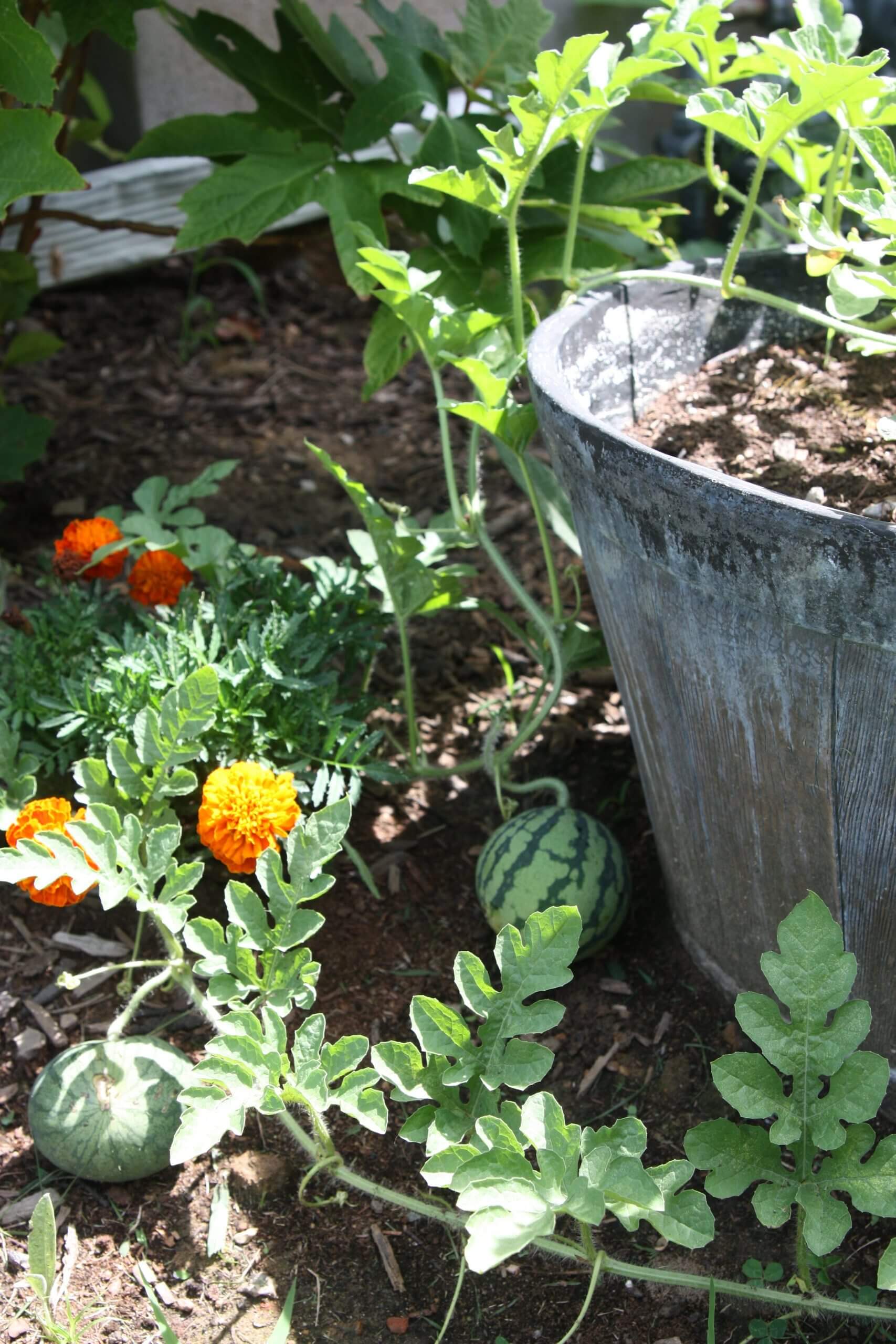 Determine a plant's growing season before planting. Vegetables are generally distinguished as being "cool season"  or "warm season". In most parts of the country, cool-season vegetables are those that you would grow in the spring or fall. Warm-season vegetables are those that grow well during the hottest months of summer.
Top cool-season vegetables for containers are lettuce, spinach, kale, bok and pak choi, miniature cabbages and cauliflowers, bush peas, beets, and mini carrots, radishes, and turnips. Warm-season vegetables are tomatoes, peppers, bush squash, eggplant, Swiss chard (cool season, too), bush cucumbers, and melons.
Even in late summer, there is time to plant vegetable containers for fall enjoyment. Start by going to a local nursery where they sell large containers, premium Black Gold potting mixes (click here to find a store with Black Gold near you), and quality vegetable starts. Give them good care for a bountiful harvest.