Whether you are planting summer vegetable seeds or seedlings (young transplants), this is probably the peak time of year for many summer vegetables and flowers. Here in the Pacific Northwest the soil temperature is getting warmer and there is still time to plant many familiar summer vegetables from seed. Or to get a head start, set out young transplants.
Winter Squash from Seed
Sometimes it is easier and safer (less of a pest problem) to start seeds indoors and then plant them outdoors. When a local gardening friend read an article with glowing reports about a winter squash called "Musquee de Provence", he decided to try some and planted seeds indoors in 4" pots using Black Gold Seedling Mix. Within a week, the seedlings began emerging from the soil and within two weeks, they will be ready to be planted outdoors. This particular squash was introduced to American gardeners in 1899 and has a deep orange flesh that keeps well. While it is not usually available on local seed racks, it is available from Seed Savers Exchange at SeedSavers.org or 563-382-5990. I think it is always fun to try something new in the vegetable garden.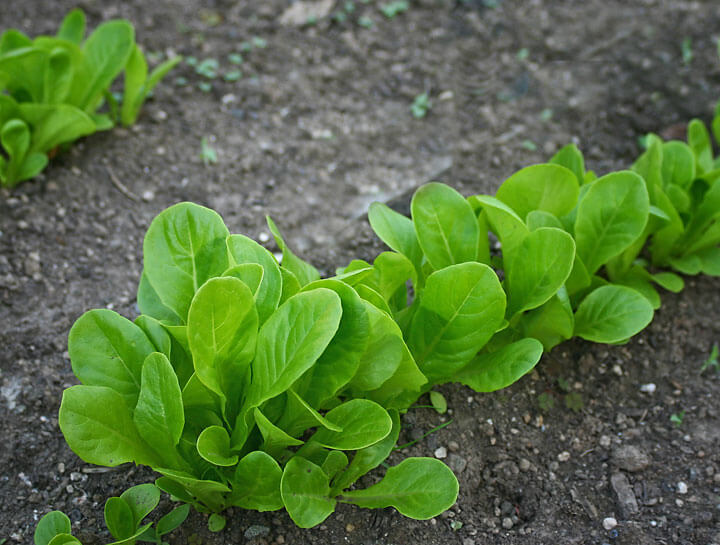 Lettuce from Seed
Lettuce is very easy to start from seed and there are many choices from either seed or transplants at local garden centers. If planting from seed, try extending the harvest by staggering the planting. Plant new seeds at 2-3 week intervals and you will be amazed at how easy it is to continually cut fresh lettuce leaves. Lettuce will survive a light frost and so the growing season does not necessarily end as compared to a tomato. With some protection, such as a cold frame, if the winter is not too severe, I have seen gardeners harvest lettuce throughout the winter.
Radishes from Seed
Radish is a very easy and quick crop. Not only do the seeds germinate quickly, many varieties will provide a mature crop in 30 days. This is an excellent plant to get children involved with because of the short maturity date and the quick germination. It also teaches them about plants we eat that grow underground.
Growing Potatoes
A favorite of mine to get children involved in gardening is the potato. This is another good lesson in things we eat that grow underground. Even if space is limited, potatoes can be easily grown in a container and will thrive as long as they get adequate sunlight. The example in the photo is a large nursery pot that provides a way to grow them with limited space. Using Black Gold Natural & Organic Potting Soil, this gardener (see photo below) built a wire cage around the inside diameter of the container and used two metal plant stakes to prevent the cage from collapsing. Potatoes were purchased from a farm store and were cut into pieces with at least one 'eye' per piece. Once cut, let them air dry for a day or so and this will help seal the cut portion and lessen the chance of diseases. Potatoes were planted about 6 inches deep from the top of the container. Be leery of buying potatoes from the produce section of a grocery store as they might have been treated to prevent sprouting.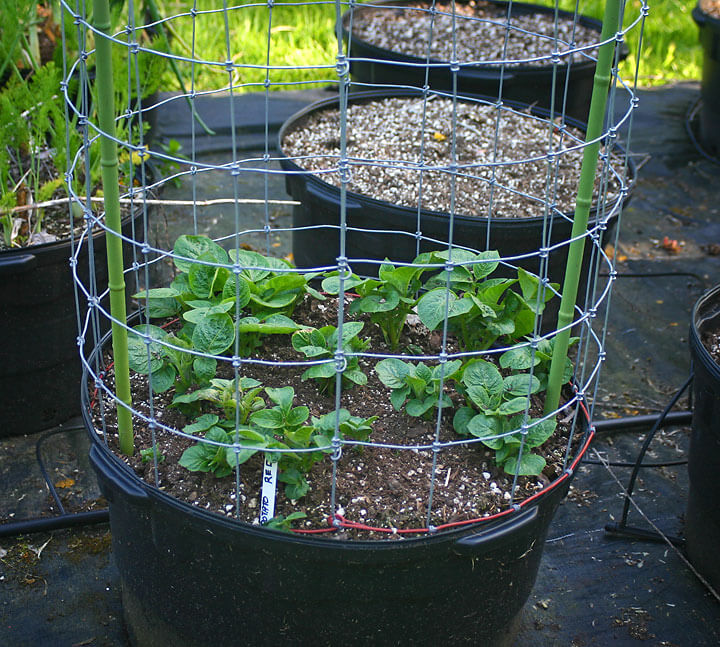 The potato that was planted will produce a stem from the 'eye'. The tubers we eat are produced along the stem and the longer the stem, the more tubers. Potato tubers must be kept in the dark and so as the stem grows, straw or some other organic material is continually added, hence the reason for the cage.
Beans from Seed
Beans are among the easiest summer vegetables to grow from seed and since it is a large seed, it is easy for children to plant.  Once the soil is warm, sow bean seeds and they should germinate in 7-10 days. Beans need full sun and continual picking. The more you pick, the more the plant will produce. For limited space there are bush types although for maximum yield, I have found the tall vine types produce the best.
Chard from Seed
For some color in the vegetable garden, consider Rainbow Swiss Chard. This has such colorful stems, I have seen in planted in pots on decks just for the stems. "Rainbow" is an appropriate name as the stem colors are shades of red, orange, purple, yellow, and even white. Rainbow Swiss Chard is not just for color; it is excellent for eating and is easy to grow from seed.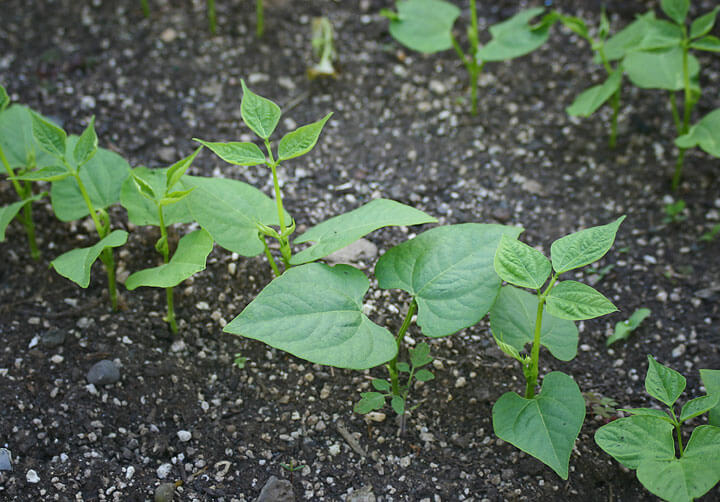 I would be remiss without mentioning a summer edible plant we always have in a pot on our deck and that is basil.  Basil absolutely needs heat and should never be planted outdoors until the weather is warm. It makes a wonderful container plant and having a container on our deck makes it easily accessible to the kitchen. There are many types of basil available and varieties not only have different color and texture of foliage, but there are different flavors.
A warning for gardeners with newly germinated seedlings or seedlings is to be aware of the slug. It is one of the most prevalent pests we have in the Pacific Northwest that can cause extensive damage on newly planted seedlings.  Slugs can almost ruin a home garden crop of new seedlings overnight. It is best to use some type of slug bait or barrier for newly germinated seedlings and/or transplants. If using a chemical type of bait, be sure to check and read the label carefully as not all baits are approved for use in a vegetable garden.
This season, take a chance on some vegetable seeds or seedlings. It is quite satisfying to grow your own fresh fruit or vegetables and gives you a connection to the earth.
Photos Courtesy of Rich Baer