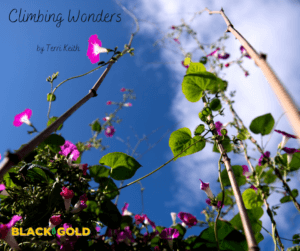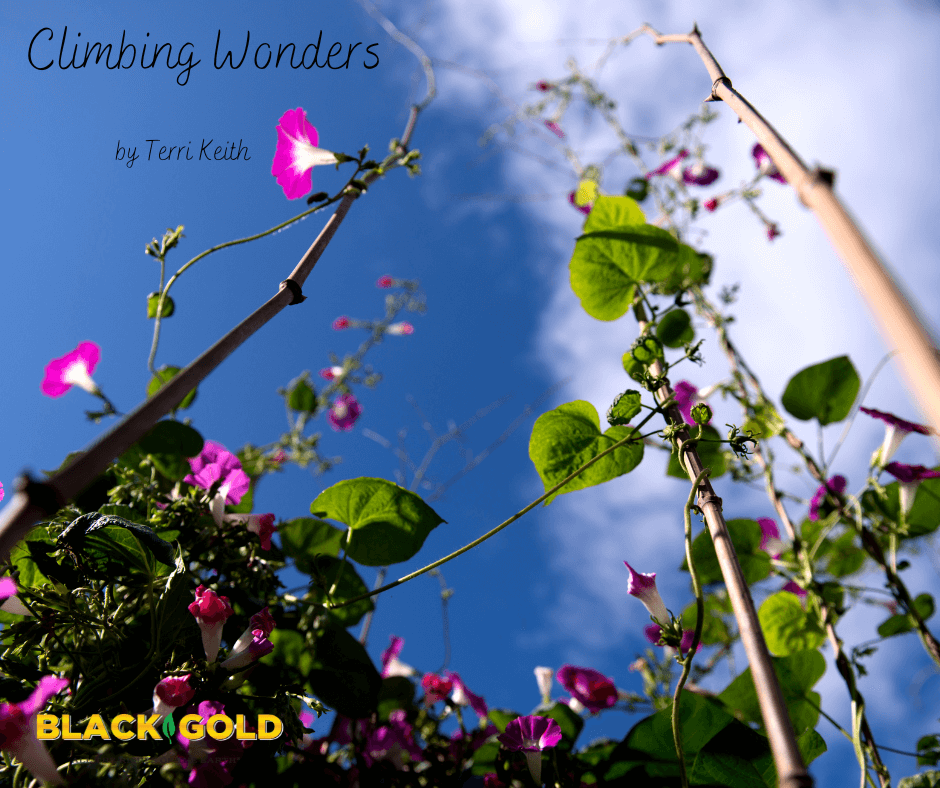 Climbing Wonders
In the heat of the summer, here in the Midwest, many of the most beautiful, flowering garden vines are blooming their hearts out.  When I go out on the back deck, the Morning Glories (Ipomoea) are about to start opening their large trumpet shaped flowers, which will last until frost.  Morning Glories are native to Mexico, and were thought to have spirits by Native Americans.  The first one to become popular in modern times is 'Heavenly Blue'. Some years ago, I planted 'Heavenly Blue' in one of my gardens.  Morning Glories reseed, and after a few years, I had pink, dark blue, purple and magenta flowers, coming up every year. Now seeds are available in all these colors, plus red, white and yellow, some with stripes.
Morning Glories are annuals that flower from early summer to frost.  Plant them in full sun, in any well drained, soil and keep the soil moist.  Soak the seeds for 8 hours, in ½-inch water, before planting.   Find a trellis, a fence, or a pole, to give them something to climb.
Hummingbirds and bees will be happy if you plant Morning Glories, but deer will not.
Clematis have been popular since 1862, when Clematis jackmanii, a purple flowering vine, was discovered in the Orient.  Since then several hundred varieties have been developed, with colors including blue, pink, white and deep red.  Most of them are single star shaped flowers, but some have gorgeous puffs, such as 'Taiga', a winner at the famous Chelsea Garden Show in 2017, with bright purple blue flowers, and centers of, white tipped petals that curve in.  'Rouge Cardinal', another beauty, has 4 to 6 inch wide flowers of red with small white centers, and I even have one with small, blue, bells, 'Roguchi'. Clematis is a perennial, and will come back every year on its own.  They range from 3 to 20 feet long, and can be trained along a fence, or trellis.  Plant in full sun, well-drained soil, with the crown 2 inches, below the surface.  Clematis are deer resistant.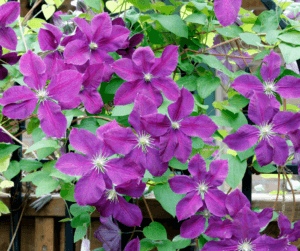 Honeysuckles (Lonicera) are an old-fashioned favorite.  They have a strong, sweet fragrance, as well as beautiful, tube shaped flowers.  There are two kinds of Honeysuckle plants, shrubs and vines.  One of the shrubs, Lonicera japonica, has become invasive, around the world.  Vines, however, are not a problem, and there are some gorgeous varieties. The Coral Honeysuckle varieties are native plants.  The flowers are fan shaped, and face down.  'Major Wheeler' is covered with red and gold flowers all summer long.  It grows 6 to 8 feet tall and 5 to 10 feet wide.  'Goldflame' has bright rose buds that open to yellow flowers, on 10 to 15 foot tall, and 5 to 6 foot vines and 'Scentsation's flowers, are yellow and white, and are extremely fragrant. It gets 10 feet tall, and 6 feet wide. Honeysuckles are one of the humming bird's favorite flowers, and are deer resistant. Plant in full sun, in well-drained soil.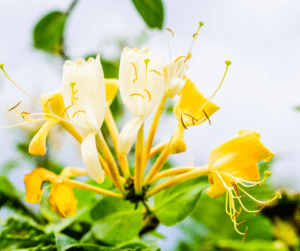 Last, but the best, are climbing roses.  You do not often hear about climbing roses here in the US, but they are common in Britain. You may have seen them, clambering up  English cottages, in British TV shows, like Midsomer Murders, or Downten Abbey, but these roses would only bloom in spring.  Seventy years ago, an English rose breeder, named David Austin, began cross breeding these roses with Chinese roses that bloom all season. The results are spectacular.  Most range from 6 feet, up to 12 feet, but some are even taller. They have a classic English rose shape, with an outside layer of flat petals, and a thick, bowl shaped, packed center, you will not see in the US.  They come in every color, white, pink, peach, rose, yellow and red.  Most have a strong fragrance as well.  These roses have been available in America for many years. Just go online, or order a catalog.  Some of my favorites include, 'Gertrude Jekyll', pink, 'Lady of Shalott', peach, 'Zepherine' deep rose, 'Tess of the D'Urbervilles', red. Plant with the crown at ground level, in a hole a little bit bigger then the plant.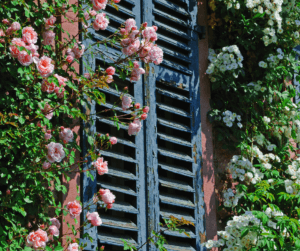 For best results, with all garden plants, dig the hole, put a generous amount of Black Gold® Garden Soil in the bottom, then mix some more in the soil you are putting back into the hole.  Sprinkle with Osmocote on the top, and find a place to plant a climber.
About Teri Keith
---