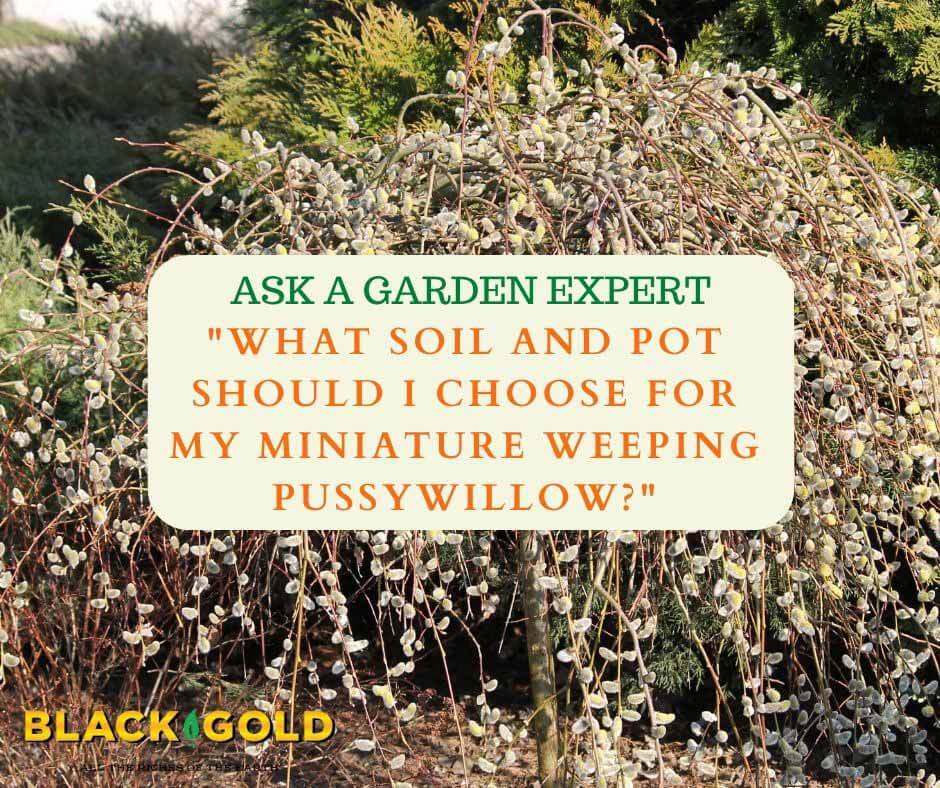 "I bought a Salix caprea 'Pendula' (or a miniature weeping pussywillow) on March 20th. I was wondering if the Black Gold All Purpose Potting Mix would work to transplant the tree in? I am repotting it into a larger container. I am also wondering how large of a container I may need. Thank you!" Question from Sloan of Knoxville, Tennesee
Answer: The maximum size that your miniature willow (Salix caprea 'Pendula') should reach is 6 feet, though they have been known to get larger. The container you choose is just as important as the potting mix you supply to the tree.
Planting Miniature Weeping Pussywillows
Willows are moisture-loving trees that develop extensive root systems, so you must choose a large, strong container if you want a happy, potted specimen. Choose a container that is at least DIA 34″ H 29″ (or deeper), weather-proof, and fitted with drainage holes at the bottom. The pot should have a bottom saucer to catch water. The right pot may be costly, but it will provide a good, longterm home for your tree.
Planting in a plain potting mix would be a mistake. Potting mix breaks down over time, so it needs to be replenished every few years or so. Instead, select a soil mixture with more permanence. Mix natural topsoil with organic components, such as Black Gold Garden Compost Blend, and water-holding Black Gold Natural & Organic Ultra Coir, which are both OMRI Listed for organic gardening. A good combination would be one part topsoil to one part compost and one part coir potting mix. Be sure to combine the ingredients evenly. If you can skim off topsoil from your own yard, that would be most cost-effective.
Willows require regular water to survive in containers, so you may want to install drip irrigation to help keep the container moist on hot summer days.
Enjoy your potted willow!
Jessie Keith
Black Gold horticulturist