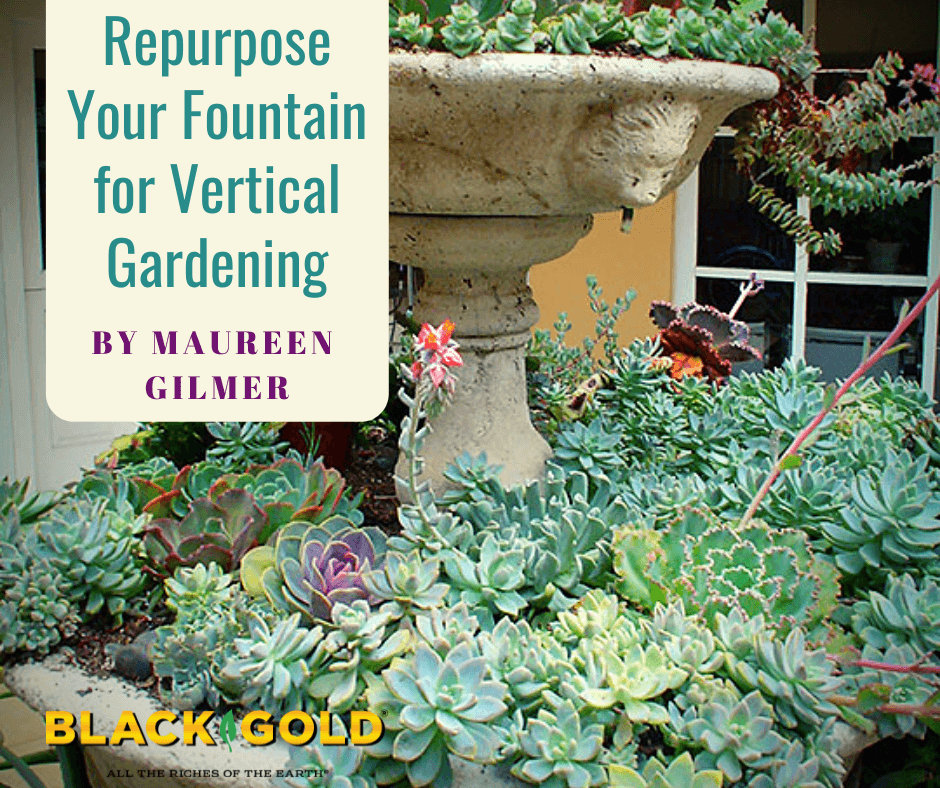 Are you tired of constantly filling your fountain all summer long? Is the submerged pump perpetually clogged with debris or algae? Maybe you're finding that once loved water feature is becoming a real maintenance headache. If so, you're not alone. Trend-conscious landscapers everywhere are busy repurposing beautiful, older fountains into monumental container gardens – and you can too.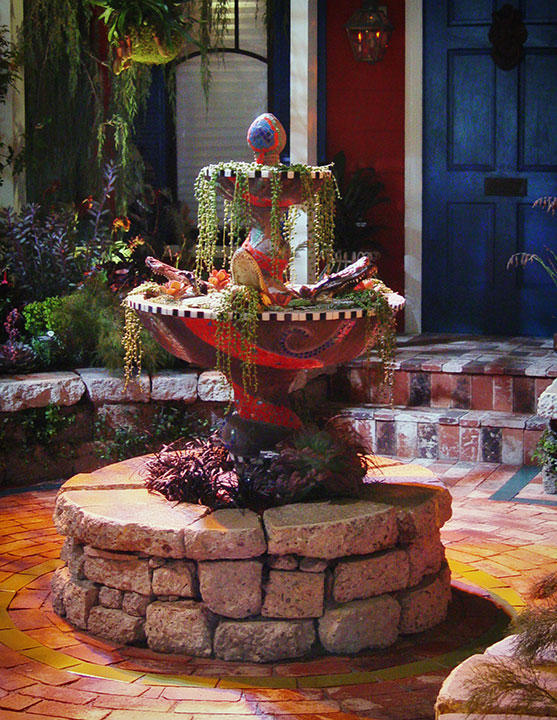 Turning Fountains into Gardens
The best kind of design for this transformation is the tiered Spanish-style fountains. These feature basins that can be turned into planters by simply adding potting soil. But with such shallow root zone, the basin may not prove able to support all plants, just those with smallish root systems. The palette for these projects is often succulent plants and their close kin which require limited water and soil depth. But, if your fountain is deep enough, turn it into a cascading tower of annual color.
Preparing Fountain Planters
The key to success is removing all the drain plugs so the basins no longer hold water. This becomes your drain hole for each planter. Use a masonry bit and an electric drill to create more holes if necessary at the lowest point of the basin. Cut a square of window screen to lay over the drain holes so they don't clog up with potting soil.
Next fill the basins with Black Gold® Natural & Organic Succulent & Cactus Potting Mix, formulated for rapid drainage and good aeration that make it downright hard to over-water. Be sure to set the soil level a few inches below the basin edge so you can flood it with water without immediately overflowing.
Planting Fountain Planters
Now the fun begins. Since each tier will be smaller than the one beneath it, consider arranging your plants so that the cute little rosettes of echeverias are higher up at eye level. At the bottom use spreading plants that can be used to cover up unsightly chips, cracks, or foundational problems.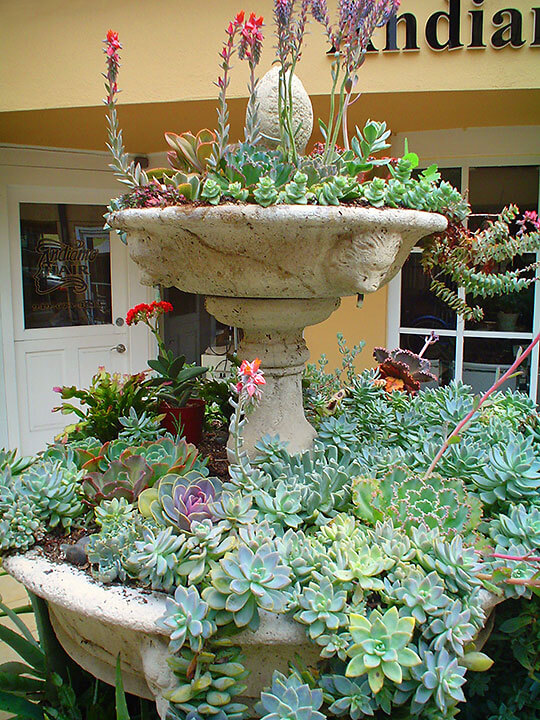 In between, let your imagination run wild. Strive to use contrast, which makes each plant stand out equally. Use a variety of forms and colors against one another to enhance the visual interest.
The crowing glory of these planters is the dangling plants that cascade off the edges of each basin just as water once did. Try donkey tail or the delicate string of pearls to get this look which ties the entire composition together. Miniature ivies are a more versatile alternative for the very same effect.
Maintaining Fountain Planters
This first year, while you're waiting for younger plants to mature, stuff the nooks and crannies with interesting finds. Tidy little violas, tufts of living moss, and plants with colored leaves give your fountain great looks from day one. As temperatures heat up you can replace them with more succulents, exotics, or anything else that grows well in that exposure. In the fall, these can all be dug out and put into pots to overwinter indoors so you can enjoy them until it's time to go out again in the spring.
Fountains are a beautiful thing, but sometimes their care is just too much for our lifestyle. Do not despair, for these concrete creations double a perfect cascading vertical gardening statement. It's easy to do in just one weekend with lots of fun plants and Black Gold potting soils.