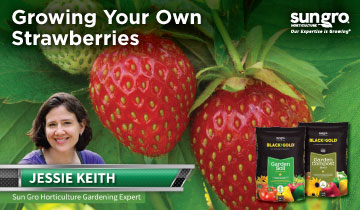 "What are the best strawberry varieties for Texas? I really would like to enjoy them year-round, and I have the ability to grow them in a raised bed that can easily be covered." Question from Deb or Alvarado, Texas
Answer: Great timing! I just planted 25 strawberries in my own Delaware garden, so strawberries are on my mind. There are two types of strawberries, June-bearing types that produce once a year, and everbearing types that produce one big crop in late spring and then keep yielding additional berries through the season. It sounds like you want the latter. Additionally, some strawberries are better adapted to warmer zones like yours. Three everbearing recommendations for southern gardens like yours include 'Tribute' (medium-fruited, disease-resistant), 'San Andreas' (extra-large fruited, heat-tolerant), and 'Seascape' (medium-fruited, disease-resistant). There are many more, but these three are very good choices that are commonly available.
Growing Strawberries
Strawberries grow best in soil that is well-drained, moisture-retentive, light, and high in organic matter. A soil with a slightly acid pH, between 5.5 to 6.5, is ideal. Amending with Black Gold Garden Soil, Peat Moss, or Compost Blend will boost your raised bed soil for strawberry growing. For further growing information and planting guidelines, please watch the video below.

Enjoy your strawberries.
Jessie Keith
Black Gold Horticulturist